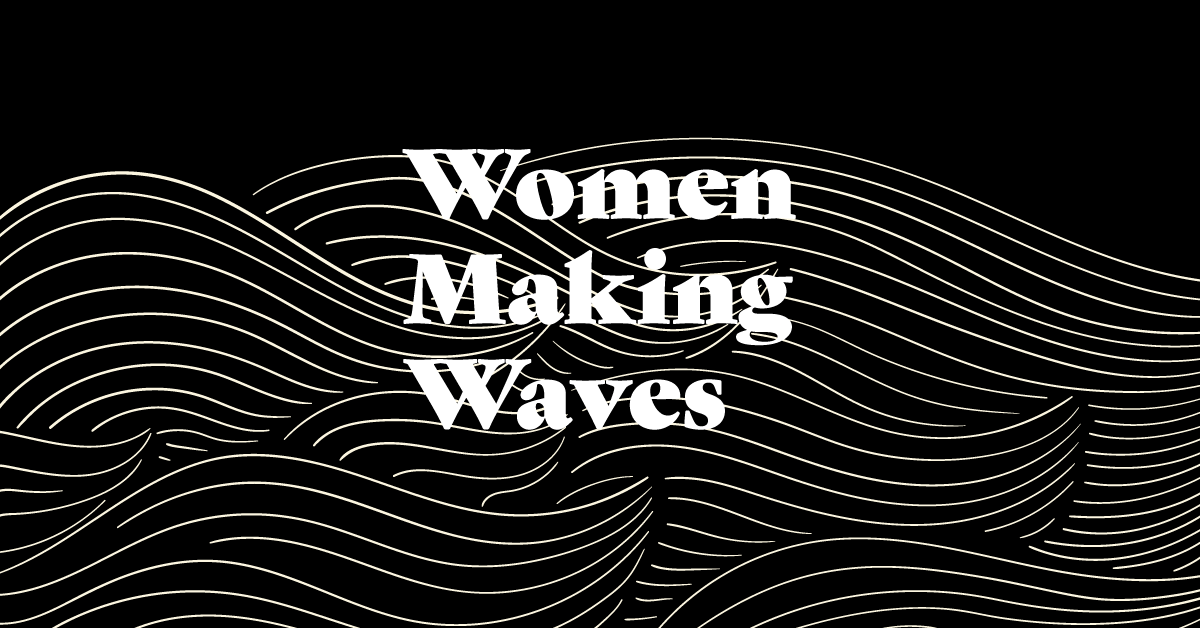 WOMEN MAKING WAVES // IN TOTAL AWE OF GALWAY'S MNÁ
In celebration of International Women's Day – Sunday, 8 March – we caught up with some of Galway's most inspiring, talented, powerful and well-respected women to chat about their journey so far, what it means to be a successful woman in business and to just generally put them in the spotlight. The next few pages will feature an eclectic mix of ladies from different walks of life that have been making waves in a number of different fields.
Read their stories, recognise their faces and become empowered by these sensational ladies blazing their own trails throughout the city and beyond.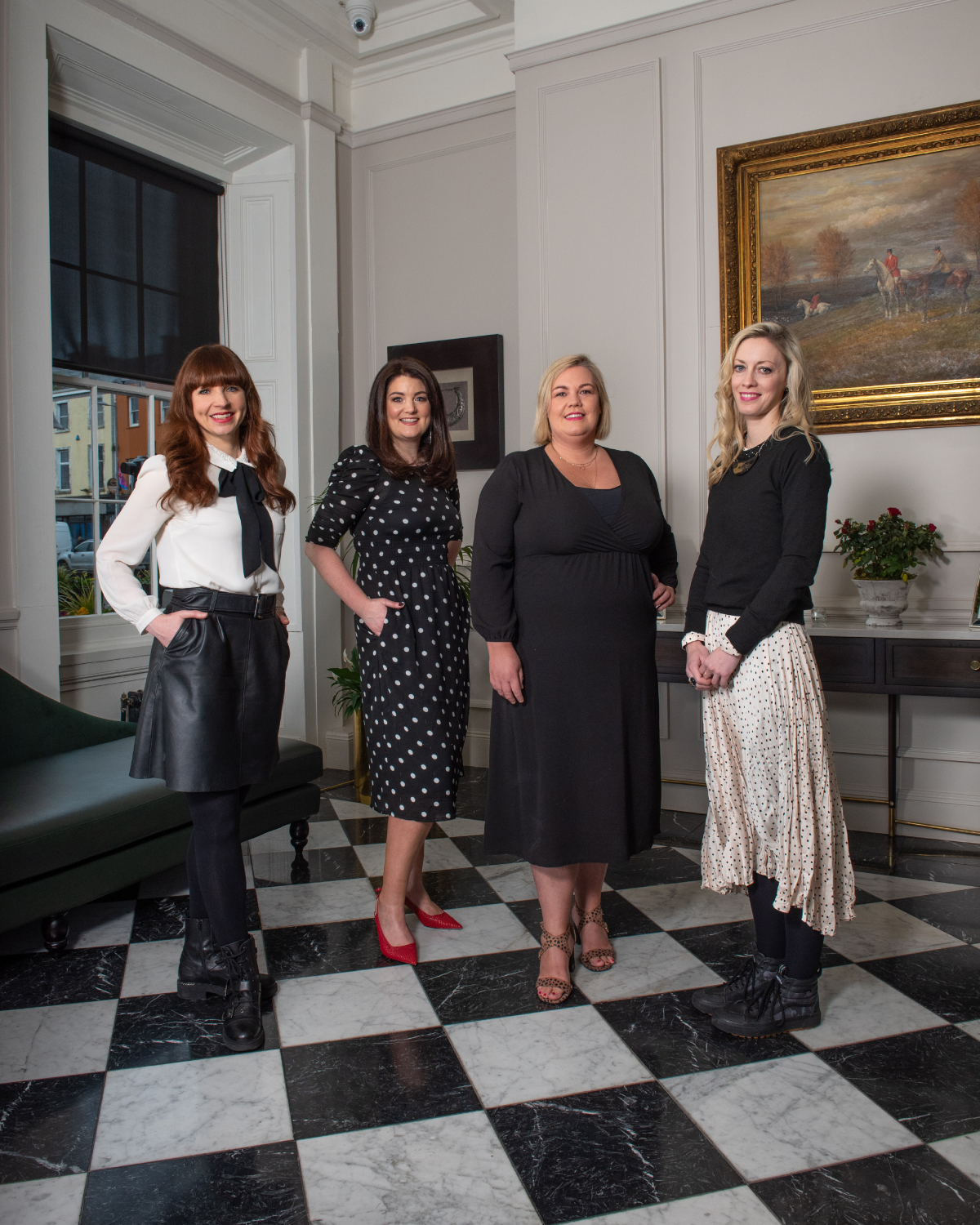 DOROTHY CREAVEN // Managing Director & Site Lead of Rent the Runway
With a love for maths, physics, and taking circuit boards apart, a career in tech was always on the cards for Dorothy. Armed with a degree in electronic engineering, Dorothy was ready to take on the world of tech. From co-founding her own tech startup, to working with large corporations, Dorothy made her way back to our City of Tribes in April 2019 for an exciting new role. Now Managing Director and Site Lead for US-based company Rent the Runway, Dorothy is an absolute role model for all aspiring engineers.
"In a sector that's largely dominated by men, there's a big opportunity for women to get more involved. It's important for those of us already in the industry to help break down any barriers and to encourage more women to explore tech as a career option. It's important to me to help ignite those interests in everyone, especially younger generations. The world of tech continues to move at a rapid pace, and all of us are responsible for how people in the industry evolve."
LORETTA NÍ GHABHÁIN // Director of Lorg Media
From producer to TV presenter, Loretta has always had a strong passion for storytelling. Driven by her love for Gaelige, Loretta has blossomed through her career in TG4, adapting to every role that came her way. Ahead of the social media game, this trailblazing lady spotted the power of the new media era and decided to forge her new business venture, Lorg Media. The word Lorg as Gaeilge means to seek, to find or leave an impression. Loretta combined her two passions to create a social media marketing company in the West of Ireland.
"In an industry that's constantly changing, it's vital to upskill and keep learning. Here at Lorg, one of our favourite phrases is 'Is fiú ór í an fhoghlaim #AgFoghlaimigCónaí' which roughly translates to, learning is worth gold #AlwaysLearning. I think the day we give up that desire, we lose a little bit of our spark. Being a woman in business can be challenging, but with the right support from family and an energetic team around you, anything is possible."
GILL CARROLL // Business Owner at 56 Central
Blending her father's entrepreneurship with her mother's nursing, Gill has found herself as a leading lady in Galway's hospitality scene. The driving force behind 56 Central, Gill began her journey at 5 / 6 Shop Street at the age of 16 waiting tables in Lynch's Cafe. Equipped with a degree in Hotel Management and a knowledge gained from mistakes made in Scotland, the doors of 37 West were thrown open. Incredibly community-minded, Gill believes that every business should have a built in policy for giving back, which can be seen through her work with Galway Simon Community, Cystic Fibrosis and Big Brother Big Sister.
"My way of looking at it is that to be a successful businesswoman, you really need to know who you are as a person. You have to work on yourself to figure out who you are and what you stand for. There's a lot of sacrifice in being self-employed and you need to keep up with the trends, constantly educate yourself and learn from other people."
CIARA O'NEILL – Artist
Hailing from the townland of Tuam, Ciara has always been a creative at heart. After graduating with a degree in Interior Design, Ciara moved to a warmer climate on the East coast of Australia, where she fell in love with the medium of resin. Inspired by the ocean and the beautiful coastline of Oz, Ciara began her new creative journey, creating mesmerising resin art. Focusing all her energy and time into perfecting her craft for a solid three years, Ciara now has a full collection of resin work, fine art prints and even her own jewellery range which is available in Two Wild Geese and also online at www.ciaraoneillart.com.
"I think it's a wonderful feeling to follow your passion, and if that leads to a successful career, that's the icing on the cake. Most artists work alone in their homes or studios, it's important to persevere through the hard days and keep making work, no matter what. Surrounding yourself with like-minded people is also an integral part of it too."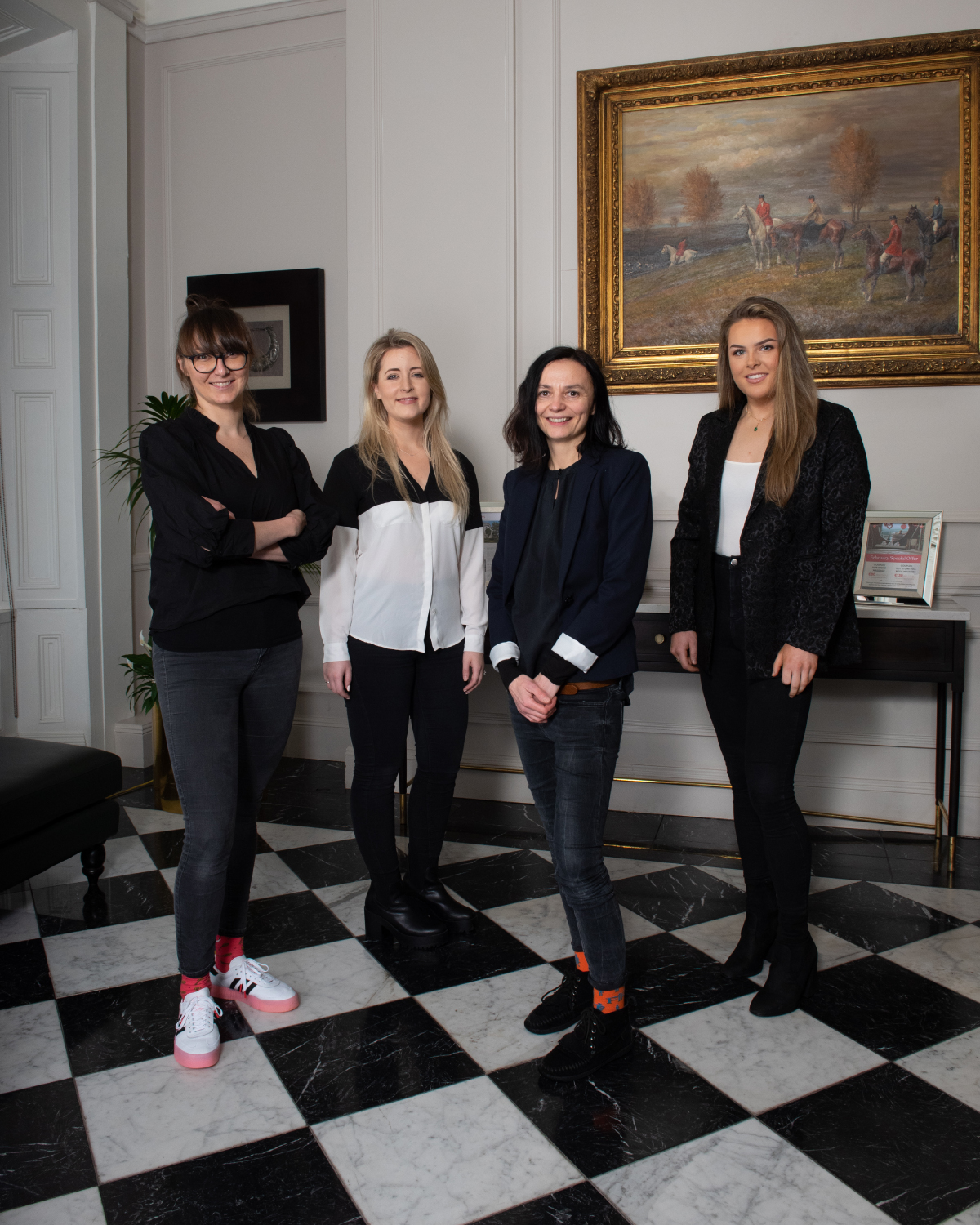 CATHERINE DOYLE // ACCLAIMED AUTHOR
What started off as a much loved hobby quickly flourished into a thriving career on a wing and a prayer as Catherine sent off her first full-length novel. Writing with authenticity, Doyle believes that when you write about what moves you, it will move people all across the world. Equal parts ambition, determination and resilience transformed a perceived impossibility into a reality and now eight years and many books later, Catherine Doyle is living her childhood dream.
"I would not have gotten to the point I'm at without the support of other women. I feel very lucky to be a working and successful author but this isn't a mountain I've climbed by myself. The industry is full of dedicated, passionate and ambitious women who all want to do their best, not just for themselves but for each other. Even though you're the only person with your name on the book, it takes a village and a lot of that village is women."
BEIBHINN PARSONS // Irish Women's Rugby Player
At just eighteen years of age, Ballinasloe native Béibhinn is our youngest trailblazer. With seven caps to her name, this rocket winger has definitely made her mark on the opening two games of this year's Women's Six Nations. Juggling her studies with her sporting career, Béibhinn is a true inspiration for any young, aspiring sports star.
"The thing I'm most proud of is being recognised as a positive role model for younger women. It's so important for young girls my age, that are still in school or starting college, to see someone represent our province and country at both a national and international level. Women's retention in sport plummets at this age, so if I can be a role model to anyone, it makes it all worthwhile. It's also so important to support and encourage each other in all paths of life, we need to have each other's back."
JOANNA ZALECH & ALEX KIELDANOWICZ // Co-owners of Irish Socksciety
As fate would have it, sole sisters Joanna and Alex didn't cross paths until they both upped sticks and made the move from Poland to Galway. Evolving their initial business of selling Irish souvenirs into their universally loved sock company, Irish Socksciety is a brand filled with laughter and that good old-fashioned Irish craic and is a credit to their hard work and good humour.
"We were not raised in Ireland, so it was very new to us to live in a culture with such a different form of communication. Being able to set up a business here as two women, who have families and gave birth to kids in the meantime was amazing. It's a huge achievement and we are so proud of the result. We would tell anyone with a dream of starting a business that it's never too late. Stay positive and have a sense of humor. Stay humble and always be professional with everything you do."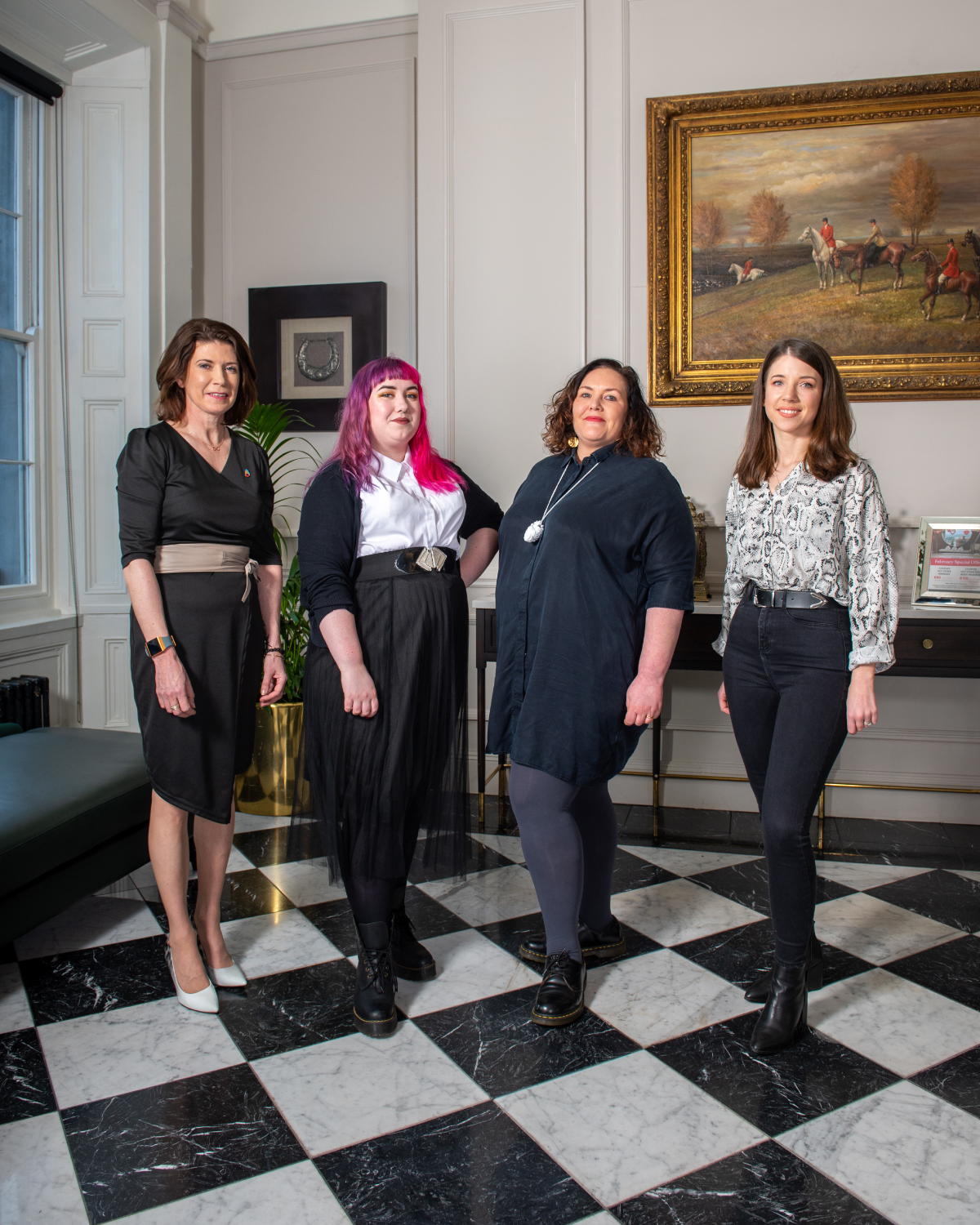 PATRICIA PHILBIN // CEO of Galway 2020
From clerk typist to CEO, Patricia has certainly climbed up the public sector ladder. With 30 years of hard work and dedication to Galway City Council, this leading lady has gone from strength to strength in her career, rising to every task and opportunity. As CEO, Patricia has been an integral part of the Galway 2020 project since the very beginning. A Mayo lady at heart, Patricia is passionate about Galway and it's cultural presence.
"Being a woman in the public sector can be challenging, encouraging and rewarding. This year as we celebrate Galway as the European Capital of Culture, we're faced with a diverse range of cultures and traditions, which can bring its own challenges. Starting out in GCC, senior roles were quite male-dominated, which I think was reflective of society at the time. I've always had outstanding support from my co-workers, which has led me to the role I'm in today. We're blessed to have so many fantastic women on our 2020 team. It's a true testament to how our society is evolving."
SHARON NOLAN // Community activist and campaigner
Always seeking to tackle the world's inequalities, Sharon found her activistic voice through protesting. Becoming politically engaged during the Marriage Equality referendum, the power of door knocking and working collectively gave Sharon the courage to venture into the political sphere. A member of the Social Democrats since their inception, Sharon is now chairperson of their Galway West branch and sits on the party's National Executive. Having been co-convener of the of Galway Together for Yes, Sharon's is a voice you're likely to hear shouting in the face of injustice.
"Coming to politics not only from being a woman, but from being an LGBT woman, I didn't know if there was a place there for me. I could have taken out all my piercings and changed my hair but I decided no, if I'm going to do it, I'm going to be me. One of my favourite things about being involved in activism and politics is the amount of amazing women I've met through it. We have a complete powerhouse of women at every level of the party."
JESS MURPHY // Head Chef at Kai Cafe and Restaurant
Landing in Ireland at the age of 15 with nothing more than a battered old suitcase and a dream, native New Zealander Jess has become one of the most well-respected names in the culinary game. After nine years at the helm of a number of Galway's finest eateries, Jess and her husband Dave opened Kai – a Michelin Bib Gourmand and multi-award winning restaurant beloved by many. An avid supporter of the Irish UNHCR, Chef Murphy is keen to be a mouthpiece for the way immigrants reflect on food, which makes up a large portion of Galway's ever-evolving food scene.
"The point I'm at now in my career is a gift because I can empower, mentor and respect the younger generation while building a really strong team. It's important to teach everyone that everything always works out in the end and it's never about how you fall, it's about how you get up again. Nurturing people and teaching people is the best and it's really rewarding."
SARAH O' DONNELL // Co-Director of Little & Large
Sarah is one of Galway's leading ladies in the advertising world. Sarah and her husband Eoghan's advertising agency has seen significant growth and success since they opened their doors just over two years ago in the heart of Galway's Latin Quarter. With a huge grá for all things digital, social & strategy, this bright Galway native is paving the way for young, aspiring advertisers and marketers in the West of Ireland.

"We took a risk "choosing happiness" and setting up a business doing what we love in our hometown, and are very proud of what we've achieved. We took a big leap leaving our steady jobs in Dublin, in search of a happier, more fulfilled life. It's crucial to have a good work life balance and to surround yourself with great people. We are lucky to have five amazing women working on our team here, proving creativity and career progression is a real viable option in this industry in the West of Ireland."