This September 22nd, Culture Night is celebrating their 18th birthday with an incredible lineup of over 18,000 events taking place across Ireland all on one night!!! Here in Galway, the city and county's rich culture will be on display along with its cultural institutions throughout the city and ultimately make the arts accessible to absolutely everyone – enthusiasts and novices alike. Check out our top picks right here…

This year's Galway Culture Night won't be possible without the support and assistance of Galway City Arts Office. To learn more about all the projects they are working on and the great work that they do, follow them on their socials - on Facebook, on Instagram and on Twitter.
On the night doors will remain open later as special and unique events will take place at participating locations and, thanks to the continued support of the Arts Council and Local Authorities across the island of Ireland, all activities will be available to the public free of charge. Culture Night / Oíche Chultúir is a national moment, celebrating culture, creativity and the arts and seeks to actively promote the belief that this rich and varied culture is alive, treasured and nurtured in people's lives, today and every day. Discover the full lineup of events here.
1. An Taibhdhearc's Future Gaeltacht
from 9pm / Middle St / more information here
After its phenomenal success at last year's Culture Night, Fíbín sa Taibhdhearc are back to  invite you on a journey through time. On the night, Middle Street will transform into a multicultural Gaeltopian metropolis of the future, bursting at the seams with culture and life. A host of performances and spectacles await in An Taibhdhearc's 'Future Gaeltacht'; Gaeltacht na Todhchaí.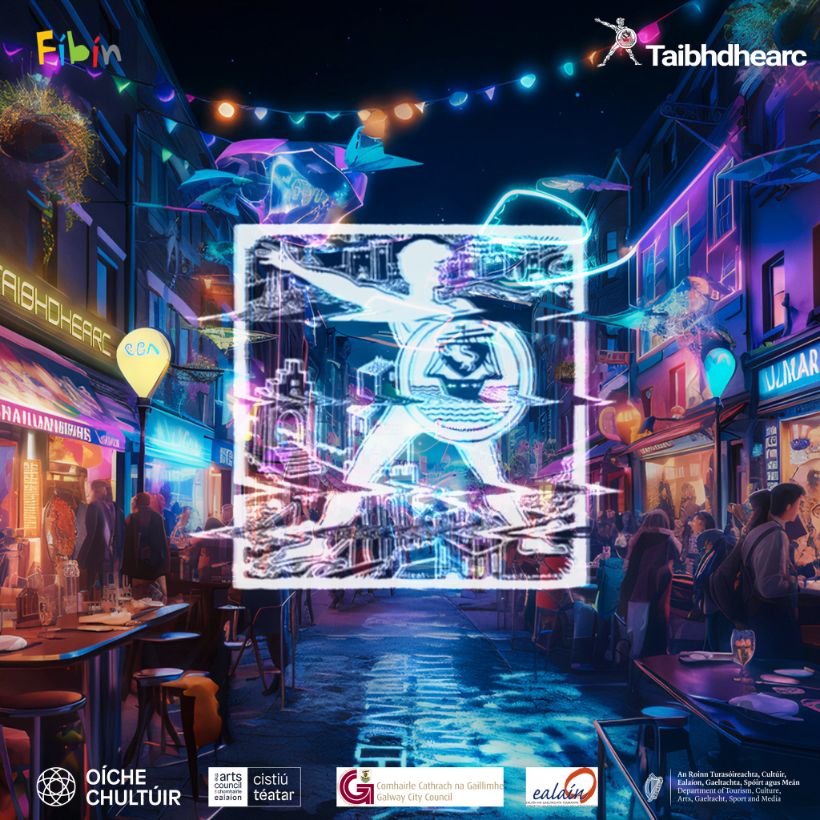 above: photo courtesy of An Taibhdhearc
2. 'Tús Nua' at Outset Gallery
6pm-11pm / Cornstore, Middle St / more information here
An exciting and ambitious multidisciplinary showcase of events in one central venue referencing the importance of collaboration between disciplines and accessible shared places and spaces on Culture Night. The project is a collaboration between Outset Gallery and Yawlag Collective. On the night, there will be a Concrete x Canvas exhibition launch at Outset Gallery, live music showcase to coincide with the launch and a special music, performance and installation experience.
3. Poetry as Commemoration Reading
6pm-7pm / Galway City Museum / more information here
As the Decade of Centenaries draws to a close, Galway City Museum is uniting with UCD Library to host a special evening of history and poetry, commemorating the pivotal moments that defined Ireland a century ago. Featuring poems by Edel Burke, Emily Cullen, Attracta Fahy, Gerry Hanberry, Mike Mac Domhnaill, Luke Morgan and more. Poetry as Commemoration is an initiative of the Irish Poetry Reading Archive at UCD Library in partnership with Poetry Ireland and Arts Council Northern Ireland.
4. Ruffled Feathers by Rena Bryson
from 7.30pm / Town Hall Studio / more information here
Ruffled Feathers is a contemporary retelling of The Children of Lir. The play takes place in a magical realm, where Aoife was banished following her crime against the children of Lir. Sisters Aoife and Eva, attempt to tell how things really happened, while disagreeing on who was the real villain of the story. This retelling by Eva's Echo Theatre Company explores gender roles, motherhood, grief, femininity, and all the magic of Irish mythology. This rehearsed reading will be presented as a work in progress.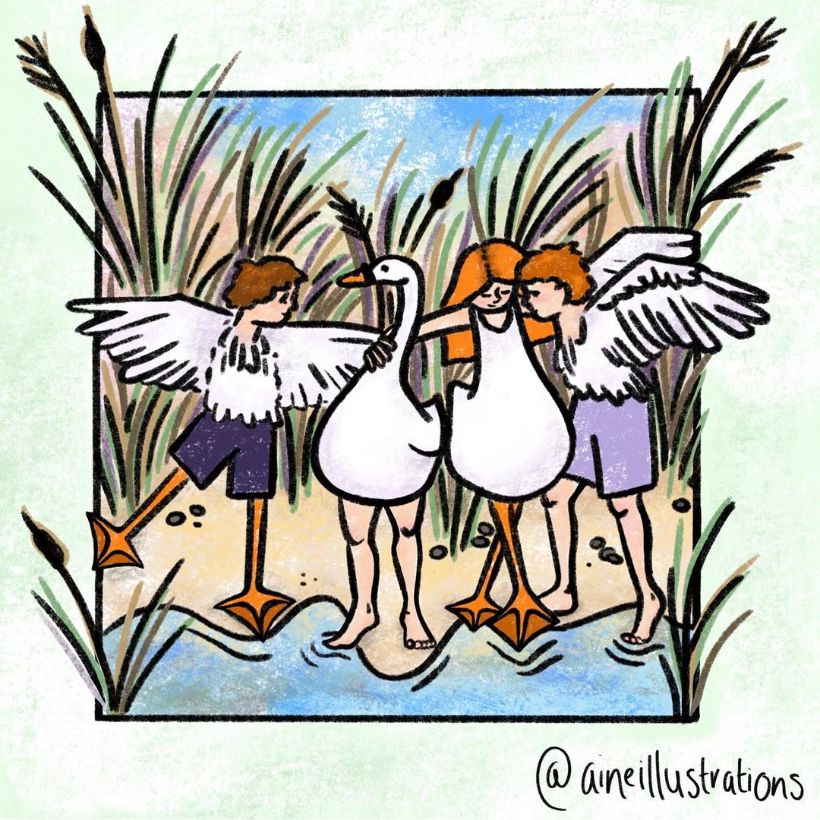 above: 'Children of Lir' illustration by @aineillustrations, prints available from Plámás coffee shop in Galway's Westend
5. Take a Walk with Crom
from 9pm / Athenry / more information here
This Culture Night Galway County Council proudly presents Take a Walk with Crom, an intimate Macnas spectacle that will meander through the medieval streets of Athenry. Join Galway County Arts Office and Athenry Heritage & Arts Centre as we invite the wise and magnificent Crom to lurk around Athenry town centre alongside Macnas performers, stilt walkers and drummers who promise to entertain and enthrall.
6. Symphony of Flames
from 9pm / St. Nicholas' Collegiate Church / more information here
Stephen Carroll and Lorna Salmon will lead Galway City Chamber Choir and University of Galway Choral Society to perform a set of choral music, surrounded by candles to create an intimate atmosphere in St Nicholas' Collegiate Church. Including music from all over the world, this night is sure to be a magical experience for all. This event is funded by the Arts Council with support from Galway City Council.
7. Sail Back through Time
7pm-8pm / Katie's Cottage, The Claddagh / more information here
Galway Hooker Sailing Club invites you to 'Sail back through Time'. A cultural night exploring the history, heritage and craftsmanship of the Galway Hooker. The club wants to share and showcase the unique cultural significance of the Galway Hooker that we see everyday in our city and county in crests, posters, medals etc. On the night you will get the rare opportunity to see a Galway Hooker undergoing restoration in person and a series of talks will be presented by historian and master boat builder Cóilín Hernon and Commodore Ciaran Oliver. There will also be refreshments will also be served for all attending the talks.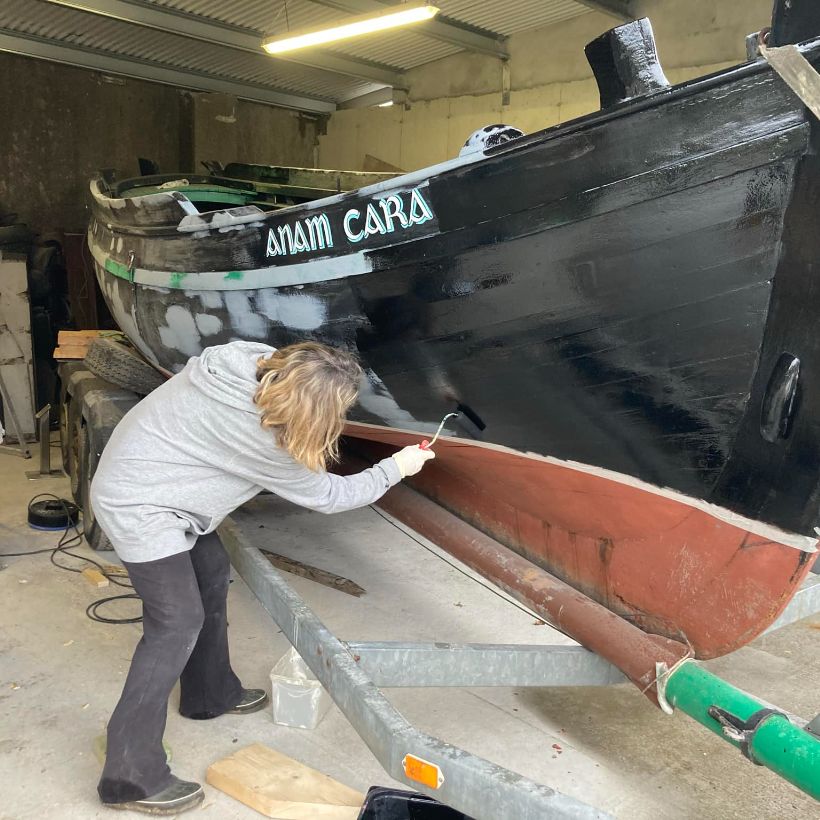 above: photo courtesy of Galway Hooker Sailing Club

8. Unboxed
from 8pm / Armorica / more information here
The Unboxed team will be mixing it up in Oranmore's Armorica this Culture Night. This is a 'bring your own' vinyl night in Armorica with some live music from an up and coming Galway musician - Peggy Trundle.
9. Galway City of Screening
8pm-10pm / Eyre Square / more information here
Galway City of Film facilitated by Ardán, and with the support of Galway City Council, will be celebrating with an open-air public screening in Eyre Square. This free screening will show a programme of short films made as part of Galway City of Film activities over the last two years. Including; films from the Short Documentary Scheme, the 48 Hour Challenge and they will also be showing different examples of the amazing filmmaking going on in Galway City. It's a family friendly event, with something for all ages, and the event is wheelchair accessible, so, come along for some unforgettable films under the stars!
10. Circus Skills with Galway Community Circus
6pm-7.30pm / Galway Community College, Wellpark / more information here
Join Galway Community Circus to try out some exciting circus skills and discover talents you never knew you had! The tutors will help you to try a variety of different skills such as juggling, hula hoop, and tightwire. These workshops are for all abilities and fitness levels, and there is no experience necessary.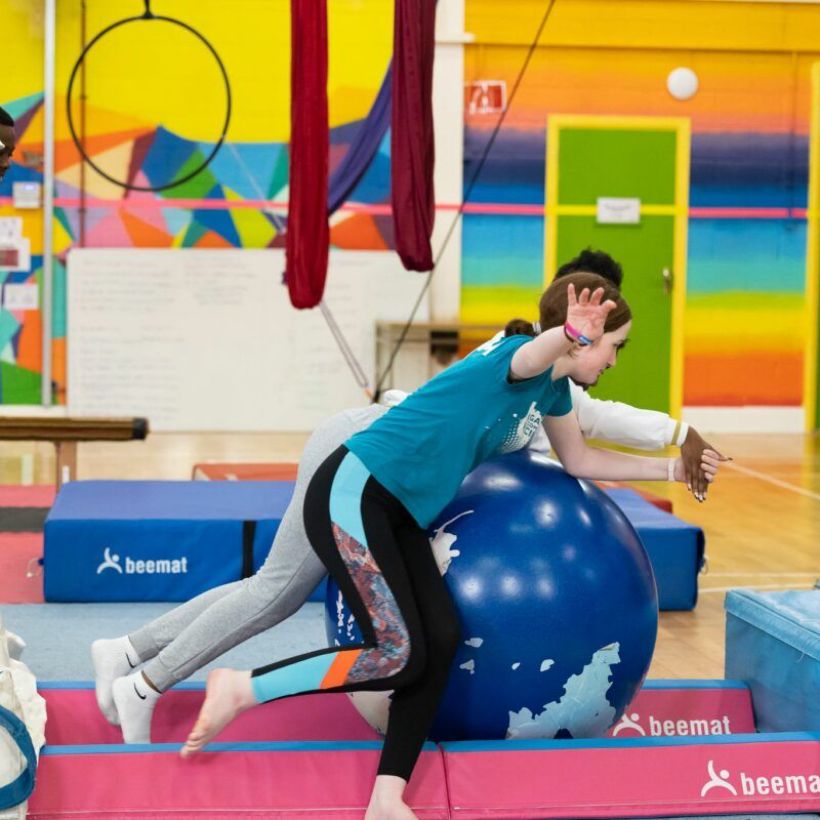 above: photo courtesy of Galway Community Circus 
11. Music Generation Galway City Open Night
6pm-7.30pm / Galway Community College, Wellpark / more information here
Music Generation Galway City has created a new space at the GCC Music Centre within Galway Community College in Wellpark. This is a space for young musicians aged 4 to 18 to play, perform, rehearse, record and collaborate through music. Come along on Culture Night to see the space, try out some instruments and learn about Music Generation Galway City's suite of afterschool clubs, small group lessons.
12. Creating Biodiversity Clarinbridge Community Walk
4pm-8pm / Kilcornan Woods, Roevehagh / more information here
This is a community walk through Clarinbridge to celebrate the local biodiversity, art and the new paths and walkways through Kilcornan Woods. Starting at the wood's front gate, on the night as a group you will follow the map and explore the trails. As you go you will both discover and learn about the native wildlife in the surrounding area. The artwork along the trails is the work of local artist Amy Ní Bhranagáin who will be giving a talk and workshop at the end of the trail in the community polytunnel from 7pm. Booking is essential for workshop only. The walk is open to all, everyone is welcome.
13. Sounds Like The Sea
 6pm-8pm / Galway Atlantaquaria / more information here
Attendees can explore the aquarium via guided tour, enjoy a fun scavenger hunt and hear amazing performances of trad, song, and choir. Visitors can also join a workshop on how to sing, learning about sounds, music, prose, and tempo. You may even win some spot prizes! Musical performances on Culture Night include; Composer Brian Keegan presenting 'Lir'. Brian's new composition 'Lir', named after the god of the sea, has been created specially for Culture Night. It aims to present the visitor with a musical companion piece for viewing the native species in situ in the Atlantaquaria space; Ad Hoc Choir, singing workshop led by Kate Duignan. Kate is the voice workshops facilitator to teach singing for everyone, the choir will entertain the Culture Night Visitors, with an opportunity to learn how to sing. Seanós Spectacle with Aoife Welby. A visual artist & singer-songwriter. Her roots in Seanòs singing and love of folk-music are interwoven throughout her songs.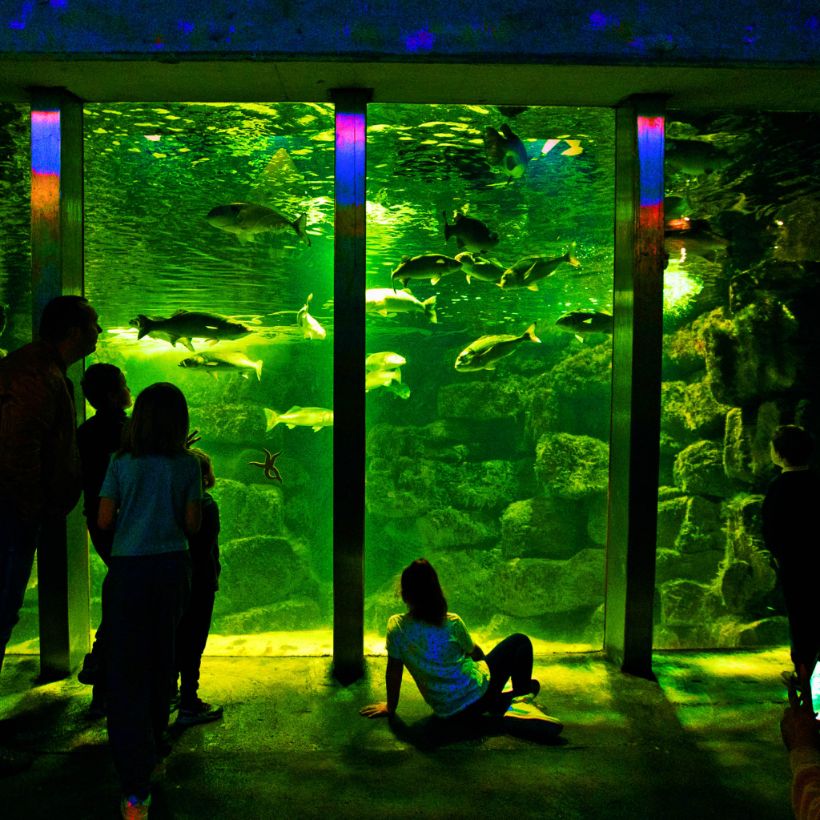 above: photo courtesy of Galway Atlantaquaria
14. Oíche le Ros na Rún
4.30pm-6.30pm / An Chuasnóg, Spiddle West, An Spidéal / more information here 
Tar ar thuras de seit Ros na Rún a bhíonn ar TG4, an t-aon sobal dráma atá lonnaithe faoin tuath. Téigh taobh thiar den cheamara agus foghlaimeoidh tú cén chaoi a léirítear an clár Gaeilge seo. Beidh seisiún ceisteanna agus freagraí le cuid den fhoireann léirithe ina dhiadh. Cuir in d'áit in áirithe leiriuchain@rosnarun.com. / / Step behind the scenes of Ireland's only rural based TV drama, TG4's Ros na Rún. Enjoy a guided tour of the Irish language TV drama, go behind the scenes and learn how the TV show is made. Enjoy an exclusive Q & A session with members of the production team. Book your space leiriuchain@rosnarun.com.
15. Bringing the Magic, Mystery and History of Holy Wells to Life
4pm-7pm / Tuam Library / more information here
An exhibition of drawings, documentary and artist talk in Tuam Library exploring the history, heritage, folklore, and rituals associated with wells surrounding the Tuam area. The project re-positions ancient wells at the centre of the community as a source of physical and spiritual wellbeing and poses important and challenging questions about our current relationship with water and the environment.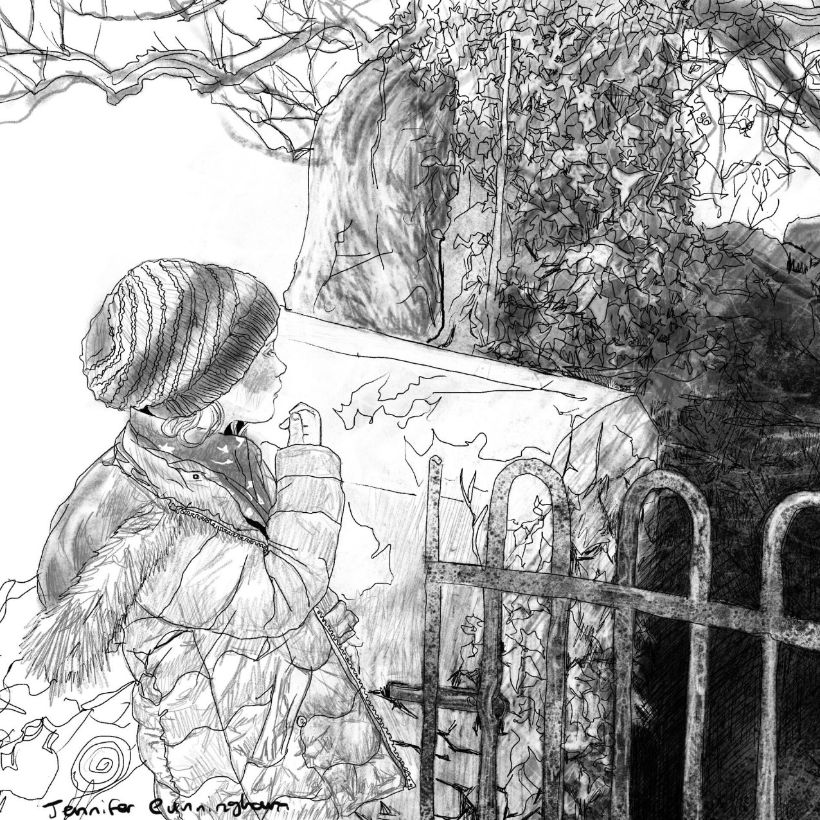 above: photo courtesy of Galway County Culture Night
Feature photo from An Taibhdhearc's Culture Night 2022
Published on Updated on