"Well now, I'll begin at the beginning. A fine soft day in the spring it was, when the train pulled into Castletown, three hours late as usual, and himself got off."
These are the words uttered in the opening sequence of the beloved 1952 film, The Quiet Man, of which some was shot in Ballyglunin Railway Station. A famous landmark and much-visited attraction, the now disused station opened way back in 1860 and has a whole lot of history attached to it…
Fadó fadó in May, 1854, a committee was formed to establish the Athenry and Tuam Railway and six years later it came to pass. After a tough eighteen months of work by 750 men, the station was opened for passenger traffic with just one platform on the east side of the track.
Flash forward forty years and many journeys later to 1903, when Great Southern and Western Railway took ownership of the station, giving it the revamp it needed. With the build of the west platform, waiting room, office, toilets and lamp room, as well as a footbridge spanning the tracks, these improvements transformed the station into what would be later seen by millions as the backdrop to which parts The Quiet Man was set.
Throughout the Civil War period, a number of incidents took place in Ballyglunin, including an attempt to send a crewless train into Tuam with the regulator open and the raiding of a Limerick-Sligo goods train. The items taken included two barrels of Guinness, 56 pounds of butter, 5,000 cigarettes, four bags of flour, two sides of bacon and 48 Christmas cakes – doesn't sound like quite the party?
In 1952, days were spent dodging the hapless raindrops of late June in order to perfect the opening scene of the iconic film, The Quiet Man. Those three weeks of filming was trimmed down to just a few minutes to showcase both the arrival of John Wayne at the beginning and the near departure of a newly-wed Maureen O'Hara. Though they may not have known it at the time, the film has gone on to win many's the award and hold a special place in the hearts of many.
Fifteen years later, on 16 July 1967, the station saw its busiest Sunday on record as six specials for Knock and five Galway-bound specials went through in the morning and returned in the evening. Eight days later, the station was closed to goods traffic.
With services ceasing in 1976 as part of the rationalisation of the rail network by Córas Iompair Éireann, the station began to gradually slip into disrepair and was left abandoned until 2004, when locals began crowdfunding efforts to re-open the railway station. The Ballyglunin Railway Restoration Project had a 10-year lease on the location, which is owned by CIÉ to this day.
Thanks to the group's efforts, the risk of the building falling into ruin has been avoided and has been preserved as one of rural Ireland's most important attractions. Whether you've seen the movie or not, you'll feel the historical and cultural importance of the building when you stop by. Sure lookit, while you're there you've got to take a photo by the emblematic 'Castletown' sign!
For more information, click HERE.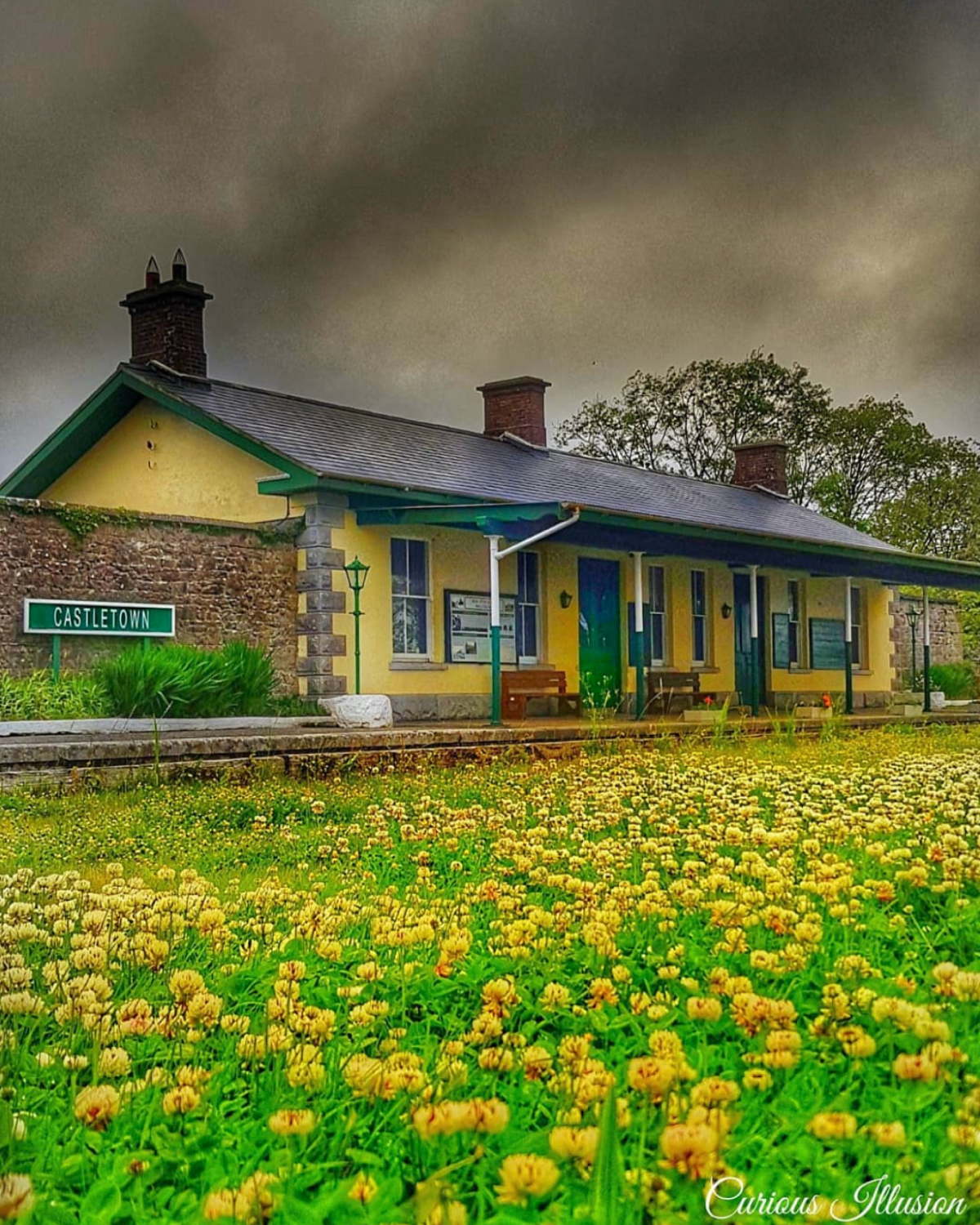 Ballyglunin Railway Station image courtesy | © Curious.illusion
Feature image courtesy | © Ballyglunin Railway Station