Sonny Molloy's Irish Whiskey Bar has just released their limited-edition Redbreast 19 Year Old Oloroso Sherry Single Cask, exclusively bottled for the award-winning Latin Quarter Galway bar!
Only 486 bottles of this triple distilled single pot still whiskey have been produced by Sonny Molloy's in collaboration with Redbreast! Aged in a 500 litre Spanish Oak Oloroso seasoned Sherry cask (number #33015), this is one of the final ever releases of a Redbreast single cask for the on-trade, resulting in an extremely limited edition and truly collectable whiskey for Sonny Molloy's.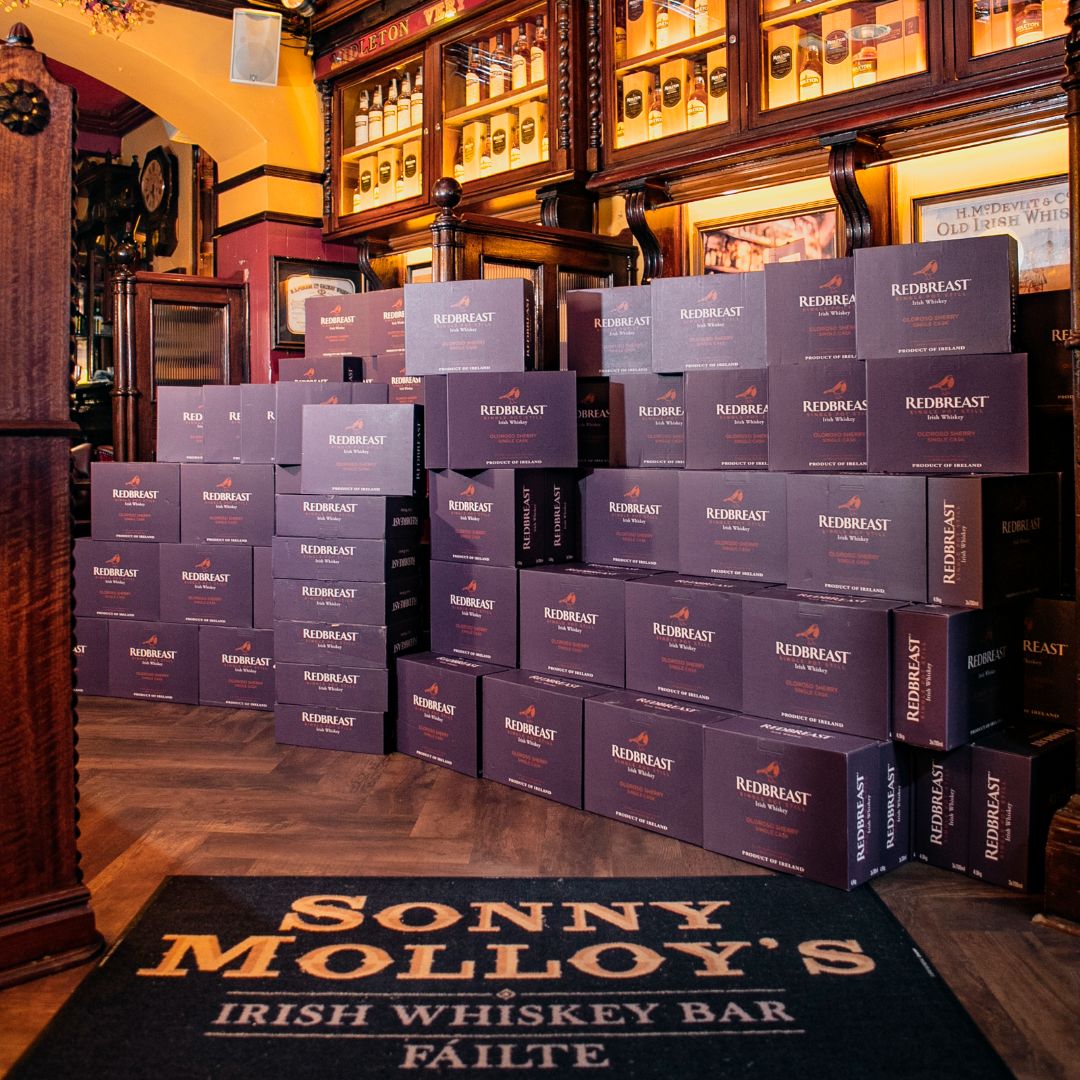 Hand-selected by, Master Blender, Billy Leighton and laid down to mature in the Midleton Distillery, this cask represents a unique and singular nuanced expression of Redbreast with the Oloroso Sherry Single cask a joy to behold.
This is the second Redbreast release for Sonny Molloy's. In 2018, the now sold out Redbreast 16 Year Old Single Cask whiskey marked the first ever partnership between Redbreast and a bar. So, it is very fitting that the first bar to receive a single cask, is also selected to receive one of the last.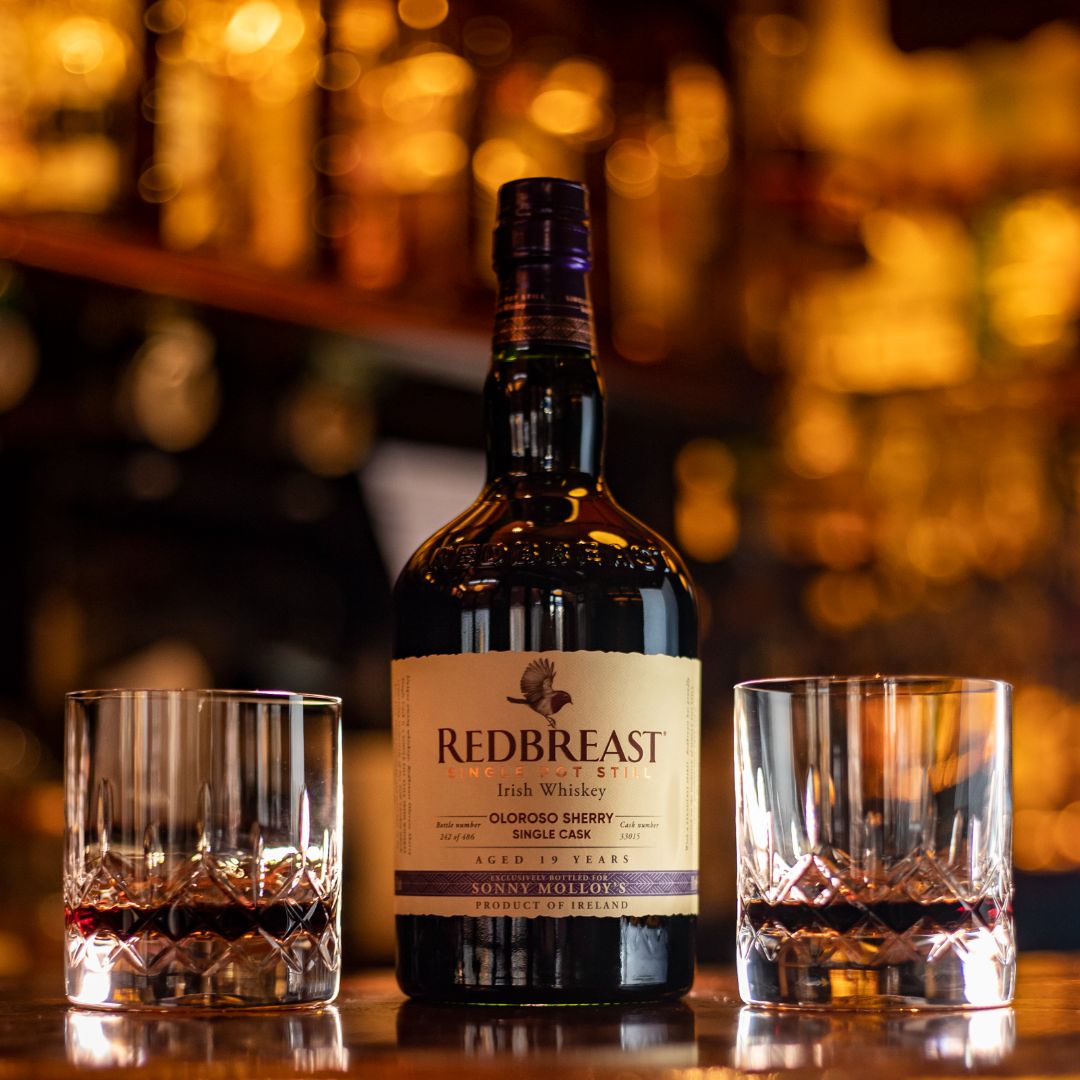 Steeped in Galway's rich whiskey heritage, Sonny Molloy's is one of the country's most popular whiskey bars and is a founding member of the Galway Whiskey Trail. The premises was formerly a renowned drapery shop run by the legendary Sonny Molloy. He was a larger-than-life character, famed for his friendly service and welcoming presence. Indeed, Sonny himself appreciated a fine Irish whiskey. His favourite being a Redbreast 12 Year Old, which he regularly enjoyed as a nightcap, making it a natural choice for Sonny Molloy's to partner with Redbreast.

The Sonny Molloy's Redbreast 19 Year Old Oloroso Sherry Single Cask is now available to purchase by the bottle or measure in the bar. For further details or orders email manager@frontdoorpub.com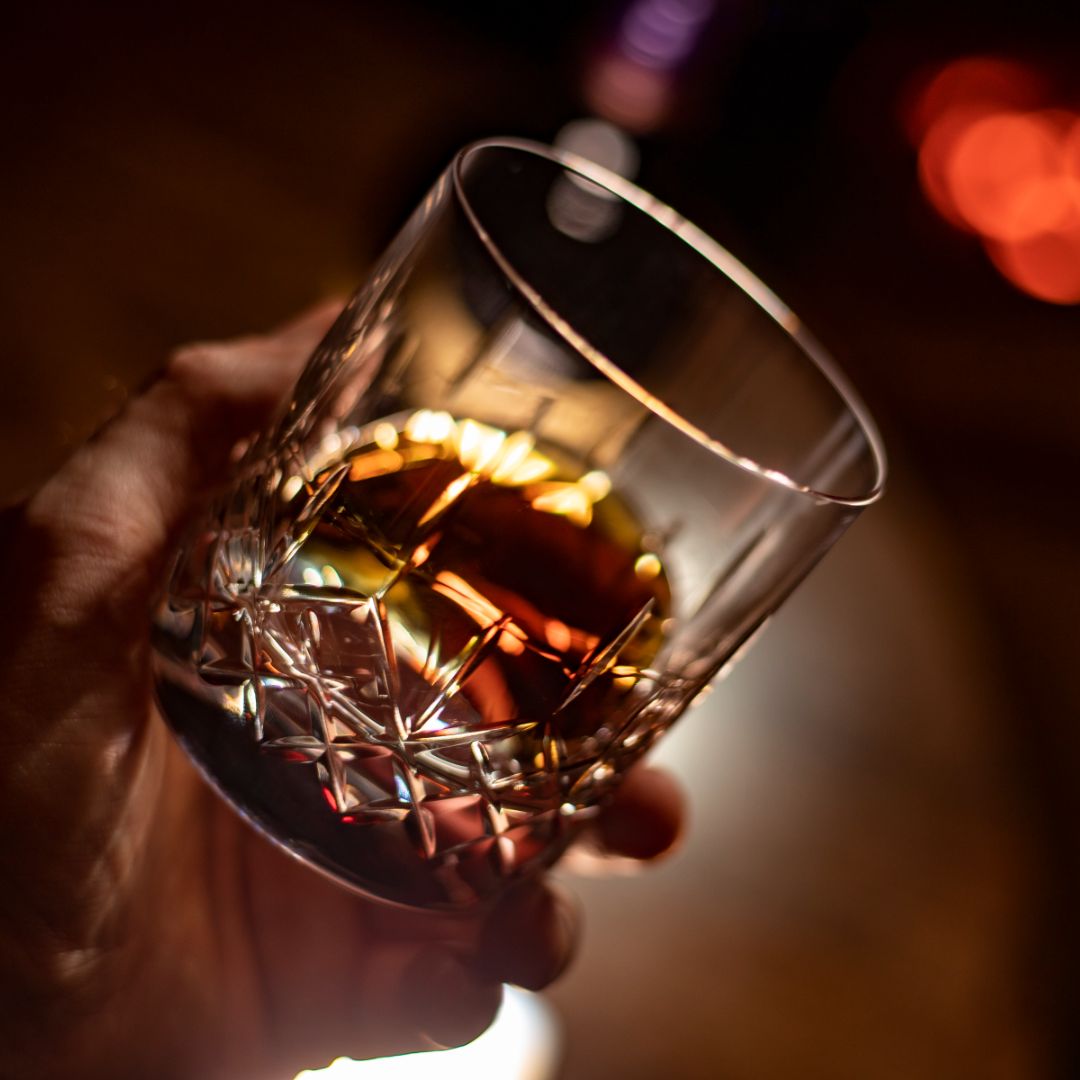 Tasting Notes for Sonny Molloy's Redbreast 19 Year Old Oloroso Sherry Single Cask
Nose: Begins with rich notes of walnut and hazelnut intertwined with dark berry fruits, black treacle and sultanas. The oloroso seasoning continues to impart additional dried fruits and balsamic sweetness while the toasted oak evolves with aromas of confectionary baked goods and sweet vanilla.
Taste: Soft tannic structure with dry notes of cocoa powder and ground almond at first, closely followed by waves of sweet, sugar glazed cherries and golden raisins. The delicate pot still spices work in harmony with the rich and flavoursome sherry seasoned oak.
Finish: Captivating finish where the dried fruits and soft spices gently fade allowing the oak to have the last word.
Find out more about this wonderful whiskey bar located in the heart of Galway's Latin Quarter by tapping right here.
Published on Updated on