Galway City Council welcomes the support of An Garda Siochána and schools in Galway City, for 'School Zones' measures recently introduced at 15 schools in the City.
The purpose of the brightly coloured spots is to raise awareness among road users that they are entering an environment where there is a school, to encourage awareness of children and other road users, and to encourage slower speeds. School Zones measures are funded by the National Transport Authority.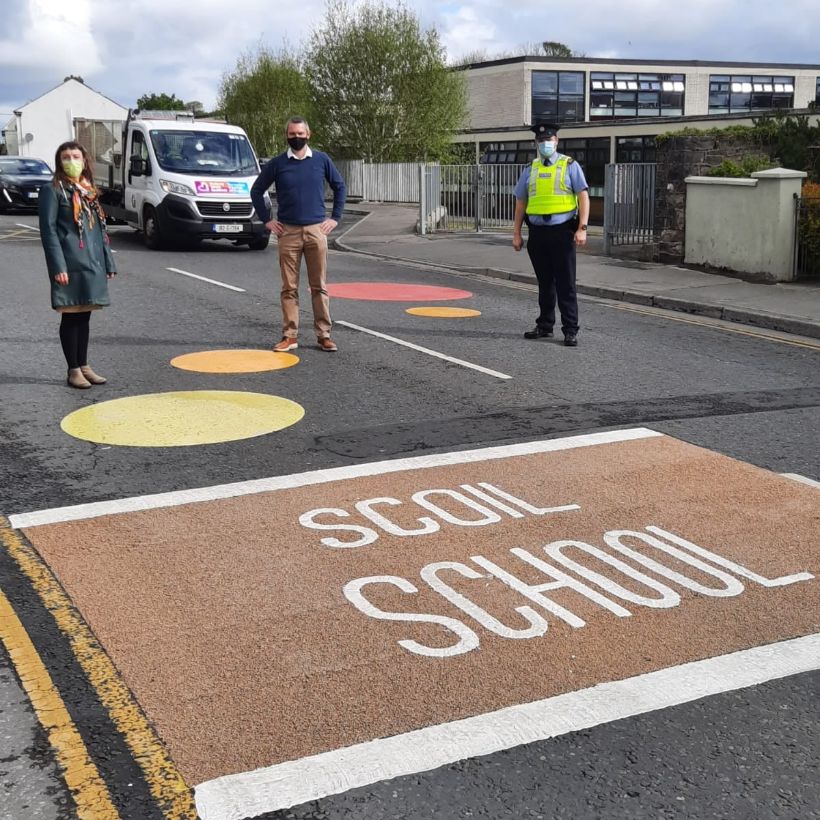 In August 2020, the National Transport Authority (NTA) published draft design guidance for 'School Zones'. The purpose of the guidance is to create a safer, calmer, more attractive environment at the front of schools. The guidance was developed in conjunction with An Taisce's Green-Schools programme and Brady Shipman Martin. Galway City Council successfully applied for funding through the NTA Stimulus Fund 2020 to progress initial School Zones measures at a number of locations in Galway City.
These initial measures comprise the laying of coloured spots and road markings outside the school location. Installation of the spots/ markings is progressing in locations including: Scoil Iognáid, Raleigh Row (School Streets pilot); Scoil Bhríde, Shantalla; Radharc na Mara, Mervue; Scoil Chaitríona Junior & Senior, Renmore; Gaelscoil Mhic Amhlaigh, Knocknacarra; Scoil Naomh Iosef, Rahoon; Scoil Croi Iosa/ Presentation NS, Newcastle Road; St Patricks NS, Lombard Street; Scoil an Linbh Iosa/ Mercy NS, Francis Street; Parochial NS, Waterside; Scoil Náisiúnta Róis, Rosary Lane; Coláiste Iognáid S.J., Sea Road; Knocknacarra Educate Together NS, An Cimín Mór; Cuan na Gaillimhe CNS, An Cimín Mór.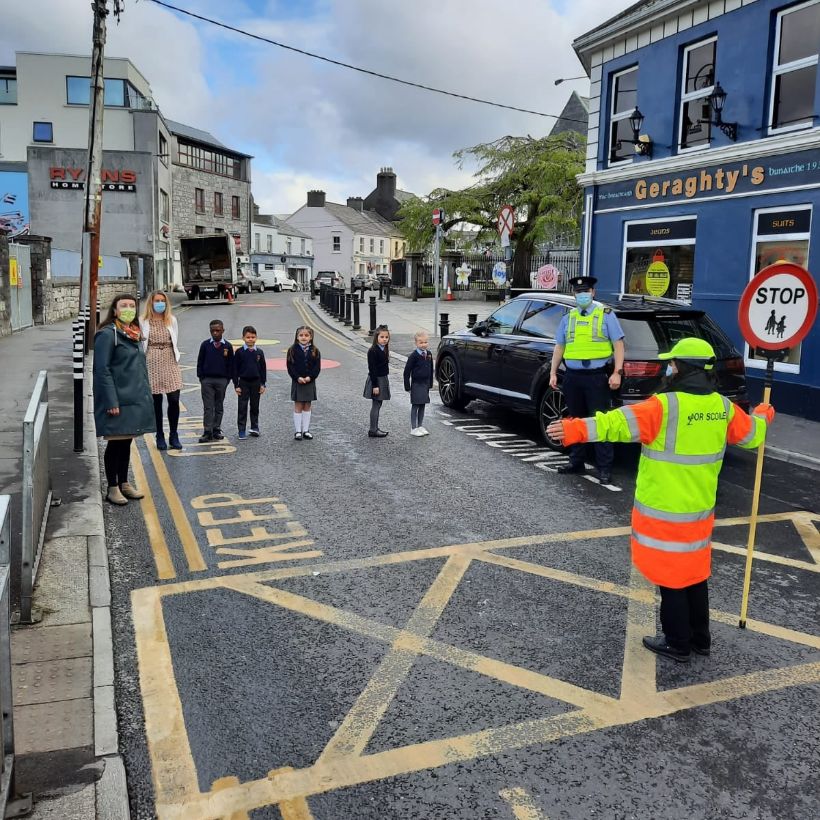 These schools were chosen on the basis of the road at the front of the school being 'taken in charge' by Galway City Council, with pavement intact so the spots / markings could be installed as a Stimulus measure.
A tender for full School Zones designs for all schools in the local authority area is also being progressed at present. Subject to continued funding, designs will be progressed for a number of schools per year, with a view to making the front of school environment safer for children as they arrive to school. Engagement with the school community will form part of the tender.
The progression of additional School Streets/ School Zones projects are contingent on funding continuing to be made available by the NTA, and most notably, the recruitment of additional staffing resources.