A brand new Teenage Drama series "Saol Ella" comes to TG4 screens on April 20th at 5pm. This exciting show, which premiered at Eye Cinema, will get its first broadcast on TV from Thursday the 20th.
Full of the thrills and spills of teenage life, Saol Ella is centred on the story of teenage girl Ella who's growing up in the Connemara Gaeltacht. Bursting with excitement to be getting out of school, hanging out with her friends and 3 months of summer adventures, boyfriends, first kisses and all the fun of a carefree teenage life ahead of her, Ella is numbed to find out her family have decided to take in Gaeilgóirí – Irish College Students for the entire summer.
What a dread for Ella, who now has to share her bedroom with her gran and her life will be literally upside down with all these strangers in her home learning "Gaeilge" for the summer. It will be chores for Ella, a complete upset to all her lovely summer holiday plans, her family are stressed out but needs must and the neighbours aren't happy either. What have Ella's family done to her lovely carefree teenage summer life?
Set in a fictional coastal village on the Wild Atlantic Way, where Gaeilgeoirí, and the Coláistí Gaeilge have been part of summer life for generations, Saol Ella cleverly depicts the story of Ella and a group of local teenagers, a host family and what the visiting Gaeilgeoirí bring to their lives. There's the upset of losing your lovely bedroom and moving out of the house and the dread this brings, the work that Mom and Dad give you for the summer and then there's the girls coming to your road and potentially taking your boyfriends and eye candy, not to mention the drama of being a teenager. On the other hand Coláistí Gaeilge have so many fond memories for all who attended: first time away from home without your parents, the Céilí's, first kiss, your first boyfriend or girlfriend and of course speaking Gaeilge for 3 weeks not to mention outsiders meeting the native Gaeilgeoirí. The excitement, tension and teenage attractions and distractions - TG4's Saol Ella has it all.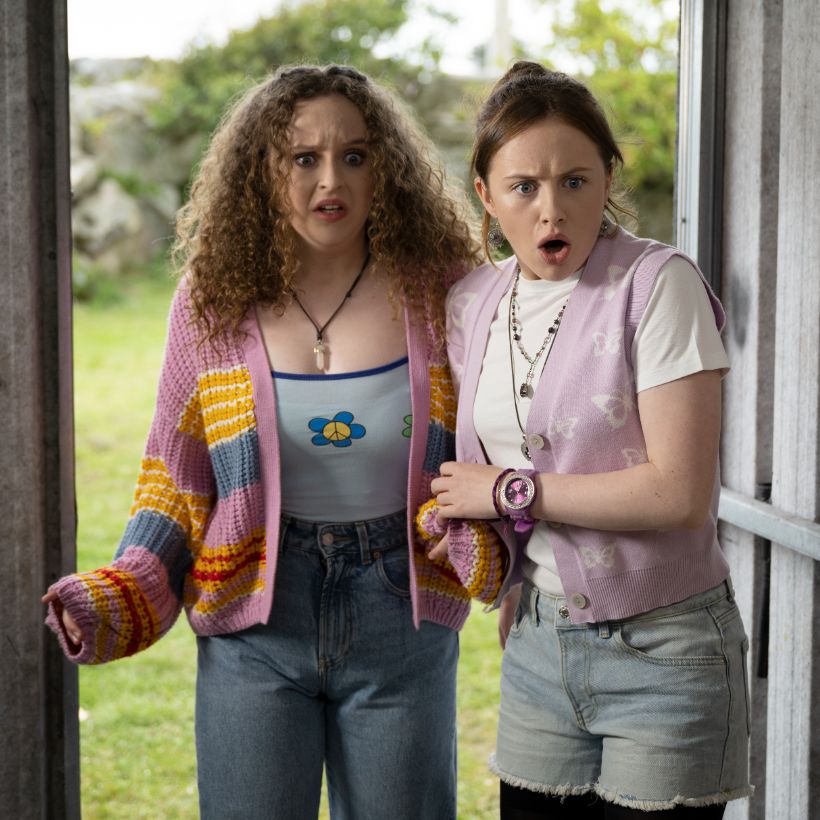 A gripping yet fun, entertaining and dramatic 6 part teenage drama series Saol Ella will have lots of fun and frolics but also show the emotions and diversity attached to teenage life and growing up in the Gaeltacht. It also showcases the teenage Gaeilgeoirí who visit, how they react to life in a rural Gaeltacht community and what the mix of teenage life throws at both groups.
Produced by independent TV production company Danú Media and written by Ailbhe Nic Giolla Bhrighde and Gemma Breathnach, Saol Ella brings fun, and light hearted drama to TG4 screens and is entirely aimed at the younger teenage audience. It depicts the nuances of teenage life in an entertaining and amusing story yet throws all of the nostalgia of summer as a Gaeilgeoir to all the thousands of people who spent a term in the Coláiste Gaeilge to learn and improve their Gaeilge. Danú Media co-produce the long established Ros na Rún drama series for TG4 alongside Tyrone Productions and this is another new production which they've conceptualised and brought to TG4 screens creating new jobs for cast and crew in an Spidéal.
The lead character Ella is played by teenager Ciara Cox from An Spidéal, who's no stranger to TG4 screens as she's already established in TV acting as Maeve in Ros na Rún. A feisty young lady with lots of ambition, Ella has her close friends but of course when she gets over the shock of her parents "taking in Gaeilgeoirí" and upsetting her summer plans she sees many opportunities, not least of all a first kiss and a little bit of competition with her onscreen girl friends. "I'm beyond thrilled to be cast as Ella," says the Transition Year Student Ciara Cox, "this is another lovely role for me and it's very different to my character Maeve on TG4, but growing up in an Spidéal, I'm very familiar with Gaeilgeoirí visiting for the summer and the fun we have so its brilliant to showcase the story from a local family's perspective and how we live our summer holidays with the Coláistí Gaeilge Students who come to learn Gaeilge".

Directed by Eamonn de Norradh, from Navan who's credits include Ros na Rún, Fair City and the feature film, Making It. The cast also includes Sean McDonagh, Siobhán O'Kelly, Caitríona Ní Threasaigh and a number of wonderfully ambitious teenage actors from all over the country who were thrilled with the opportunity to make their debut on Irish TV Screens with Saol Ella.
"Danú Media create entertaining drama for TV and Film, it's what we love to do," says Siobhán Ní Ghadhra, CEO of Danú Media and Producer of Saol Ella. "We have an abundance of talent at our disposal in the Gaeltacht from actors, to scriptwriters and crew and we've always had the ambition of delivering a fun, exciting and clever teenage drama series which tells the story of teenage life in today's world in the Gaeltacht while also showcasing the beauty of life with the Irish language at this stage of a young person's life. Young audiences are going to identify well with Saol Ella, not just Gaeltacht teenagers but also their families and those who've started to spend time at the Coláiste Gaeilge or those with fond, nostalgic memories of their Coláiste Samhraidh days. Saol Ella tells a good and real story in 6 beautifully filmed episodes".
Saol Ella a 6 part teenage drama series is funded by TG4, Sound and Vision Fund of Coimisiún na Meán and S481 Tax Incentives. The project was developed by TG4, the WRAP Fund and Fís Éireann / Screen Ireland. Produced by Danú Media and written by Ailbhe Nic Giolla Bhríghde and Gemma Breathnach, the drama series was filmed in an Spidéal and the south Connemara Gaeltacht area during the summer of 2022.
For all the latest updates, follow @SaolElla across TikTok, Instragram, Facebook and all social media channels or check out www.danumedia.com
Published on Updated on