Saint Sister are an electro-folk duo that have emerged as one of the coolest, most talked about acts in the country due to their unique sound. Their music creates an atmosphere unlike any other; weaving the earthy, traditional notes of harp and other folk instruments with swelling, electronic undertones and angelic, kindred vocal harmonies. We spoke to one half of the pair, Gemma, in the lead up to a headline show in Róisín Dubh a couple of years ago...
Saint Sister are about to embark on a national tour that encompasses pretty much every major venue in the country; from Kilkenny to Limerick and Galway to Drogheda, with a show in London added in for good measure. This latest tour is to promote their newly-released single, "Is It Too Early? (Kilmainham)". The track opens with a jittery, stuttering voice asking if you are having fun, as the background noise and chatter intensifies in the background. The music grows and morphs into the noise of a techno party where one should certainly be having fun, but the same questions and doubts remain. It's about missing home and being unsure about your decisions that lead you there.
Within 6 months of forming, Saint Sister supported Will Butler of Arcade Fire and recorded their "Madrid" EP with Alex Ryan, a band-mate of Irish superstar, Hozier. That first EP was streamed over 2 million times on Spotify and earned a playlist spot on major radio stations across the UK and Ireland. The success of "Madrid" and full-length album, "Shape of Silence", enabled tours to be organised all across mainland Europe. Consistent touring has developed their live shows into a phenomenal exhibition of powerful noise juxtaposed with sweet voices. Since then they have appeared at Glastonbury, Electric Picnic and Latitude and supported the likes of The National and Lisa Hannigan.
The new song exemplifies how far the project has come in just under five years. It was written partly on the east coast of Ireland and partly on the west coast of America as Saint Sister undertook a 50-date global tour to mark the release of their debut album last year. Gemma explains, "I lived in Kilmainham for a long time. While I was there I was working on arrangements and I'm not very good at naming demos so I just called it Kilmainham. I left if be for a while and eventually it resurfaced when I showed the song to Morgan while we were on tour. It clicked with her instantly and we started writing the lyrics while in the back of the van. It resonated with her and it became a piece about being away from home. While we are incredibly grateful to be able to tour as much as we do, we might not always be having the time of our lives as people think. That struck a chord with her. So I started it in Irelnd, then Morgan got her creative spark for it somewhere around San Francisco."
Although both members hail from Northern Ireland, Saint Sister began in Dublin when Gemma Doherty and Morgan McIntyre crossed paths in Trinity Orchestra. "We had loads of mutual friends. We knew a lot about each other and there seemed to be a lot of overlap in our lives. So I think we sensed a kinship in that way. It started off just us trying to make some music but then we got on so well, that really tied it all together. We clicked musically, and personally, very early on."
The connection between the pair has resulted in a distinctive style with which they are now synonymous. But the project didn't set out to be anything specific. "It kinda just happened. Initially we wanted to form a full band and had no idea what the line-up was going to be, we just had drums and bass in mind and maybe keys. Morgan had a few songs that we used as a way to try things out. That went on for a while but it was clear that it was just the two of us that had the real vision, so we stripped it all back. When it boiled down to just the harp and vocals we started to find our style. Because we had taken the drums and bass out of the equation it meant we had to experiment a bit more with drum machines and percussive effects on the harp. That's when we brought it into the electronic world."

In many ways, however, Saint Sister are still discovering sounds and itching to explore new directions. "We decided not to put a label on our music at the very start so we could just see what happens. But, naturally, everybody starts to ask you what kind of music you play and you have to give an answer."
And so, we were gifted with: 'Atmosfolk' - coined by their recording artist, Alex Ryan. A bespoke genre all for themselves and one that fits pretty well. Gemma laughs and explains how that quirky name seemed to follow them around despite only ever using it a couple of times. "He threw that out and we thought it worked. We weren't so keen to hang on to one particular term too much. But it stuck, so it must be fitting! I don't really mind what it's called but I'd hate to focus too much on that tag and end up limiting our writing, or missing out on something because we feel we have to go a certain way. There are songs on The Shape of Silence and certainly some new stuff we are working on, that I wouldn't class as folk. Folk is such a huge part of both of our backgrounds; I've always been into Irish Traditional folk music and Morgan is more into Americana. So it's a huge influence but I wouldn't call all of our music folks, just parts of it."
Saint Sister's blend of genres is very suited to the modern Irish music scene; a scene which is diversifying but still keeps elements of what made it globally famous for many years. "All of our friends here are based around music and it does seem to be thriving. The variety is incredible. There are amazing people doing amazing things everywhere you look. There's support for it now as well, people are buying tickets and going to gigs. That's how these things happen, when local bands get backed."
It sounds like the right time to join the movement and support one of Ireland's fastest-rising bands when they come to Róisín Dubh in Galway's Westend. Saint Sister will be boasting a full four-piece band for the gig. The night will be opened by Rachael Lavelle. We'll be there, it's going to be a great show!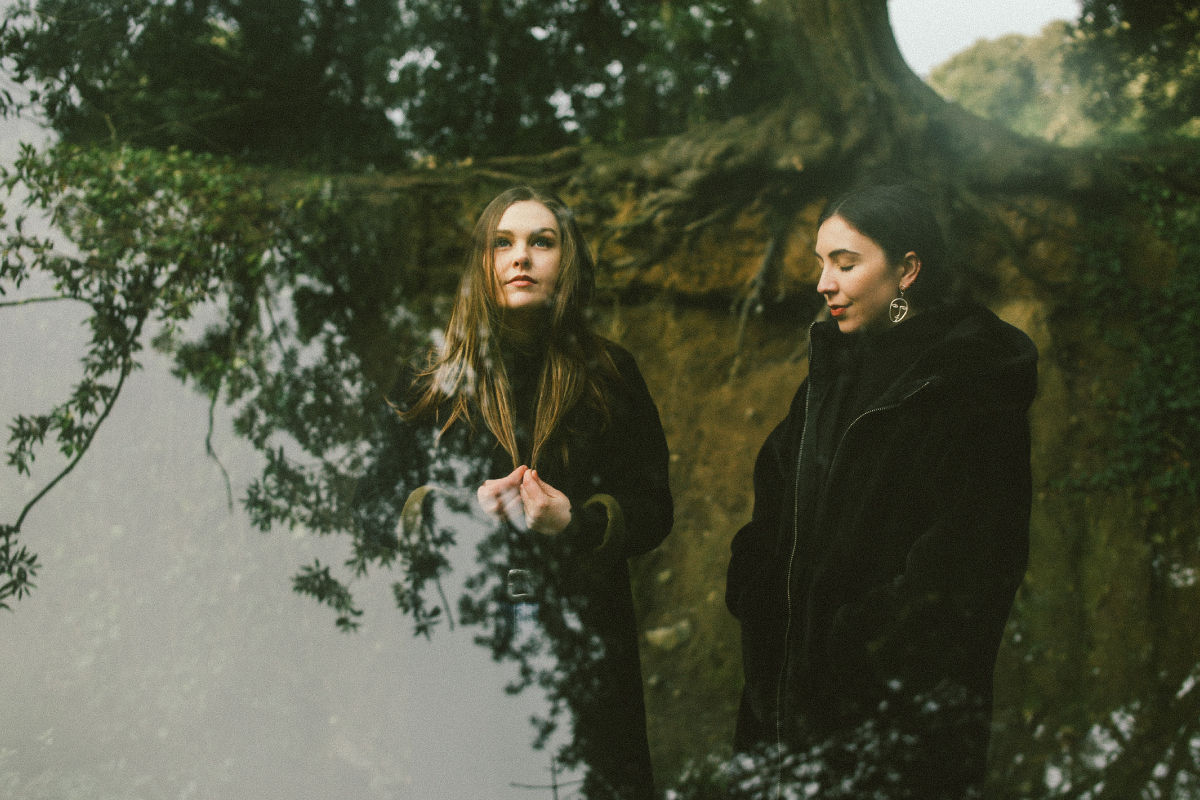 Photos courtesy Saint Sister
Words by: Ado Lyons
Published on Updated on