Danny Carroll is a passionate, charismatic and extremely talented stalwort of the Dublin and Irish music scene. Now, to celebrate the release of his new single, Affection, Danny will tour Ireland with his band and play a show in Galway's iconic Róisín Dubh. Find out more here...
Buy Tickets for Danny Carroll's Show in Róisín Dubh HERE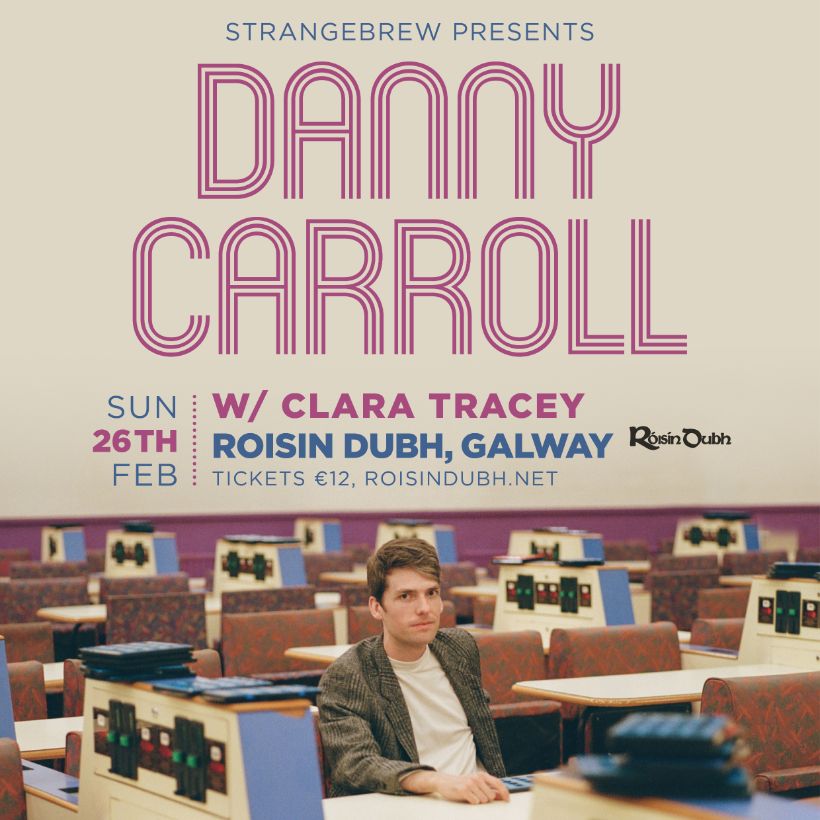 Danny Carroll is an embarrassing millennial.
Hailing from, and residing in, the extortionate hellscape of Dublin, he writes idiosyncratic songs about fatigue, failure and football. Shifting between sincerity and self-deprecation, infatuation and exhaustion, his "songs encapsulate so much of what it means to be alive in Ireland at the moment; the ennui, uncertainty and the oddly humourous nature of it all" (The Thin Air).
Part of the Dublin music scene for years, Danny is co-curator of A Litany Of Failures compilation series showcasing independent artists from across Ireland. Having gigged in various projects, he's opened for kindred spirits such as Jeffrey Lewis and Pavement guitarist Spiral Stairs, before the time came to work on his debut solo album. Enlisting the help of Belfast based producer Chris W. Ryan (known for work with New Dad, Just Mustard, Robocobra Quartet), the two developed songs with a playful, anything goes approach. Incorporating classical guitar, lapsteel, and melodica, Carroll's songs have been likened to softer touchstones of indie rock such as Wilco, Jonathan Richman, and Lee Hazelwood.
Debut single Affection (listen HERE) finds Carroll "still singing despite relegation". Detailing the slow disintegration of a long-distance relationship, it marks a shift from the tongue-in-cheek humour that dominated his past work. Chiming guitars, keys, and backing vocals swell with the resignation of a repeated chorus "We don't say that little phrase anymore". The track takes on a widescreen Phil Spector production with timpani and celeste used to dramatic effect. Performers on Affection include Carl Eccles (Careerist), Finn McCarthy (A Ritual Sea) and Chris W. Ryan (Robocobra Quartet). The release will be celebrated with a five-date tour of Ireland kicking off in February.
Book your tickets to see Danny Carroll in Róisín Dubh on February 26th, with support from the wonderful Clara Treacy, by tapping right HERE.

Danny Carroll Nationwide Tour Dates:
25 Feb - Dolans Kasbah, Limerick, with Fonda
26 Feb - Róisín Dubh, Galway, with Clara Treacy
08 Mar - Spirit Store, Dundalk, w/ The Bonk (solo)
09 Mar - The American Bar, Belfast, w/ Clara Treacy & The Bonk (solo)
10 Mar - Bello Bar, Dublin w/ The Bonk (solo) & Meabh McKenna
Support for Danny Carroll's Galway show comes from Clara Treacey.
Listen to Danny Carroll's music on Bandcamp, and follow their exploits on Instagram, Facebook and Twitter.
Book your tickets to see Danny Carroll in Róisín Dubh, with support from the wonderful Clara Treacy, by tapping right HERE.
Previous Praise for Danny Carroll:
"Danny Carroll is one of the brightest, most precocious talents we have"
Cian Ó Cíobháin, RTE RnaG
"Danny Carroll's lyrics are some of the smartest, wittiest that the country has to offer".
Will Murphy, The Thin Air
"Sharp lyrics that poke and prod at the clamour of modern life"
Lauren Murphy, The Irish Times
Published on Updated on