Read all about Changing States, an Athenry Street Mural by Shane O'Malley that changes colour depending on the weather!
Hope it Rains | Soineann nó Doineann has unveiled Changing States, a vibrant new street mural in Athenry by Galway artist Shane O'Malley which changes colour depending on the weather. Located just above the Square on the gable end of Glynn's Bar, Changing States is an abstract painting that changes its shape, size and colour in reaction to rainfall. The direction, intensity and amount of rain determine which version of the mural is visible, making it as changeable as the weather!
The large-scale abstract works, bold colour and geometric patterns of Shane O'Malley's street art have become part of Galway's visual language. This is Shane's second rain reactive mural commission for Hope It Rains, after last year's installation on Church Street in Galway as part of the Galway 2020 European Capital of Culture programme.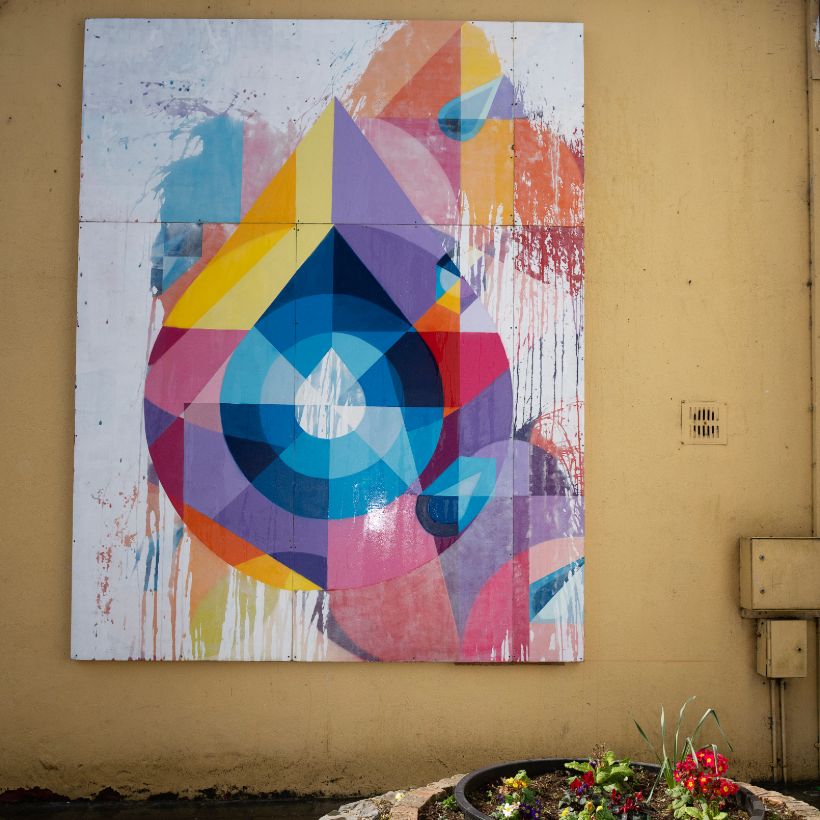 Artistic Director and Curator of Hope it Rains | Soineann nó Doineann, Ríonach Ní Néill, explains the inspiration behind the mural:
"We expect a painting to be static, and the image stable and unchanging, but with a paint that becomes transparent in rain, a mural can be dynamic and shape-shifting. I wanted a work that would reflect the capricious and mercurial nature of Galway's weather. Shane's vibrant and optimistic murals stand out against Galway's grey skies, so it was natural to ask him to create a painting that would duet with the sky and transform in the rain."

The mural incorporates hydro-chromic paint in the palette. Hydrochromic paint is white when dry and transparent when wet, to reveal the surface beneath it. When dry, the mural depicts a single raindrop composed of a series of smaller raindrops nested within it. When it rains and the mural gets wet, colours expand to the very edge of the mural in a kaleidoscopic burst. The greyer the sky and wetter the day, the bigger and brighter the mural becomes.
Considering the weather's variability in Ireland, there could be several versions of the mural in one day especially on a wet and sunny day!
Cllr Shelly Herterich-Quinn was instrumental in inviting Hope it Rains | Soineann nó Doineann to install the mural in Athenry town:
"Having been involved in the Pilot Project 'Small Towns, Big Ideas' during Galway's bid for the European Capital of Culture, and given Ríonach Ní Néill's association with Athenry, I just had to see if it would be possible to exhibit one of Shane O'Malley's works here in the town. I am extremely grateful to Galway County Council for working with Ríonach and helping us to bring this wonderful exhibition to Athenry. I would also like to thank Mrs Mary Curran and Ms Teresa Brady for granting permission to hang the mural on the wall of Bridgie Glynn's, a very popular pub in Athenry. The mural will be very visible and enjoyed by residents and visitors to Athenry."
Published on Updated on