The very best, and most intimate, of festival comedy shows will take place at The Kings Head throughout Galway International Arts Festival! Discover The Laughter Loft line-up below...
The Kings Head has been a venue for lunchtime Comedy during GIAF for over 25 years. This July you can catch some of Ireland's best comedians up-close and personal in the intimate surrounds of The Ruby Room on the top floor of the 800-year-old city centre pub, The Kings Head. For many, it's a Festival within a Festival, with a different line up each day! It's a rare chance to catch these stadium-style comics in such an intimate setting, all under the tutelage of host and MC Gerry Mallon.
With no pre-planning or ticket booking, The Laughter Loft at the Ruby Room for Galway International Arts Festival is what Galway festivals are all about. Spontaneity and fun. Enjoy the comedy styling of top acts including Foil Arms and Hog, Deirdre O'Kane, Neil Delamere, Emma Doran, Colm O'Regan, Martin 'Beanz' Warde, Sinéad Quinlan, Shrinidhi Kalwad and many more. Shows take place daily from Monday 11th July to Sunday 24th July. Doors open at 12:30pm with all shows starting at 1pm.
These shows are first-come, first-served with tickets available on the door only so get down early to this popular pub in The Latin Quarter Galway. For all things The Kings Head, check out thekingshead.ie, www.giaf.ie or get social @TheKingsHead .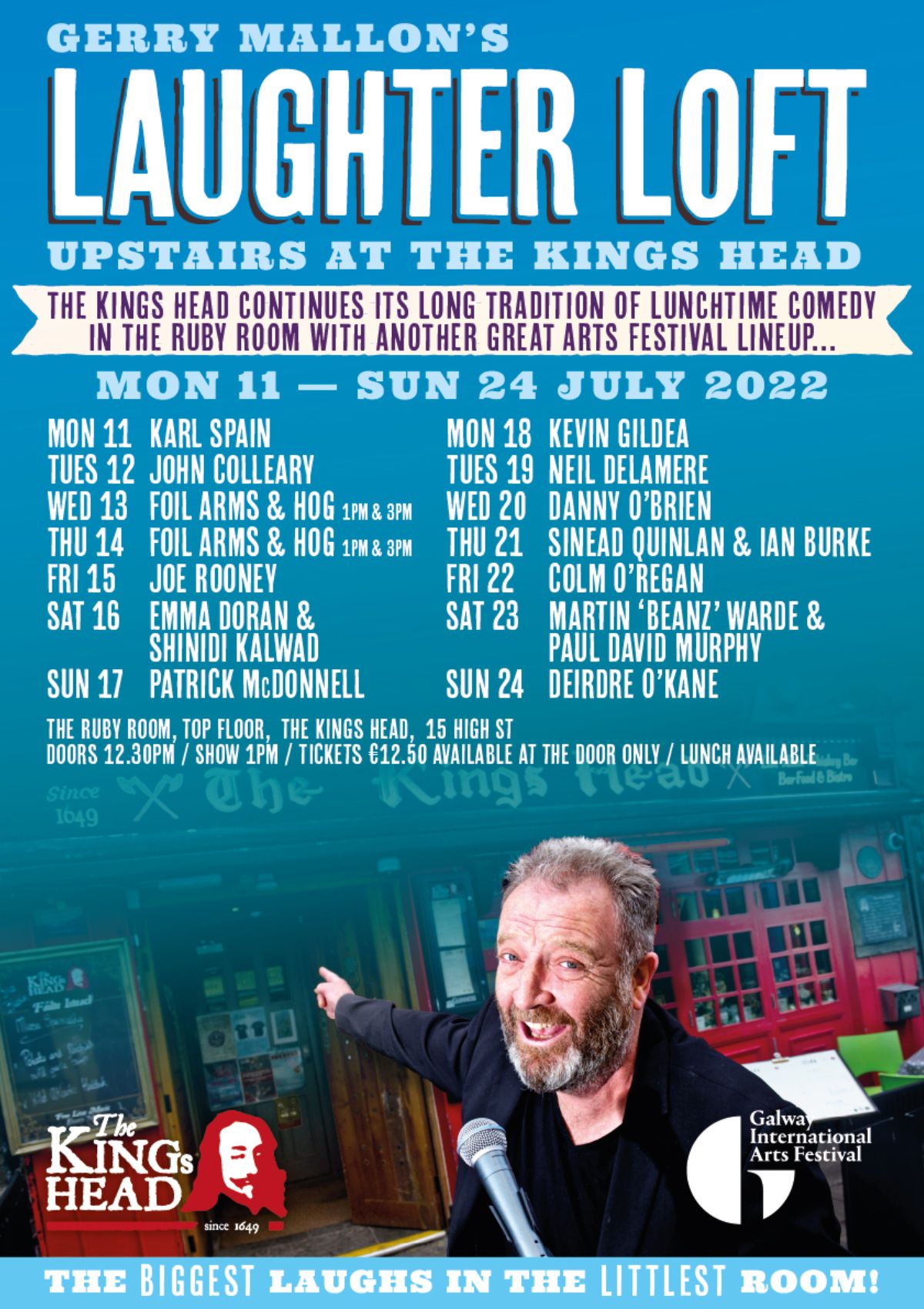 Here is the full line-up for The Laughter Loft at The Kings Head:
Monday July 11th: Karl Spain
Tuesday July 12th: John Colleary
Wednesday July 13th: Foil, Arms & Hog (2 shows at 1pm and 3pm)
Thursday July 14th: Foil, Arms & Hog (2 shows, 1pm and 3pm)
Friday July 15th: Joe Rooney
Saturday July 16th: Emma Doran and Shrinidi Kalwad
Sunday July 17th: Patrick McDonnell
Monday July 18th: Kevin Gildea
Tuesday July 19th: Neil Delamere
Wednesday July 20th: Danny O Brien
Thursday July 21st: Sinead Quinlan and Ian Burke
Friday July 22nd: Colm O Regan
Saturday July 23rd: Martin 'Beanz' Warde and Paul David Murphy
Published on Updated on