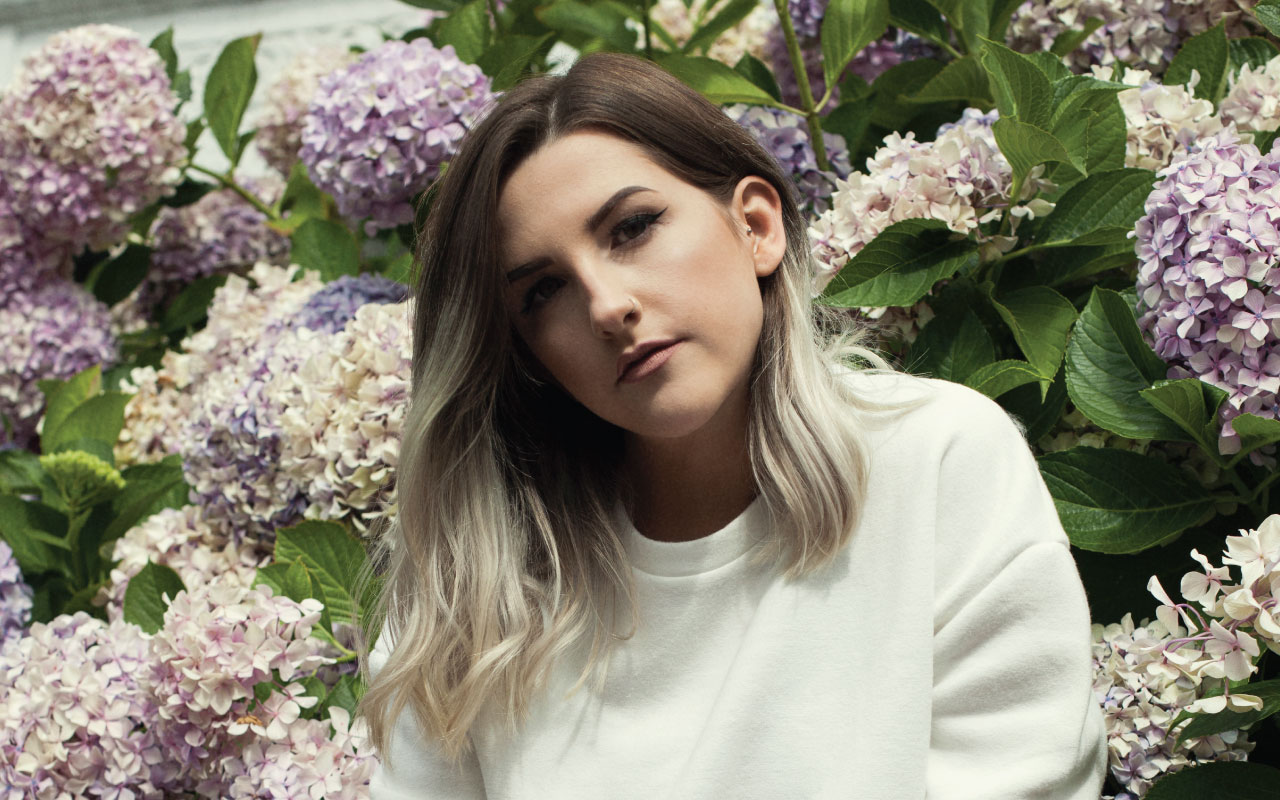 Laoise
Galway's electropop queen, Laoise, has been making a name for herself with a massive debut single and shows at festivals around Ireland.
Your debut single reached over 200,000 views on Spotify! Were you surprised how fast things started happening for you?
Yes I was so surprised to see such a response to my debut single, 'YOU'. I was not expecting it to reach so many people, but I'm so happy that it did! I think starting out as a new artist, or even on a new project can be so scary – you really
can't predict where it's going to go, so of course I was nervous releasing my own work, but the feedback has been extremely heartwarming. I'm just excited to release more!
What do you think it is that sets you apart from other artists at the moment?
When I began writing and performing a few years back, I was playing mainly acoustic music. As I began developing my own sound, I found myself lost in synths and various electronic sounds. I think because I write with guitar or piano a lot, a lot of the natural, raw sound still translates through into my new found electropop sound. I'm not afraid to say what I need to say in a song, even if it is hidden behind a metaphor, and I guess I like to keep a sense of the organic within such a full sound, and I find people connect to the music so well because of it.
2017 has been quite a year for you. What's the plan for the next 12 months?
Thank you, I've been so grateful to receive such positive feed-back from people. But I'm not nearly finished with 2017 yet.
I'm releasing my next single September 20th. This new music has a little more of a sophisticated feel. I'm finding myself
holding back less and less when it comes to writing and performing, so I'm looking forward to showing people a little more of mature version of myself.
I'm also playing at this year's Hard Working Class Heroes at the end of September. I'm thrilled to be a part of the festival in Dublin. Its music scene is thriving like mad at the moment. As for the rest of the year, you'll have to just keep and eye out…
When you finish will you re locate to Galway or will you stay in Dublin?
Honestly, I have no idea. Galway will always be my home and I will always call it that no matter where I go. Like any twenty-year-old, I'd love to travel once I graduate and I think I hope to find myself somewhere new and fresh where I can reinvent myself and grow. I can't be pinned down to one place for too long or I get itchy feet.
Watching your new video you seem to have taken the Michael Stipe hands thing to a whole new level… What's going on there? A bit of alien hand syndrome?
Haha, maybe there is some sort of alien hand syndrome coming through in my own hands from time to time. I think it's more that since I've ditched the guitar on stage, I tend to 'feel' the music and vocal melodies I'm singing a little more. I've
become more comfortable on stage that I just let my body go and it's ended up with my hands learning their own little language I guess.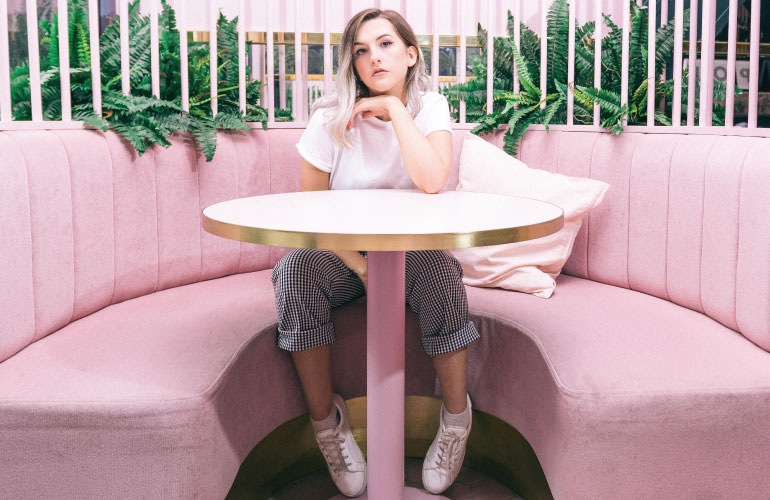 Is there a bit of an obsession with the colour pink?
Ah a little. I worked with an amazing photographer, Ethan Hart, on my first releases and their artwork played a big role in the songs. I tend to draw from a lot of heavy, dark themes and incorporate them into my own music, so the pink is sort of a paradox to that – you're not always getting what you see.
By the time this interview goes to print you will have just played your first Electric picnic! Do you approach festivals differently than other gigs?
Definitely! Festivals are otherworldly at times. I love the fact that people go all out, that sometimes they rediscover their creative side at a festival, be it with their clothes, make-up, hair and such. So because of this, I find myself delving further into my own creativity on stage performing. It's a beautiful thing.
Who are you looking forward to seeing there (at Electric Picnic)?
Oooft, so many. I hope to see both The xx and London Grammar on the main stage, but I'm especially looking forward to seeing so many Irish acts play various stages over the weekend. The Irish music industry is thriving and it's so breathtaking to not only see it, but to be a part of such a welcoming, friendly community that it's made for itself.
There's a real buzz around the Galway music scene at the moment… who's floating your boat Galway wise at the moment? Any recommendations?
I always love heading down to the Róisín Dubh to see new bands at home. I remember seeing Róisín El Cherif playing there a while back and loving her voice.
What do you miss most about Galway?
I think the most I miss about Galway is walking down Shop Street with a hot chocolate or coffee and seeing familiar faces wherever you go. It's just home.
What's the perfect night out in Galway?
Silent Disco in the Róisín Dubh without a doubt.
You're a self confessed Stevie Nicks addict… favourite Stevie moment?
Very hard to choose, but I think my personal favourite would be her live performance of Rhiannon with Fleetwood Mac in 1976. What a woman.
You have a bit of a homecoming gig at the Roisin Dubh in October. What can we expect that night?
Yes! I'm heading on tour with Ailbhe Reddy this autumn, playing in Dublin, Cork and Galway of course. I'll be playing a stripped-back set on the night so it will be nice and intimate. I always love playing at home so it's great to be back soon!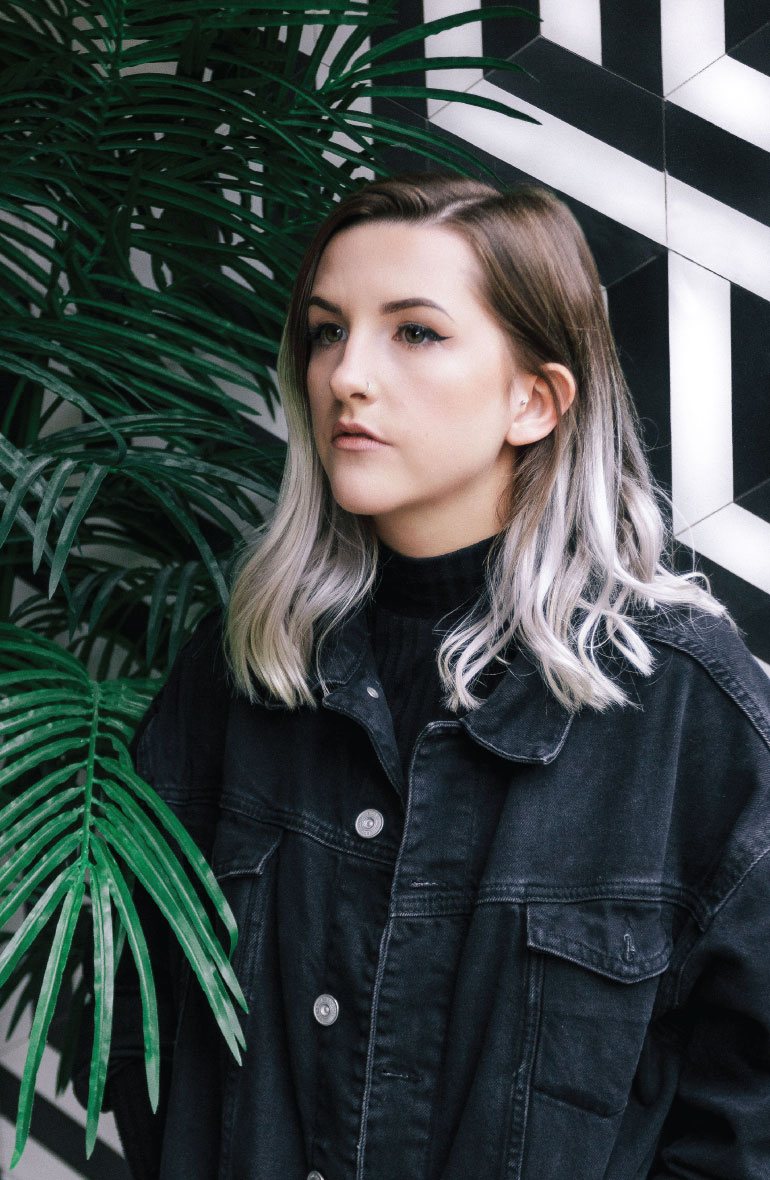 Main photo by Ellie Smith