HOWYA? is a series of laid back chats with some well-known faces around town. Best known for his Tuesday night comedy show in the Róisín Dubh, next up we've got the bellyachingingly funny, handsome hunk, Mr Karl Spain!
Who are you and what do you do?
My name is Karl Spain, and I'm a stand-up comedian and writer.
What's your favourite spot for a drink in town?
I would have to say the Róisín Dubh, especially in October during the Vodafone Comedy Carnival. The atmosphere is second to none.
What is Galway's best-kept secret?
It's not right to be sharing secrets, but I think it's Bell Book and Candle, down in the Westend. I only discovered it a few months ago, but apparently, it's been there forever.
What's your favourite thing about Galway?
I suppose it's my weekly gig in the Róisín. Every Tuesday, we have a great mix of comedians, from all walks of life. There's always such a good buzz in the air. You never know what to expect.
What is your favourite time of the year in Galway?
It has to be October when the evenings are getting darker and the Comedy Carnival is in town, it's just magic. Apart from that one year, when we had the VCC tent down by the Claddagh. Everyone was expecting us to be blown into the Atlantic at any minute.
How did your comedy career begin?
I always wanted to do standup, but I wasn't quite sure how to go about it. During college, a friend of a friend was coming over from Australia to do a few stand-up gigs in Dublin, so I tagged along. It opened up a whole new world of comedy to me. One day, I decided to book a slot, started writing jokes and things began to snowball. RTÉ had launched a comedy competition, so I entered and I got to perform in Vicar Street, which was incredible for someone who had only done a handful of gigs. And, yeah, things just took off.
If you could describe your humour in one sentence, what would it be?
With great difficulty. I'm trying to please everybody, I'm trying to make everyone laugh. I'm not one to be controversial or political or be divisive, nobody is going to agree with everything. I suppose I'm just a frustrated crowd pleaser.
What has been the funniest moment in your career so far?
I hate to admit it but the best reaction that I ever got from an audience was when I was telling a story, and in the story, I'm driving. I sat down on a chair on the stage, and I kept moving while on the chair and I didn't realise how close to the back I was. Next thing I knew, I went off the back of the stage.

The venue was normally used for weddings so there was kind of a white netting behind the stage, which caught me perfectly and lowered me down. But the audience was roaring laughing. I just said, 'I'm fine' and they just lost it. I was near enough to the end of the show, but they were just howling. I was actually on the Ray D'Arcy show a few weeks ago and someone text in and said 'Aw I was there that night in Kildare, it was hilarious.'
What was the best moment of your career?
I remember when we first got the English TV channels at home, I watched Just for Laughs which is the comedy festival in Montreal, and that was a pivotal moment for me. We had never seen anything like it. Three years into my career, I was picked to go to Montreal and my god, it was just amazing. I remember grabbing hold of the mic and thinking, if there was a movie made about my life, this would definitely be the feature moment. I just remember that voice in my head saying, 'this is where I am meant to be, this is what I've worked for.' The fact that it was a great gig was just an added bonus.
What's your go-to joke to get the crowd going?
It can vary, but my favourite joke that I've written is - 'In the gym, they call me Gerry Adams, because even though I've been a member for years, there is no way you can prove it.'
Tell us about the Comedy Karlnival. What exciting things are coming up?
There are some very exciting things in the pipeline. We're still doing the show every Tuesday, but once a month, we're going to host a special Friday night show. The first person up is Sean Walsh. I can't reveal anything else, but I will tell you this; the first four acts have all had sell-out shows at the Apollo. Excited much?
Who is your favourite comedian?
I'm going to lose friends here. Starting off, I'd have to say, Billy Connolly and Eddie Murphy. When I was a kid, I'd always watch their videos. The late great, Sean Hughes was a massive influence for me. I was lucky enough to get to know him through our crossing paths. As a comic, Kevin Bridges is pretty epic. I've had the pleasure of seeing him many times, and he never disappoints. But, Sean Walsh is my real answer. You'll have to come along to the Friday Night Show to catch the legend.
Where is your favourite venue to perform?
It has to be the Róisín Dubh. Those late-night shows during the Comedy Carnival are some of my favourite memories from my career. The first year we had so many crazy things happening, and every night was amazing. You don't think the next year will be as good as the last, but it just keeps getting better.
Tell us a joke.
This is a classic comedian thing now, not being able to think of a joke on the spot. Last year I really upset people with an offensive joke about a television, a sandwich and a hardware store. And I tell ya, it's no fun when you have the LGBT BLT AND B&Q community coming after you.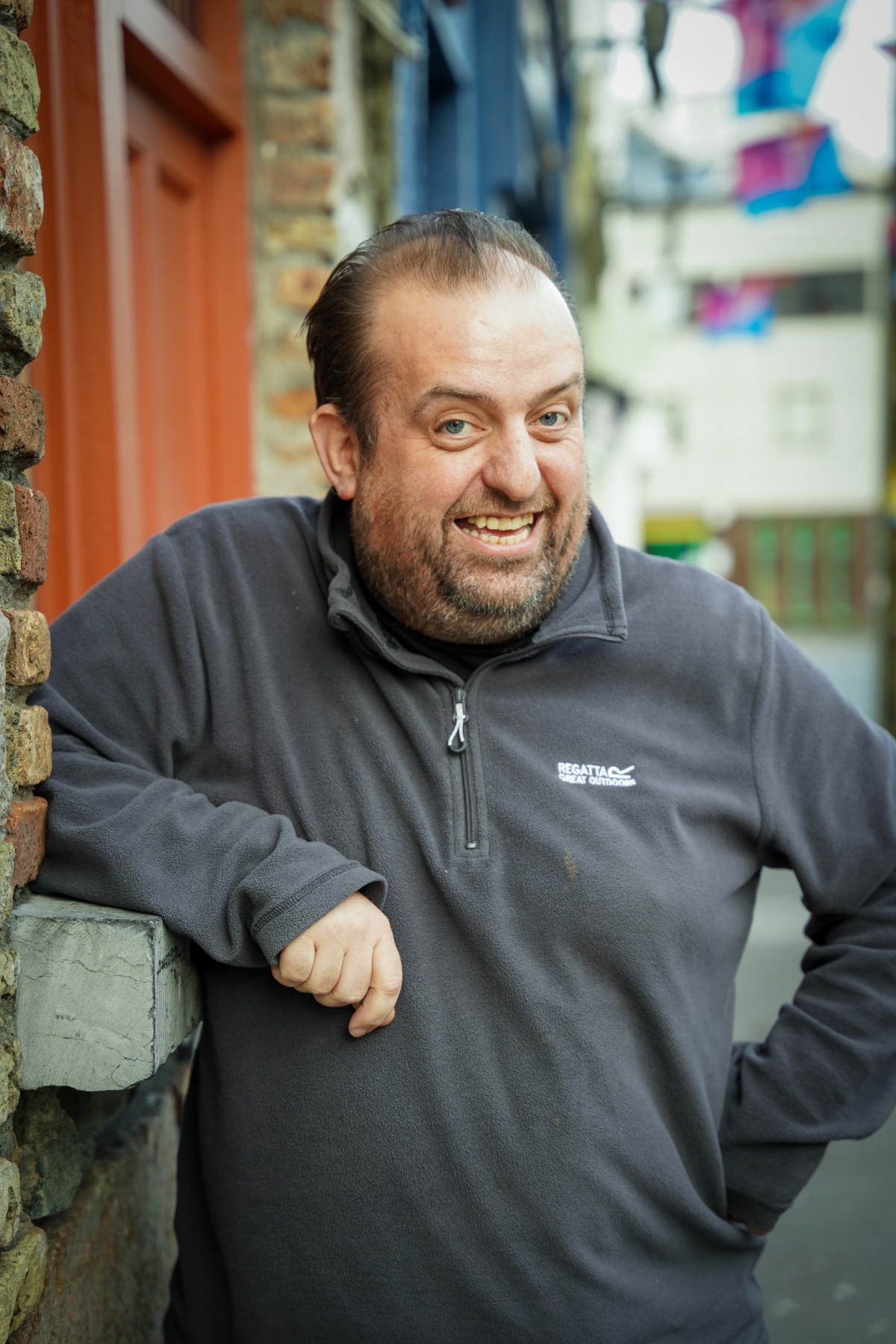 Karl Spain Photos | © Boyd Challenger
WORDS by Ciara Brennan
Published on Updated on