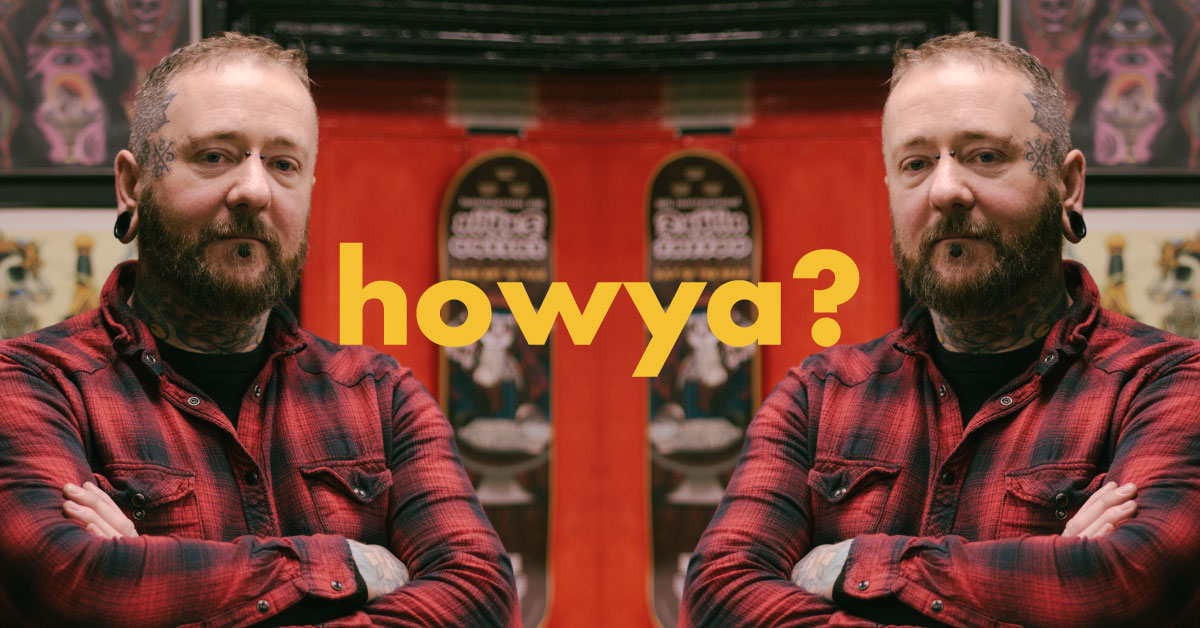 Howya? – Angus Wall
We're having the chats with some familiar faces around town. This time up it's Angus Wall, tattooist and co-owner of AWOL Tattoos and Piercing in Newtownsmith.
Who are you and what do you do?
My name is Aengus Wall. I'm co-owner of AWOL Tattoos and Piercing with my sister Áine. I'm a tattoo artist and a machine builder, tattooing for 23 years, owner of AWOL Tattoos since 1997. I took a small break in that time and worked as a tattoo artist in Canada for about seven years. We've had AWOL Tattoos in Galway for the last seven and a half years and in that time I'd like to think we built up a good reputation for the studio.
What's your go-to spot for breakfast or brunch?
The best spot for breakfast for me is the Spar on Mainguard Street. I come in fairly early in the mornings to get my drawings done, tidy up, set up, start my day. I like to go down there for my breakfast mostly because they have amazing staff and one of the best hot food delis in Galway. If I do get a chance to sit down, which unfortunately is rare, I like to go to The Cellar Bar. Once again, amazing food, amazing staff and a nice place to have breakfast.
Best pint of Guinness in Galway?
The best pint of Guinness for me, is Richardsons on Eyre Square. Mostly because in the early days of AWOL while I was living in Ballybane, I was working 7 days a week, the studio was open from 11 until 8 o'clock and the precious few times I had to be any way social was the odd time for a pint of guinness while waiting for the bus back to Ballybane. It was basically my quiet time and time to just enjoy a good old drink
Favourite spot to get away from it all?
The best place for me to get away from it all is, and always will be, the open road. I know it sounds corny but I've been building motorcycles and riding motorcycles for as long as I can remember and I've ridden in countless countries in 3 continents and will continue to do so until I can't do it anymore. I plan, if possible, to ride a motorcycle in just about every corner of the world I can get to. It's something that's indescribable. It's a feeling of freedom that you can never attain by any other way.
Favourite time of year in Galway?
It has always been and always will be late Summer. I went to college here, I worked with Macnas and Galway always seems to be at its most alive around august. Between arts festivals, students coming home, tourists here, the warmth is in the air.
What's Galway's best-kept secret?
The canal walk along the river Corrib from the cathedral and Salmon Weir bridge down as far as Spanish Arch. On a summer's day it's one of the most beautiful walks in any city that I've ever been to. The river on one side, the canal on the other. It's just a breathtaking part of Galway and any time I have anyone coming to visit the studio, guest artist or friend I will always try to bring them or convince them to take that walk.
Photo by: Ciarán MacChoncarraige