This is Galway are giving you The Low-Down on some of the artists that make our local music scene so vibrant. This time around we are getting to know the charming Dylan Murphy. He is unashamedly frank in his songwriting, incredibly talented in his musicianship and entertainingly hilarious during his live shows. If those qualities tick your musical boxes, read on...
Dylan Murphy is practically a legend within the Galway music scene. He earned his reputation as a regular performer at the Open Mic at The Róisín Dubh. Since debuting his honest brand of bluesy-folk he has gone on to release a string of well received EPs, including a collaborative EP with local leading-women such as Tracy Bruen and Tara Stacey. Dylan Murphy's live performances range from intimate solo shows to high-octane rock'n'roll when joined by his backing band. Murphy will be supporting Jeffrey Lewis at Strange Brew on Saturday 15th of June before headlining the Citóg Records Garden Party in The Blue Note Beer Garden on Sunday. We had a chat with Dylan ahead of his busy weekend...

Who are you?
I'm Dylan. I'm a native of Limerick city (kiid) but I've been living here on-and-off for the last decade. I write and put out bluesy/rootsy/folky songs under my own name, have also been known to play guitar for a number of local musicians and am a member of local independent music label, Citóg Records.
How would you describe your music to somebody who never heard it?
I used to say it sounded like someone who needed singing lessons. It's bluesy, roots-driven, awk-folk with an emphasis on lyrical hooks. Kind of like if Ezra Furman was adopted by Tom Waits who then hired Jack White to babysit. That's quite the image. Sorry to ruin your day with that.
What are your plans for future, both near and distant?
What is this, The Spanish Arch Inquisition? Who are you, my mother disguised as a charming local journalist?! Making concrete plans has never really been my forté but I think that's the motto of most folks in Galway. I've just finished recording a bunch of songs with Limerick producer Dave Keary who has been Van Morrisson's longtime guitar player. They're currently being mixed so as soon as I'm happy with them, I'm going to plan my first single-release of 2019 and hopefully do a mini-tour around Ireland in Autumn with my backing band. Right now I'm focusing on playing live music again after taking a break for a few months.
What/Who has been the biggest influence on your music or your life in general?
I suppose I've always been a fan of raw melodic folk music. The first album I really attached myself to was the Violent Femmes debut which led me into grunge and alternative guitar-based music. Then, In my early 20s I got really into the lo-fi blues sound of Jack White and Seasick Steve. I'm a sucker for a good melodic hook and a decent guitar riff.
In life in general, I have to shout out my grandmother. She's well into her 80s now but in the last 20 years she's climbed a number of mountains, both figuratively and literally (including Kilimanjaro and up to Everest Base Camp). She has a daily yoga practice, frequently escapes to cities like Amsterdam to attend obscure jazz concerts and she just got back from Japan. These days, people are terrified of ageing but she has proved it really all comes down to mindset.
What's the best part about being a musician in Galway? What can be improved?
Oof. Good question. This is a bold statement, and naturally I'm biased, but I feel the music scene here is the best in Ireland in terms of songwriters. Other cities may have the chops but Galway has the soul. I'm honoured to surround myself with the musicians here. Eoin Dolan, Steven Sharpe, Niamh Regan. The list goes on. So I'd say the best part is the consistent line-up of quality gigs, which is something I've always missed when living abroad. The worst thing I think is the stigma that comes with calling yourself a musician in Galway. It conjures up an image which I feel is outdated and misinformed. We work hard at what we do!

How does Galway compare to other places you have been?
Though I've not yet been to Australia, I feel like my 20s have somewhat resembled a grand tour of places young Irish people seem to end up: Spain, Canada, Vietnam. I've left a load of times but Galway just has a hold of me that keeps pulling me back. I call it the Craic-tor beam but I think it's honestly the friendliness of the people and the music scene. You can see why so many people come for a week and stay for a year.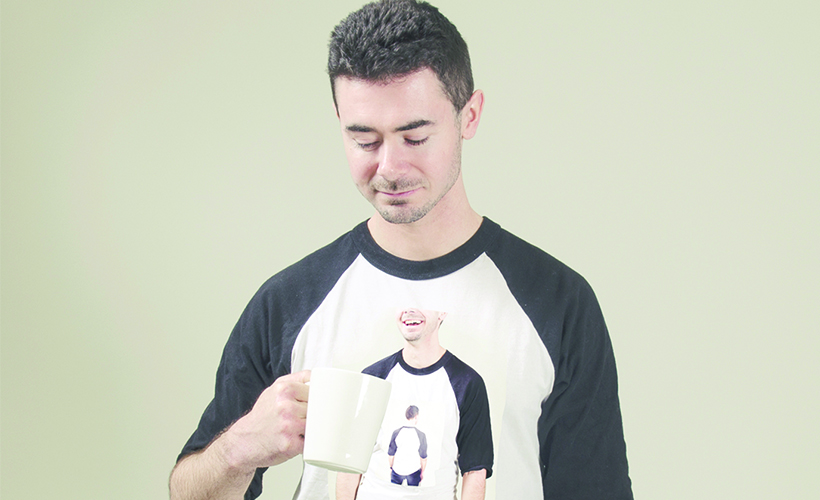 What's your favourite song of all time?
"Just" by Radiohead. It's been my favourite song for over 20 years.
Any tracks that you are really digging at the moment?
I heard "Grow a Pair" by Jinx Lennon for the first time about 2 weeks and I've listened to that at least once-a-day, everyday since. It's a very brave song. "Shoulderblades" by Girl Band is also currently on repeat, I'm delighted they're back.
Where is your favourite place to grab a pint/bite in Galway?
My dream job is to be a food critic who exclusively reviews Coffee+Scone combos for a living. After almost 10 years of continuous academic research, I can safely say that my top 3 in Galway are Cafe Temple, Le Petit Delice and Javas.
Snack-wise, I'm quite partial to a Boerie, only available at Henry's stall at St. Nicholas's Church Market on Saturday mornings.
For a pint of Guinness, nothing beats The Bunch of Grapes. It's an underrated pub that is probably overlooked because it's so central. Get a toastie!

Dylan Murphy released a new EP, Make Plans, at the end of 2018. Have a listen HERE. Murphy's music is built for our modern times; it's self-aware, full of anxiety and ready to explode. The first single 'Anxious Times' demonstrates this perfectly. It's a blues-folk infused rush that perfectly encapsulates the time-bomb of nervousness being felt right now and it rocks. Check out Dylan Murphy on Facebook to keep up to date with live shows and new music.
Photos by Marta <--Check her out!
Published on Updated on