Are you hoping to cheer on the Green Army at the Rugby World Cup in France or the Women's Football World Cup in Australia & New Zealand? Well Claddagh Credit Union want to help you get there!
Here's some great news for sports fans; Claddagh Credit Union have just launched a new lower rate loan for a limited time to help you get to either of this year's World Cups! Tickets, travel, accommodation, spending money - it all adds up.... especially if you are heading Down Under!
Take the pressure off with a special offer World Cup Loan, with loans available from €1,000 all the way up to €50,000. This new loan launches on the 16th of February 2023 and will be available for 6 weeks, up to the 31st March 2023 so be sure to avail of this special offer while you can! Simply call into any branch; Mainguard Street, Westside Shopping Centre or Oughterard, freephone 1800 285 626 or apply online at https://www.claddaghcu.ie/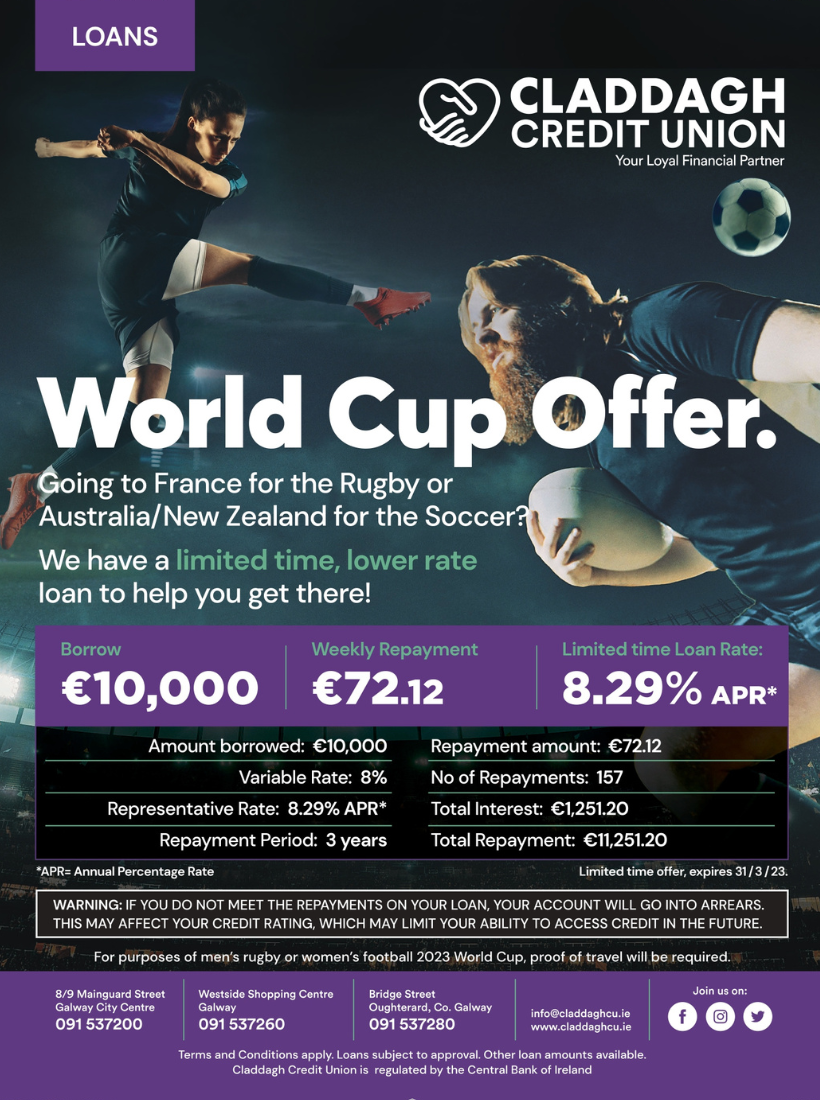 If you are still debating whether to go to the World Cup or not - try out the loans calculator on their website to see how much you could borrow and what your repayments would be! The Claddagh Credit Union Loans Team are also on hand to answer any questions you have.
To apply for the loan, you must hold an account with Claddagh Credit Union but, no problem if you are not yet a member, you can apply to open an account online or in branch now! Take a look at claddaghcu.ie to see how to join and find out more.
(Terms & conditions apply, loans subject to approval)
Published on Updated on