Stalls of hot food, handcrafted jewellery, locally-grown veg and fresh-cut flowers crowd together in a buzz of activity at Galway's oldest outdoor market, in the square outside St. Nicholas' Church.
It's a popular destination for visitors as they make their way down Shop Street on Saturday afternoons. The market is full of beautiful trinkets to bring home and food to eat on the go. Among the tourists you'll also hear plenty of local folk, picking up their vegetables, fresh fish and home-baked bread for the week.
But one of the most unique and magical aspects to the market -- besides the fresh donuts -- is what happens behind the scenes. There are few places in the world where a person can truly barter goods, but the St Nicholas Market is one of those places.
Many of the market vendors have been coming every Saturday for years and years -- sometimes after spending over a decade waiting for their chance at a stall. And they've created a special kind of community. They trade hot chips for fresh-squeezed orange-juice, or a batch of chocolate brownies for a pound of artisan pork sausages from Herterich's Pork Butchers on the corner. 
And while we love everything the market offers (did we mention donuts?), it's really the people and the unique spirit they bring that has made the market such a long-lasting success. Here, we chat to some of the familiar faces and learn their market stories.
Coolfin Gardens Organic Bakery
Layla bakes some of the best bread in Galway -- all the way out in Offaly!
She started off in the midlands with dreams of building an organic farm, especially organic lettuce. But it takes years to get an organic certification in Ireland and while the wheel was spinning on her lettuce farm, she started baking bread -- and loved it. Even more than lettuce.
After a few years applying for a market stall, she and her partner Jonas were allowed to open. Now, after eleven years, she's still travelling from Offaly every weekend with her freshly-baked bread. It's more than bread, too: she has brownies, scones, and all kinds of loaves which just smell gorgeous as you're strolling by. She supplies her bread to some local Galway cafés and now has a loyal bread-loving fan base in Galway of people who come every Saturday for their weekly supply. Get more here!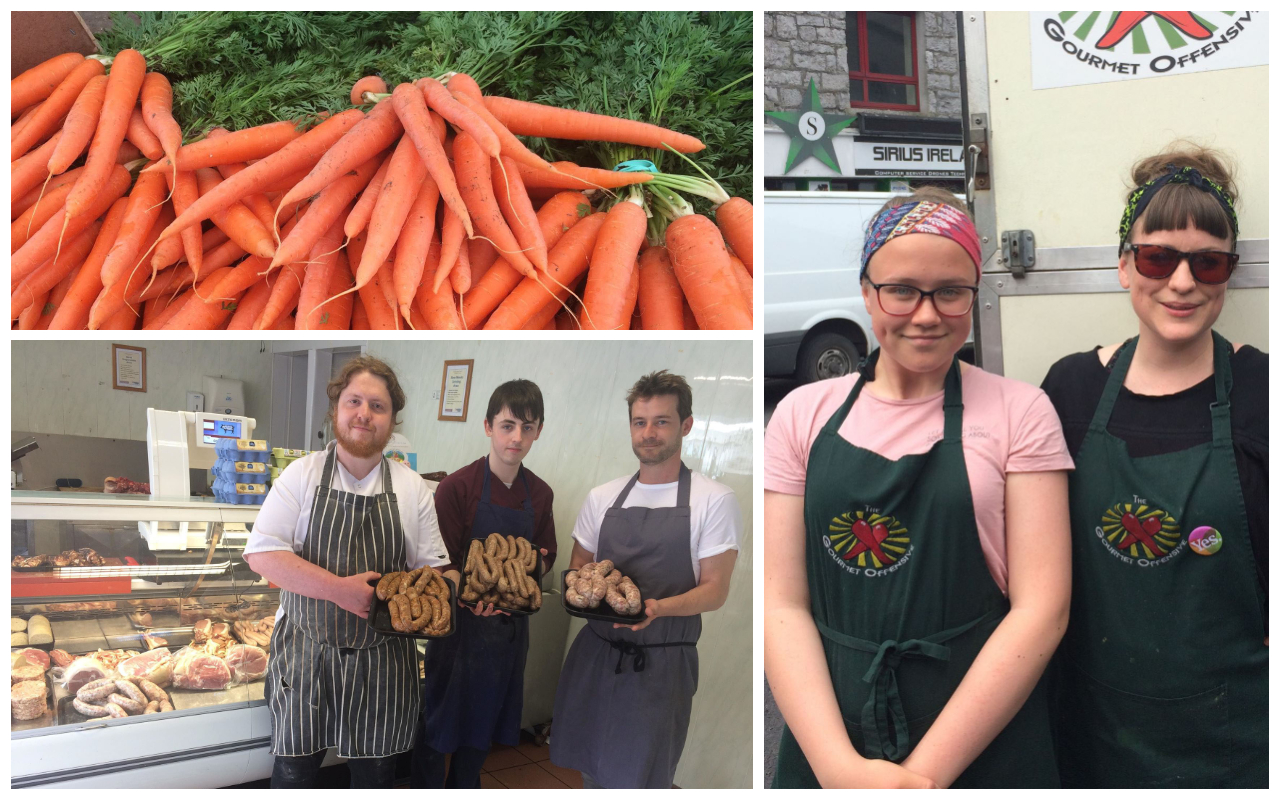 Gannett's Fish
When we meet Stefan, he's hard at work slicing up – more like sawing -- an enormous tuna.
He's a market regular, coming for over fifteen years, with one of the biggest stalls. Usually fishmongers need at least ten meters of counter space, but they make do with about a single meter, with crates of shellfish alongside.
Stefan himself came to Galway from France 21 years ago. He worked at a fish farm in Carraroe, and through years of graft started growing Gannet's Fishmonges organically. They're unique in Galway in that all of their fish is naturally-sourced and fresh. Most of what they offer is wild, fresh Irish fish, caught off of Ireland's coast. Some of their stall's offerings are imported from Spain, to give a bit of variety -- but Stefan finds that as people learn where their food comes from, they'll willingly forego the imported tastes to eat fresher, Irish-caught fish.
They're very passionate about providing fresh Irish fish to the people of Ireland who, Stefan said, don't take nearly enough advantage of all the gorgeous seafood available. They've just moved online, so restaurants or families can pre-order from their market stall and skip the queue. And if you're living in a landlocked part of the country -- like, say, Offaly -- you can get fresh, wild fish delivered right to your door from eatmorefish.ie!
TGO Falafel
One of Galway's favourite vegan restaurants actually came from a stall at the Galway Market. Dutch-born Flo set up their market stall fifteen years ago, and they've been serving their amazing chips and falafel at the Galway Market ever since – with the addition of their restaurant two years ago! Falafel has become very popular and trendy in Galway, but Flo maintains that TGO Falafel was the original trendsetter, and home of Galway's falafel buzz. Last year, they took their chips to Electric Picnic ("The Chipster") and won best new food stall! They also cater weddings and parties… Just saying. Get more here!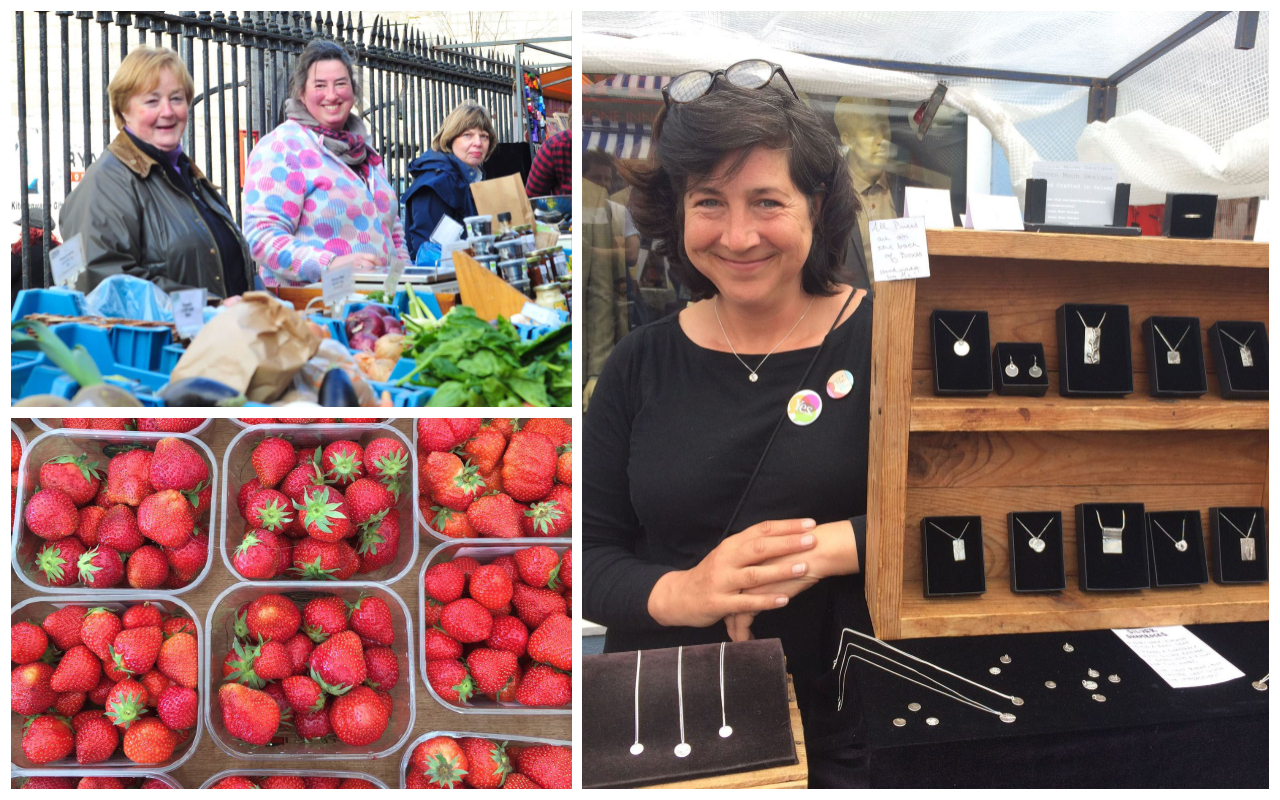 OceanMoonDesigns
Maura has had a market stall for twelve years, and has focused on her handmade silver jewellery for the last eight. Many of her pieces incorporate elements of nature: her delicate silver pendants uniquely feature herbs and seedpods. Her most popular item is the shamrock pendant, each one made uniquely with a real shamrock! Everything you see is handmade by Maura in her studio in Galway's Westend.
As a New York native, she loves that there are over 28 nationalities trading at the Galway market, creating a multi-cultural community. Find her online shop here! 
Of course, this is only a taste of what you'll find as you peruse the market. Piping hot Indian food, Japanese sushi, and freshly-squeezed orange juice (from the aptly named Stall for Juice) fit in among stalls of handcrafted pottery, organic vegetable traders, fine artists and of course hot donuts from Boychik. (How could we forget?!)
They trade every Saturday from 11-6pm, and every day for two weeks during the Galway International Arts Festival and over the Christmas season.