Did you know that Galway is full with one-of-a-kind accommodation providers? Renovated castles and churches as well as log cabins and luxurious glamping pods can all be found dotted along the gorgeous Wild Atlantic Way. From nights spent under the stars floating on a river to enjoying complete relaxation on your own private island, there are plenty of unique and wonderful places for you to rest your head right here in Galway, discover our top picks right here..
LOG CABINS IN WILDLANDS
If you want to experience a completely different pace of living, escape to Wildlands for days of fun and utter comfort. When you're not flying through the skies on the zipline or testing your skills in the challenge rooms, enjoy absolute relaxation in one of their new on-site log cabins with luxury interiors throughout. There are 5 different styles of cabins available, - studio cabins, two bed family cabin; large studio cabins; large studio cabins with kids room; and a large accessible cabin. After a busy day at the activity centre, doze off to the sounds of nature and wake up feeling refreshed and hungry for more adventures.
Wildlands, Moycullen // Book your stay right here
LET THE SOUND OF WAVES LULL YOU TO SLEEP AT ARAN ISLAND CAMPING & GLAMPING
If you are after a serene getaway – this is the place for you. Located on Inis Mór, Aran Island Camping and Glamping is the perfect place for lovers of the outdoors and holidaymakers to rest their head. Right at the mouth of Galway Bay on the Wild Atlantic Way, this location is renowned for its stunning landscape and cultural heritage. With options of either camping at the secure campsite or enjoying a glamping pod with all the conveniences of a home, your night on the Aran Islands will be one to remember.
Inis Mór, Aran Islands // Book your stay right here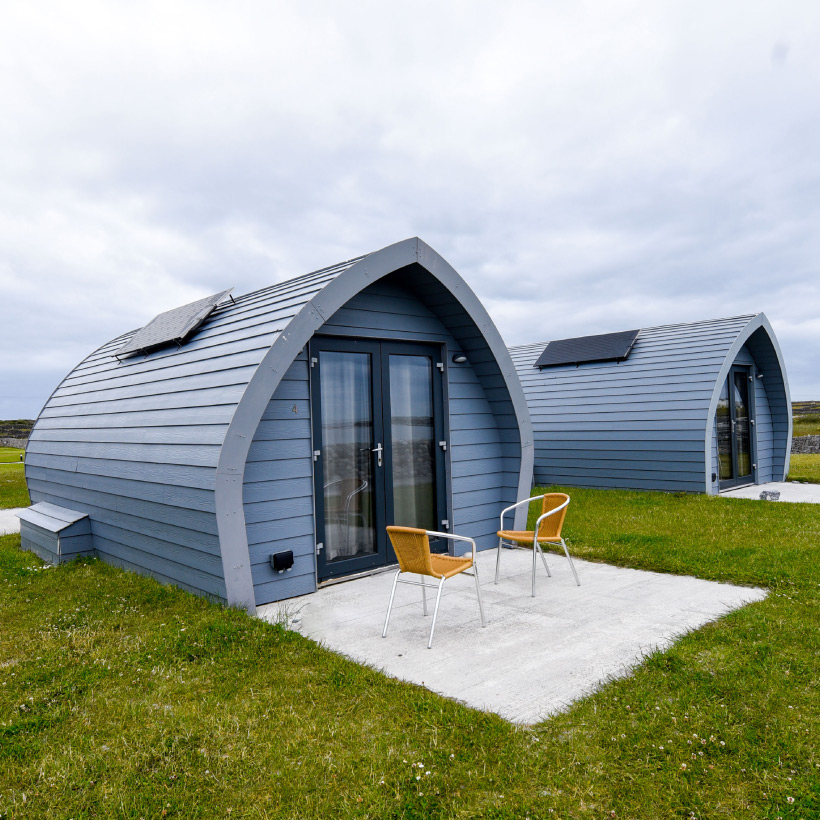 Photo courtesy of Aran Island Camping & Glamping
A NIGHT UNDER THE STARS ABOARD CATHERINA
Ideal for those looking to enjoy a romantic holiday for two in Galway, Catherina is a beautifully renovated Dutch barge. Situated near the g Hotel and The Huntsman Inn, this is Galway city accommodation without all the noise and busyness of the city streets. The cosy and comfortable space offers guests a private and tranquil experience during their stay. If the weather permits we highly recommend sitting above deck and catching the stunning sunset over Galway Bay - this is a lovely way to begin your romantic night in.
Lough Atalia, Galway city // Book your stay right here


Photo courtesy of Catherina
A THEMED HOSTEL FULL OF OLD WORLD CHARM
A truly unique hostel in the heart of North Connemara, the rooms of the Old Monastery Hostel have each been designed to reflect different themes - the Tuscan suite, the African room, the Caribbean room, the Church room and the Connemara Dreamtime suite. This spot is truly bohemian in spirit with an alternative approach to hospitality as their aim is to sustain a home for travellers where everyone is a friend. The living room is full with couches and an open fire, making it a lovely place for unwinding, chatting with other guests and taking in the majestic view over Letterfrack village.
Connemara National Park, Letterfrack // Book your stay right here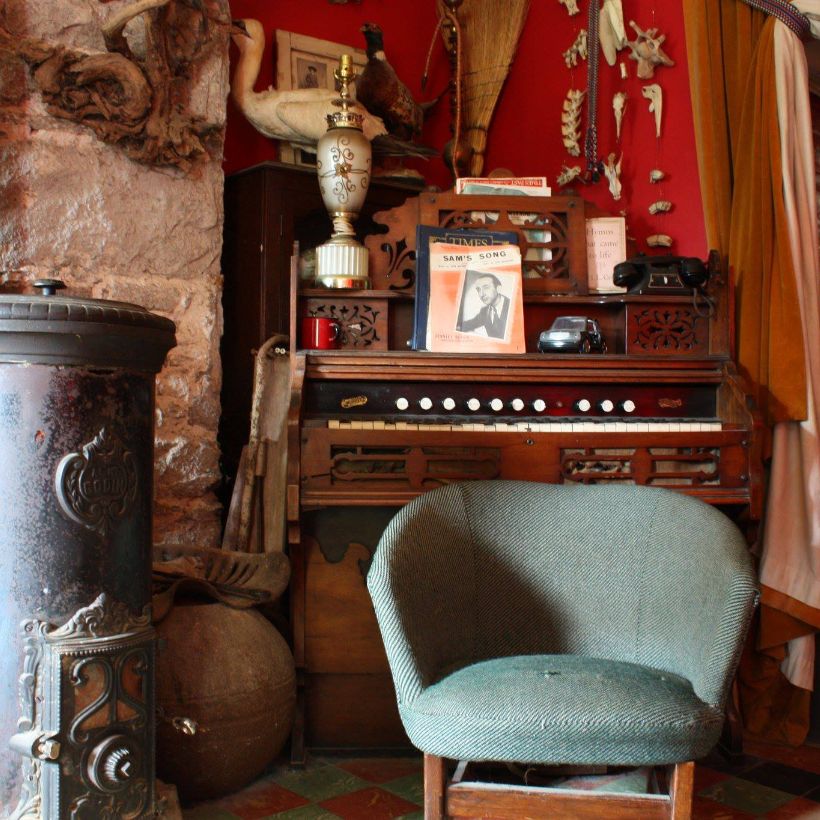 Photo courtesy of The Old Monastery Hostel
RIVERSIDE SELF-CATERING STAYS FOR FAMILY
What makes University of Galway Accommodation so unique is that it will provide something that every member of the family will enjoy; The kids will love the on-site tennis court and playground, the older adults will love the peace and tranquility of the beautifully-landscaped riverside campus and its parkland walks, and you'll love having everybody (and everything!) you need under one roof! With a tennis court, playground, convenience store, laundrette and free parking on-site, you'll be hard pushed to run out of things to do on this beautiful campus. When you eventually do, you're perfectly situated to explore Connemara or discover Galway city... the choice is yours!
University of Galway, Newcastle // Book your stay right here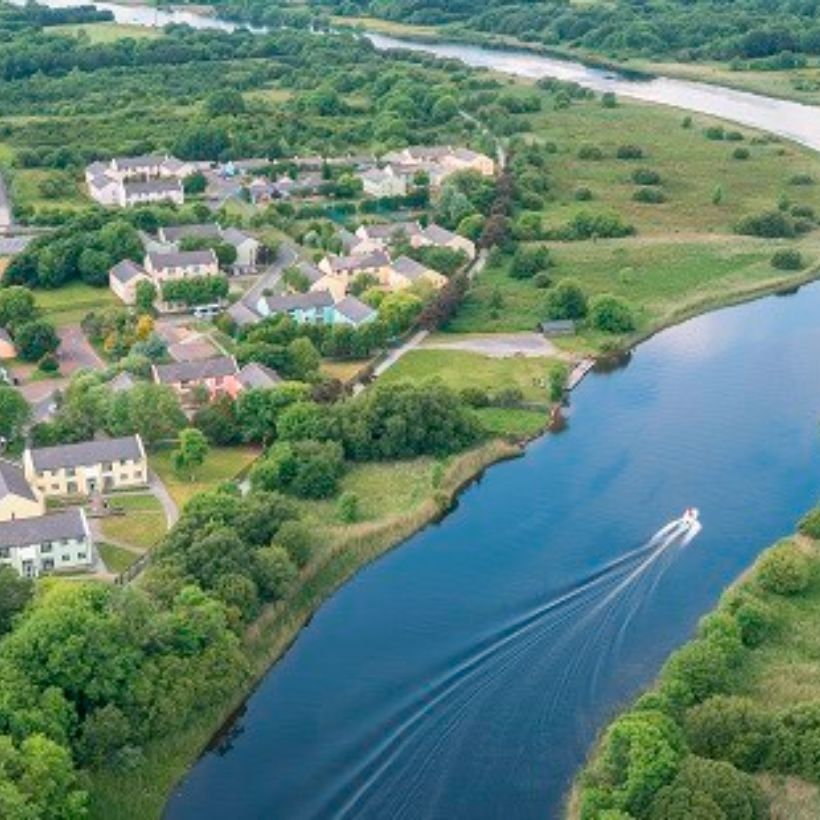 A PRIVATE ISLE
The ultimate haven for when everyday life is getting you bogged down. Rabbit Island is a mere five minutes via lake boat from Kenny's Bay on Lough Corrib. The charming fishing lodge turned tranquil hideaway provides a necessity escape from the stresses of the real world. It's just you and a flock of sheep on this 26-acre island, so it doesn't get any more secluded than that! Additionally, for those who love the calming nature of fishing or if you fancy giving it a whirl, the ultimate base is right on your doorstep – so make sure you don't forget a rod.
Rabbit Island, Lough Corrib// Book your stay right here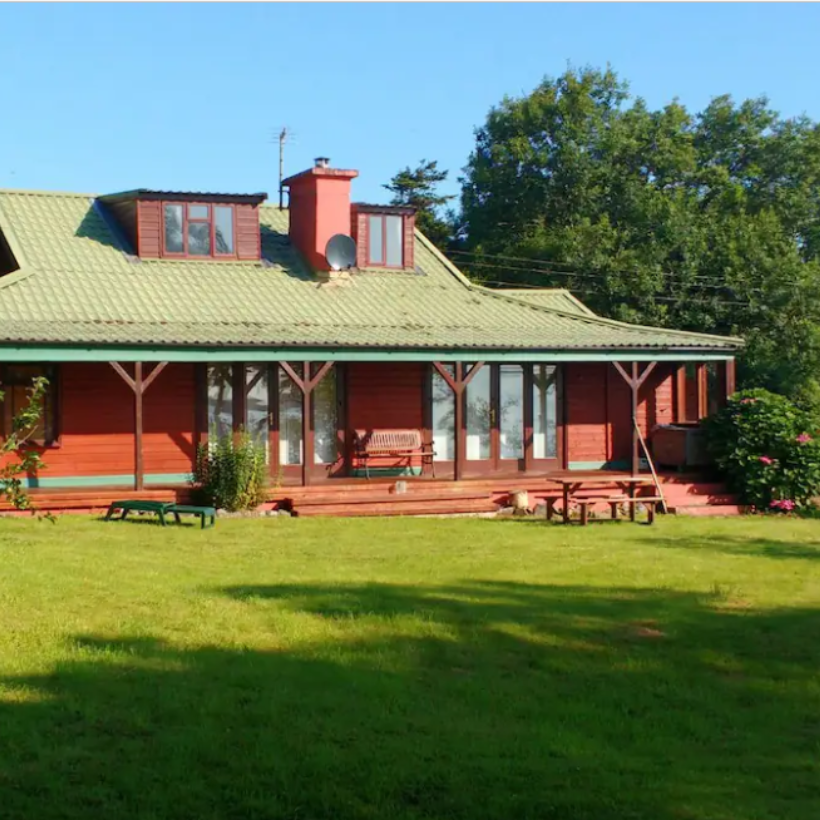 Photo courtesy of Rabbit Island
A MAGICAL CASTLE FILLED WITH CHARACTER
Tired of hotels? Well then, swap them out for a stay in a castle! Originally built by the Kirwin Family, one of Galway's 12 Tribes, Cregg Castle is set on 180 acres of idyllic pasture and woodlands and thanks to the work of your host, artist Alan Murray, it can be all yours to enjoy. Chill out in the back garden with pony Arrow and donkey Houdini, who are always up for a chat or enjoy a woodland walk and immerse yourself in the area's natural beauty. Keep an eye out for Pixie, the real queen of the castle, the friendly castle cat who always ensures her guests enjoy a fantastic stay.
Cregg Castle, Corrandulla // Book your stay right here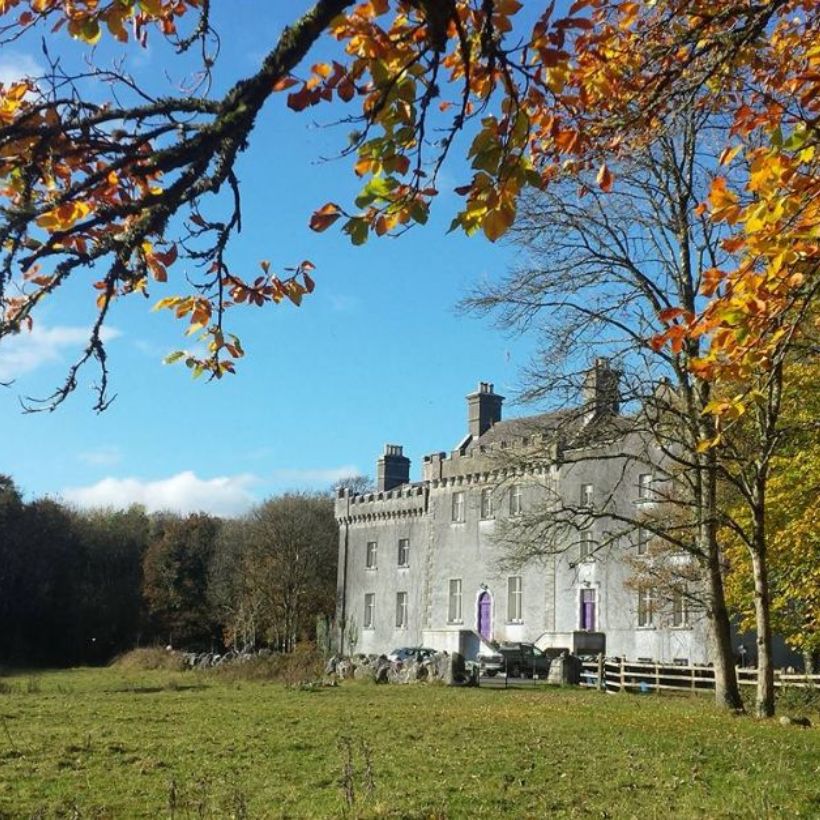 Photo courtesy of Cregg Castle
TAKE ME TO CHURCH
Wake up each morning in heaven at the lovingly restored 200-year old church of Bookeen Hall. The ancient, rustic exterior brilliantly juxtaposes the bright, modern interior (with a quirky Greyhound illustration). Book your stay here and enjoy access to the bell tower and reading room and enjoy fabulous views of the surrounding countryside. The private bathroom even has a claw-foot bathtub so come on! Oh! It's also home to dogs called Birdy and Piglet who can't wait to meet you. No, really, what more could you want?
Dunsandle, Athenry // Book your stay right here

Photo courtesy of Bookeen Hall
SEAVIEWS 24/7 AT DOLPHIN BEACH LODGE
If you are someone who loves a beach holiday, we have the perfect accommodation for you! Dolphin Beach Lodge is a magnificent home lodge with a beach as its front garden. Featuring a cosy outdoor fire pit, late evenings on this beach are the backdrop of many lifelong memories. A hidden paradise along the Wild Atlantic Way, this lodge's sleek modern beach-house aesthetic is heightened by the locale's incredible views of the bay and Galway coastline.
Clifden // Book your stay right here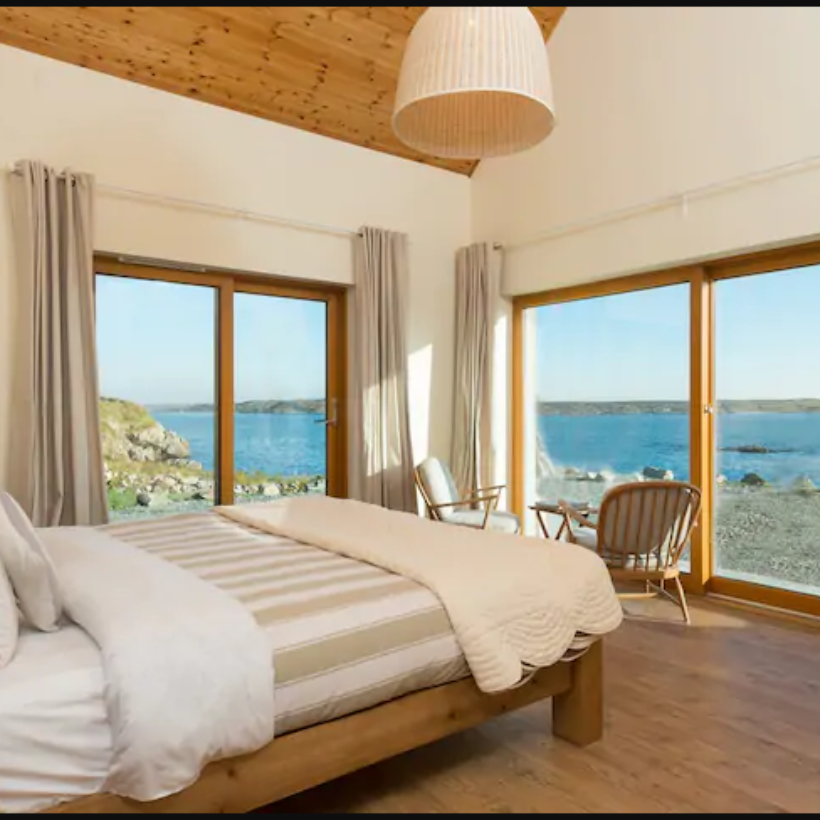 Photo courtesy of Dolphin Beach Lodge
TAKE IN THE SIGHTS AT KILCOLGAN CASTLE
Step back in time on the grounds of Kilcolgan Castle. The welcoming atmosphere will make you feel right at home as you explore the picturesque grounds and meet their friendly cats, horses, hens, wild birds and champion greyhounds on your travels. During your stay, you can browse through their extensive library of ancient reads, and relax in front of the roaring open fire. The peacefulness of the castle's location will make sure that you leave refreshed and fulfilled.
Kilcolgan // Book your stay right here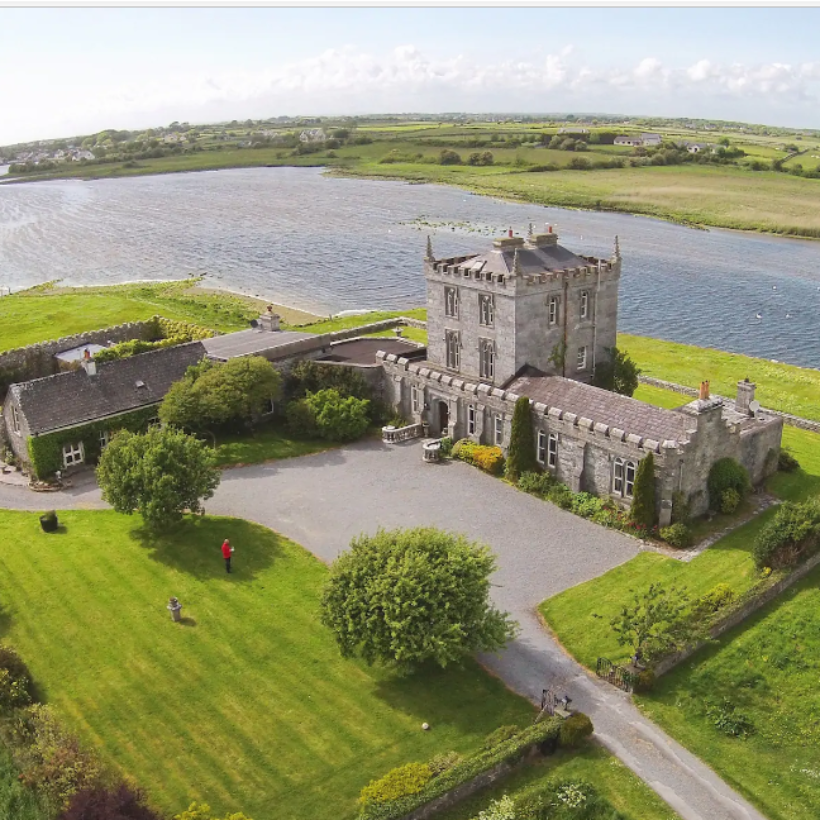 Photo courtesy of Kilcolgan Castle
AN OVERNIGHT BUS
An overnight stay in a refurbished double decker bus in the rural Irish countryside? Yes, please! The Wild Atlantic Bus was once a school bus working the busy streets of London, nowadays however you'll find it sitting on the outskirts of Oughterard providing visitors with an unique breakaway experience. All aboard, you will find all the necessities, a fully fitted kitchen, toilet and shower room, double bed and more! Outdoors, there is a fire pit for BBQs, and a seating area, perfect for those warm summer evenings in Galway.
Oughterard// Book your stay right here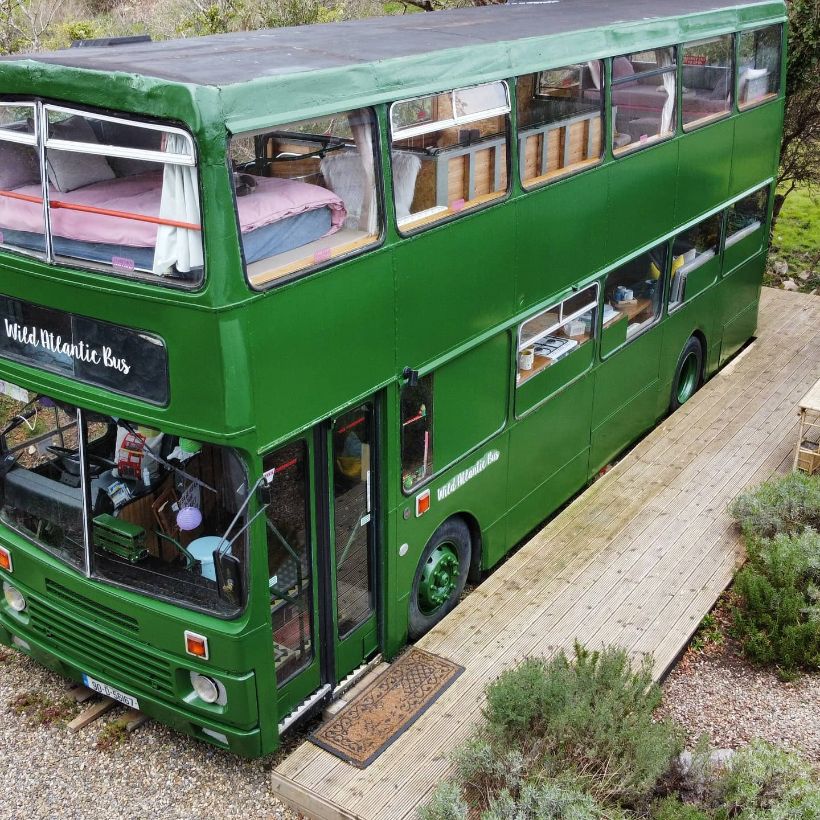 Photo courtesy of Wild Atlantic Bus
THATCHED COTTAGE COSINESS
Retaining all of the original charm of Ireland in bygone times, Mary's Cosy Thatched Cottage is an entirely immersive experience. This cottage is also pet friendly so feel free to bring along your four legged travel buddy.  Situated in a village within Connemara's Irish-speaking Gaeltacht region, if you fancy trying to improve or learn a bit of Irish look no further. Surrounded by country roads, hidden inlets and stunning beaches, you'll soon fall in love with the pace of living in Galway's beautiful countryside.
Carraroe // Book your stay right here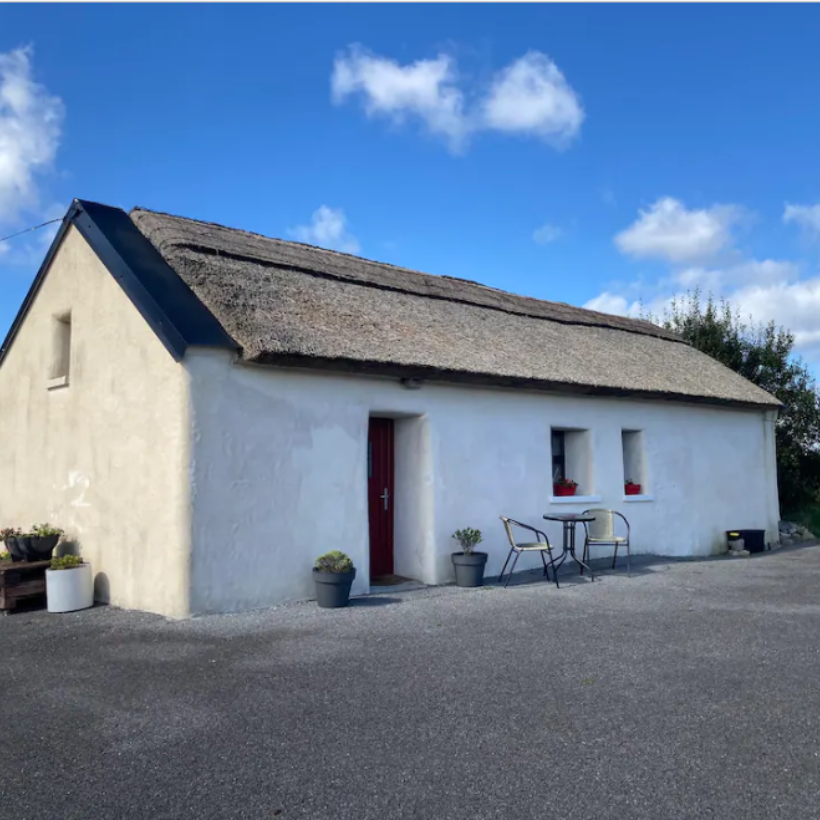 Photo courtesy of Mary's Cosy Cottage
A DIFFERENT TYPE OF CRUISE ON CONNACHT CRUISER
Giving you all the freedom of a traditional self-catering stay in Galway plus some fabulous extras, the Connacht Cruiser a fantastic way to bring the whole family together in a sleek and modern setting. Inside the state-of-the-art motorhome, you'll find all the comforts of home, ideal for keeping everyone entertained after a long day of discovering Galway. Sleeping up to 8 people, the Connacht Cruiser would suit a whole family or a group of friends, it is every vacationer's dream.
On the grounds of The Connacht Hotel // Book your stay right here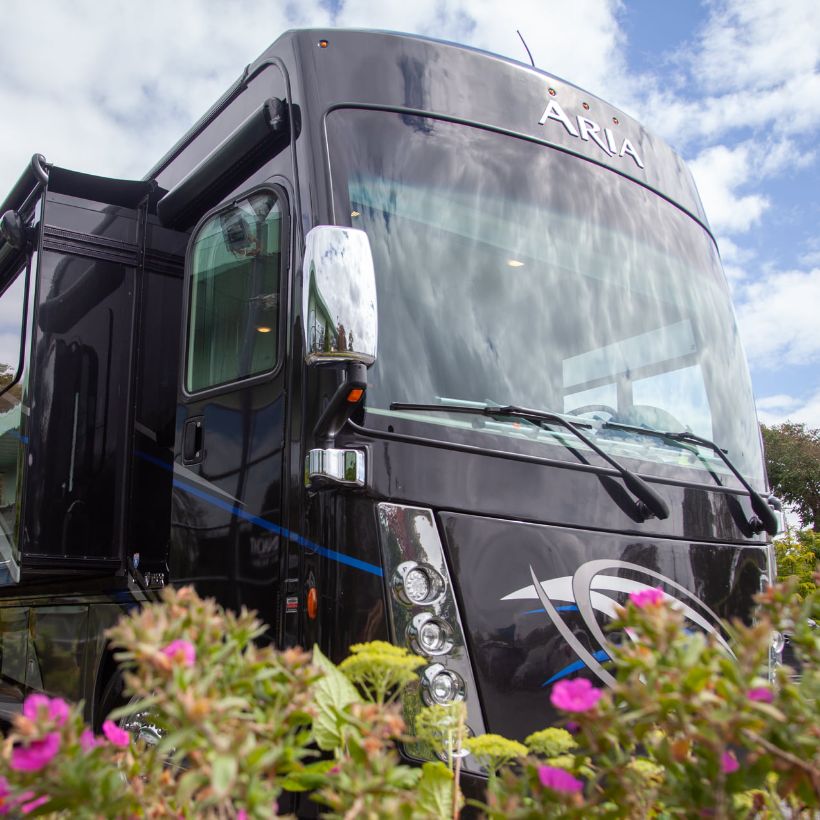 Photo courtesy of Connacht Cruiser
THE LODGES AT GLENLO
Coming summer 2023, the newest addition to Glenlo Abbey Hotel & Estate, The Lodges are the perfect home away from home for families, golfer getaways and groups of any size. Their design incorporates a natural, earthy colour palette inspired by the surrounding lakeside landscape. These Lodges offers guests complete privacy, whilst still being able to benefit from all the hotel's amenities.
Bushypark // Book your stay right here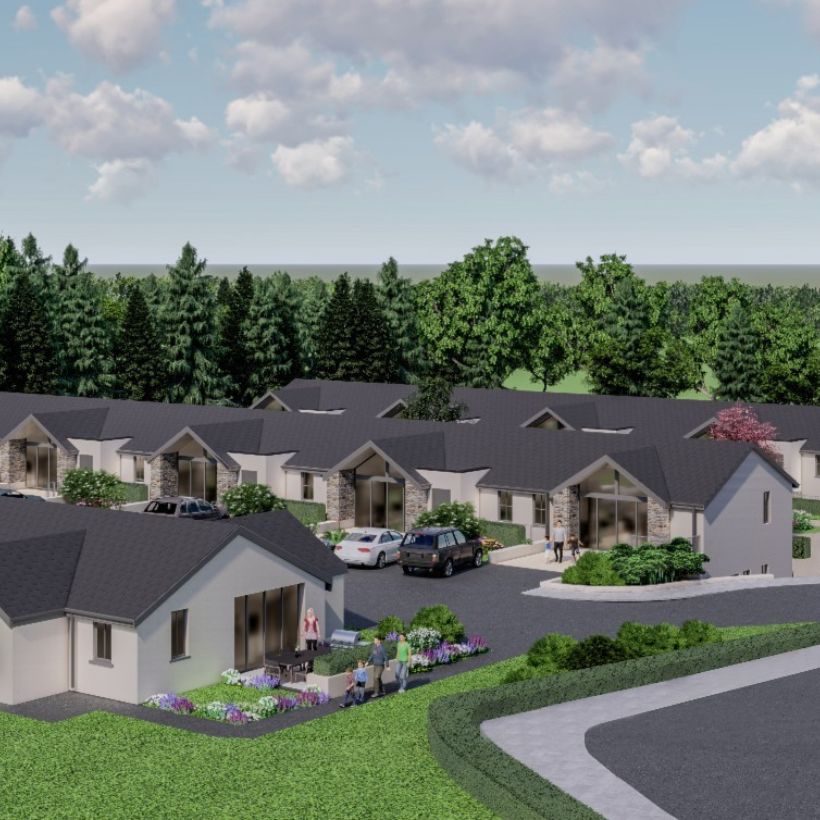 Photo courtesy of Glenlo Abbey Hotel & Estate
Feature photo courtesy of Dolphin Beach Lodge. 
Published on Updated on