We're all a bit obsessed with music here at This Is Galway. We strive to highlight the absolutely craic'ing talent that our little isle has to offer, especially the homegrown talent in our beloved Bohemian bandstand, Gaillimh. And so we introduce to you our latest series: All Hands on Decks.
We're on to our second edition of All Hands on Decks after a lovely introduction with a hero of a man, Cian Ó Ciobháin. This week we've been diggin' out wax with an adopted Galwegian that detoured through Limerick, Adam Ryan, also known and loved as Yurtis Mayfield. Adam is somewhat of an audiophile, which will become fairly apparent the more you read below. The man is one of those multi-talented folk, works hard at everything he has a passion for and always comes up with something special i.e. the type of people we love to back here at This Is Galway. Despite only DJing for about 2 years, he has already carved out a scene for himself among Galway's music lovers as an expert in House, Jungle and Techno. Adam is also a dab hand at crochet, he creates bespoke customised clothing under the moniker of Shirtis Mayfield! We love the name, we love the products and we fell in love with Adam during our chat. Find out why below....
Let's get All Hands on Decks....
Do you produce any of your own music?
Yes, although still relatively new to the world of music production. Still finding my feet!
What's your Home Studio Setup?
Check it out below: 2 x Technics SL1210 MK3, Allen and Heath Xone 23 Mixer, Korg Volca Modules, MicroKorg Analog Synthesizer, Behringer TD-3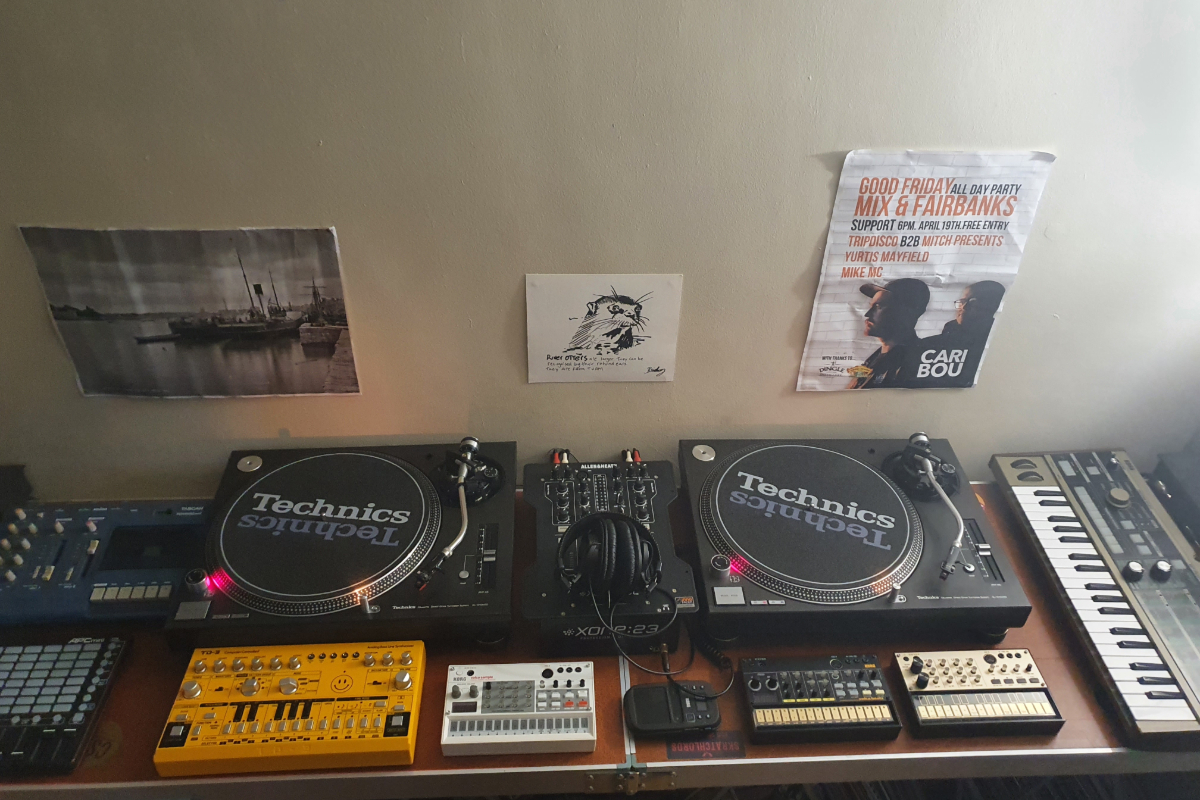 What advice would you give to aspiring DJs? Any tips or tricks that, if you had known starting out, would have been a god-send?
If I could go back in time and give myself one piece of advice when I was starting out it would be to remain as relaxed as possible when transitioning between two tracks. This may sound obvious to some, but transitioning between tracks can be nerve-wracking starting out, and if you panic it can result in some hairy moments. When I started mixing vinyl, I often rushed into the mix once I heard the kick drum from two separate tracks match-up and more often than not one of the tracks would fall out of sync. As you don't have any tempo display with vinyl, you really need to give the necessary time to make sure both tempos have matched fully and that there's no opportunity for either track to drift out of time before mixing one record in from another. The pitch adjustment on a turntable can be your most valuable ally, so practice using it as an aid for keeping tracks in time with each other. Thankfully I'm a lot steadier now than I was then! When you relax and enjoy yourself, the crowd will enjoy themselves too.
If you could eternally be stuck in one decade's music scene, which would it be and why?
I would have absolutely loved to have been around for the 70's Soul Train era of Disco and Funk. The very first record I ever bought (which led to me becoming a DJ in the first place) was 'What's Going On'' by Marvin Gaye, so Funk/Soul has always been a genre that's had a special place in my heart. I just feel like it's such a timeless era, the style of clothes and dancing are still very much relevant in modern day culture; not to mention the multitude of Funk and Soul samples that can be found throughout modern House and Disco releases.
Name a guilty pleasure that no one would expect you to like
It's not really a secret to those who know me, but 'True' by Spandau Ballet is up there as one of my favourite songs of all time. The combination of that opening synth and guitar combo never fails to get me! But I don't really like the term "guilty" pleasure, if you like a song and it invokes a certain emotional response in you then play it with pride! Spandau Ballet may be a bit of a shift from what I would play during a mix, but you'll never see me shy away from the opportunity to sing it (badly) at the top of my lungs.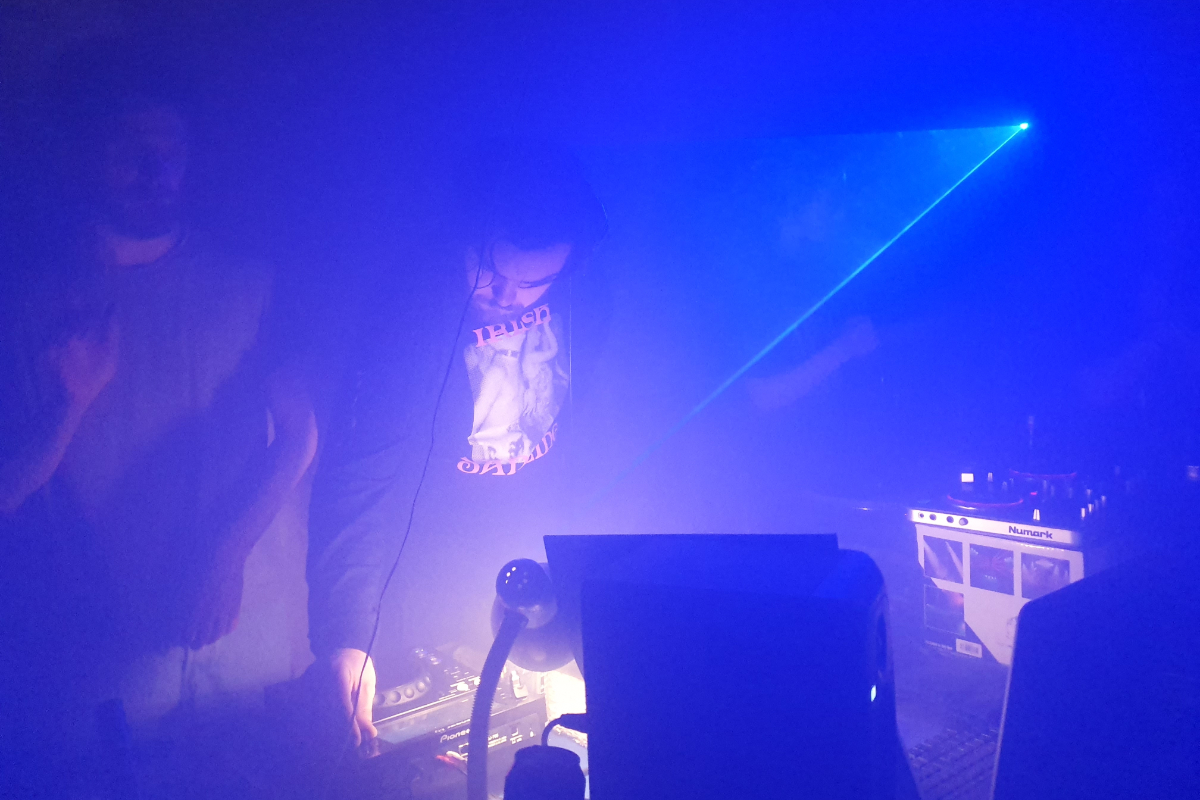 Do you feel there has been a shift in popularity with regards to underground music from the Mainstream? Both nationally and internationally?
That's a difficult one to pin down; the divide between mainstream and underground music has narrowed as on-demand music streaming services have become much more widespread now. Traditionally you and your mates would have to visit record shops and dig to find new sounds, and then share your new discoveries with each other. A lot of that is gone now as you can find any track you want with just the click of a button! And I don't really see this as a being negative thing, because when you give people the freedom to explore genres of music that they wouldn't typically encounter through a more mainstream form of media, they can experience many more ''eureka'' moments of finding a new sound that they connect with. I personally still love nothing more than going into record shops and spending the day listening to records to find new sounds, but today it's more a matter of preference rather than necessity, and this definitely leads to less of a gap between what I would consider mainstream or underground.
What is one subgenre you think doesn't get the attention it deserves?
I think that most subgenres get the love they deserve through online communities and social media, as there's a target market for everything. At a local level I would like to see Drum and Bass nights being run around Galway more frequently. I've really gotten into Jungle in the past year, and it can be a difficult genre to work into a normal club night as I know it's not everyone's cup of tea. So, I'd definitely like to see an avenue for this opening up in the future. Once all of this global pandemic craic has died down, I might even try and get a DnB night up and running myself so watch this space!
What is it that you love most about what you do?
Well firstly (and most obviously) I adore listening to music. I think from the very first day I got a CD Walkman and a handful of CDs music just became such a big part of my everyday life, and my interest kept growing to the point where I wanted to experience as many different styles of music as I could! Music is something I have an intense response to emotionally, more so than any other form of media, and it brings a lot of joy to my life. I also love sharing my musical discoveries with my friends, so DJing was the perfect way for me to do that. I love taking people on my own little guided journey through sound and creating an atmosphere that allows people to enjoy their night to the fullest.

What is one track that never gets old for you despite having heard it hundreds of times?
I play a LOT of songs on repeat quite frequently, but if I had to choose one track it would be 'Infinity Is Not A Number' by kirilik. Kirilik is a techno alias used by Bulgarian DJ ''Kink'' that focuses on integrating a drum machine into DJ sets combined with a number of synth tracks being run on CDJs. ''Infinity Is Not A Number'' is quite hectic right off the bat, with the arpeggiated synth line creating an almost unbearable level of tension and a sensation of constantly falling further into a void. Around the halfway point in the track there is a beautiful drop that just completely breaks away all of that built up tension, and I just remember it blowing my mind when I first heard it. I always wait for that drop, and still to this day get goosebumps when I hear it!
What is your opinion on Night Culture in Ireland?
I think a lot of work still needs to be done on matching the standard of night culture observed elsewhere in Europe. The current licensing laws in Ireland are extremely outdated, it's both difficult and expensive for clubs to obtain the required licensing to extend their opening hours and as a direct result, venues are limited by the number of DJs they can fit on the bill for the night, which means fewer opportunities for people to play and establish a following. I've been working with some local DJs to get a grass-roots underground scene up and running in Galway that is open for DJs of all levels to come and have the craic without being restricted by archaic closing hours. I know from experience that starting out as a DJ can be daunting when there are extended periods between gigs. I'd like to establish a space that allows anyone with an interest in music and mixing to step up to the decks and have a go! The current standard of electronic music coming out of Ireland at the moment is on par with the rest of Europe, it's time for our government to catch up and allow this scene to grow further.
What is your opinion regarding the difference between old school vinyl DJing and modern digital DJing?
I think the move to digital media was a natural progression for music as technology advanced. If you look back at when the concept of being a DJ first came about, vinyl was the only media available that could have been used to mix and blend tracks together, so as technology progressed throughout the next few decades, some people made the transition to CDs and further down the line to mp3's. And it makes sense from a logistics point of view, if you were a vinyl DJ you would have to prepare that bit more before a set to make sure you had the right tracks for your mix, because it just wasn't possible to bring your whole library with you! Today, you can walk into a club with your entire library on a USB stick, which is a huge advantage as it gives you more versatility. The persistent demand for vinyl shows that the love is still there for this medium and won't be dying out any time soon. I personally use vinyl because it's my preference, but I don't think using mp3s would result in any less of a good performance. The key to any good DJ set is track selection and reacting to how the crowd responds, the source of the media is irrelevant at the end of the day.
Do you think this has hurt a DJ's ability to have a "unique" style? Is having your own style separate from all the other DJs out there even important nowadays?
No, I don't think it really impacts someone having a signature sound. A DJ will develop their style based on the genre of tracks they're playing or producing so I don't think whether they use vinyl or mp3 would really have an impact on that. I don't think it's essential, but it certainly helps if you have a signature style as it will naturally draw in an audience that identifies with it. For example, if I see Kerri Chandler is going to be playing in town, I know full well to expect some classic House tracks on the night as that's his style. It makes it easier for an audience to decide what kind of performance they want to listen to.
What is one track that got popular that you can't stand?
I don't typically get too hung up if I come across a track I don't like, but when ''Old Town Road'' by Lil Nas X ft. Billy Ray Cyrus came out I literally could not stand it, and it became so popular it was featured in everything! There is obviously a target market for Country mixed with Trap, as its popularity speaks for itself, but that song just completely missed the mark for me.
Favourite venue in Ireland and why. Go!
I'm a big fan of Cyprus Avenue in Cork, I was down there to see Leftfield last year, and I liked the overall layout and atmosphere of the venue. The tracks sounded great for the entire night and it was honestly one of the best nights I've had clubbing in a while! I also have a special place in my heart for Baker's underground in Limerick City, it was the club that first piqued my interest in electronic music back in college. It's closed down for the last few years unfortunately, but I have some really good memories from that place.
Is this your sole occupation? If so, what does it mean to you to be able to make ends meet doing something you're passionate about?
No, I also work a full-time job so I'm not financially dependent on getting gigs consistently. I would like to get to the point where I could make this my primary source of income but I'm not quite there yet! My current situation suits me well though as vinyl can be quite expensive and it's my primary source of music when I'm playing a set, so it's good to have the flexibility to allocate some of my earnings to keep adding to my collection. On the flipside, it does make playing weekday gigs virtually impossible without burning yourself out. I would definitely love the opportunity to make this my full-time job though, so we'll see what the future has in store.
How has the Coronavirus affected you? How have you adapted? What advice can you give to others about dealing with this and coming out stronger on the other side?
The lockdown as a result of Coronavirus has led to me having a lot more free time to focus on music, which is great as it can be difficult to find the balance between work and play under normal circumstances. As I'm working from home, I can allocate more time to sourcing new tracks and getting up to speed with production software. On the other hand, I'm finding the whole social distancing aspect to be quite difficult to adjust to, and it's tough not being able to see your loved ones face to face. Lockdown is a necessary evil to ensure those at risk stay safe, so I try to remind myself that when I start to go a bit crazy from being cooped up! I would advise people to try and let their creative inner child loose again and try new things that you might have always wanted to do but never had the time to fully commit to. We're now living life at a much slower pace than before, which can also be quite liberating.
What has been the most exciting part of the last two years?
I've frequented most of Galway's most popular music spots including Electric, the Loft and The Blue Note Bar. I've also opened as support for the Galway run collective Basement Projects as part of their Paddy's Day Boatclub party, sharing the bill with heavyweights like Cailín and Jamie Behan. In early 2020 I was asked to appear on Dublin Digital Radio for a guest mix on the monthly Out of Space radio show hosted by Aoife O'Neill. This was a true highlight so far, as I'm a big fan of both Aoife and the Out of Space series (you can listen to this guest mix below). More recently, I've been working with a few other local DJs to get a grass-roots underground scene up and running in Galway which is exciting as we're opening avenues for DJs of all levels to come and have the craic without being restricted by archaic closing hours! More to come on that
Like what you've seen and heard so far? Here are all the ways of keeping up with Yurtis Mayfield online: Facebook // SoundCloud // Instagram // Spotify