Ability West marks 60 years of dedicated services to children and adults with intellectual disability and comorbidities across Galway City and County.
A registered charity, Ability West is founded on the core ethos of empowering people with disabilities to live self-directed lives in an equal and inclusive society. Each person is supported and valued within an environment which promotes their overall autonomy, health and wellbeing and enables them to reach their full potential.
Last Thursday 26th of May, Ability West, kicked off its 60th anniversary with over 30 community events celebrating the charity's extensive work. From Galway City to Clifden, Connemara to Tuam and beyond, Ability West hosted Mad Hatter's Tea Parties, Yard and Garden parties, a Reeling in the Years Event, Art Exhibitions and much more, all of which will showcase the services, people, families and communities who avail, contribute or volunteer with the extensive services of Ability West. Leo Moran of the Saw Doctors made a brief appearance at Reeling in the Years Party in the Team Day Service in Tuam and at Snipe Day Service in Liosbaun Business Park in Galway City as part of the days celebrations
Throughout the summer months and up to Christmas, Ability West and its community will host a series of celebratory events which will showcase the evolution and growth of the organisation which has embraced much change over 6 decades.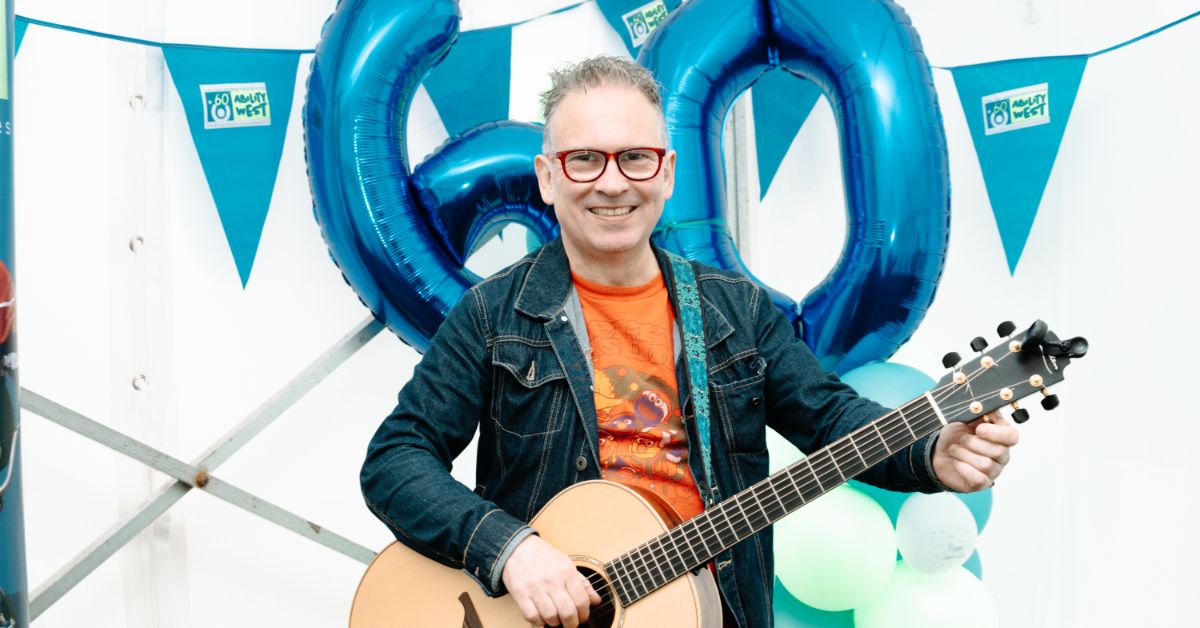 Also forming part of the calendar is a series of events showcasing and celebrating successes through sport, arts, music in live productions, industry work placements. In addition services of gratitude, prayer and memorial are scheduled as part of Ability West's 60th anniversary. Central to celebrations will be the people involved in Ability West whether receiving or delivering services and supports. This will highlight the enduring legacy and vision of a group of heartfelt family and friends who came together voluntarily to support children with intellectual disabilities all those years ago.
From humble beginnings in 1962, Ability West was formed in Galway City by a group of parents and friends wanting to support children with intellectual disability and their families in a quest for health and well-being services and societal inclusion for all. Six decades later, Ability West supports over 600 children and adults across Galway City and County with an extensive range of tailored services and supports in 13 locations and 62 centres. Its headquarters at Blackrock House in Salthill in Galway City is the base from which all services are co-ordinated. Today, Ability West is also Patron of four special schools in Galway City, Tuam, Ballinasloe and An Cheathrú Rua in the Connemara Gaeltacht.

Primarily funded by the HSE, Department of Education and Skills and continuous innovative fundraising initiatives, Ability West employs a team of 640 staff including healthcare professionals, carers, educators, administrative staff and management. The organisation also has a loyal base of volunteers, from whom so much energy and vision permeates across all aspect of the organisation. Many volunteers stem from the original founders and generations of families and friends, who are extremely passionate about the services and critical role of Ability West in Galway.
The Best Buddies programme operated by Ability West in association with its dedicated partners of NUI Galway, Ollscoil na hÉireann, Gaillimh and ATU, Atlantic Technology University, Galway, is hugely successful. The initiative engages students and staff members of both third level campus' in delivering a series of "buddy" services and supports under the innovative befriend programme which brings much joy to all parties involved. Such innovative programmes support the core values of Ability West, in delivering person centred services and supports to ensure that children and adults with intellectual disabilities achieve their full potential and live valued lives in their respective communities. Business and Corporate partnerships deliver employment and work experience opportunities across Galway for many of those availing of Ability West services, for example engagement with Galway City Partnership's newest project "Inclusive Pathways to Employment."
"Dedicated to enabling people to realise and achieve their goals and ambitions is a critical belief of Ability West. This is implemented across all levels of our team and with our volunteers but most importantly those for whom we care whether children or adults in the community or in Ability West's residential services," says CEO Dr. Audrey Pidgeon. "Testament to this is the extraordinary efforts of the Ability West team to ensure continuity of supports to people throughout all levels of restrictions during the pandemic. The strategic and steadfast growth of the organisation in its 60 year history verifies the ambition and commitment of Ability West to all of our people across all realms of the organisation but most importantly the people and families whom we support daily," Dr Pidgeon says, "60 years is a hugely significant milestone to be celebrated and we're excited especially after the impact of COVID and lockdown on our people and services."
2022 is a year for all of the people of Ability West, those who avail of our services, those providing the services, their families and friends at all levels in Galway's community both urban and rural to celebrate achievement, inclusion and diversity. Setting a new legacy to embrace our current lifestyle, challenges and ambitions to include the impact of digital resources and a more sustainable future environment for all will be the cornerstone of Ability West for future generations.
Ability West with the support of the HSE, Department of Education and Skills, community fundraising initiatives and donations will continue to deliver high quality, innovative and personalised person centred supports to children and adults with intellectual disabilities across Galway City and County.
For all up and coming events and news or to lend your support, log onto www.abilitywest.ie and follow @abilitywest on all social media channels.