Here at This Is Galway, we are finally starting to realise that Winter is actually the ideal time for a stroll in the great outdoors! The shorter days make it easier to catch the stunning sunrises and sunsets, the colder weather means you can wrap up cosy in a hat and scarf, and the festive decorations make the whole city sparkle!

So, embrace the wild west's winter weather and get out exploring Galway!
Walk The Waterways
We absolutely love walking along Galway's canals, rivers and waterways. Always teeming with life, from rowers battling the current to swans gliding gracefully along the top, so keep your eyes peeled for all the action and be ready to snap a photo! Start at University of Galway in Newcastle and follow the greenway alongside Eglinton Canal, then finish off with views of the iconic Galway Hookers overwintering at the Claddagh. A quick takeaway pastry from Gourmet Tart Co on Raven's Terrace is the perfect way to break up this excursion.

Step into Christmas
The glittering of Christmas lights transforms Galway city's historic, cobblestone streets during the winter months and never fails to put a smile on the faces of those who wander below. Regardless of age, religion, beliefs or background, it's hard to deny that the seasonal decorations brighten up the long, dark evenings of winter. We strongly recommend ordering a rich, creamy hot chocolate from Espresso 44 on William Street to accompany your meander along Shop Street, High Street, Quay Street and The Latin Quarter. If the ceiling of fairy lights starts to get a bit repetitive, there are lots of local independent businesses along the way that go to serious effort with their Christmas window displays and even rival the well-known Brown Thomas. Try to take a peek at 2wildgeese, Coffeewerk + Press, Charlie Byrne's Bookshop and Hazel Mountain Chocolate while you're out and about!
Stroll The Prom at Sunrise
Salthill Promenade is probably one of the most famous walking trails in Ireland and we're sure there are very few of you who haven't walked it yet… but have you ever walked it at sunrise? Morning breaks a little later in November, between 7.30am and 8.30am, making it the ideal time of year to start your day the right way! Galway Bay glistens as dawn breaks over the Clare Hills and orange hues move across the landscape. You'll be surprised by how many people are out swimming at Blackrock even at this early hour and, who knows, you might build up the courage to join them sometime! If you do, reward yourself with a hearty and warming breakfast at Ground & Co or Chef Laura Rosso afterwards.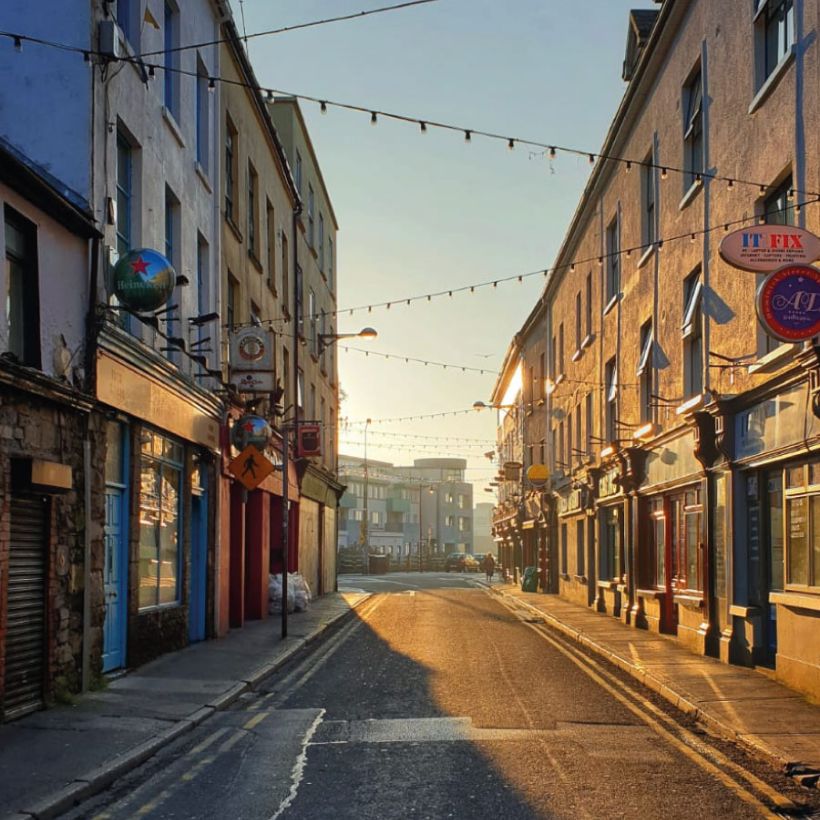 photo by Evan O' Flatharta
Wander Around Galway's Westend
There is one very special part of Galway city where the changing of the seasons is especially palpable; Galway's Westend. The leaves in Fr Burke Park turn brown and crisp underneath your feet, the fresh produce on display outside Ernie's Shop starts to reflect the time of year, hot whiskeys flow by the stove in Bierhaus and the welcoming locals start to chat excitedly about the festive season and all the fun it brings. A stroll from the historic Small Crane to the Playground is only a short distance but could end up taking hours depending on who you meet while you're out and which warm pub they coax you to join them in!
Published on Updated on