While we know that many of our carnivorous readers enjoy a good meaty feast, there are an abundance of vegan and vegetarian folk out there just waiting for the inside scoop on where to get all of the veggie goodness in Galway.

You may be surprised to hear that it's not all celery sticks and hummus – you can get all your favourite dishes with meat-free substitutes and dairy-free delights while maintaining the delicious taste. Sure look – at the end of the day, we're all trying to save the planet and the way you eat is a great place to start. Here's where to head for a good aul veggie feed…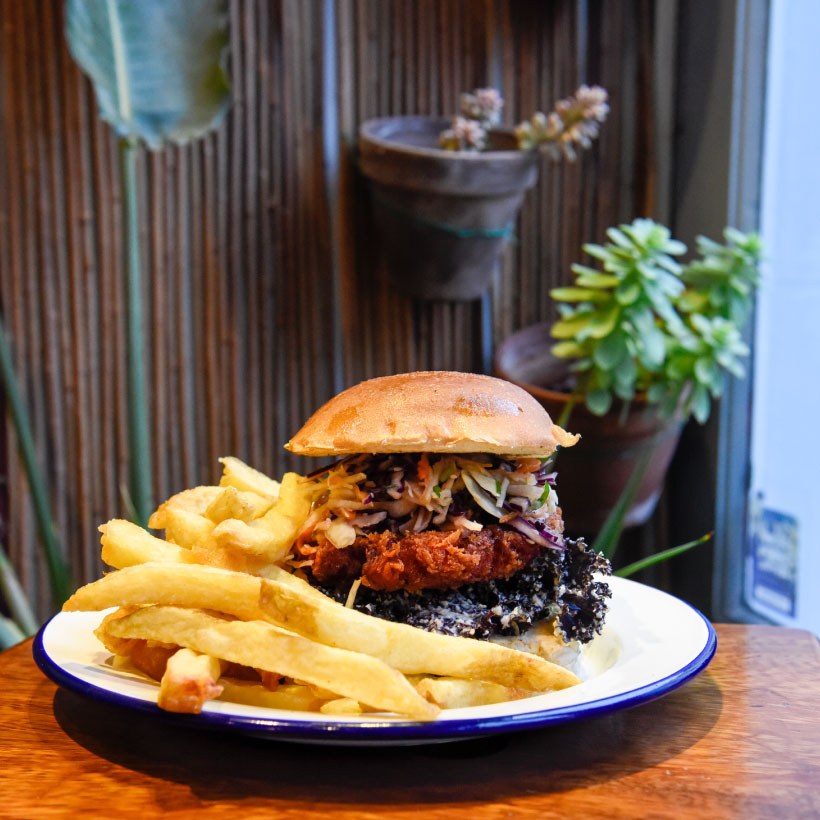 The Gourmet Offensive
Introducing the people of Galway to the middle eastern delicacy of falafel back in 2005, The Gourmet Offensive quickly became a local favourite. Ten years later, they found their home in No.11 Mary Street and have been serving up everything from traditional falafels to TGO style spice bags ever since. If colourful salads or wholesome curries are more your thing, they've got the goods - did we mention they've got their very own homemade tofu? For affordable, flavoursome food, look no further than the humble TGO.
11 Mary St // more here
Café Temple
Since 2016, Temple Café has been providing vegans and vegetarians with some of the best grub in town. A plant-based paradise right in the heart of Galway's Latin Quarter, they've got some seriously tasty options. For brekkie, their vegan fry is fantastic and their pink buckwheat pancakes are always a treat. For lunch, you're spoilt for choice all year round with healthy salads, beetroot burgers and amazing soups made fresh everyday. If your sweet tooth gets the better of you, a crumbly vegan muffin alongside a tasty vegan hot chocolate will hit the spot.
The Cornstore // more here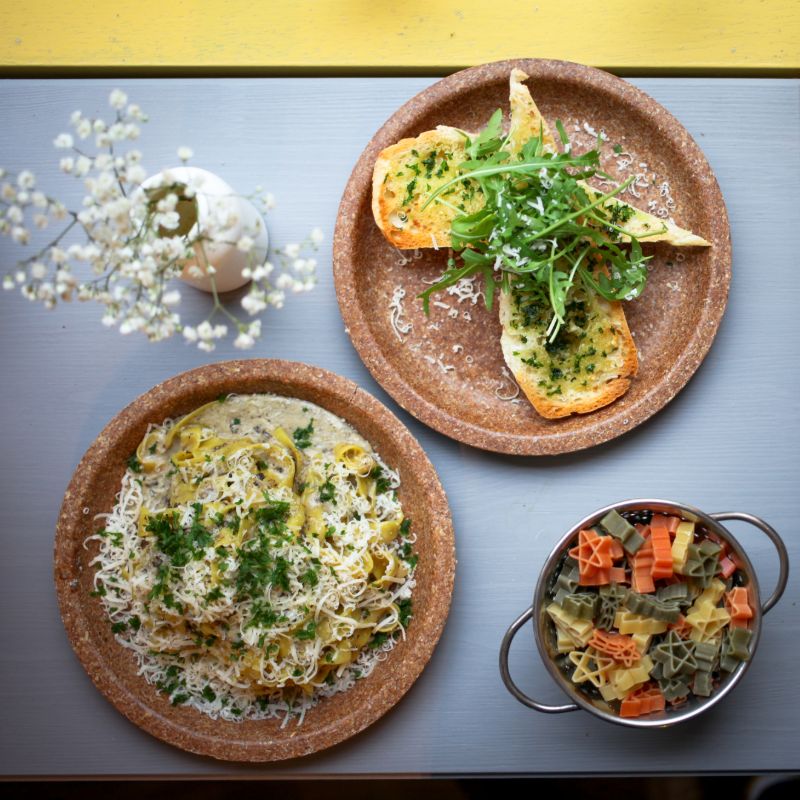 Pasta Factory
An ultimate family favourite, the folks at Pasta Factory have created a vegan-friendly menu fit for a king. With a strong focus on supporting local suppliers, their menu changes weekly, pairing seasonal flavours along with their signature homemade pasta. While you're there, you've got to try their staple vegan special; vegan pasta alongside a bottle of refreshing kombucha and a slice of vegan heaven chocolate cake. If you're still hungry (which we highly doubt) don't forget, you can even eat your plate!
13 Mary Street // more here
The Lighthouse Café
A vegetarian paradise, The Lighthouse Café is the perfect spot for a quiet catch up over some wholesome food. They've got healthy and hearty lunches that'll keep you fueled all day long. A particular highlight of their menu is the Vegan Bahn Mi made from peanut pate with tamarind aubergine, pickled carrot, daikon, slaw, vegan mayo and fresh coriander. But that's not all, a whole range of salads, sandwiches and daily hot pots make it a tough decision! One thing's for sure, vegetarian food has never tasted so good! They've recently opened a second location in Terryland, so Galway's veggie scene just got a whole lot better.
8 Abbeygate St Upper & Terryland // more here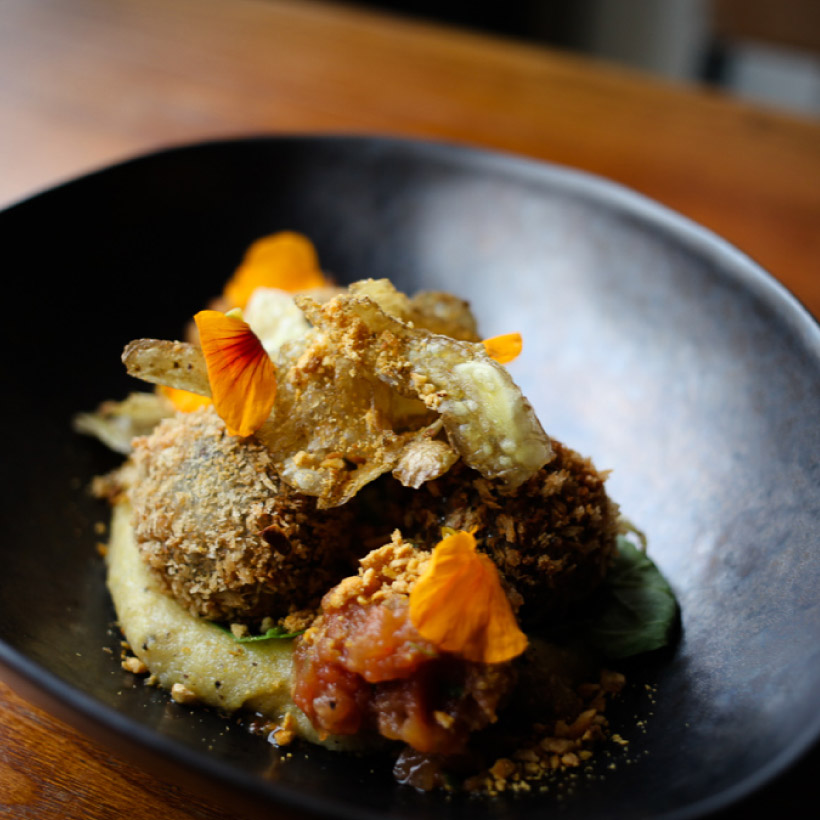 Greens & Co
Transforming the walls of a butcher shop into a modern plant-based eatery, Greens & Co serve simple food to the highest possible standard with an emphasis on local producers and suppliers. Their seasonal menu features the likes of warm soup, tofu fish and chips, pancakes with aubergine bacon and don't even get us started on their mac and cheese! A sister eatery of Quay Street Kitchen, Greens & Co is a culmination of owner Aoife's dreams to open a vegan restaurant and always defies expectations.
4 Henry St // more here
Delight
Fueling the people of Renmore for over 14 years, this neighbourhood favourite joined the well known Ground & Co café tribe last summer and they've truly blossomed.With plenty of options for vegans and vegetarians, Delight's menu features veggie wraps and colourful salads and if you're in the mood for a boost, their dreamy smoothie menu will have something to tickle everyone's taste buds. No trip to Delight is complete without one of their gourmet coffees and with plenty of plant-based milk options, you can easily enjoy your almond latte in the beautiful surrounds of Renmore.
Renmore Ave // more here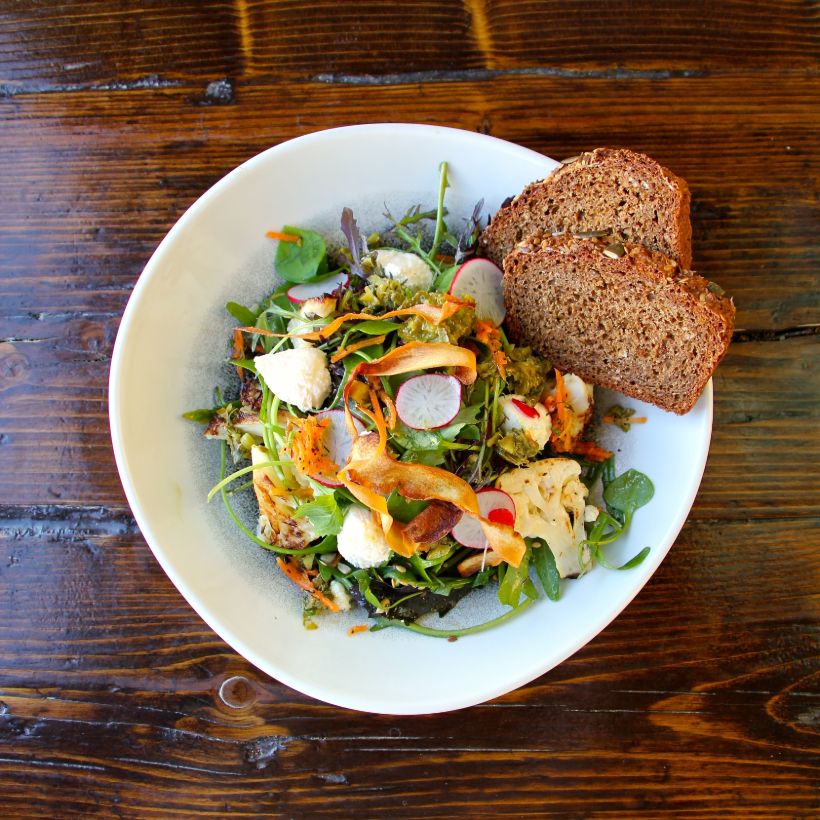 Gather
Vegan and vegetarian options are much more than an afterthought at Gather Restaurant, where the menu changes seasonally and features plenty of locally sourced, fresh vegetables. With gorgeous ingredients like chestnut, burrata, vanilla blackberries, roasted celeriac, crispy sage and hazelnuts, they've got a vision to create vegan and vegetarian food with a difference. If you want our advice, try their dreamy pumpkin and swiss chard lasagne – made with premium vegan cheeses and a whole lotta love. For a cosy meal served with excellent service, gather the troops and head to Tuam.
High St, Tuam // more here
Jungle Café
A true oasis in the east side of the city, this jungle themed outdoor café is ideal for those breakfast catch ups or time-out lunches and they've got plenty of flavoursome vegan and vegetarian dishes to choose from. Passionate about cooking, the team makes everything from scratch using locally sourced produce. Vibrant salads, wholesome sandwiches and hearty soups are just some of our meat-free favourites and if your sweet tooth is aching, treat yourself to one of their delicious vegan cakes or cookies. 
29 Forster St // more here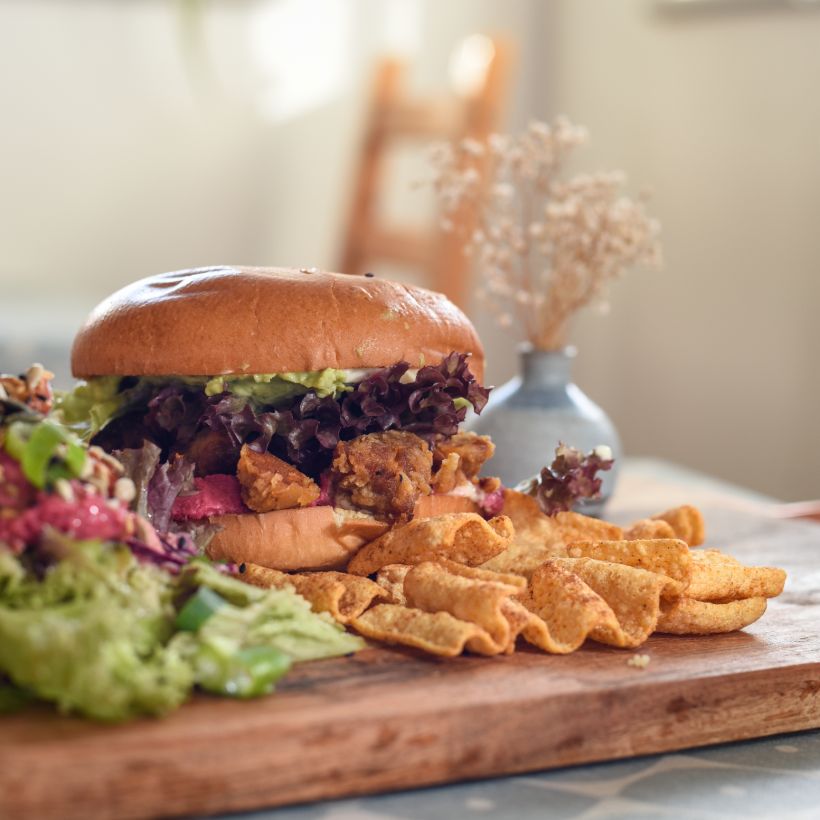 Sweet Nothings
Having started learning about vegetarianism and veganism nearly four years ago, the folks at Sweet Nothings café have always tried to put an emphasis on living clean and as sustainably as possible. Their menu is 100% vegetarian and nearly everything has a plant-based alternative. They've even got vegan, wheat and refined sugar free desserts that they've been selling at markets for the last three years and it's clear that Connemara has taught them that simplicity and living in harmony with nature is the key to everything. With a 'no plastic' policy, Sweet Nothings use carton bags, boxes, forks and biodegradable cups only.
Ballyconneely // more here
Builín Blasta Café & Bakery
Builín Blasta is a friendly kind of place, offering a truly Irish Céad Míle Fáilte to everyone who wanders through their doors. They offer award-winning vegan options such as their lentil spaghetti bolognese with cashew "parmesan" and their super tasty vegan sandwich with chermoula, roasted mushroom, tomato and caramelised onion on homemade sourdough rye bread. If you're looking for a sweet fix, treat yourself to one of their delicious vegan desserts and a warm cuppa. Focusing on wholesome, homemade food, Builín Blasta is the perfect pitstop for any Wild Atlantic Way explorer.
Spiddal // more here

Phi
Bringing all the comfort and convenience of a readymade meal right to your doorstep with an ethical and sustainable philosophy, Phi offers a mixture of plant-based dishes and use sustainable meat and animal products to enhance the flavours. They also serve some seriously tasty vegan options. Their 3 course Phiboxes are packed with delicious dishes that will have you in a state of foodie bliss from start to finish.
Geata Na Cathracha, Fairgreen Road // more here
Vegano Delicatessen
For ethical comfort food and a selection of goods from artisan producers, you're going to want to check out Vegano Delicatessen's hot food counter. Filled with a whole lot of grain meats, dressings and cheeses, they put together a tasty array of vegan pastries and sandwiches fresh each day. They've got shelves filled with all kinds of vegan sweet treats like jellies and chocolate and since it's Galway's first vegan deli, we've gotta support it!
52 Newcastle Road // more here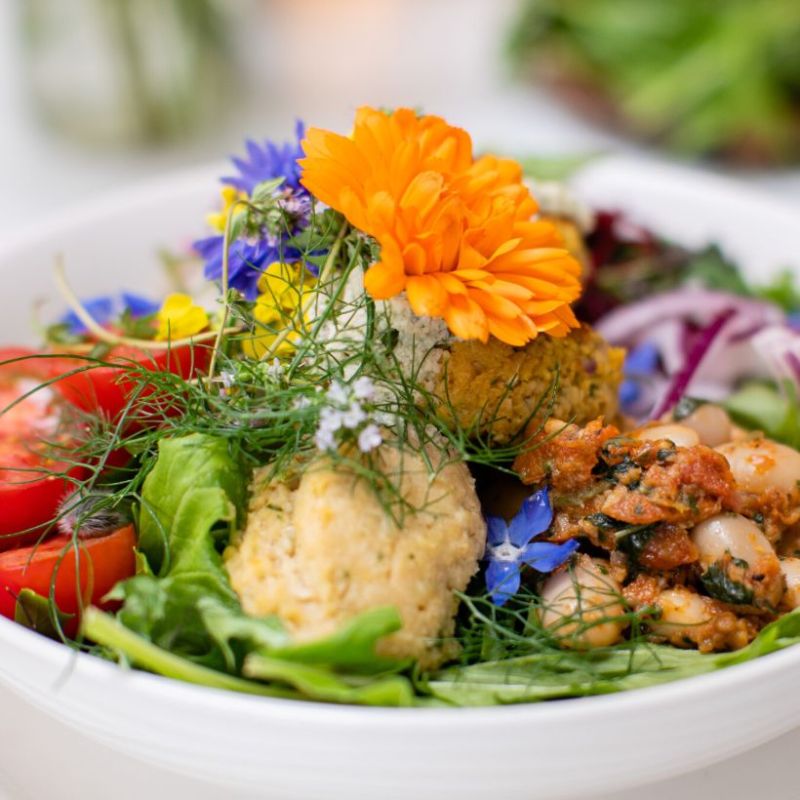 Brigit's Garden & Café
Sure there's no better place for a plant-based diet than surrounded by the wonder of nature. Brigit's Garden in Roscahill is a natural paradise with wildflower meadows, ponds and trees as far as the eye can see. Their love of plants doesn't stop there, though, as they celebrate all things green on their gorgeous Café menu too. The Herby Chickpea Falafel features pickles, roast carrot hummus, pico de gallo and Uncle Matt's leaves and it is a fresh, zingy way to fill up at lunch time. There are loads more vegetarian and vegan options, along with a couple of dishes to keep the meat-lovers in the family happy.
Roscahill, Co. Galway // more here
Grind Coffee and Food
Located on both Merchants Road and in Briarhill, Grind ace coffee, but they also offer a range of delicious veggie and vegan food. With hree different vegan breakfast choices, both sweet and savoury, you're sure to find the perfect morning treat. For lunchtime matters, all their soups are vegan, and they change each day, from coconut and sweet potato, to roast red pepper - they're all unreal. Pair with their tasty warm vegan wrap, or for those of you who feel more like a salad, their falafel bowl is sure to hit the spot.
Various // more here