With Culture Night just around the corner, the Macnas Crom is getting ready to take a walk through the town of Athenry. It will be Macnas' first performance in Athenry since the mid-90's and will include Macnas performers, stilt walkers and drummers, followed by a fireworks display. Read on to see how you can be apart of Athenry's Macnas parade and Crom's walk for Culture Night 2023
This Culture Night Galway County Council proudly presents Take a Walk with Crom, an intimate Macnas spectacle that will meander through the medieval streets of Athenry. Join Galway County Arts Office and Athenry Arts & Heritage Centre as they invite the wise and magnificent Crom to lurk around Athenry town centre alongside Macnas performers, stilt walkers and drummers who promise to entertain and enthral on Friday the 22nd of September from 9pm.
Crom emerged from the 2014 Macnas production Symphony for the Restless and has wandered the streets of Galway City, Dublin City and Ballina. 'Raging, roaring, grieving; staggering, rootless out of proportion; loose wild and weary in this world. The giant, Crom is tormented by his own illusion and delusions. He is intoxicated with rage, he is disorientated, restless, and lawless...'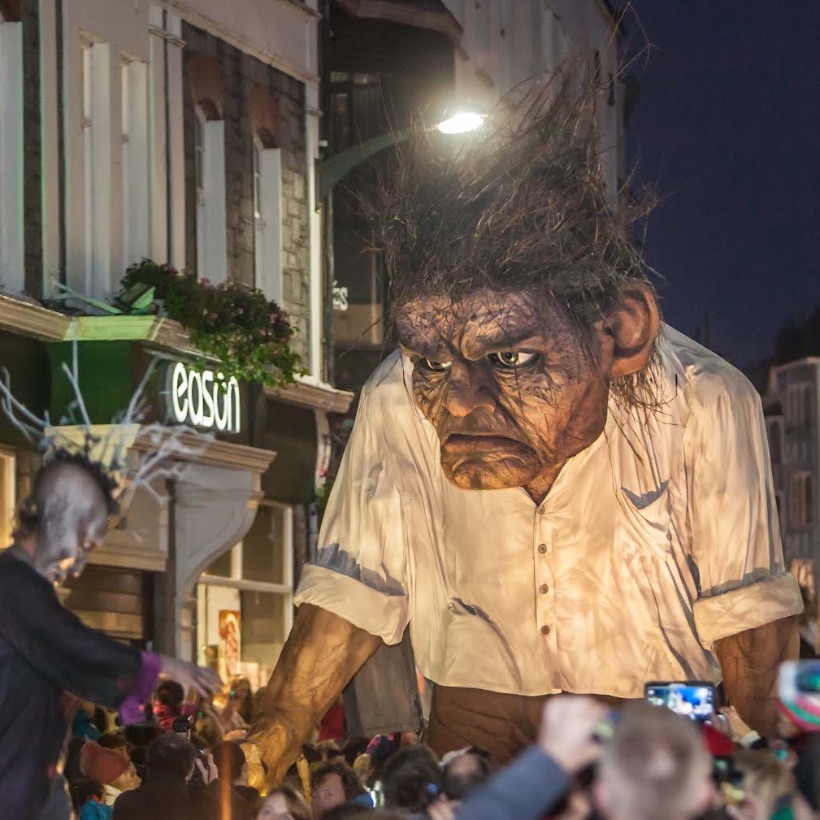 Macnas is an award-winning internationally acclaimed performance company from Galway. Productions are immersive and spectacular, and its repertoire includes parades, theatre shows, installations, film and performance art. Macnas makes transformative immersive work, collaborating with artists, audiences and communities, nationally and internationally.
In 2020 Macnas relocated their sculpture workshop to 5km outside of Athenry and have been working with local schools and getting to know the area. Macnas artist Lisa Sweeney worked with 6th class students at Scoil Croí Naofa to create nests and feathers that were part of Con Mór, The Giant in 2023. In the past, Macnas performed many times during the Athenry Medieval Festival. Now, for the first time since the mid-90's, Macnas will take to the streets of Athenry to delight audiences of all ages.
"We are delighted to work with Macnas in an outdoor setting and as its home to the Macnas workshop, Athenry presents as a perfect venue", says Sharon O'Grady, Galway County Arts Officer.
Before Take a Walk with Crom, come to Athenry to enjoy other Culture Night events at Skylark, Athenry Arts & Heritage Centre and walk around the town to experience 'one of the best-preserved medieval towns in Ireland'. Stay afterwards to witness a spectacular fireworks display sponsored by Londis Athenry in the park.
Feature photo courtesy of Macnas

Published on Updated on