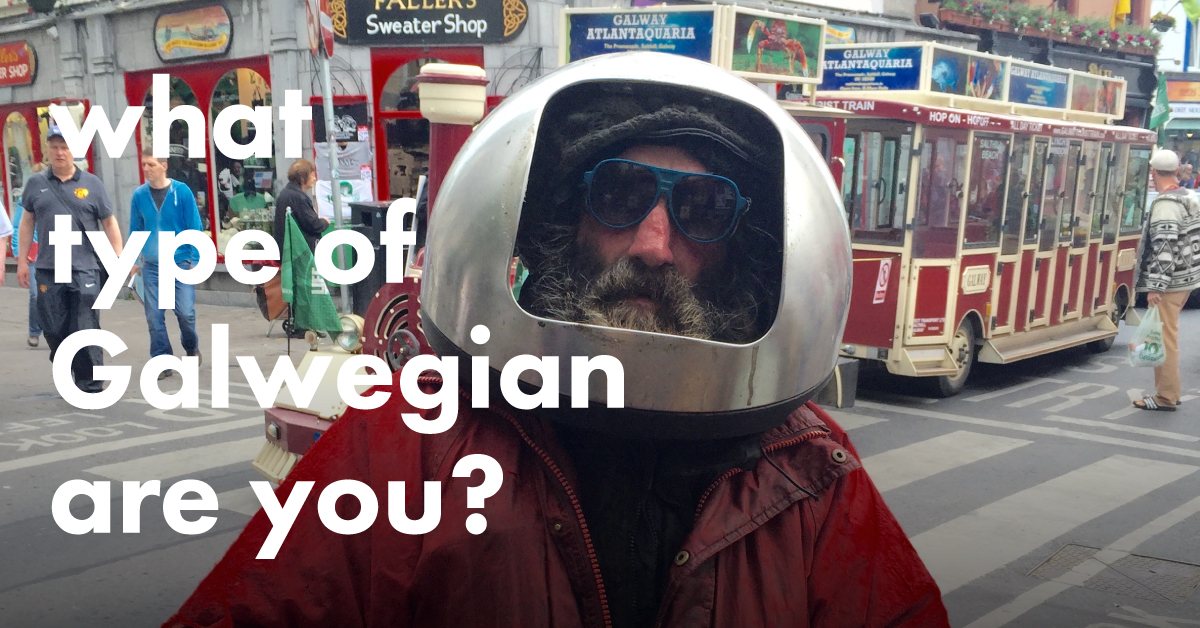 What Type Of Galwegian Are You?
The county of Galway is home to some serious characters and we've got huge love for each and every one of you! Whether you're a Guinness aficionado or a divil for a bag of cans, an early riser or a night owl, every type of individual can find their tribe right here in Galway. If you've been wondering what type of Galwegian you are, we've put together a little quiz to help you figure it out. Answer honestly…
How's your Irish?
Ah not too bad now, how's yours?
---
Not as good as I would like but I'm taking a course to improve my Módh Cionníollach
---
I'm constantly trying to improve it
---
Well, I went to the Gaeltacht every summer in school so I would say it's go han-mhaith ar fad
---
Well I do tune into TG4 every Sunday
---
Let's just say it's been a while
---
What's your drink of choice?
You can't bate a warm, flat can of Galahad on a sunny day
---
Gin and tonic - the bigger the goblet, the better
---
A creamy pint of Guinness
---
Pub of choice?
Feck the pub, it's sparching all the way for me
---
You can't chat in pubs! I prefer a quiet one in The Black Gate
---
Taylor's Bar - a spot by the big screen is essential
---
Favourite restaurant?
Ah sure the deli will do me - chicken fillet rolls for the win
---
Aniar or Loam - you literally cannot beat Michelin star
---
A burger and a pint in the Front Door
---
Bacon and cabbage in Monroe's
---
Anywhere with good parking near it
---
What's your ideal lunch break?
There's good soakage in a Boojum burrito
---
A seat beside the fire in Kai, a slice of carrot cake in one hand and a good book in the
---
A vegan curry in the serene surrounds of The Secret Garden
---
Sipping an iced coffee from Pascals while listening to a podcast
---
Flicking through the sports section over a full Irish in The Cellar
---
Soup and a sambo in Taaffes
---
I bring my own hang and cheese sandwiches from home
---
Sunday morning activity?
I haven't seen the morning in years - the day starts at 2pm for me
---
Curled up with a flat white, reading the headlines
---
Braving the elements by diving off Blackrock
---
A wander through Shop Street
---
Checking the day's odds on Paddy Power
---
A drive out to Clifden would heal the soul
---
What's your perfect date night?
I'm more of a shifter and drifter myself
---
A night of theatre at the Town Hall followed by an espresso martini in The Universal
---
A night in with a takeaway - we all deserve a cheat meal
---
A bowl of pasta in the Latin Quarter before a drink and dance in Busker Brownes to top it off
---
A trip to the Sportsground
---
A trad session in Tig Cóilí cannot be beaten
---
A drink in O'Connor's Famous Pub - you never know who you'd run into!
---
What appears most frequently on your Spotify playlists?
You know the one that goes unce unce unce?
---
You probably wouldn't have heard of it
---
High energy motivational tracks
---
Anything in the charts really
---
Anything from the FIFA 20 soundtrack
---
What's the first thing you do on pay day?
Buy a new speaker for the gaff
---
I'll be booking some tickets for the theatre
---
Treat myself to some new gym gear
---
I'm straight in to the shops - money burns a hole in my pocket
---
Buy a new jersey for match day
---
Cash goes straight under the mattress!
---
Top up the retirement fund
---
Favourite smell?
Tied between a fresh pouch of Amber Leaf and a can of Lynx Africa
---
You can't beat the smell of a new book
---
There's nothing like that salty sea breeze
---
Mint, fresh fruit, syrups, liquors… basically anything that goes in a cocktail
---
Bundee Aki's sweat from the sideline
---
A hot whiskey - lemon, cloves and all
---
A freshly brewed cup of tea
---
What sound fills you with the most joy?
A can cracking open… I've got goosebumps just thinking about it
---
There's a lot to be said for some smooth jazz
---
Waves crashing against the rocks
---
The cheer of the crowd at the Galway Races
---
You can't bate The Sunday Game theme tune
---
The dulcet tones of Daniel O'Donnell
---
Favourite Galway landmark
At this stage I'm nearly a landmark myself!
---
How do you cure a hangover?
Everything in moderation!
---
Gallons and gallons of water
---
A pint of Mi Wadi - the old reliable
---
A good sized mug of tea and two digestives
---
I accept defeat and move on
---
Share the quiz to show your results !
Subscribe to see your results
WHAT TYPE OF GALWEGIAN ARE YOU?
I'm %%personality%%
%%description%%
But I'm also %%personality%%
%%description%%