Being just a stone's throw away from Eyre Square, Woodquay is the perfect place to visit to enjoy great food and drink with pals or experience some of the local culture while enjoying stunning waterside views. While it's tucked away from the busyness of Shop Street, Woodquay remains to be a must visit location for all Galway visitors. With fantastic pubs and independent shops, not to mention the theatre and affordable accommodation, there are plenty of reasons why you need to add a visit to Woodquay to your holiday itinerary..
TEMPT YOUR TASTE BUDS
Since every meal tastes better with good company, Woodquay has plenty of places for you to grab a bite to eat with your pals.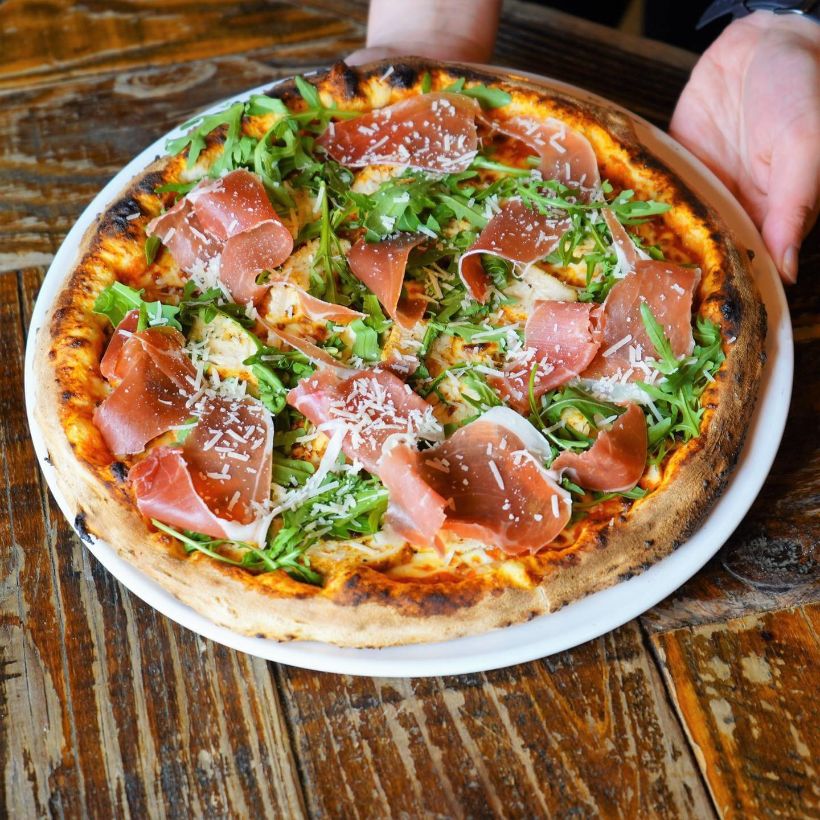 The family run McGinn's Hop House is one of those aesthetically pleasing places that offer a quality bar menu and specialises in craft beers and wood fired oven pizza. This is also the proud home of the Galway Celtic Supporters Club so if you're a fan of football and want to take in some pre-match excitement you'll always be in good company at McGinn's. Another landmark bar and restaurant in Woodquay is the welcoming McSwiggan's Steak and Seafood Restaurant. They've recently undergone a bit of a facelift and their new exteriors are looking better than ever! The new look was done in tribute to how the place looked many years ago when it was Patrick O'Flynn Grocer and it looks absolutely stunning. But don't spend all day standing out admiring the exterior, McSwiggan's is pretty gorgeous looking on the inside as well. It's also the perfect meeting spot for those looking to celebrate a special occasion with family and friends or to enjoy a quiet one in a relaxed environment. For a wholesome family friendly dining experience with delicious foods and drinks, McSwiggan's never fails to impress.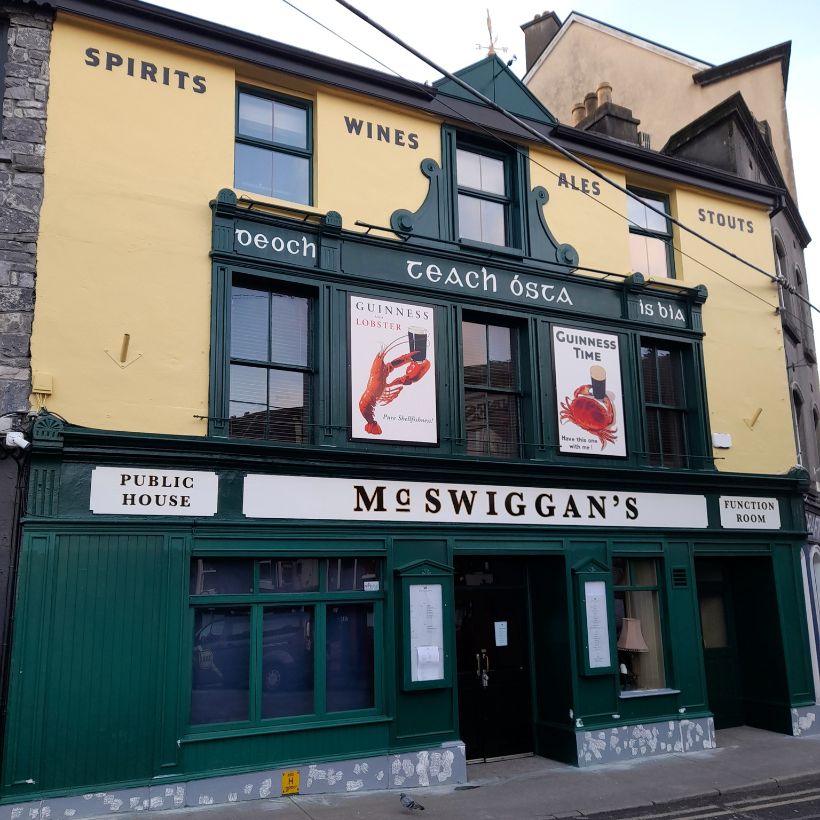 One of Woodquay's newest additions is the fabulous Wishbone. Serving up all the wings, tenders, desserts, beers and cocktail specials you could possibly want, this spot will soon become one of your favourites. Inside, they have got a Galway slang wall, so see how many you know while you're waiting on your food. Another welcome addition to Woodquay's foodie scene is Hush? Burger, Galway's worst kept secret. Can you blame us? Good food deserves to be shared and the burgers from these burger experts are absolutely divine! Find them in the beer garden at the recently refurbished Hole in the Wall. The quirky bar interior makes for a brilliant Instagram shot and the deliciousness of their cocktails really speaks for itself. Featuring a drinks menu that is to die for, big screens for all the must see games, cosy interiors and plenty of eye-catching décor, the craic is always mighty at this famous Woodquay bar.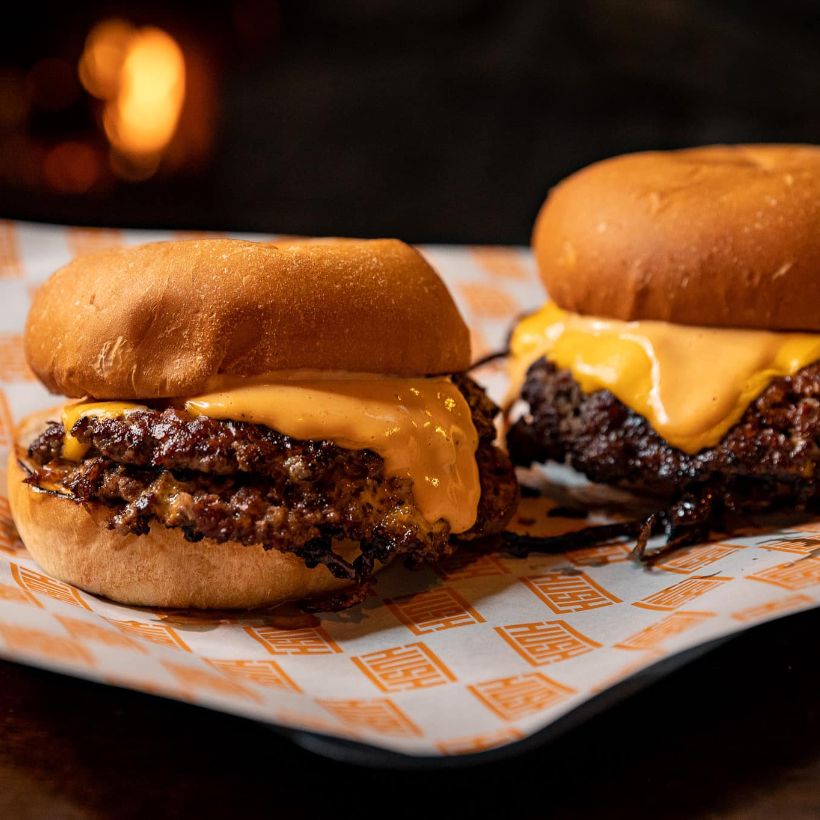 The popular friend hang out spot, Caribou has built up a stellar reputation for the amazing food, delicious drinks and being the place for many memorable nights out. They've also got board games available so you and your friends can party and play the night away. If Guinness is your poison and you haven't visited Hughes' Bar, what are you doing? One of the oldest bars in Woodquay, Hughes' has been bringing Galway quality Guinness since the early 90s. The bar is rumoured to have once sold more Guinness out of their two humble taps than any other pub in the city, so if that doesn't convince you to pay them a visit we don't know what will. One of the area's newest bars, Tigín, should be on your radar. The cosy atmosphere is topped off with live music at the weekends, delicious pints and an amazing staff who go above and beyond to give their customers a terrific experience.
Are you someone who's always craving a bit of Asian street food and a glass of vino? Well, Papa Rich Woodquay is the place for you. Delicious food for incredible prices - how couldn't you love them? Right next door, Barr an Chaladh is known locally for its lively atmosphere and fantastic selection of beers, spirits and wines. It was also listed as one of the 'Top 10 Best Pubs' in Ireland by Fodor's Travel Guides in 2017 so is definitely worth checking out while you are in Woodquay.
GET A GOOD NIGHT'S SLEEP
Thanks to its prime location, Woodquay is the ideal spot for all Galway visitors to rest their heads when they spend their days exploring Galway city and beyond. As well as everything else it's got going for it, Woodquay is also a desirable location for hostels and boutique accommodation. Corrib House is not only known for its amazing tea and brunch menu, but also for its luxury accommodation with stunning views of River Corrib that's sure to leave a good impression on you throughout your stay. If you're only coming for a short trip to Galway and are travelling on a budget, Woodquay Hostel will take good care of you. Not only are their standards of hospitality and comfort incredibly high, but it's the perfect hostel for meeting fellow travellers and enjoying relaxed fun. Keep your eyes peeled for their regular offers that really are too good to miss out on!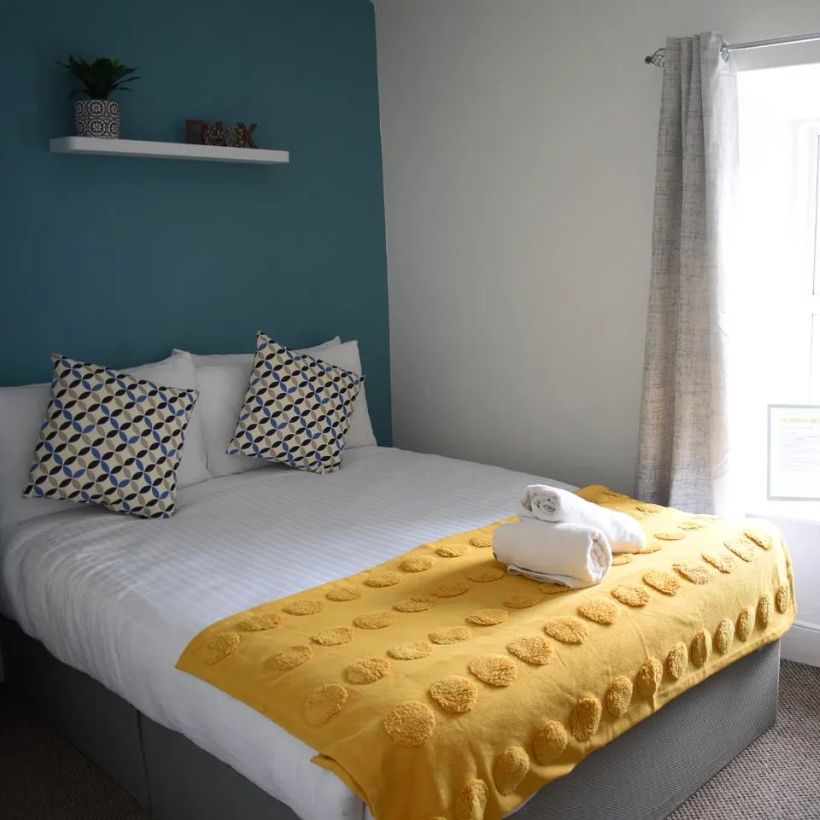 QUALITY ACTIVITIES AWAIT
If you love a bit of drama and music, you should probably check out the lineup at Town Hall Theatre. They've always got performances on, with some of the greatest talents around the country playing at this iconic building throughout the year. Make sure to check what's playing when you are in Galway so you get a chance to see a show at this amazing venue. If you fancy seeing River Corrib from a new perspective, a trip aboard the Corrib Princess is exactly what you need. Tours run from April to October and are a fun alternative way to spend your day in Galway city. This luxury cruise boat also offers private evening cruises with dinner and entertainment and are definitely worth booking during your visit to the City of Tribes. While being the base of successful local rowing teams, Galway Rowing Club is also a great function area, which can be hired out for all your special events. They've got a members' bar and outdoor decking that expands out over the Corrib, providing some seriously stunning views across the water. An activity we'll never tire of, walking the gorgeous waterways of Woodquay. Always teeming with life, from rowers battling the current to swans and ducks gliding gracefully along the top, keep your eyes peeled for all the action and be ready to snap a photo!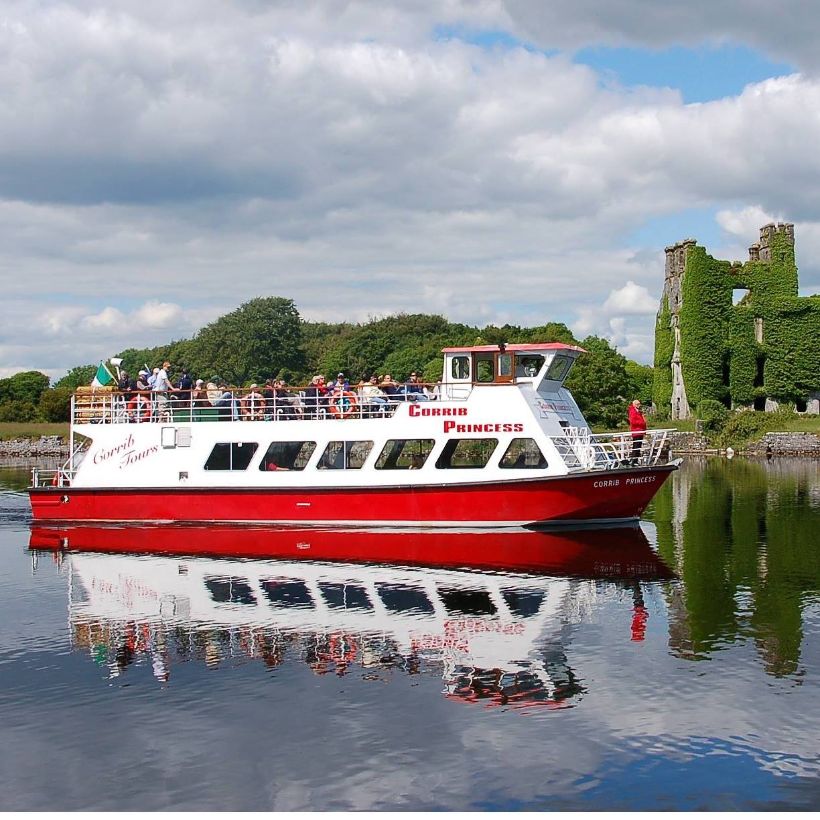 TAKE A TRIP AROUND THE SHOPS
When in Galway you should always treat yourself to something special and The Antiques Room offers a large selection of vintage, estate and antique jewellery pieces and modern diamond rings, this store attracts customers not only from Galway but from right across the country. Run by husband and wife team Niall and Michelle, this jewellers' prides itself on sourcing and selling items of quality so if you are looking for that unique and personal gift for any occasion a visit is a must. Over the road, Decorate Your Own have any and all the supplies you could possibly need for personalising and crafting your own culinary projects. If you fancy a more personal gift for yourself, Ah Sure, Look It is a treasure trove of handmade creations such as cards, artwork, candles, paper craft, natural cosmetics, textiles and other goodies. They stock the perfect holiday gifts and as they'll tell you themselves ah sure, look it, ya might as well. While in town, treat yourself to a new look at The Grafton Barber Galway who guarantee their guests receive premier, top-tier level service. Their services cover all aspects of haircutting, skin fades, royal open razor shaving, colouring and highlights. They'll have you looking your best in no time.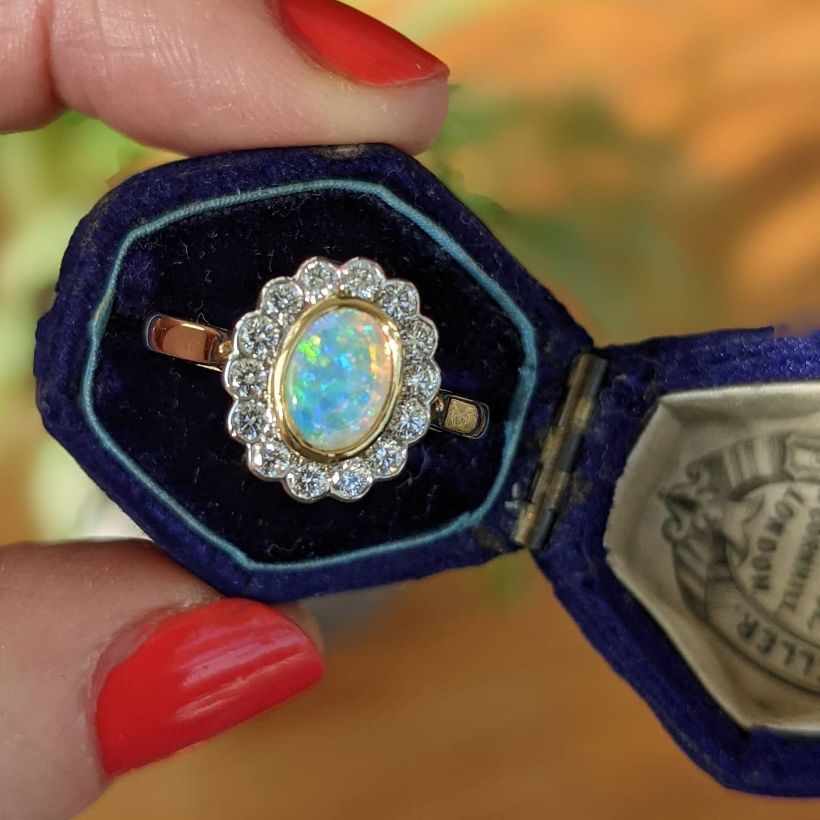 SAMPLE SOMETHING SWEET - COFFEE AND A TREAT
Within walking distance of everything, Woodquay is a desirable location for many businesses including ones that appeal to your sweet tooth!  Corrib House is one of the best places in Galway for coffee and cake, but they've also got lovely savoury meals made from fresh ingredients, certain to make your tummy rumble. The brunch here is a gorgeous experience and we highly recommend it as a way to catch up with friends and family while enjoying breathtaking views of River Corrib. Ciarlantini Delizie Italiane is the place you should be if you're looking for a taste of Italy in Galway. Not only will you be spoiled with yummy options, you will also get brilliant service. At Ciarlantini they've got all the classic Italian sweet treats including tiramisu, which is always delicious with a cup of rich coffee. To catch a break away from the bustle of the city, Renzo Gallery Café is perfect for enjoying some nibbles while admiring the art exhibitions of local and international artists that decorates its interiors. Who knows, you might just spot an art piece you'll want to bring home with you!
Feature Photo by the talented and generous @chaoshengzhang.
Published on Updated on