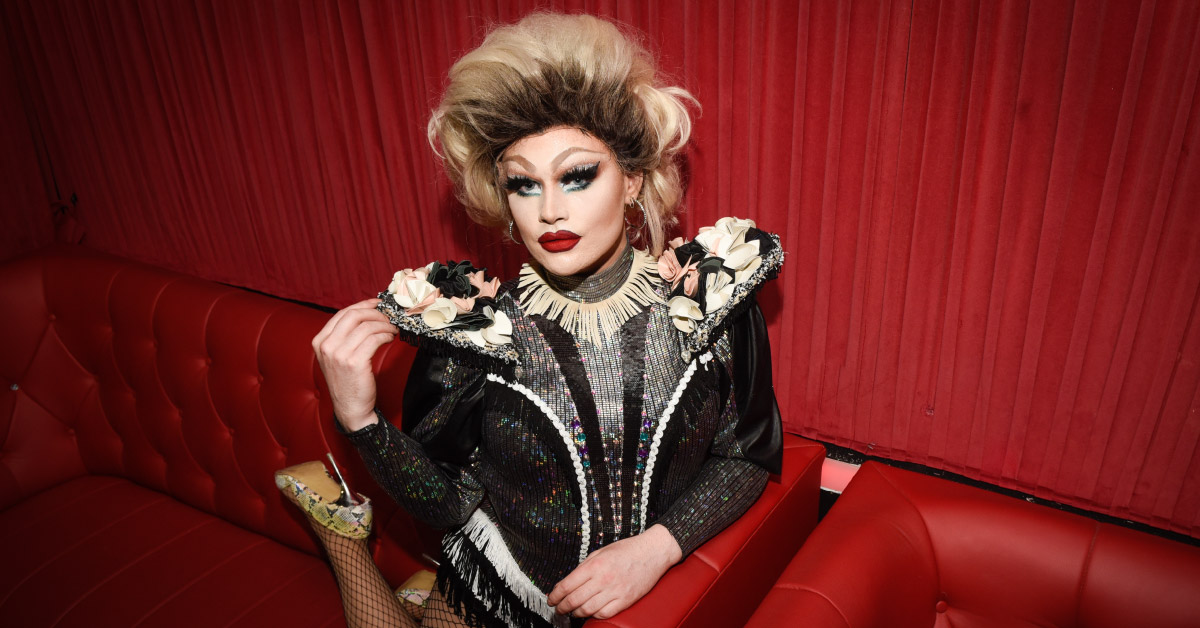 KIKI SAINT CLAIR: THE PATRON SAINT OF VODKA AND RED BULL
Cover girl! Put the bass in your walk…
Kiki Saint Clair is one of Galway's most prominent drag queens and this month's breath-taking cover star. One of the wittiest and most genuine people I have had the pleasure of chatting to, Kiki truly is the Queen of queens.
With nine years in the drag game under her corset, Kiki has played a huge part in the evolution of Galway's drag scene. From discussing drag as an artform to sharing some pearls of wisdom, Kiki radiates positivity, pride and a passion for what she does while having the craic in the process.
The artform of drag has a different meaning for each queen and manifests itself in a variety of ways throughout a performer's career. For Kiki Saint Clair, it's all about translating the innermost workings of her mind and finding a way to convey these feelings. "It's all about self expression and being able to display what's going on in your head out into the real world. It can come in forms of make up or dancing or singing, but at the end of the day it all comes across as different expressions."
Way back before the days of Coyotes Late Bar, the venue on Shop Street was a gay club called Dignity. This is where Kiki was conceived, after Simon Carroll had his first real life exposure to drag queens at work. "They had a Bingo show every Sunday and I finally got the courage to get up and ask could I join in on a show. So I did it for one night and then I never didn't do it again! I just kept coming back." With a talent competition triumph in the bag, Simon started to realise his potential as a drag queen, and from then on his career as Kiki Saint Clair began to flourish.
"I was never a stage school child or anything like that. I suppose more so as a kid I was [into performing] and then I kind of lost it as I got older. Drag gave me that push to get back into it and want to be out there again."
With each year that goes by, I believe that we progress and evolve into a more accepting and embracing society and with this February marking Kiki Saint Clair's ninth year in the business, I was hugely interested to learn what life was like for a drag queen in the West of Ireland almost a decade ago. "It was such a different kind of scene, a different time with a different thinking about drag and what it was. People didn't really understand it. I look to Club GASS, where we do the drag show, and I think to myself if we tried to do this 8 or 9 years ago I couldn't see it being the success it is now." Having recently performed at Dublin Pride, Kiki has showcased her talents to huge audiences around the country. When asked is nerves were an issue for a queen of her stature, Kiki confirms that many (many) vodka Red Bulls were drank in the early days of performing. "I've built confidence up but even today I still get nervous getting up on stage. I think that's a good thing though, because it shows that you still care."
Kiki credits RuPaul's Drag Race, the award-winning American competition series, for helping drag become more mainstream and respected. "I think the show has helped to show the person behind it. It makes it a little more accessible to people, they're not as scared when they see that there's actually a real person behind it." RuPaul's impact has helped to create an environment where drag can be celebrated and expressed, and this acceptance has allowed Club GASS at the Róisín Dubh to thrive. Starting off as a club night that centred mostly around house and electro music, over time the event began to focus more so on drag. "Over time we slowly built up a show and we had loads of guests down from Dublin, Cork and Limerick," Kiki enthuses, "Eventually it became more focussed on drag and people started coming just to see the drag performances and it built from there. It's worked out so well and it's great to see. We're very lucky."


Kiki Saint Clair lights up a room with her vivacious personality, and her aesthetic is incredibly unique. "I take influence from everywhere. My drag is very eclectic and flowy, it doesn't have a particular style to it. Lately I've been obsessed with 1950s styles but that could change next week and I'll be going around like an alien! I just love to change it up and I take inspiration from all queens." Kiki revealed that a total drag transformation would take roughly two and a half hours, if that much time is available, to do make up, hair and get dressed. As someone who takes about three days to get ready for a night out, I'm still in shock.
Having been one of the first drag queens to add colour to the city, Kiki has paved the way for up and coming queens. " We have built a little family for ourselves, there must be close to ten drag queens here in Galway. We have such a limited scene that if they want to do drag and we all know each other and work together. We've got good family vibes in Galway."
As well as being a maternal figure, humour is another hugely important part of Kiki's charm. "I like to make fun of myself before I would make fun of anyone else. I'm not one of those queens that's going to shame you or embarrass you when you walk into the bar, I'm more about making fun of myself first. My theory is that if you can't laugh at yourself, how can you laugh at somebody else?" If you're wondering where Kiki and Simon differ, rest assured there is no Jekyll and Hyde situation going on. "I would say that Kiki is just more exaggerated and I would definitely say that I couldn't get away with half the stuff as Simon!"
The month of August will see Galway Pride celebrate their 30th year of festivities, highlighting the diverse range of people that make this city so special. With the vibrant Pride Parade transforming the city into a colourful extravaganza on Saturday, August 17, Club GASS will also be satisfying all your Pride needs from 9pm. With special guests Candy Warhol from Cork and Nettles, winner of Paul Ryder's Ringmaster's Drag Race making appearances, this is sure to be one hell of a show. If you've never experienced a Kiki Saint Clair performance, you can expect some old school classics from the likes of Whitney Houston, Dolly Parton and Madonna, because who doesn't love a devastatingly emotional power ballad?!
For many queens, drag and philanthropy go side by side. They like to use their platform and voice to help people feel comfortable, accepted and to love themselves a little bit more. Kiki believes that while you don't have to be a role model, there are always going to be a certain amount of people looking up to you. "I think it's important to carry yourself properly, make sure you keep up to date on all the LGBT politics and be aware of what's going on. Make sure you're presenting yourself properly to the rest of the community because at the end of the day there probably are a few people that look to you for guidance. I try to make sure that I do the right thing."
If you've been contemplating becoming a drag performer, Kiki would advise you to quickly "Stop, go back! Turn around!", before revealing, on a serious note, that anyone toying with the idea should make sure they know why they want to get involved. "Know why you want to do it because you're not going to be good if you don't know that. I take drag very seriously, so you need to know what you're about, what you want to do with it and have respect for it. And just be nice! If you're not nice you're not getting nowhere because no one wants to work with a bitch and no one is going to hire a bitch. Just. Be. Nice. And be yourself."
Coming up to the Pride celebrations in Galway, it's so important to make sure you're being the best possible ally and friend to members of the LGBTQ+ community. Kiki suggests that you make sure you show them that you support them, check in with them and take them out for a drink… at Club GASS, obviously! Vodka Red Bulls all around.
Kiki Saint Clair is a warm, charismatic and compelling person and, above all, she's great feckin' craic. Enhancing the city with each performance and club night she hosts, Galway has hugely benefited from miss Kiki Saint Clair. Go to the shows, show your support and buy a round because at the end of the day, we're all born naked. The rest is drag!
PHOTOS: Boyd Challenger
WORD: Sarah Gill