POTA Café in Conamara, County Galway, wins Café of Year at the Food and Wine Ireland Restaurant of the Year Awards! Find out more here...
Earlier this week at the Mansion House in Dublin, Galway's POTA Café was selected as Ireland's Café of the Year at the Food and Wine Ireland Restaurant of the Year Awards!
The team at POTA Café were delighted when the café was chosen as Café of the Year from a shortlist of 15 of the best cafés in Ireland. The award for Café of the Year is all about cosy eateries where you can while away the time with delicious casual bites, top-notch baking and great service, according to Food and Wine Ireland.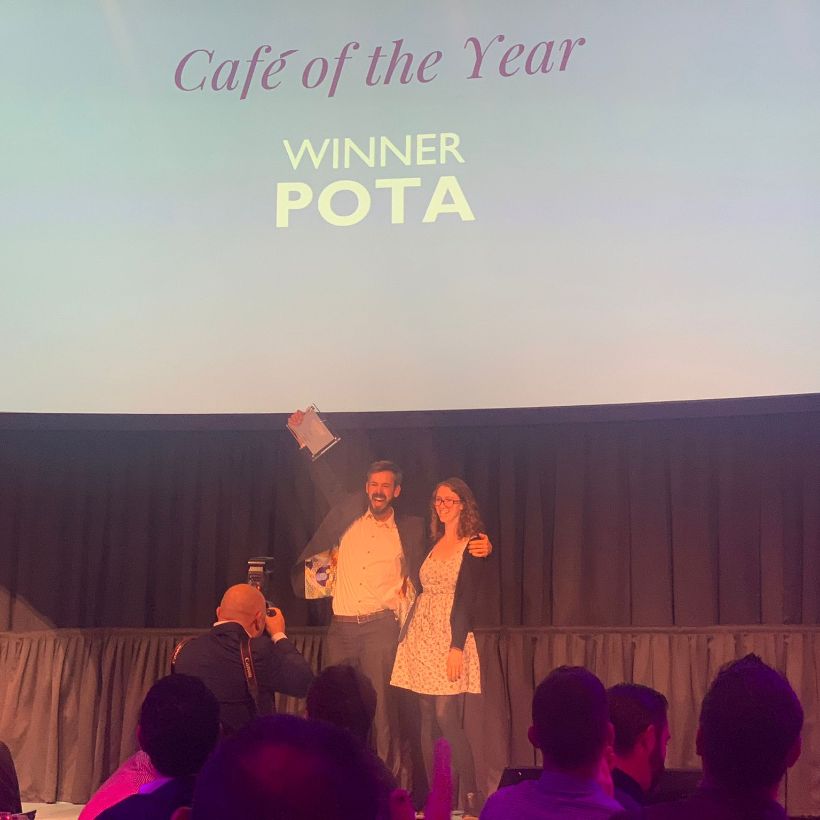 "We were so honoured to be chosen from a list of some of our favourite cafés on this island." says chef and owner, Diarmuid. "We called it POTA, the Irish for pot, because we love the idea of bringing a community together around a big pot of good wholesome food. Magical things happen when people come together to eat. Not only is food shared, but so are stories, ideas and dreams. We wanted to create a welcoming, comfortable space for our customers and to support the vibrant community here in South Conamara."

With Ros an Mhíl Harbour and the Aran Islands on the doorstep and a burgeoning artisan food producer scene all around it, the menu almost writes itself. There are fresh salads growing in An Garraí Glas across the road, the best of butchery from Feeney's in an Spidéal, fresh seafood from Ros an Mhíl and world class goat's cheese, seafood and seaweed from the Aran Islands. "Without these amazing producers pushing the boundaries every day, there's no way we'd have gotten this accolade." says Diarmuid.
"The Irish Language is central to the place. From day one we've employed only fluent Irish speakers. The positive impact of that approach can be felt as soon as you walk in the door. You can hear Irish being spoken amongst the customers, many of whom are native speakers. You can hear it from the floor staff and you can hear it coming from the kitchen as the chefs shout with confidence ordú réitithe (order ready)".
The café occupies the ground floor of the beautiful thatched building once known as Tigh Johnny Sheáin in Baile na hAbhann, next to TG4. Refurbished by TV and Theatre production company Fíbín, the traditional looking exterior now boasts a contemporary feel inside and lots of room for outdoor dining. A short walk behind the café brings you to a real hidden gem of a beach. A great place for a POTA picnic!
Opening times are Tuesday to Saturday from 9am to 4pm. For further information please visit www.potacafe.com and make sure to follow them on Instagram to keep up with all the latest.
Published on Updated on