Running over four evenings, this July Music Series in An Taibhdhearc will showcase the best of traditional, folk, jazz music and more! Find out more and book your tickets now...
This summer season Fíbín sa Taibhdhearc continues its momentum as a thriving music venue with their week-long music programme happening this July, during the Galway International Arts Festival. Fíbín sa Taibhdhearc will present a colourful programme of traditional, folk and country music with artists such as; David Munnelly and Mick Conneely with Caitríona Ní Cheannabháin, Tanya McCole with Ailish Laffey and Fabian Joyce, and The High Seas with Dermot Mulholland. An Taibhdhearc will also host exciting collaborations between Contempo Quartet and jazz musician Matthew Berrill, presented by Galway International Arts Festival and Galway Music Residency and an electrifying collaboration between Irish DJs, presented by Galway International Arts Festival and Ray Cuddihy.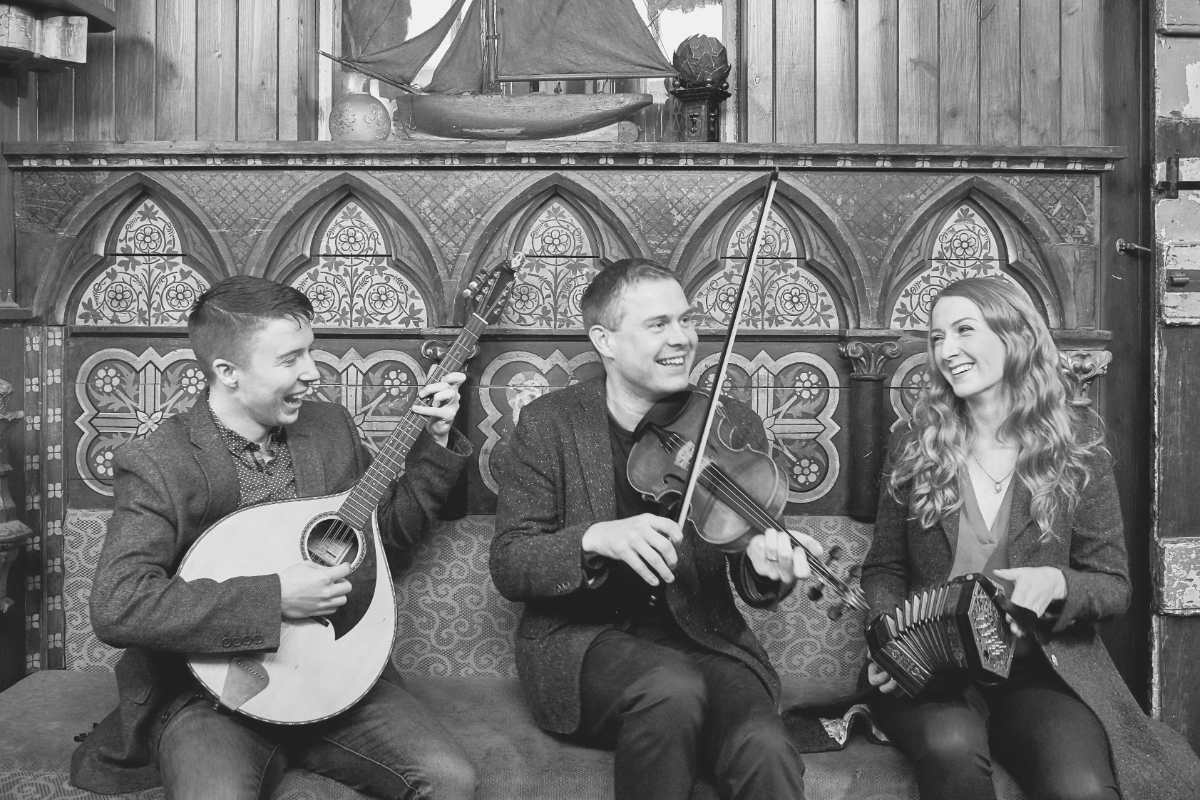 Strings Attached
Tuesday, 18th July 6pm
ConTempo Quartet
Get your tickets here
Galway International Arts Festival and Galway Music Residency presents Strings Attached with ConTempo Quartet. Delve into the captivating fusion of jazz standards and classical strings led by wunderkind Matthew Berrill. This intimate concert features an all-star octet, including Róisín Mulliez, Aengus Hackett and Barry Donohue that will ignite your senses intertwining genres to captivate all musical tastes.
David Munnelly and Mick Conneely
Wednesday, 19th July 8pm
with Caitríona Ní Cheannabháin
Get your tickets here
David Munnelly and Mick Conneely are a duo that combines tradition and innovation, energy and precision in their captivating performances. The pair are regarded as two of the finest Irish traditional musicians today. Mick Conneely, who also plays bouzouki and whistle, has toured with many artists, including De Danann, Mary Bergin, Frankie Gavin, and Máirtín O'Connor, and the David Munnelly Band was set up in 1999 and has recorded four albums. Born into a musical family in Connemara, Caitríona Ní Cheannabháin, winner of numerous song competitions, has sang all over the world from America, Europe and her beloved homeland. Audiences will be spellbound by Caitríona's captivating Sean-nós singing. She has also performed with many famous country singers including Daniel O'Donnell and Derek Ryan.
"The music springs out of the deep recesses of the pure and natural tradition, bouncing along over rocks and boulders like a mountain stream in full spate, a reminder of the open-hearth fires, flagged-floored kitchens, half-doors and thatched roofs of the Ireland of my youth, where the music found its home and where it flourished in its natural surroundings." - Ben Lennon

Tanya McCole with Ailish Laffey and Fabian Joyce
Thursday, 20th July 8pm
Get your tickets here
Tanya McCole will bring a night of country music with songs from her albums 'Because Of You' and 'Love, Hate & The Blues'. Tanya has performed with many of Ireland's leading artists, including Sharon Shannon, Mundy and Shane MacGowan to name a few. In 2018 she fulfilled a lifelong dream of touring with Grammy award winner John Prine. Dar leis "The world should know about Tanya McCole. I love her voice. She is authentic in every way." - John Prine
"Tanya is a force to be reckoned with. She is an absolutely phenomenal singer with some seriously powerful gusto and passion, but she can also move the listener to tears with her tender and emotional renditions of her slower songs." Sharon Shannon
The HighSeas with Dermot Mulholland
Friday, 21st July 8pm
Cathal Ó Curráin, Ciaráin Ó Maonaigh, Caitlín Nic Gabhann
Get your tickets here
The band consisting of Caitlín Nic Gabhann (concertina), Ciarán Ó Maonaigh (fiddle) agus Cathal Ó Curráin (bouzouki, fiddle, singer) skilfully weave together the colourful strands of Irish music, song and dance into a tapestry of tradition, giving a performance that is both playful and profound, ethereal and brooding. Underpinning the eclectic mix of music and song are lively stories and mesmerising dance sequences, which put the moving performances into vivid context and add a breath-taking visual element. The resulting performance is a relaxed but perfectly executed programme of traditional arts, which promises to ignite all of the senses and enliven audiences. On concertina, Caitlín Nic Gabhann showcases her deeply held love for music. The three time All-Ireland champion from County Meath is a regular performer at festivals and in concert halls from North America all the way to Asia. She is also an accomplished dancer, having toured the world with Riverdance, and brings her percussive beats to the stage with The High Seas. Fiddle player Ciarán Ó Maonaigh hails from the Gaoth Dobhair gaeltacht in Co. Donegal. Growing up, he was heavily influenced by his extended family and the unique Donegal style of fiddling. Ciarán has recorded six albums, receiving great critical acclaim.
"This is classy stuff!" - The Living Tradition
"Undeniable Chemistry" - The Irish Echo New York
Mise Freshin'
Saturday, 22nd July 2pm & 8pm
Fixity
Get your tickets here
As part of Galway International Arts Festival, visit An Taibhdhearc for a discussion and celebration on the wonderful work of Irish DJ's. Fixity will be joined by DJ Shadow combining Hip-Hop with New Irish beats. Suli, from Nigera and living in Galway, will open the event with live music from DJackulate. Ray 'Wingnut' Cuddihy, who can be heard on RTÉ1's Mise Freshin', will be presenting the night.
Published on Updated on