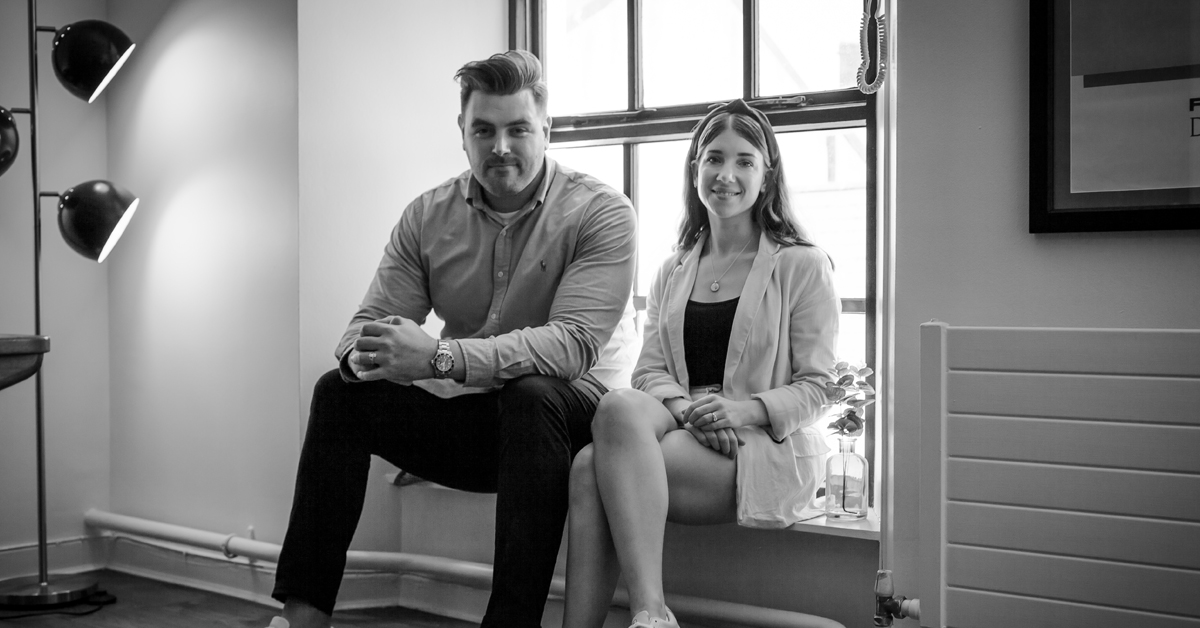 COMHRÁ : LITTLE AND LARGE
COMHRÁ is a new series of chats with the people of Galway. Our city is full of creatives, makers and storytellers, our aim is to highlight some of those talented people.
While travel broadens the mind, home is truly where the heart is for this little and large couple. Tucked away above the bustling cobbles of High Street, Little & Large is a boutique advertising agency in the heart of Galway. Away from all the chaos of the Latin Quarter, I was greeted into the home of Little & Large with such a warm welcome. Sarah and Eoghan talked me through their journey from meeting on a dancefloor in Kelly's to owning a business beyond their dreams.
As I look around their beautifully curated office space, it's obvious Sarah and Eoghan both have a huge grá for all things design. From the minute we started to reel back the years, their pure passion for their work shines through.
Eoghan: "As cheesy as it sounds, we chose happiness."
Before the parents of Little & Large crossed paths, both Sarah and Eoghan had devoted themselves to excelling in their trade, by graduating with Masters' in Advertising. Fresh out of college, the pair met on a dancefloor in their local bar where the deal was sealed after a lengthy conversation about typefaces. In the depths of the country's financial crisis, both Sarah and Eoghan knew they wouldn't achieve their career goals in Ireland and six months later they were on a one-way flight to Melbourne.
With very little research into their new home, the pair were in full pursuit of upskilling and making the most out of Australia. They honed their crafts by incorporating their knowledge of strategy and design into their workplaces. Throughout their four and a half years, they both worked on clients that can only be dreamt of. With companies spending millions of dollars each week, their teams were allowed to create the most impactful and elaborate work on a scale that just doesn't exist in Ireland.
Two years in, Sarah and Eoghan ended up working in the same company that was a cut above anywhere they'd experienced before. Although the pair were now working for one of the largest privately-owned agencies in the country, they both learnt so much about the ethos of good business and the importance of work/life balance;
Eoghan: "We learnt a lot about the importance of a good business. They didn't have a website, they had a landing page with an email address and a phone number. They didn't go for awards, the owner didn't believe in it. He's a man in his 70's, old school, but existed for the client, not his ego. That was something that really sat well with us."
Sarah and Eoghan had both become part of the family in one of the largest companies of its kind in the country. Sarah recalls the most important lesson which had become a grounding stone for them years later;
Sarah:
"Little & Large exist for the clients and for us it's all about "We"… We're an extension of the client's team. We had this really lovely experience in Australia where we saw the right way to do things in an agency. We got the experience that's not accessible here."
During a trip home for a family wedding, Sarah and Eoghan had a sudden epiphany that it was time to come home for good, and within two weeks of returning to Australia, they had packed up their world along with a 45-year-old car and shipped themselves back to Irish soil. Equipped with their highly desirable skill set and experience, the duo had no issue falling into jobs in Dublin where they spent nine months before heading back to the West Coast.
With an organic shift in advertising, Sarah described the blurred lines between departments that allowed creatives to get involved in strategy and vice-versa. And after a work event on a Friday night in Dublin, Sarah and Eoghan's gut instinct kicked in again as they realised they had all the components to start their own business in the home town they love so much.
Sarah & Eoghan: "The plan was always to live in Galway at some stage… We never planned on setting up our own business… It scared our parents, as well as our bank accounts".
Three months before their own wedding, the pair decided to give up the bright lights of Dublin for an idyllic life in Galway's countryside.
Just shy of 2 weeks after the biggest day of their lives, the dynamic duo set off on their latest adventure and registered their own business, Little & Large.
Building the foundations of Little & Large, both Sarah and Eoghan shared the same vision for their business model; a creative, digital advertising agency with a huge emphasis on client services and relationships. With years of experience in the field, Little & Large saw a gap in the market for small to medium Irish brands to get direct access to high-level skills and knowledge.
Sarah:
"Clients are leaving larger Dublin-centric agencies to work with us. They were a small fish in a big pond. We're finding clients are coming to us because they get direct access to high-level skills and get to work directly with myself and Eoghan, and the rest of the team''
With their ethos outlined, Sarah and Eoghan started to get down to the real work. When the good word of Little & Large spread, the pair were delighted to work with previous connections and the business began to blossom organically.
Eight months in, Little & Large were ready to expand, adding two new members to the team. This was a pivotal moment for the company and helped to define a line between work and life. Before now, the duo spent every waking moment working together, and the addition of Lorna and Alan helped to create that separation between their work and home life, and have been amazing additions to the business.
As the business flourished, Little & Large began to define their brand. Sarah and Eoghan are both firm believers in the importance of client relationships. Through a blend of the company's own ethos and their successful client base, they naturally gravitated towards working with cosmetic brands, a national hardware company and other retail clients.
Eoghan describes the shift in advertising and how they steer away from the self-promoting angle of advertising;
"We exist for the client. There's a shift in advertising where it's become a lot about awards. Whereas for us, it's about being an integral part of our clients' team… their success is our success"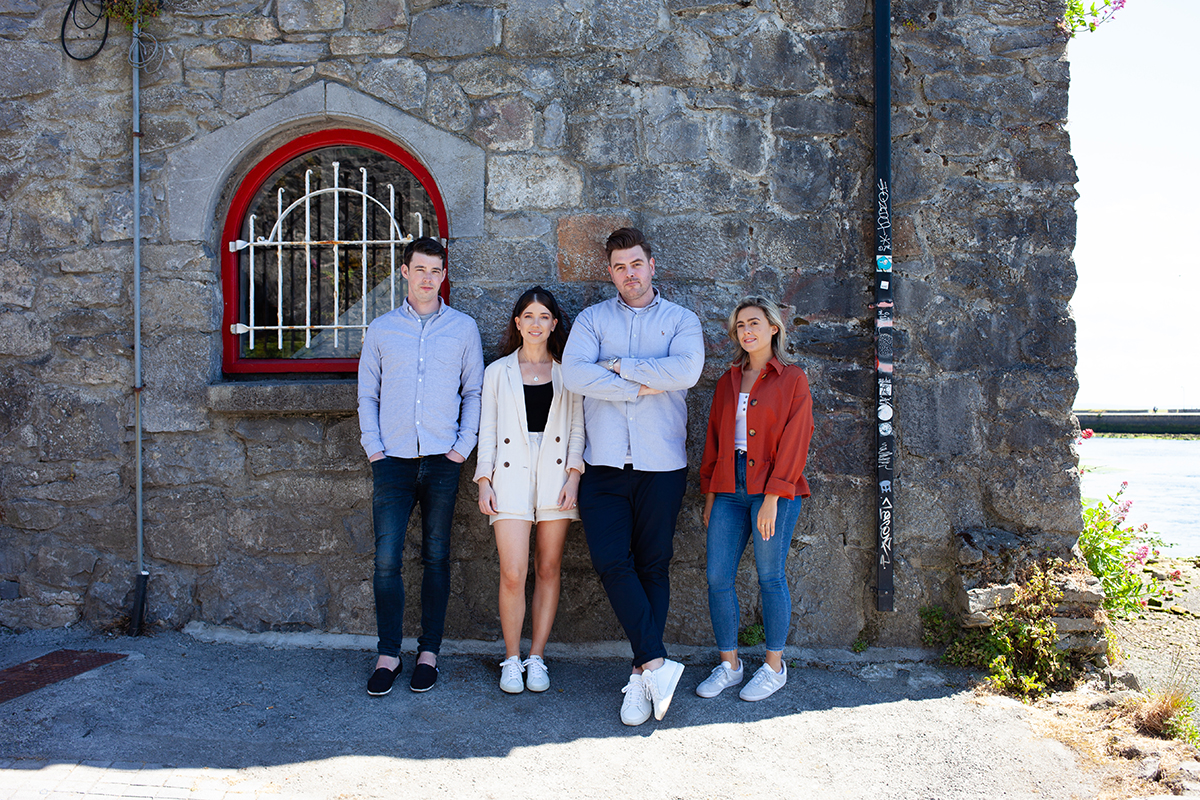 Now as a team of four, with a fifth member starting in September, Little & Large can continue to provide for their clients at the highest possible level. For Sarah, it's so important to develop a relationship with the clients. Their vision is to continuously work with a small number of clients, helping them to expand, develop and thrive.
Sarah: "What we want is to build long-term relationships with our clients. We don't want a quick hit, we want to be part of their long-term success."
After many years of working extremely hard in such a fast-paced industry, Eoghan and Sarah are now living seriously idyllic lives. Leaving the bright lights of the big cities, Galway was always calling them. After a couple of years away from home, they both had a new appreciation for the narrow streets and cobblestones of the city they grew up in.
Sarah: "There's an energy in the people and in the city like no other."
Little & Large was born out of two things; a grá for creativity and a yearning for Galway.

Eoghan "A friend came over from Melbourne for our wedding and he phrased it perfectly, 'I travelled the world looking for something and I found it here in Galway'…"

Little & Large was never intended to be a big company, well they never intended to make their own company in the first place! Through their successful work and clients, the business is moving in a positive direction and for Sarah and Eoghan it's not about how large they can grow it but how little they can keep it.