Thanks to its easy access from Galway's city centre, Oranmore is the perfect destination for a day trip or weekend getaway. That is why if you are thinking of switching things up this weekend and heading off on a whirlwind adventure to Oranmore Village, we have got the guide for you. There's loads going on so hold onto your hats everyone, it's time to travel eastwards for your 'Weekend in Oranmore'. Enjoy!

Things to tick off your Oranmore Bucket List
1. Visit Oranmore Castle
Originally the stronghold of a prominent Norman family of Galway. Oranmore Castle played a pivotal part in the defence of Galway during the Confederate Rebellion in the 1640s. Present day, this castle is an enchanting and welcoming paradise of art, music and history. It offers exceptional panoramic views of Galway Bay, and with the summer sunset, these views are really something special.
2. Taste some Galway Hooker Beers
Oranmore's Galway Hooker Brewery was established in 2006 by two cousins, Aidan Murphy and Ronan Brennan. While their award-winning beers are available nationwide, where better to enjoy it than in the town where it all started.
3. Take up Golf for a day
Leave your daily worries behind and go off on a day of golfing at Galway Bay Golf Resort. This 18-hole course blends both natural beauty with golfing adventure and it's regarded amongst the very best golf courses in Ireland. Alternatively, if the weather isn't as nice as we would like, SWING Golf offers the perfect solution. They bring the game of golf to life with our 6 state-of-the-art TrackMan simulators. With the latest technology, they offer a fully immersive golf experience that allows you to play on some of the world's most famous courses without ever leaving Galway!
4. Explore Renville Park
Just five minutes from the centre of Oranmore, Renville Park is the perfect place to take your pup for a stroll on the trails through the woodland. The park also contains a large kid's playground for the little ones' entertainment. Home to a castle and an old stately house which dates back to the 16th century,  this park is a great place to immerse yourself in the history of the area and with the stunning scenic views of Galway Bay.
5. Receive some pampering at Seabreeze Beauty + Skin Clinic
Whether it's a manicure or a seaweed bath, you're sure to leave feeling relaxed and refreshed after a treatment from the qualified and experienced therapists at the SeaBreeze Beauty + Skin Clinic. The team offer a wide range of body and facial treatments using advanced skincare and facial technology guaranteeing a restorative experience.
Indulge in a bit of Retail Therapy
We adore partaking in a bit of retail therapy each weekend and on your trip out east, take some time to browse through Oranmore's retail scene. Ivory Lane Boutique showcases a hand-picked collection of occasion wear, smart casual and statement pieces. If you have a special occasion coming up this is the place for you, especially as you'll find a bespoke collection of head pieces by the amazingly talented milliner, Lesley Teehan, which have been designed specifically for Ivory Lane. For the gents, Wolf and West Menswear offers high quality brands at great value, so you're sure to find something great to add to your wardrobe.

Check out the local Food Scene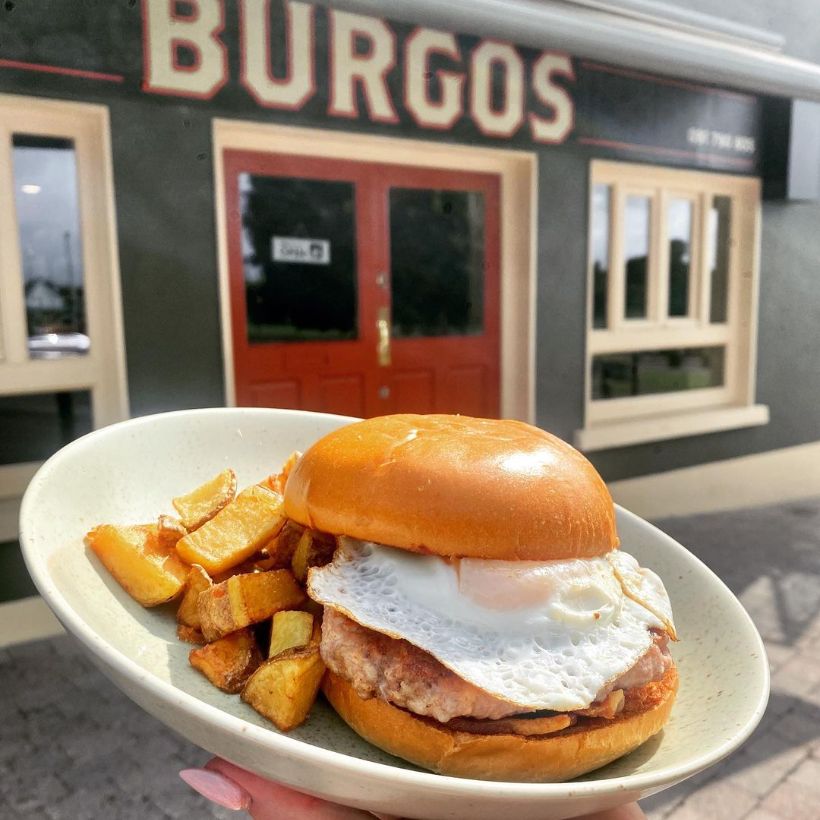 photo courtesy of Burgos 
When starting your day in Oranmore we have to direct you to the newest café and restaurant on the scene, Burgos. Open early each morning serving all the breakfast necessities including their homemade cinnamon buns and the cure-all - the breakfast burger. They are also open for evening meals so if you fall in love with them in the morning you can return later for your din-dins. We're strong believers that lunchtime is an essential part of the day, which is why on this occasion we are sending you to the gorgeous newly renovated 2 Iron Bar & Restaurant at the Galway Bay Golf Resort. Complete with delicious food and drink options and an unbeatable view of the golf course and bay, you'll soon understand why it is so highly recommended as a lunch or tee break spot. Alternatively GIGAS Dinergrill specialise in using locally sourced produce to create fresh and tasty dishes, from burgers that just burst with flavour and pizzas that are straight from the oven to the traditional classic of fish and chips. GIGAS Dinergrill is gourmet food at its finest!
Sample flavours from around the world
The French restaurant Armorica has become synonymous with jazz thanks to its phenomenal jazz brunches on Sunday and jazz evenings every Thursday night. We recommend calling in on Sunday for their brunch as their French inspired dishes and range of French wines really helps to make this a unique experience. If fresh, homemade and organic Italian food with a full bar menu and fantastic ambiance sounds good to you; you simply need to book yourself in for a meal at the authentic Italian restaurant, Basilico.  Their stone-baked pizzas and authentic Italian breads are hard to beat for both taste and price.
Light Bites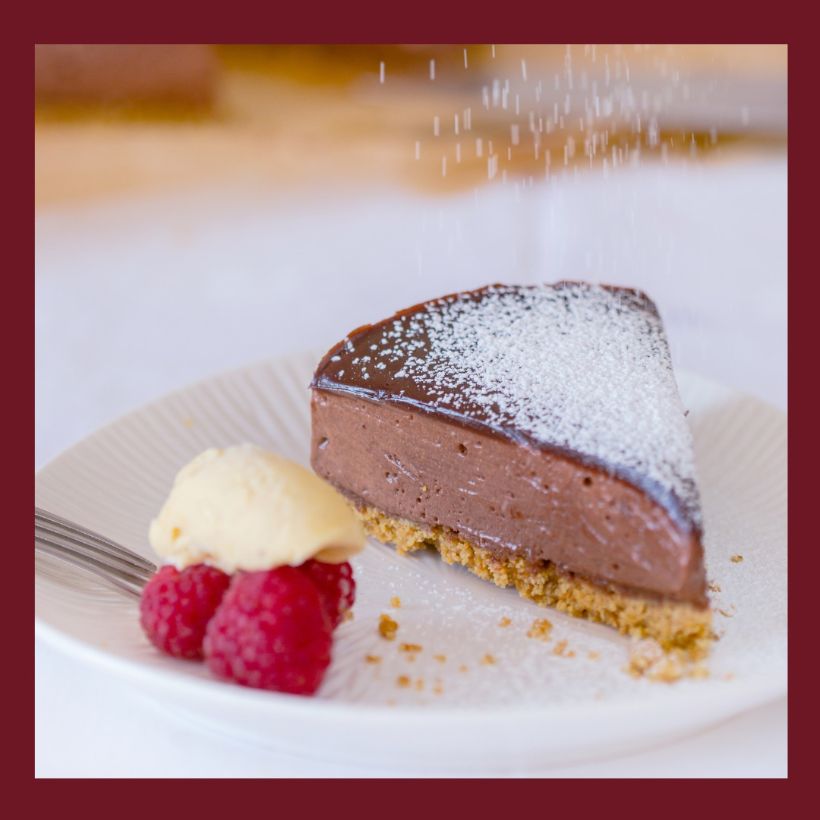 photo courtesy of Poppyseed Gourmet Café
The popular Roots Café & Bistro has spread its roots all the way to Oranmore and is the ideal location for grabbing a quick pick me up while touring the area. Alternatively, the menus at Poppyseed Gourmet Café, have everything you want during your daytime gallivanting. Packed full of wholesome and classic options (including their signature granola). All their pastries and cakes are produced in the dedicated off-site bakery seven days a week so definitely, avail of their coffee and cupcake combo while passing through Oranmore.
Get Caffeinated & some snacks
Speaking of coffee, we are delighted to tell you that Oranmore is packed with gorgeous coffee shops and cafés. Starting off, Brazco Coffee Academy has two stunning locations in Oranmore that are busy serving up fresh coffee and snacks to all its visitors. This café also regularly hosts art exhibitions in order to showcase the amazing artwork by local artists. Located near the Warehouse Gym, Ground & Co's Oranmore location is serving up all the same goodies you've come to know and love from the Tribe Hospitality Group so be sure you add this to your must visit list while you are in the area for a quick refuelling. Supplying both Oranmore locals and visitors alike with award-winning Fixx Coffee, Espresso 44 are experts on helping you get your caffeine fix. The inhouse bakery and coffee shop, Delice Bakery and Coffee Shop, offers coffee and warm breads, pastries and sausage rolls coming fresh out of the oven throughout the day. Along Oranmore pier, the eye-catching pink Seahorse Coffee Truck serves takeaway coffee, pastries, sandwiches and sweet treats. There are loads of tasty options for you to try!
Pints, anyone?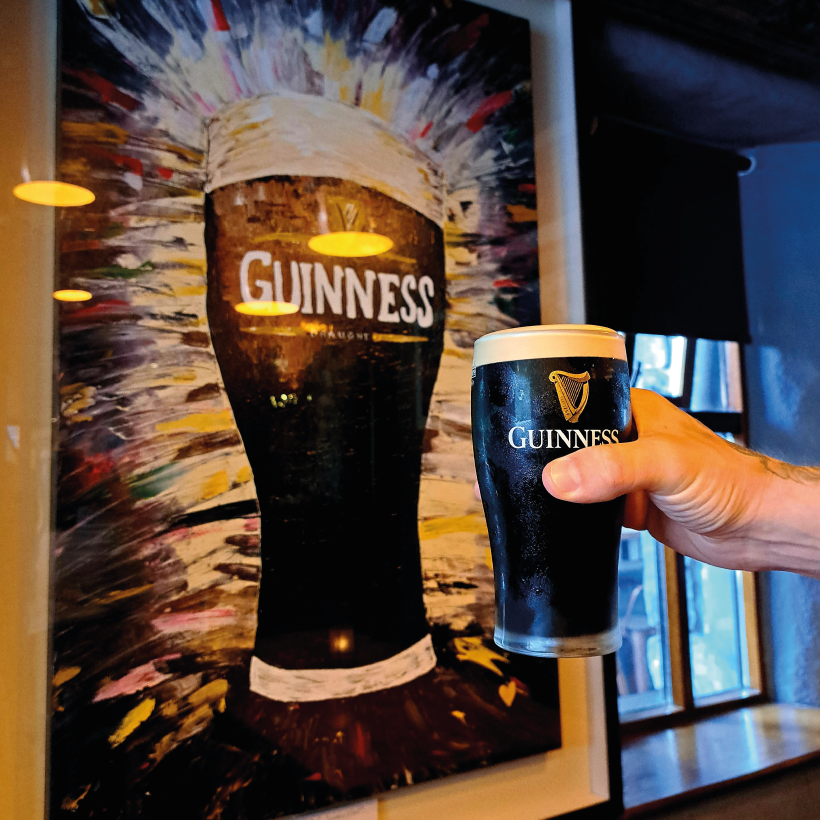 photo of Porterhouse, photo by Ado Lyons
A night out in Oranmore is the stuff of legends, so over the weekend let your hair down and explore this area's nightlife. Showcasing live performances each weekend, an unbeatable drinks menu and live sports on the big screen, the craic is unmatched at Porterhouse. Beloved by locals and always a big hit amongst visitors, if there is one place in town for enjoying a cold one, it's here. Glynn's Bar continues to be the place where locals and tourists come together to enjoy live music, delicious food, and some of the creamiest pints of plain imaginable. They have also partnered up with the incredible Urban Fire to bring you delectable wood fire pizzas which are a phenomenal addition to an evening of pints with your pals in Glynn's Bar stunning and spacious beer garden.
Stay Overnight
We recommend spending your whole weekend in Oranmore in order to fully immerse yourself in the whole area and naturally that means a sleepover in one of its fab accommodation providers. The 4 star family-friendly Maldron Hotel Oranmore has everything you need for your stay. With 113 rooms, excellent conference facilities, a full leisure centre with a swimming pool as well as an onsite restaurant and outstanding family facilities, Maldron Hotel is exactly what you want, where you want it. Alternatively, Oranmore Lodge Hotel has a luxurious and elegant feel that you'll soon fall in love with. The intimate setting of their Hunt Room Restaurant, means fast and attentive service, or you can enjoy a more relaxed meal in the bar which regularly has live entertainment. The hotel's leisure centre facilities include a pool, jacuzzi, sauna and steam room, as well as a gym, ideal for those who like to stay active while away from home.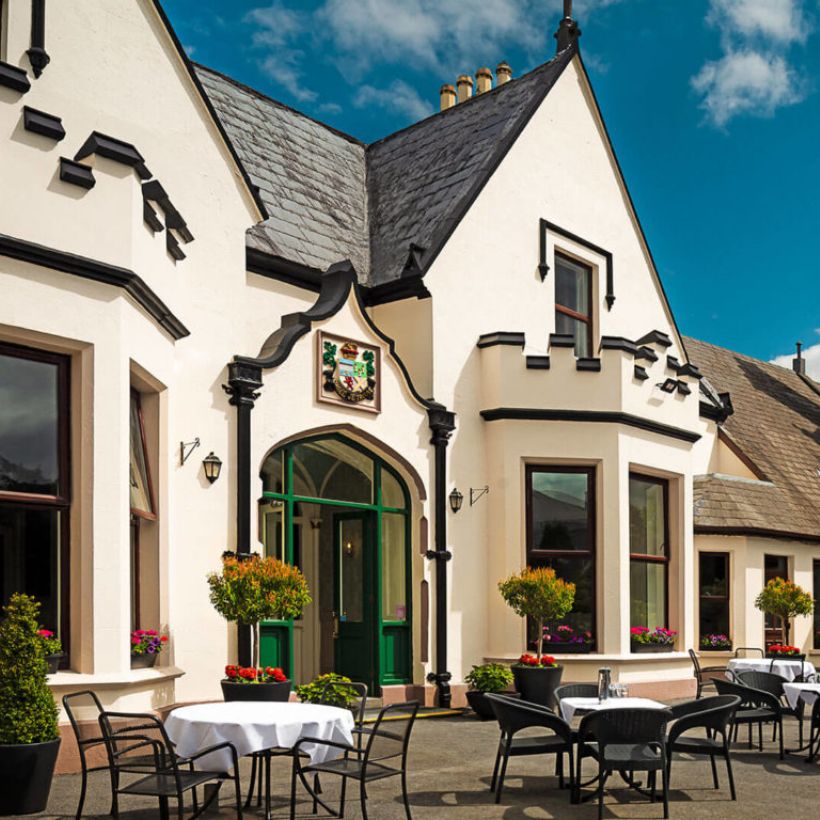 photo courtesy of Oranmore Lodge Hotel 
Feature photo by Ado Lyons
Published on Updated on