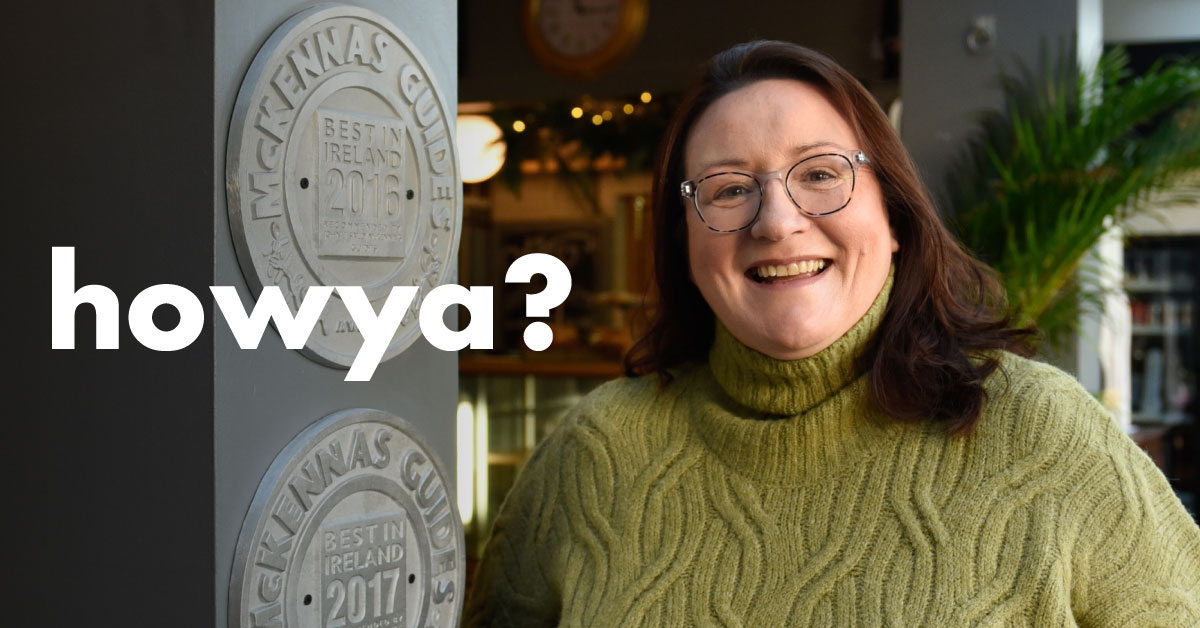 Howya? – Michelle Crehan-Kavanagh
We're having the chats with some familiar faces around town. This time up it's Michelle Crehan-Kavanagh, the hugely talented lady behind The Kitchen and Marmalade, two of Galway's best loved foodie spots.
Who are you and what do you do?
Hi there, my name is Michele Crehan-Kavanagh. I'm a chef, businesswoman, Galway native and a mum of three pretty grown up kids.
What's your favourite spot for a drink in town?
You can't beat Neachtain's. In the summertime, it's just beautiful because you can sit outside with a glass of wine, or I'm a divil for a glass of Heineken after a busy service. Then of course during the winter, it pulls you inside for a pint of Guinness by the fire. But if I feel like a really nice glass of wine, I will pop down to Sheridan's.
Where's your favourite place to be on a rainy day in Galway?
If I can, I'd be at home with the kids. I guess I love to be in the kitchen too, making soups and helping with prep. We're very lucky that even if it's raining in Galway, it's still beautiful, once you're dressed for the weather. On rainy days, I love taking the dogs out because they love playing in the puddles. I guess we're just spoilt here in the west.
What do you think is Galway's best kept secret?
I think one of the best kept secrets of Galway is how nice the people are. As The Kitchen is located in the museum, we've a lot of our customers are visitors to the city and that's one thing they'll always say, is how nice everyone is here, which is lovely to hear. Especially in the world we live in today when everyone is always rushing about. Taking 5 minutes to point a tourist in the right direction makes such a difference.
Your favourite spot to get away from it all?
I love going out to O'Grady's on the pier at lunch time. I sneak out there because I generally don't meet many people I know and I get a chance to sit with a friend and a bowl of chowder. Often I would go for a wander either through Barna Woods or take the dogs down to Silver Strand for a little run along the beach.That's a great way to get away from it all.
Is there anything in particular that inspires your cooking?
There are two things mainly. One is comfort. I like people to feel taken care of and nourished. I like putting love into the food. I also love the inspiration travel brings to the food we produce, either here or in Marmalade. Our breads would have a lot of eastern European flavours. We've always pushed the boundaries with regards using Moroccan spices with beef or using different spiced tofu in middle eastern spice dishes, inspired from when I lived in Japan. I think that's it. It's comfort food with a little bit of excitement sprinkled on top.
WORDS by Ciara Brennan
PHOTOS by Boyd Challenger