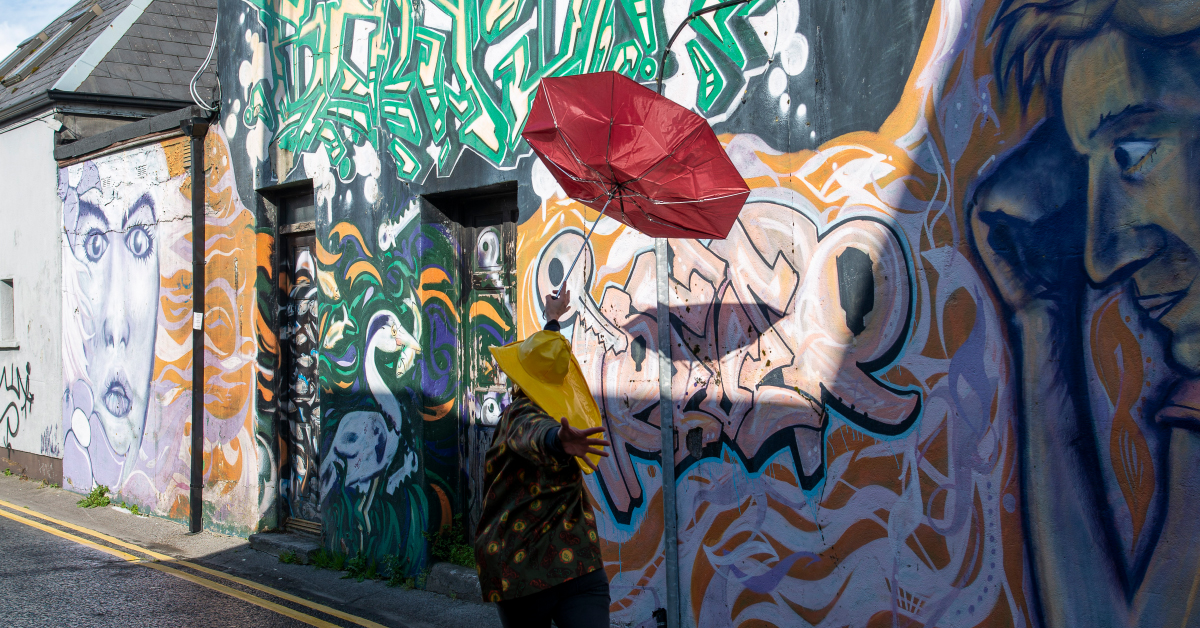 UMBRELLA ORPHANAGE: FROM BROKEN TO BEAUTY
Umbrella Orphanage, a wonderful new project organised by Hope it Rains and Galway 2020 will see scores of old, broken and battered umbrellas transformed into stunning street-art installations
With the public's help, talented artist Jeni Roddy will be re-purposing broken and bewildered brollies, breathing new life into them and transforming them into functional and beautiful rain shelters all over the streets of Galway. And you can help create these wacky and wonderful canopies.
Jeni Roddy is inviting people to join in the FREE umbrella deconstruction & design workshops, of which there will be 3 daily sessions from February 17th to 21st. Participants will have the opportunity to learn design and sewing skills, as well as share up-cycling and recycling skills, in a very sociable and open setting.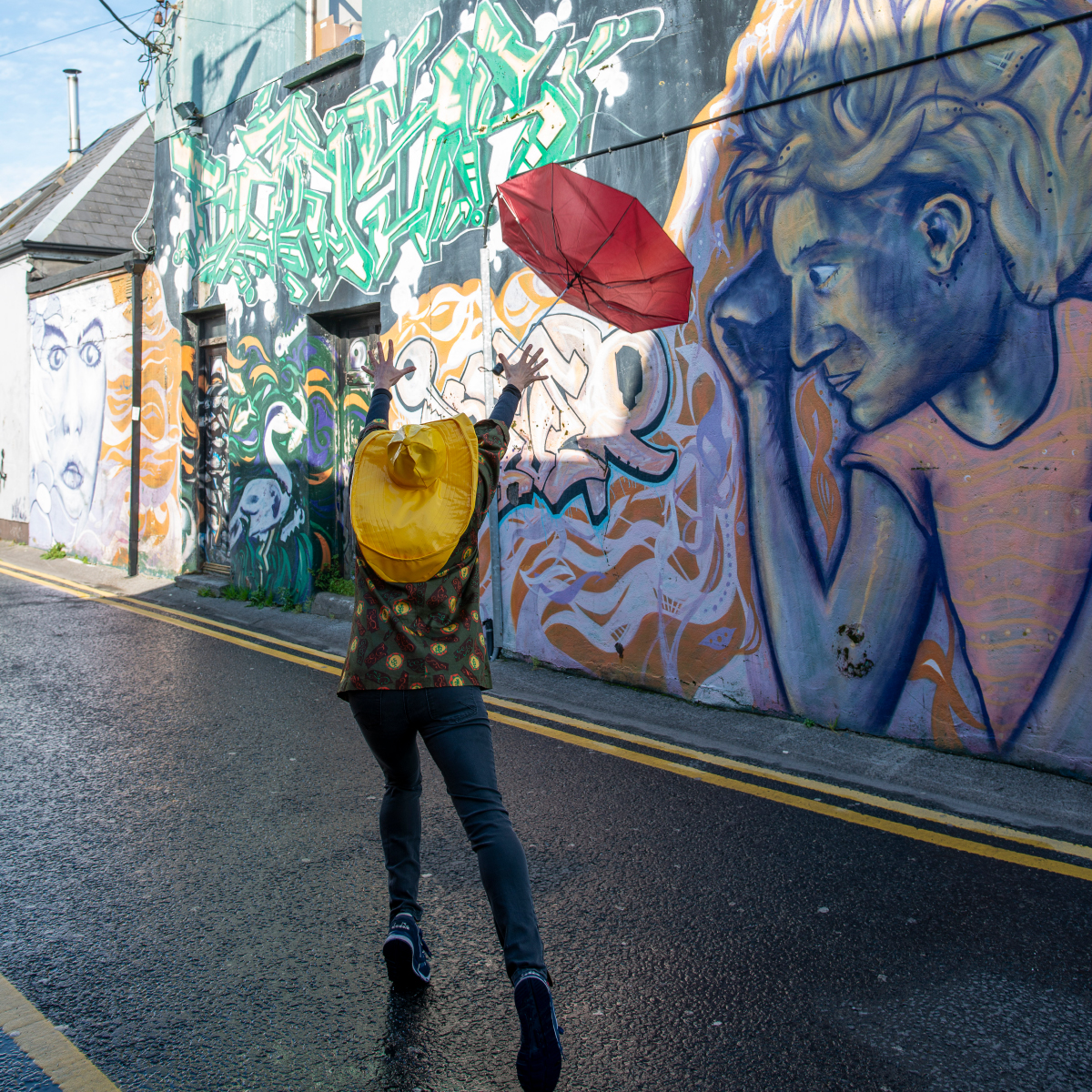 Jeni explained the inspiration behind this project by telling us that "rain creates little ad-hoc communities, as people sheltering in doorways and the like strike up a conversation while they wait out the downpour. The umbrella canopies, which will sprout from upright structures around Galway city, draw attention to these moments of sociability and connection. Using rescued umbrellas, we are minding, cherishing and re-invigorating discarded materials in order to protect and shelter the city's inhabitants"
Umbrella Orphanage is part of Hope it Rains | Soineann nó Doineann, a project for Galway 2020 European Capital of Culture which aims to turn our bad weather to good use and make Galway the place to be BECAUSE it rains and blows. And is there a more appropriate symbol of Galway's weather than a broken umbrella?
Ríonach Ní Néill, artistic director of Hope it Rains elaborates; "Galway's stormy weather leaves a trail of battered, torn and broken brollies strewn across pavements, parks and stuffed into litter bins. Galwegians have been helping us rescue these lost and abandoned broken umbrellas, and since December they've been bringing them into our donation points. We now have over 400, which would otherwise have gone to landfill, but which will now be transformed and given new purpose by Jeni Roddy."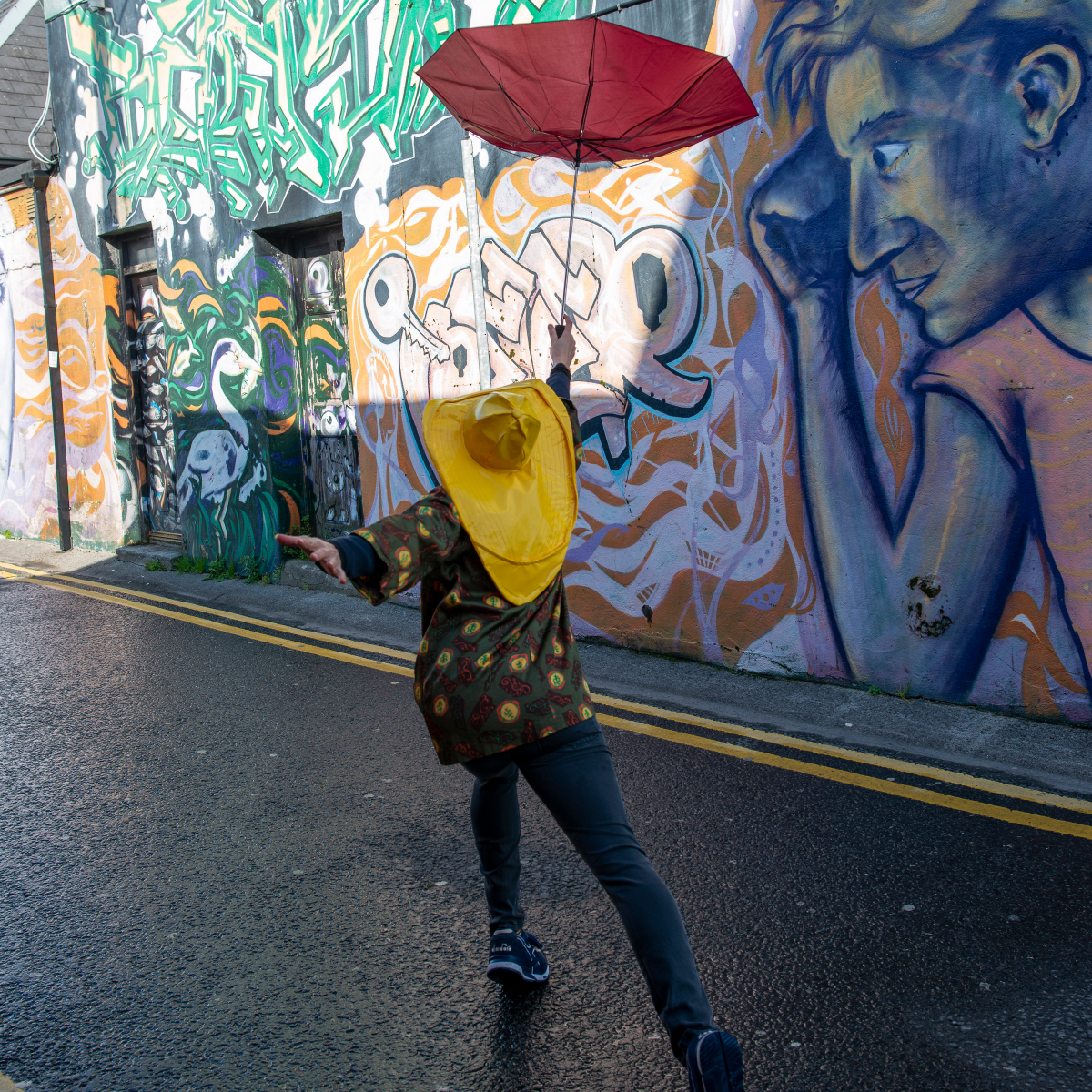 "As a very real issue in society, Galway 2020 is delighted that projects such as Hope it Rains are shining a light on the issue of environmental protection and sustainability. The Umbrella Orphanage is a really innovative concept and we're excited to follow the journey." a spokesperson for Galway 2020 said.

If you like the idea of helping the environment and helping to create a functional piece of art for our city, you can sign up to one of the workshops HERE. For more details on location and times check out our event listing HERE.

Umbrella Orphanage donation points are still open at:
– Galway 2020 offices, 16 Merchants Road, Galway
– Ceannt Station, Station Road, Galway
– Eyre Square Centre, Galway
– Galway City Council, 10a College Road, Galway
– Galway City Library, Hynes Building, Augustine Street, Galway
– Athenry Heritage Centre, The Square, Athenry
– Town Hall Theatre, Courthouse Sq., Galway