As Galway's pubs start to get back to normal, the itching for a cúpla tunes is hard to resist. Here are a few places that you might hear a bit of trad music
Galway loves a good trad sesh, and you can find music in the pubs seven nights a week. A high stool, cold beer, a warm pub and some music is all you need for the long winter nights in Galway! Let us introduce you to some of our favourite spots.
Lowry's
When you're out wesht, Lowry's is the place to go for good whiskey, banter and of course trad music! Their warm, welcoming atmosphere and perfect Connemara pub experience has won them plenty of awards and made them a destination for anyone heading out that way. Warm and cosy, it's perfect for these darker nights.
Market St, Clifden, Co. Galway
Tiġ Chóilí
This cosy, family-run pub runs on a love of trad music. It's full of snugs and stools, and you're never far away from the heart of the action: the bar, for one, which runs the length of the pub, and of course the trad sessions from local musicians, which happens twice daily throughout the year! Tig Chóilí make a great Irish coffee for cold winter nights and there's always plenty of conversation and laughs to be had, whether you're a regular or just popping in for the first time.
Mainguard Street, Galway // more here 
Taaffes Bar
One of Galway's most beloved spots for music, GAA and a great pint of Guinness! Taaffe's is a cosy, intimate pub that welcomes locals and visitors for great sessions of live music throughout the week. They also have a humble and delicious menu of pub food to help with the pint-drinking!
19 Shop St, Galway // more here
Murty Rabbitt's
The roaring open fire makes Murty Rabbitt's an easy choice for cold winter nights. They have live music seven nights a week and a menu of delicious food, including hearty options like burgers and steaks. Grab a bite to eat and a cold brew, sit back and enjoy!
25 Forster Street, Galway City // more here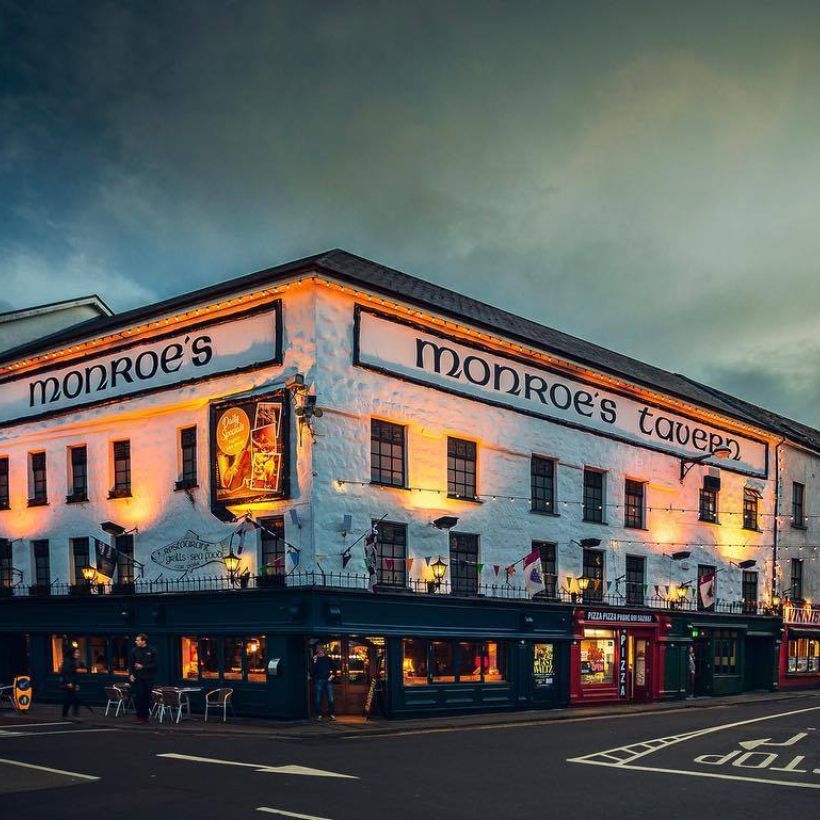 Monroe's
For trad music, you'll want to head to the Tavern rather than the live music venue next door. The Tavern is just what it sounds like: exposed wooden beams, a wrap-around bar and casual seating where you might need to squish in next to strangers if you want to be sat down for your pint-drinking! You can catch trad music on the bandstand most nights, and even some low-key Irish dancing on the pub floor.
14 Dominick Street Upper, Galway's Westend // more here
The Crane
The leader of the trad sesh in the Westend for decades, The Crane has two floors of bars and music for you to choose from. Galway's greats have been gathering here for generations to bust out some music -- ask your mam and dad, they probably remember knocking back a pint or two to some trad at the Crane back in the day. Take a seat in the pub proper or head upstairs where there's a second bar and likely even more music!
2 Sea Rd, Galway's Westend
Carroll's Bar on Dominick Street
The kind of place where the musicians might stand on the furniture if they feel like it. Carroll's is full of cosy lighting and snugs for sitting yourself down and enjoying the trad sessions at the front of the bar. If you get a bit hungry, they serve pizza in the Crust Bucket out the back!
39 Lower Dominick Street, Galway's Westend // more here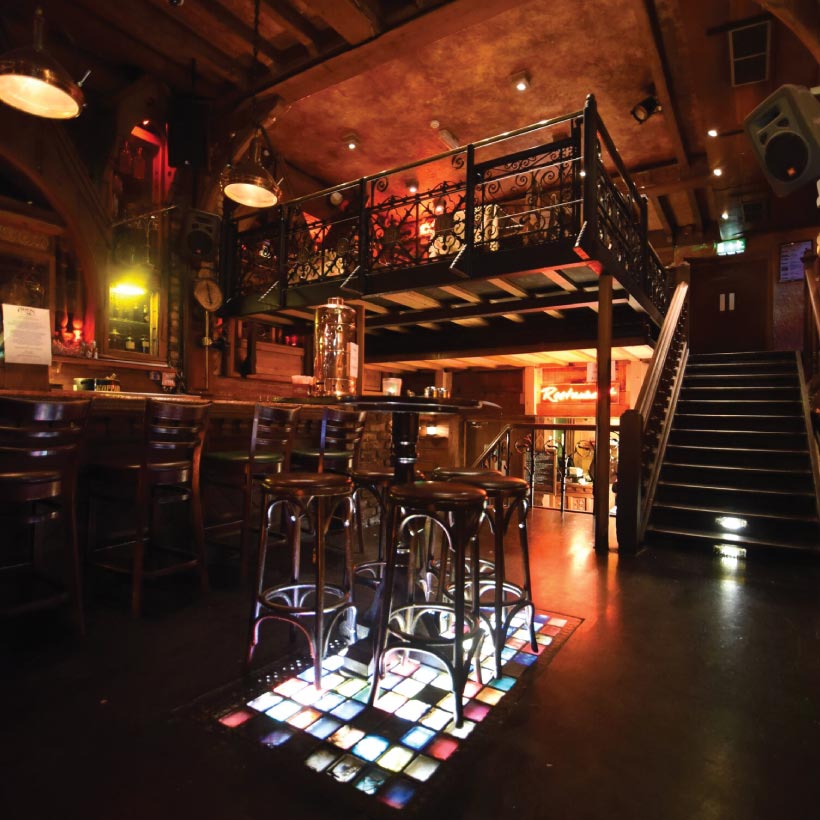 The Quays
Something of a destination for live music, The Quays have music seven nights a week in the pub, often trad -- although you'll have to check the schedule to find out which nights! They also have live bands in the upstairs Music Hall from Thursday to Sunday. The unique stained glass decor and sprawling stories make it an ideal place for a pint while enjoying the tunes!
11 Quay Street, The Latin Quarter // more here
Tigh Neachtain's
The kind of place where you'll see students sat at the bar beside older gentlemen in tweed. Neachtain's is well-known for summer drinks on the patio outside but come winter, you'll want to plunk yourself down in one of the many cosy snugs lining the bar for their Sunday night trad sessions.
17 Cross Street, The Latin Quarter // more here
The King's Head
After a warming meal at the King's Head Bistro, pop over to the medieval bar for cocktails, pints and of course music. Their bandstand is always welcoming great acts to the stage, both local and further flung.
15 High Street, The Latin Quarter // more here