As Galway's pubs are getting back to normal, the itching for a cúpla tunes is hard to resist. Here are a few places that you might hear a bit of trad music!
Galway loves a good trad sesh, and you can find music in the pubs seven nights a week. A high stool, cold beer, a warm pub and some music is all you need for the long winter nights in Galway! Let us introduce you to some of our favourite spots...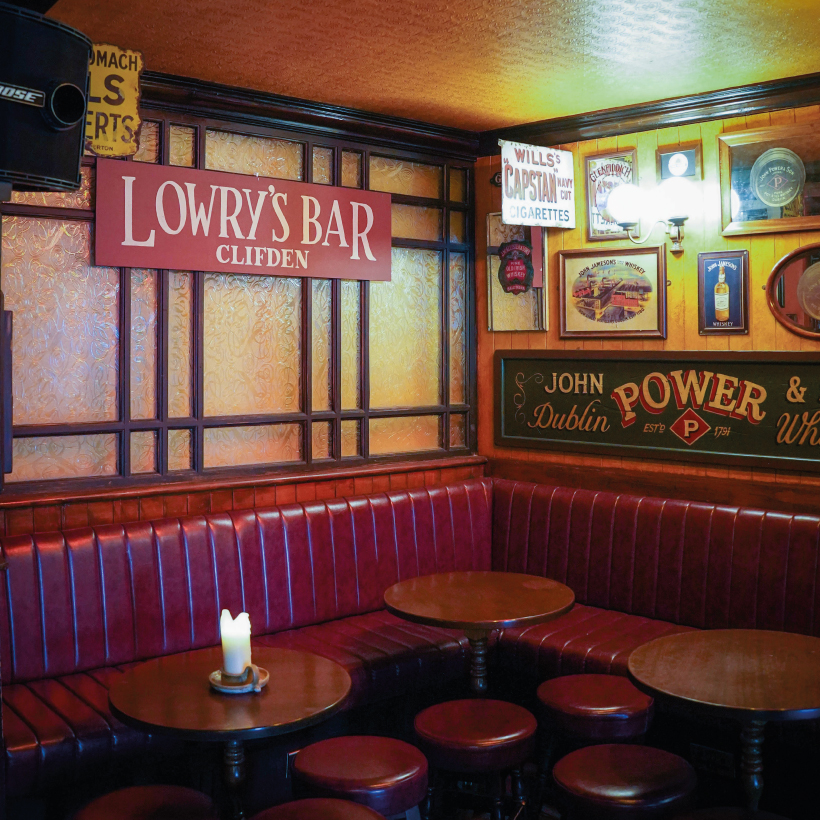 Lowry's
When you're out wesht, Lowry's is the place to go for good whiskey, banter and of course trad music! Their warm, welcoming atmosphere and perfect Connemara pub experience has won them plenty of awards and made them a destination for anyone heading out that way. Warm and cosy, it's perfect for these darker nights.
Market St, Clifden, Co. Galway //  10pm Fri & Sat, 7pm Sun, 9pm Mon // more here
Garavan's Bar
Something of a destination for live music, Garavan's is one of the oldest pubs in the city and is full of character. Friendly bar staff, traditional music sessions every week and one of the best pints of Guinness in Galway make Garavan's popular with locals and visitors alike. They offer an extensive collection of delicious and rare whiskeys which can be viewed in their beautifully handmade cabinets located throughout the bar.
46 William Street // 9pm Fri & Sat, 8pm Sun // more here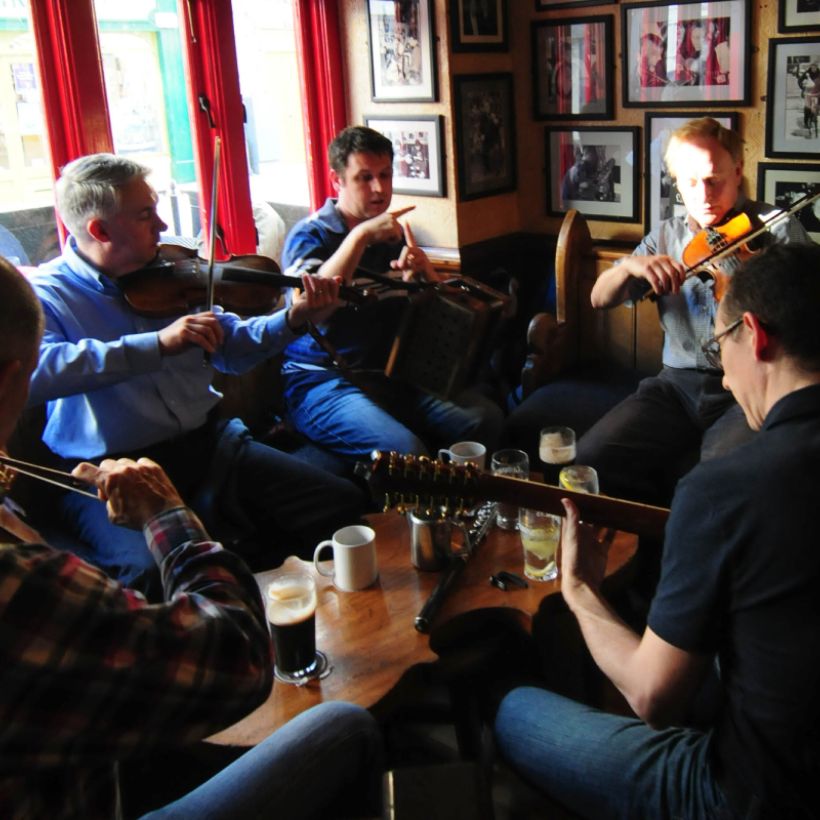 Tiġ Chóilí
This family-run pub runs on a love of trad music. It's full of snugs and stools, and you're never far away from the heart of the action: the bar, for one, which runs the length of the pub, and of course the trad sessions from local musicians! Tig Chóilí make a great Irish coffee for cold winter nights and there's always plenty of conversation and laughs to be had, whether you're a regular or just popping in for the first time.
Mainguard Street, Galway // 9pm Mon to Thurs, 8pm Fri & Sat, 2pm & 9pm Sun // more here 
Taaffes Bar
One of Galway's most beloved spots for music, GAA and a great pint of Guinness! Taaffe's is a cosy, intimate pub that welcomes locals and visitors for great sessions of live music throughout the week. Well-known for its friendly atmosphere and traditional Irish music which has been playing at Taafes for over 20 years. Everyone is welcome to come along and listen.  They also have a humble and delicious menu of pub food to help with the pint-drinking!
19 Shop St, Galway // All week 5.30pm & 9.30pm // more here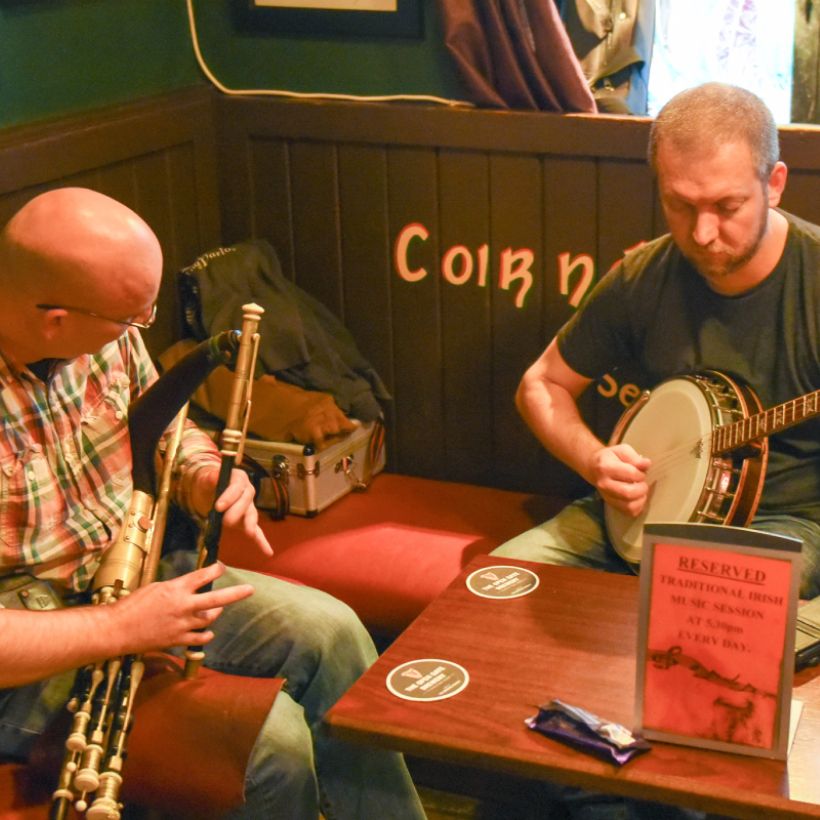 O'Connors Bar
For trad music, you'll want to head  out to Salthill to a bar that's been made famous by its hospitality and live music. O'Connors is Ireland's original singing pub and is a must for all visitors to the City of Tribes. You can catch trad music by the fireplace most nights, it is everything you need to know about Irish culture in one pub.

Salthill House, Upper Salthill Rd  // all week at 9.30pm // more here
The Crane Bar
The leader of the trad sesh in Galway's Westend for decades, The Crane Bar has two floors of bars and music for you to choose from. Galway's greats have been gathering here for generations to bust out some music -- ask your mam and dad, they probably remember knocking back a pint or two to some trad at the Crane back in the day. Take a seat in the pub proper or head upstairs where there's a second bar and likely even more music!
2 Sea Rd, Galway's Westend // regular sessions throughout the week // more here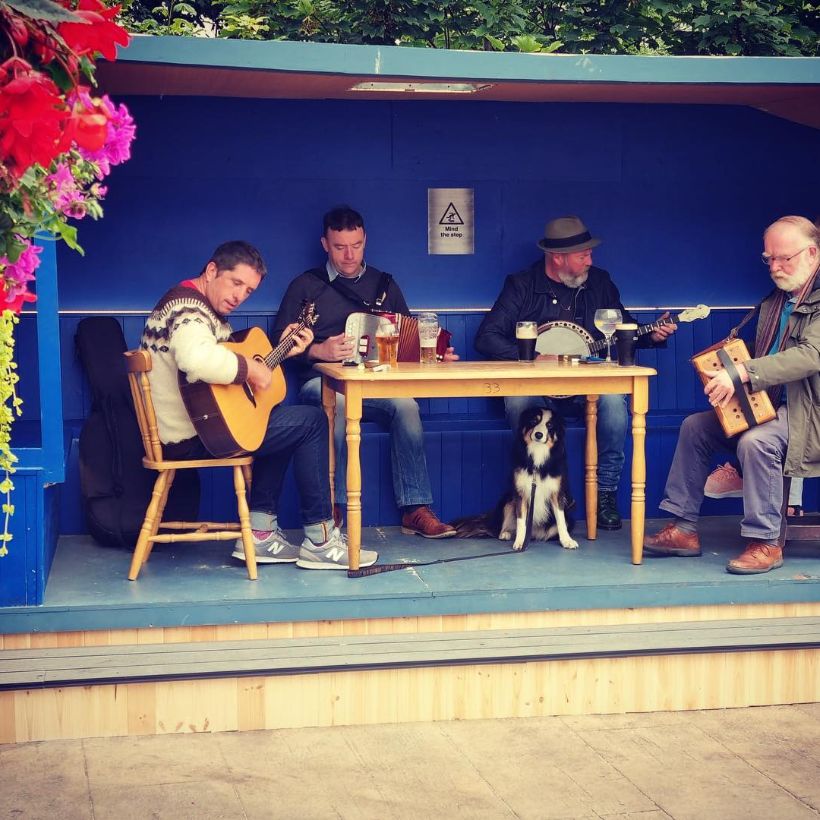 Carroll's Bar on Dominick Street
The well known watering hole, which is now under new management is the ideal place to stop into for an afternoon coffee or an early evening drink. Carroll's is full of cosy lighting and snugs for sitting yourself down and enjoying the trad sessions every weekend in the beer garden's caravan club. Enjoying a relaxing hot beverage in Carroll's will allow you to step back in time with the interior lending to an old style classic feel that ties in with the atmosphere of the much loved Galway Westend.
39 Lower Dominick Street, Galway's Westend // evening sessions on Mon/Tues/Thurs/Sat/Sun  // more here
Joe Watty's Bar & Restaurant
One of the oldest pubs on Inis Mór, Joe Watty's is the place to be to experience an impromptu trad session while enjoying a few pints out. This welcoming local Aran Islands pub serves up refreshments, good pub grub, and plenty of music and craic with a strong emphasis on customer care. With a reputation for great trad music and drawing in both locals and visitors alike, you never know who you'll run into while visiting Tí Joe Wattys.
Inis Mór, Kilronan, Aran Islands // 10pm Fri, Sat & Sun  // more here
MC McGraths
A business that spans generations and goes back for about 200 years, the folks at MC McGraths are mad about music and dedicated to having the craic. Their popular trad sessions are known for drawing people in and making them regulars. Enjoying a well-poured pint by the fireside as your toe taps to some top-notch tunes – sounds like bliss, doesn't it?
Bridge Street, Clifden // Every Friday & Saturday 8.30pm to 11pm, Sundays 6.30pm to 11pm // more here
The Kings Head
After a warming meal at The Kings Head Bistro, pop over to the medieval bar for cocktails, pints and, of course, music. The Kings Head earned a fantastic reputation for live music and comedy, good honest hearty food and great craic. They've always got a fantastic line up of live music instore so if you're looking for a way to pass to night away, The Kings Head never disappoints.
15 High Street, The Latin Quarter // Tuesdays from 9pm // more here 
Published on Updated on