Give the gift of a Galmont Hotel and Spa Christmas Gift Voucher, this Christmas. An ideal gift to give of what is ultimately a precious gift of time and an experience where memories are made with a family loved one, partner or friend, with a Christmas gift voucher of afternoon tea, lunch, dinner, Spirit One Spa treatment or a leisure stay.

Gift Vouchers start from as little as €25 at the Galmont Hotel and Spa.
The renowned Galmont Hotel and Spa sparkles for Christmas, elegantly decorated with tall magical Christmas Trees, thousands of sparkling fairy lights, baubles, decorations and festive colours and aromas in its extensive foyer area. In the midst of the Galmont's Christmas magic is its Gift Kiosk where the Galmont Hotel and Spa has Christmas all wrapped up.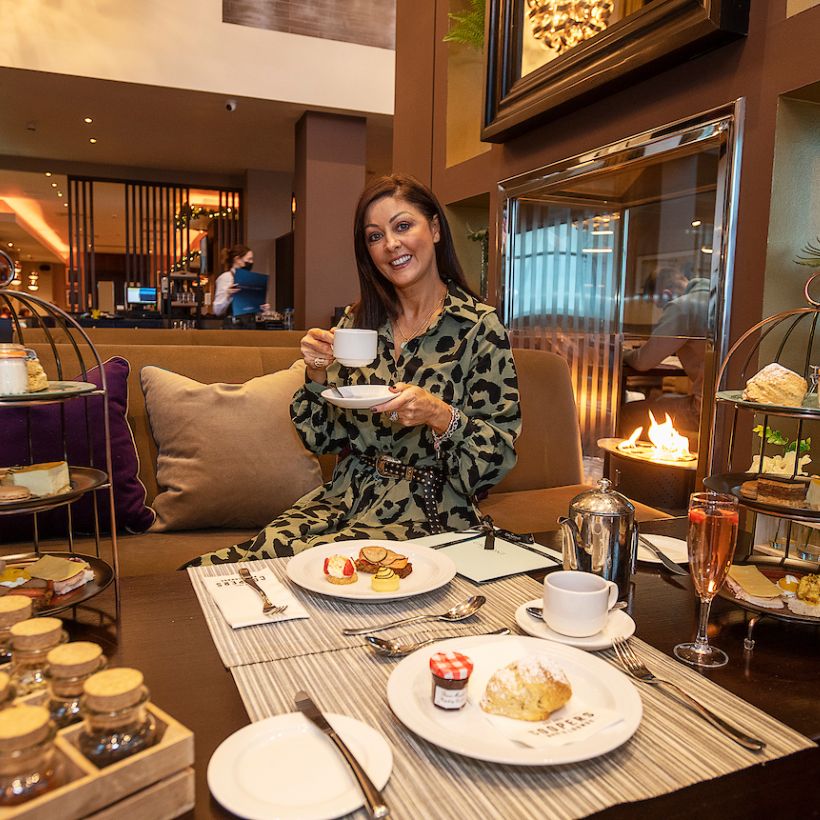 Whether you choose to shop online or visit the hotel and experience its wonderful Festive atmosphere over morning coffee, lunch, afternoon tea, a drink in Coopers Bar and Lounge or dinner at Marina's Restaurant, you can pick up a Galmont Hotel and Spa Christmas Gift Voucher as part of your festive visit.
Giving a Galmont Hotel and Spa Gift voucher is more than just a voucher - you're giving an experience for that special someone in your life. Henry James once said, "There are few hours in life more agreeable than the hour dedicated to the ceremony known as Afternoon Tea". Giving a Galmont Hotel and Spa Christmas Gift Voucher can be the gift of experiencing Afternoon Tea for your partner, mother, sister or friends in the beautiful Coopers Bar and Lounge overlooking Lough Atalia.

Dinner at the award winning Marina's Restaurant, for a date night, family occasion or a thank you is another excellent Galmont Christmas gift idea. It's talented team of chefs create mouth-watering menus from the finest of locally sourced Galway ingredients.


The ultimate Christmas gift, a luxury night away or break in one of the stunning Galmont Hotel rooms or Level 5 where the recipient of the Galmont Hotel and Spa voucher will be in a hurry to book their break and be pampered by the hotels team of hospitality professionals from the moment they arrive.
The award winning Spirit One Spa's vouchers are a perfect gift, with an extensive choice of relaxing treatments for men and women. Giving a Spirit One Spa Gift Voucher is giving your loved one an exclusive spa therapy and treatment in the perfect urban spa retreat. A gift of relaxation, rejuvenation and indulgence which is the ideal gift to curb the stresses in our bodies and minds right now. Spirit One Spa also offer an extensive range of beautifully packaged Elemis skincare product gift boxes for him and her. A natural synergy with the skin, body and mind, Elemis Spa -Therapies offer a blend of exotic cultures, colours and fragrances from around the world and are elegantly packaged to sit perfectly under your Christmas Tree ready to be opened with much excitement on Christmas morning.
The Galmont hotel and Spa has lots to choose from this Christmas and their hospitality team are on hand whether online or in person when you visit the hotel to help you choose the perfect gift for that someone special in your life.
Published on Updated on