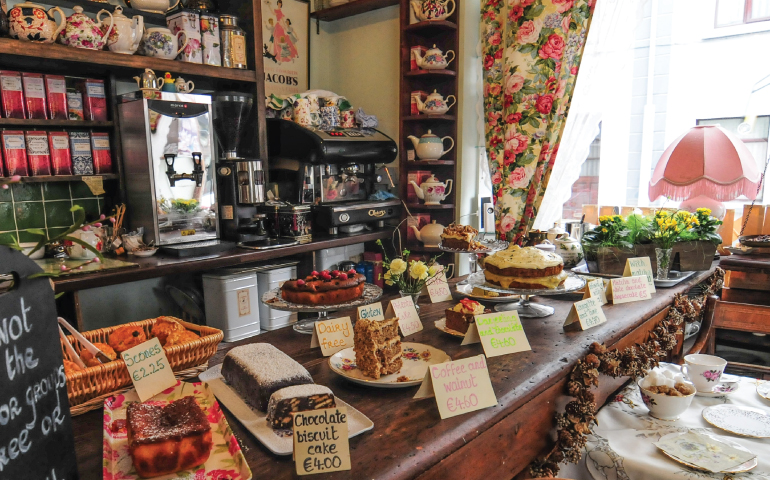 Tae in Galway
Cup an Tae is the only tea rooms of its kind in Galway, and it sets a new standard of excellence and style.
Its Located on Quay Lane, looking on to the Corrib. As you enter these tea rooms, you might feel like "Alice in Wonderland", this magical feeling is reinforced by the team of very friendly and welcoming staff.
The tables are beautifully dressed with fresh linen cloths and fine China crockery, delicately painted and different colors.
The tables are not the only thing to catch your eye as you walk in… The counter near the entrance has a mouthwatering selection of homemade cakes, sponges and tarts. The selection changes daily but one of their staple cakes is the Courgette and Lime cake! Don't let the courgette put you off, if anything it adds more moisture to the cake and goes hand in hand with the zestiness of the lime curd.
This tea and cake paradise is run and owned by Alison McArdle. Alison opened over 5 years ago and her business has been growing ever since. Having her finger on the pulse she has recently started selling her vast selection of teas from her online shop and is exporting mainly to the US and Europe.
She will soon start opening the upstairs area above the tea rooms to cater for larger groups.
You can sit down and enjoy a wonderful cuppa from their extensive selection of teas, most of them come with small sand glass timer so you can make sure your infusion will have the perfect punch. My favorite is their Cream Tea :  black tea and roasted coffee beans with Jasmine flowers – delicious.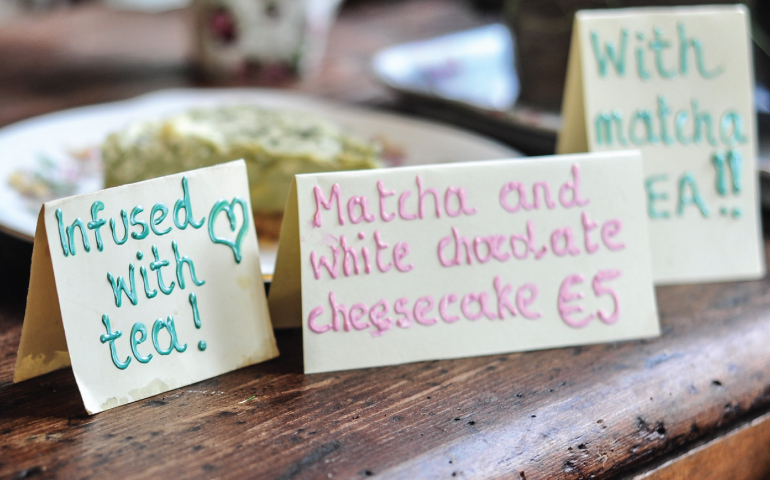 If you are in for breakfast you can get the day off to a right start with a fresh selection of homemade granola, Glenisk natural yoghurt and honey, and scones.Their fluffy pancakes are not to be sniffed at but savoured.
Lunch offers a fingerlicking seliction of tarts, such as their asparagus and Bellingham blue cheese with a heavenly light crust.
The Connemara Smokehouse Salmon Rosti is great with thinly sliced, fried potatoes, dressed with capers and light basil pesto or Collerans honey ham wrap stuffed with green apple, red cabbage.
If you want to treat yourself one afternoon, come in  and indulge Cup An Tae s afternoon tea – It is an institution in Galway and they definitely know how to do it right! Served on a delicate tiered china cake stand you are offered an array of fresh sandwiches, scones with whipped cream and homemade jams and a tantalising miniature selection of cakes, almost cascading from the plate on to the table
As the queen of Afternoon Teas ,"Marie Antoinette" would say "Let Them Eat Cake!" ………Oh i will !
'Tae in Galway' was written by food blogger – Sheena Dignam – Around the Marketplace