COPE Galway has launched a #SwimWhereYouAre Christmas event, which will take place over 10 days from 21-30 December
The event is a creative version of the traditional Christmas Day Swim fundraiser. "We're asking Galwegians at home and abroad to register online at www.copegalway.ie/swim and we'll post out a t-shirt. You can swim at your nearest beach and post a photo on social media of you braving the cold winter waters," explains Community Fundraiser, Lynia O'Brien.
Over the past 30 years, thousands of people from Galway and beyond have gathered with friends and family at Salthill on Christmas Day to take part in the annual swim and raise funds for COPE Galway. While the 2020 Christmas Swim will be different so that we can keep one another safe, the local organisation wants to give everyone the opportunity to connect with each other, create good memories and make a difference in the lives of people in Galway who need the support of COPE Galway's services.
Lynia continued, "With so many people unable to travel home this Christmas, we are hoping that this is something families can do together to stay connected – even though they are apart."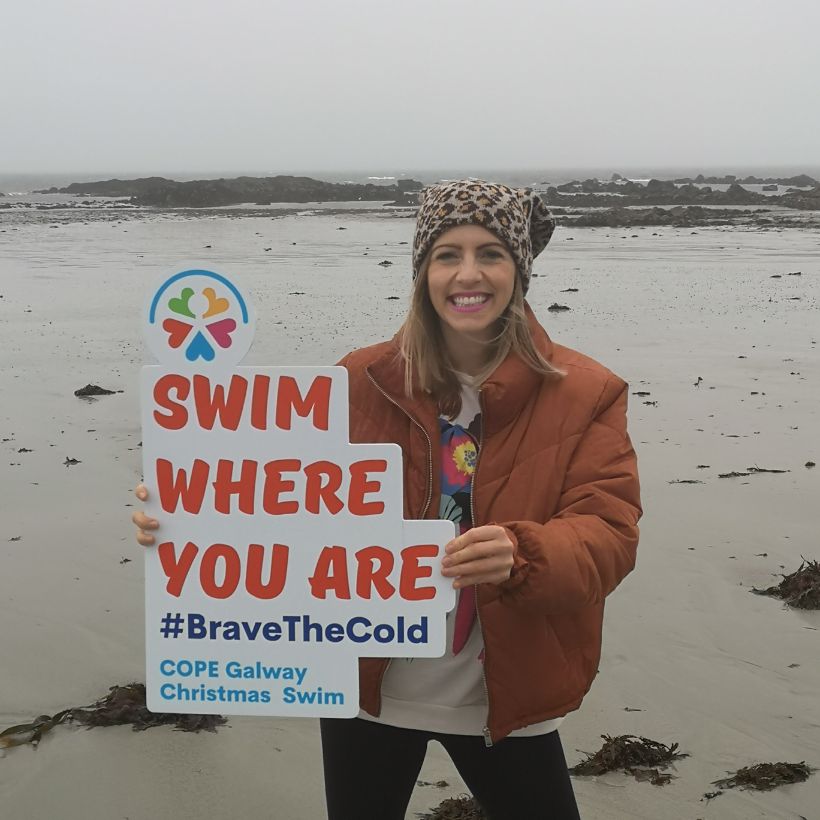 Máire Treasa Ní Dhubhghaill, Presenter of Rugbaí BEO on TG4 and COPE Galway board member (pictured above) will be one of the many lining up to swim for COPE Galway. In launching the event she said, "I'm very excited that 2020 isn't going to rob me of the traditional Christmas swim! It's one of my Christmas highlights and it's amazing that we can all join together & support this fantastic cause from wherever we are".
The Christmas Swim raises vital funds that the charity relies on every year. Last year almost €50,000 was raised at the event and over half of that was from bucket collections on the day.
"Although we can't be together in Salthill on the day, shaking a bucket and handing out warm cups of tea, we are giving everyone an opportunity to continue their Christmas Swim tradition. We are also asking everyone who can, to sponsor a swimmer if you cannot swim yourself. You can participate and raise funds from anywhere in the world – and stay connected to Galway this Christmas," said Lynia.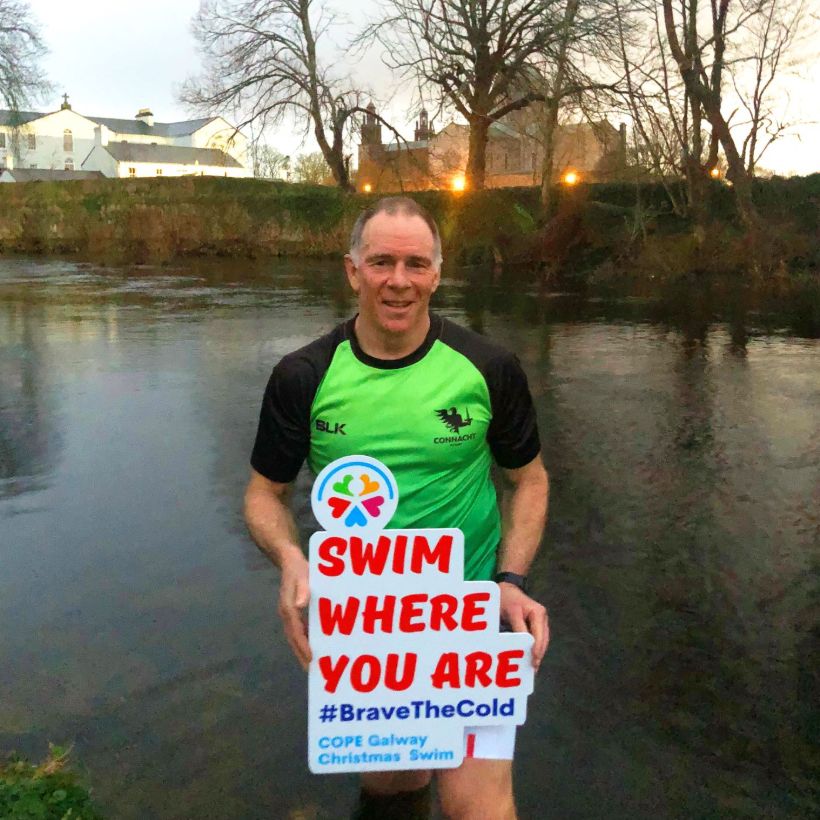 Andy Friend, Connacht Rugby Head Coach, has signed up to take part. "As Christmas draws closer," said Andy, "the traditional Salthill 'dip' will sadly be missing due to Covid restrictions. As an alternative, I encourage people to brave the cold and #SwimWhereYouAre to continue to support this great charity. Enjoy the dip!"
There's still time to register on www.copegalway.ie/swim and receive your t-shirt. You can swim any day, wherever you are, between 21-30 December to avoid crowds and follow water safety advice and COVID-19 guidelines. You'll raise funds to support older people in our community and for people experiencing homelessness and domestic abuse in Galway. This year, #BraveTheCold to help keep others warm.
To register and for further information please visit copegalway.ie/swim