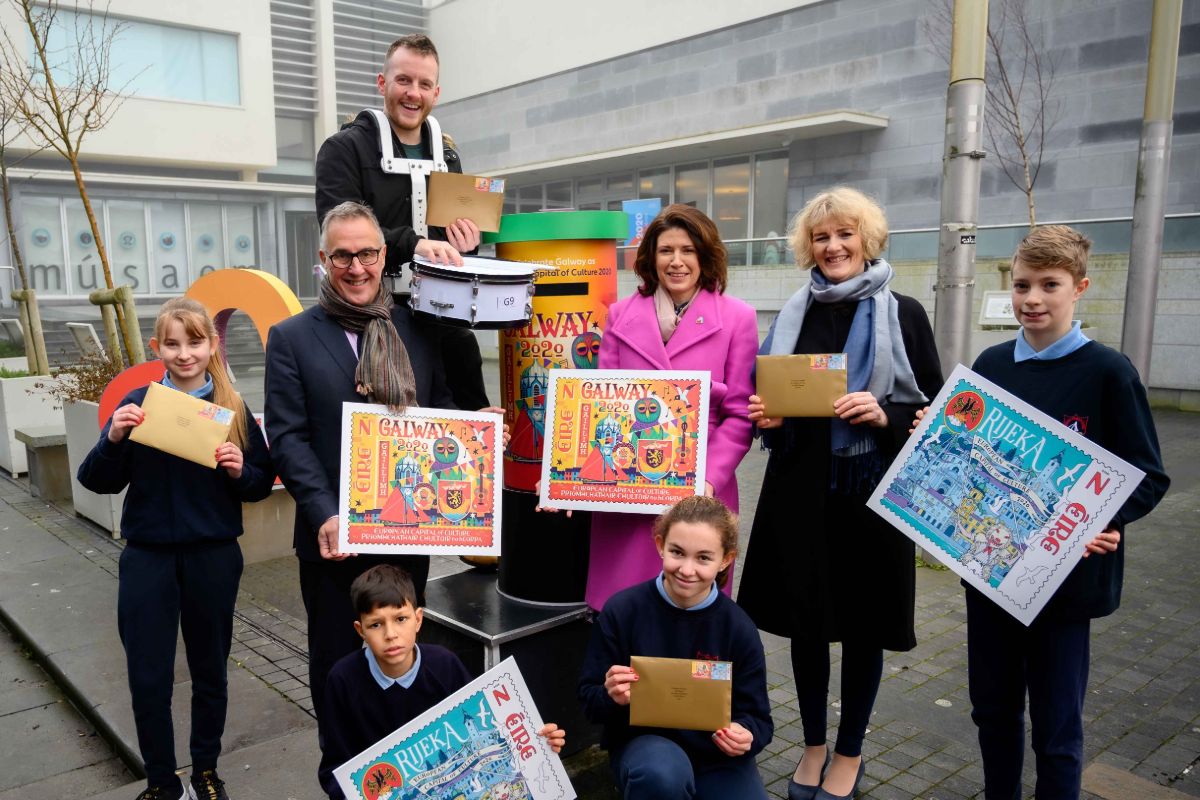 Stamp of approval for Galway and Rijeka – European Capitals of Culture 2020
An Post unveiled a set of two colourful new stamps marking the national designation of Galway and Rijeka as European Capitals of Culture 2020, in a joint stamp issue with Croatia Post, in Galway today.
The new 'N' or national rate stamps by Irish designer Steve Simpson will available at all Galway post offices during 2020 and features well-loved symbols of Galway life and culture including the Spanish Arch, NUI Galway, Claddagh ring, City coat of arms, a Macnas giant puppet and a guitar representing live music. The Croatian stamp shows features associated with Rijeka, an historic port city known as the gateway to Croatia's islands.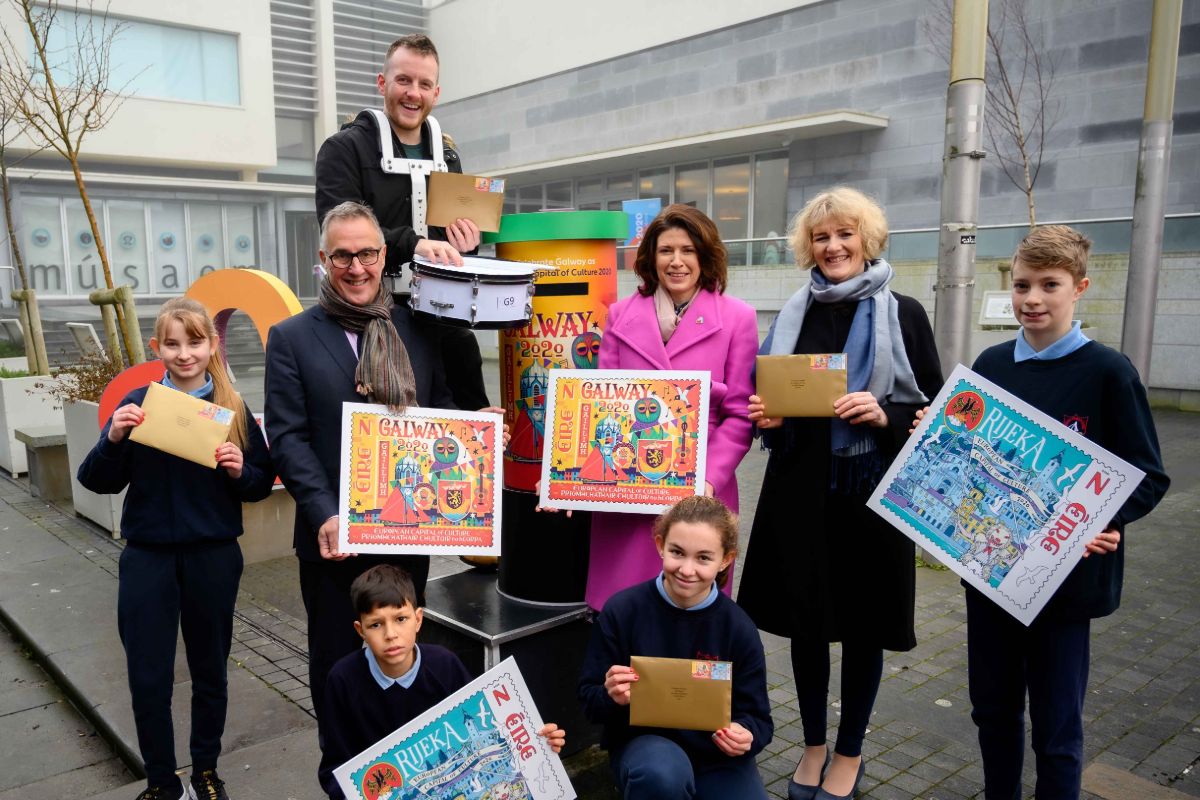 Speaking in Galway, An Post CEO, David McRedmond said: "I congratulate Galway 2020 on the breadth and depth of their programme, which promises to be extraordinary, from multisensory artworks in our natural environment to grassroots cultural moments across Galway City, County and beyond. An Post is delighted to partner with Croatian Post to mark the national designation for Galway and Rijeka as European Capitals of Culture 2020."
Welcoming the stamps just ahead of the official opening ceremony, Patricia Philbin, CEO Galway 2020 said "Galway 2020 is delighted to have our incredibly momentous and important designation as European Capital of Culture marked in this significant way. I want to take this opportunity to thank An Post for this important national symbol of Galway's year as European Capital of Culture. After a great collective effort from our team, our partners and the people of Galway, our year as European Capital of Culture is about to commence. A wonderful year awaits."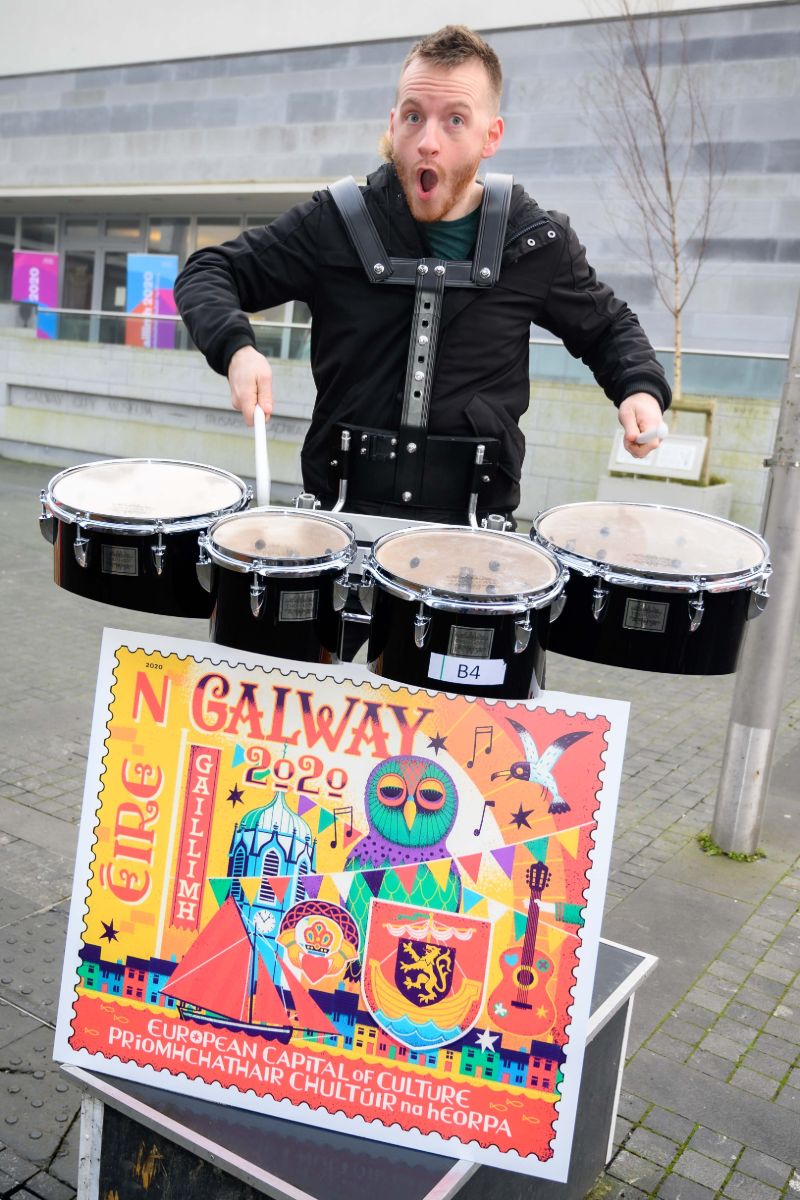 Unveiling the Rijeka stamp, Ambassador of the Republic of Croatia in Ireland, Mr Davor Vidiš, said: "An Post and Croatian Post today jointly issued two commemorative stamps to celebrate the designation of Galway, a port city on Ireland's West Coast and Rijeka, a port city in Croatia on the Adriatic Sea as European Capitals of Culture. This joint stamp issue is a symbol of the shared values and the cultural affinity between Ireland and Croatia, our two peoples and cultures".

A special limited-edition souvenir stamp sheet inset with the Galway stamp and Souvenir envelopes are also available in all Galway post offices, selected post offices nationwide and online here.

Photos by Declan Colohan