Inspired by the cultural significance of the simple pear tree as a symbol of longevity, divine sustenance and abundance. The name Pear Tree Café, Bistro and Wine Bar was the perfect fit for Chef Laura Rosso and her partner Lucas' next adventure.

Located on Upper Salthill Rd, The Pear Tree Café, Bistro and Wine Bar, was created with three core principles of care - for the earth, for people and for fair trade. Open daily from 9am, the café welcomes everyone from sea swimmers and prom walkers to holidaymakers, and employees on their lunch break. Alongside tasty offerings of homemade pastries and speciality SOMA coffee, visitors can also enjoy artisan sourdough loaded toasties, fresh fruit juices, and toasted sandwiches.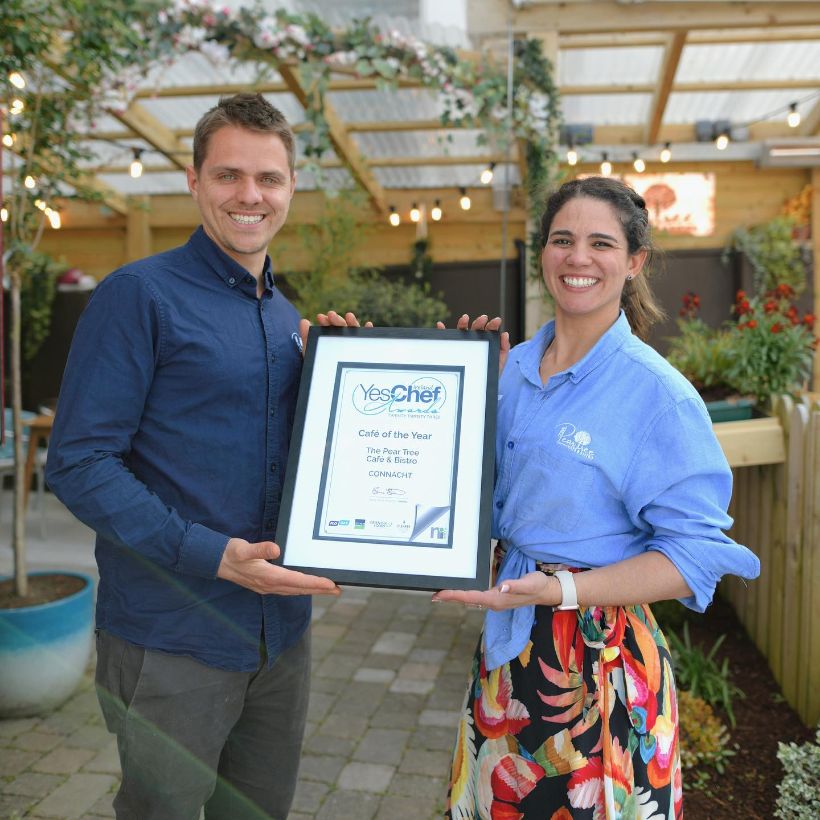 Launching in time for those long summer evenings, their new neighbourhood wine bar is already making itself known as the place to be this summer. With the option of seating both indoors and outdoors, the gorgeous wine bar that Laura and Lucas have created offers a unique and wholesome experience to all its guests. It is a welcoming space where people can come, relax among good company, enjoy live music, and taste loads of delicious wines, and cheese and charcuterie boards.
The menu focuses on organic, biodynamic and natural wines and even includes wines that have been made grape-free, such as the Wicklow Way Wines' raspberry, strawberry and blackberry wines. Catering to everyone from the experienced wine drinker to the novice, this wine list thoughtfully includes details of how each wine is made and the individual qualities that makes them unique. This is to guarantee all guests feel confident to try new wines, as Laura and Lucas explain; "We put these details on the menu to help people feel comfortable. In the beginning we were not big wine drinkers and it was uncomfortable to go somewhere and have no one explain anything to us. We felt stupid and we don't want that to happen in our place." They continue; "We want to make everyone feel comfortable enough to come here. It's for everyone, not just the experienced wine drinker." If you are still reluctant to dive fully into the world of wines, they also have a selection of beers available; however, we highly recommend giving the wine list a chance - you won't be disappointed!


above: photo by Ciarán MacChoncarraige
To make a reservation for the wine bar, contact them at 083 352 5186 or thepeartreecafebistro@gmail.com and stay updated with all their latest news and opening times on their website here.
Feature photo by Ciarán MacChoncarraige
Published on Updated on