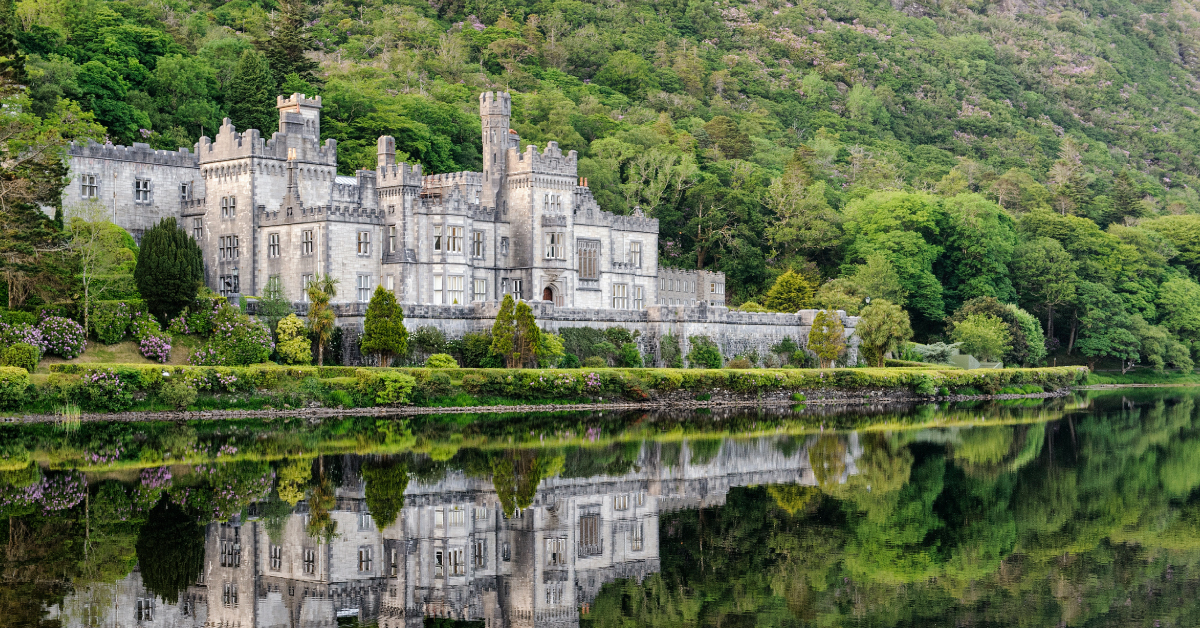 RTE Nationwide mark centenary of Benedictine Community in Kylemore Abbey with a dedicated feature programme
The Benedictine Community's arrival at Kylemore Abbey and Victorian Walled Gardens marks it's centenary in 2020 and to highlight this significant historical milestone in one of Ireland's primary visitor attractions, RTE's Nationwide and it's presenter Anne Cassin went to visit the community in Connemara.
A dedicated feature programme will be broadcast on RTE One's hugely popular Nationwide this evening Monday, March 2nd at 7pm which catalogues and documents a very inspiring, motivating and stimulating chapter of the Benedictine community's history from their arrival in Kylemore following their need to flee war torn Europe at the start of World War 1 and the burning of their monastery in Ypes in Belgium to the present day.
Presenter Anne Cassin spends time with Mother Abbess, Maire Hickey OSB, who shares the history of the Benedictine Community and it's impact on Kylemore and Connemara coupled with a recent visit to a Benedictine Community India as they embark on the development of a new Monastery which is the vision for the next 100 years of the community at Kylemore. Cassin also meets Sr. Magdalena FitzGibbon OSB, who is well known for her work in developing the Kylemore estate as a tourist attraction over many years. They discuss the role of the renowned boarding school, transitioning following it's closure to Kylemore as a leading visitor attraction, recent investments and it's role in the tourism landscape of Galway and the West.
Work and Prayer is the ethos of the Benedictine Community which also takes Anne Cassin to meet, Sr. Genevieve Harrington OSB who runs the Soapery and Chocolate Kitchen at Kylemore and Sr. Karol O'Connell OSB who runs the beloved music school at Kylemore which is much loved by children of all ages. RTE Nationwide also take the time out to meeting with past pupils of the famous Kylemore Girls Secondary school who now work in the leading visitor attraction as they forge successful careers in Marketing and Management of the iconic Abbey and neo Gothic Church on the 1,000 acre estate. Both from the Connemara locality Eithne O Halloran and Jessica Ridge share fond memories of school along with their passion for Kylemore as their employer.


The Victorian Walled Gardens at Kylemore celebrate their 20th anniversary during the centenary year at Kylemore and Anne Cassin meets a very captivating Head Gardener, Anja Gohlke from Berlin who has made Kylemore and Connemara her home over the past 18 years.
RTE Nationwide also gets behind the scenes of the Kylemore Abbey and Victorian Walled Gardens and how it's become such an iconic and much sought after visitor attraction and how important it is as a rural employer in Connemara with a frank discussion with it's Executive Director Conor Coyne who hails from nearby Cashel.
Throughout the programme, viewers will get an excellent insight into the history, current community life and future plans of this ancient order of nuns who are currently in the process of building a new Monastery at Kylemore. Mother Máire explains the mission of the community and their plans to bring a new era of growth and continued spirituality with the first female Benedictine monastery to be built in Ireland for over 400 years. This new home for the community will welcome visitors – monastic and lay – seeking a place of tranquillity, prayer and pilgrimage. Most importantly it will ensure the space and environment to support new vocations. The 14-month construction programme is underway and will be completed in December 2020.
As an important employer in the north Connemara Region and an iconic tourist destination attracting over 500,000 visitors a year, Kylemore Abbey is an engaging topic and Monday's Nationwide will allow us to look behind the scenes and at a truly unique location combining elements of spirituality, enterprise, innovation and many dedicated and fascinating personalities.