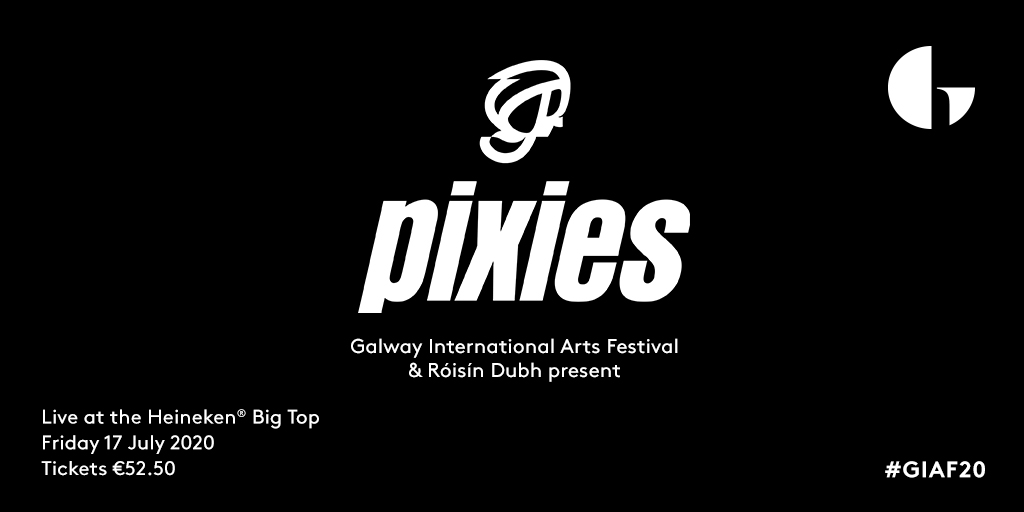 Rock legends Pixies to Play the Heineken® Big Top at Galway International Arts Festival in 2020
Thrilling, raw and vital, Pixies will play GIAF's Heineken Big Top next July, presented by Galway International Arts Festival and Róisin Dubh.

One of the most influential bands of the last thirty years, Pixies, whose mix of punk aggression and pop melodies helped establish the sound that would become the calling card of alternative rock in the 1990s, will play the Heineken Big Top on the 17th July 2020.

Formed in 1986, they released a mini-album in 1987 called Come On Pilgrim, followed up by their first full-length album Surfer Rosa which featured songs such as "Where is my Mind" and "Gigantic" in 1988. The original line-up was composed of Black Francis (vocals, rhythm guitar), Joey Santiago (lead guitar), Kim Deal (bass, backing vocals) and David Lovering (drums). Surfer Rosa was well reviewed and became a college hit in the US and UK, catapulting Pixies to fame.

In 1988, the band released its revered Album Doolittle which featured top 10 hits like "Monkey Gone to Heaven" and "Here Comes Your Man". The band went on hiatus after the release of Doolittle before returning in 1990 with Bossanova, which reached No.3 in the UK, and Trompe le Monde in 1991. The band then disbanded in 1993 but reunited again in 2004, going on to enjoy several sold-out world tours. After Kim Deal left in 2013, the Pixies hired Kim Shattuck as a touring bassist but replaced her the same year with Paz Lenchantin, a permanent member from 2016.

Since reuniting, Pixies have released three studio albums: Indie Cindy in 2014, the band's first full album of new material in more than 20 years, 2016's Head Carrier, Lenchantin's recording debut with the band, and the newly released Beneath the Eyrie.

Beneath The Eyrie, released in September 2019, was recorded last December at Dreamland Recordings near Woodstock, NY with producer Tom Dalgety (Ghost, Royal Blood, Pixies' 2016 album Head Carrier).

As the UK's DIY put it, "They're back. They're still brilliant. God save the Pixies."

While Pixies have been acclaimed as the most influential, pioneering band of the late 80s alt/rock movement, having blazed the trail for artists from Nirvana to Radiohead to Pearl Jam, today a whole new generation of music fans are discovering their "loudquietloud" signature sound.
Pixies' shows are simultaneously electrifying and lo-fi, with the band playing songs from all points of their career as well as introducing songs from the new album. And, with no nightly set list, the songs performed at each show are determined in the heat of the moment. From a live onstage mic that feeds only to the band members, sound engineer and lighting director Black Francis calls out what the next song will be. Explained David Lovering on the nightly customization of the sets, "The best is when you can sense what the next song should be based on the atmosphere in the room. That's really, ultimately what we're going for, to read the room and to be able to make the right choice."

Pixies will play the Heineken Big Top on Friday 17th July 2020. Tickets, priced at €52.50 go on sale Friday 1st of November at 9am from https://www.giaf.ie. Under 16s must be accompanied by an adult. This year's Galway International Arts Festival will take place from 13-26 July, 2020.