Record numbers attend 42nd Galway International Arts Festival
Record numbers attended the 2019 Galway International Arts Festival with 263,832 attendances at over 200 events across the 14 days of the Festival. The 42nd Festival featured an explosion of art and performances across 28 venues across the City.
The stunning Festival Gallery in the heart of the city wowed visitors with Australian sculptor Sam Jinks' enthralling and moving exhibition, the hyper-realistic In the Flesh. Visitors marvelled not only at the captivating pieces but also at the space itself, a hidden gem tucked away on William Street in the heart of the city. The Festival Gallery quickly became one of the Festival's most talked about and most visited attractions with 60,504 visitors across the two weeks.
The Festival Garden returned to Eyre Square, drawing thousands to this relaxed haven in the city centre. Approximately 160,000 people flocked to the Garden to soak up the atmosphere and enjoy food and drink provided by local vendors while from Eyre Square to the Spanish Arch, the streets of Galway became a venue as groups of Festival-goers grooved to the impossible to miss Guru Dudu's Silent Disco Walking Tours.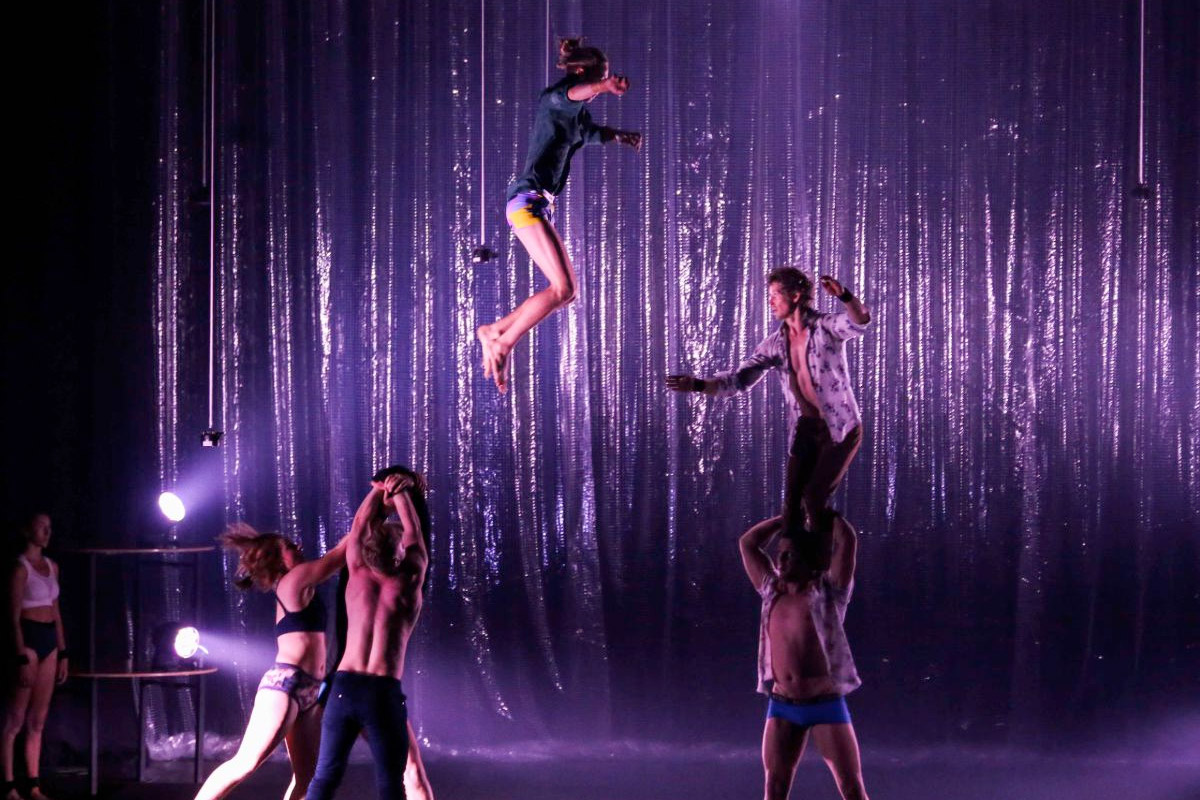 Over 600 participating artists from all over the world enthralled audiences attending performances, talks, concerts, street events and exhibitions. Early estimates suggest that the two-week event will have an economic impact on par with last year's record breaking €40.8 million.
This year's theatre programme glittered with new work, including the world premiere of Least like the Other: Searching for Rosemary Kennedy. This new production from the Irish National Opera in association with Galway International Arts Festival drew rave reviews from audiences and critics during its GIAF19 run including a five-star Irish Times review. Other highlights included Druid's world premiere of Epiphany by Brian Watkins and the Abbey Theatre and Soho Theatre production of Citysong by Dylan Coburn Gray as well as international work from the UK's Kneehigh with Dead Dog in a Suitcase (and other love songs) and jaw-dropping acrobatics in Out of Chaos by Australia's Gravity & Other Myths.
Late-night audiences flocked to two cabaret-style work-in-progress performances of Breakfast on Pluto. The hotly anticipated new musical from Landmark Productions and GIAF will make its world premiere at GIAF 2020.


The ever-popular First Thought Talks series returned to the NUI Galway campus for an expanded series of talks spanning across both weekends of the Festival. Over fifty speakers drew crowds for lively and engaging discussions on some of today's biggest issues. Notable programme highlights included sold-out Talks by former President Mary Robinson and author and actress Kate Mulgrew (Orange is the New Black, Star Trek). For those who missed out, these and other select Talks will be available to watch in full on giaf.ie in the coming weeks.
The Heineken Big Top, which is erected especially for the festival, hosted 10 sensational concerts including Burt Bacharach, Two Door Cinema Club, Orbital, Macy Gray and the 'double bill of the summer' with Villagers and John Grant,
The concert with the legendary Burt Bacharach made for a truly unforgettable evening with the 91-year-old performing hit after hit for over two hours to a spellbound audience who tapped their toes and sang along to favourites like 'Anyone Who Had a Heart', 'Raindrops Keep Fallin' On My Head', 'Do You Know the Way to San Jose', 'Close to You' and many more.


In another musical high point, rock god Robert Plant performed in the beautiful surrounds of St Nicholas' Church. The former Led Zeppelin front man took to the GIAF stage with folk ensemble Saving Grace delivering a spell-binding performance that ended in rapturous applause.
At the height of the middle weekend, with Galway's third The People Build construction underway and breath-taking performances by French acrobatic troupe Les P'Tits Bras drawing captivated crowds, it seemed there wasn't an inch of Eyre Square that wasn't imbued with a little Festival magic.
Approximately 1,000 volunteers from 55 countries supported the Festival team coming from all four corners of the globe, from Korea to Canada and South America to Australia.
While the 42nd Festival comes to an end, the work of GIAF continues, with a new First Thought Talks weekend scheduled for October this year and plans well underway for the Festival's Galway European Capital of Culture project, Mirror Pavilion. The 43rd Festival will take place from 13-26 July 2020.
Galway International Arts Festival would like to acknowledge the support of its principal funding agencies the Arts Council and Fáilte Ireland, Drinks Partner Heineken and Education Partner NUI Galway. https://www.giaf.ie/
Watch the 2019 Highlights Video here https://www.giaf.ie/media/news/record-numbers-attend-42nd-galway-international-arts-festival