Whether it's dinner and drinks, a trip around the shops or a bitta culture you're after, The Latin Quarter is the epicentre of it all. Cobbled streets, kitschy boutiques, tasty treats – you name it, it's got it, and with an abundance of medieval heritage monuments scattered about, you'll see exactly why this is one of the busiest spots in the city.
Celtic jewellery, amazing grub and the best pints in town, you'll find it all here. The Latin Quarter stretches from the Spanish Arch to O'Brien's Bridge, all the way to St Nicolas' Church and as far as Middle Street. With every step you take there is something new and exciting to see, whether it's a colourful character busking on the corner or some intricately decorated storefronts...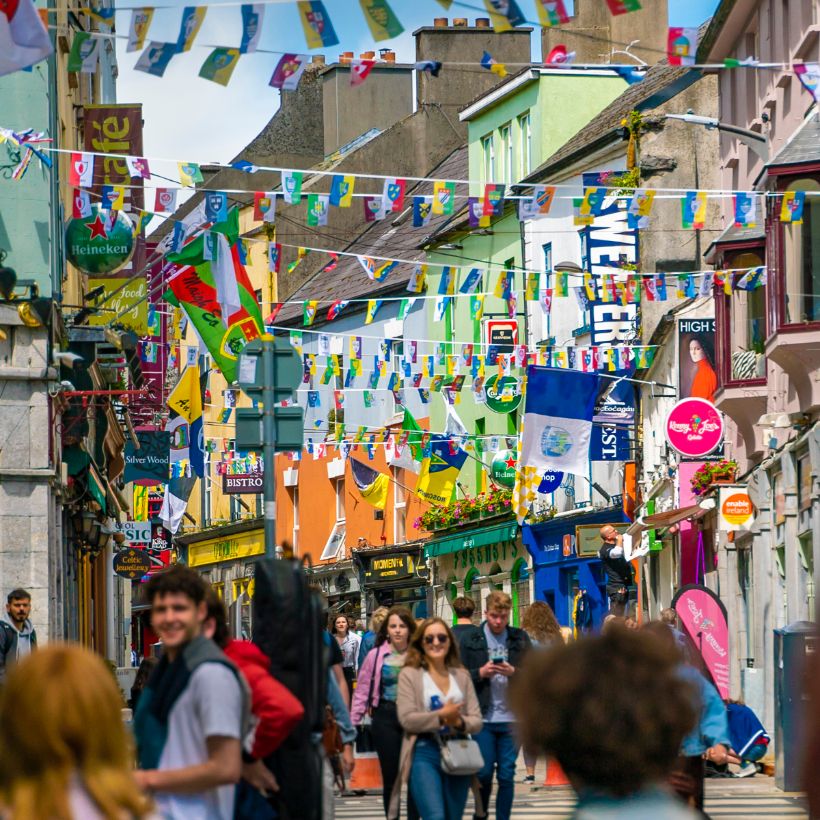 TAKE A TRIP AROUND THE SHOPS
The Latin Quarter is lined with indigenous, family-run businesses, filled with friendly faces and buzzing with an exciting hustle and bustle. Whether it's the old reliables like the Wooden Heart - which has been providing ethical, safe and robust toys for over 30 years now - or newer spots like Story Tailors - a clothing store with eco-friendly, entirely organic and sustainable pieces - the area's got something for everyone. Spend an afternoon browsing through the many shelves of the iconic Charlie Byrne's Bookshop or perhaps being transported back in time by Aunty Nellie's sweet shop. Coffeewerk + Press have created a whole new space, where coffee meets art and sustainability is promoted tirelessly. Galway's famous Latin Quarter has quite literally got everything your could hope for.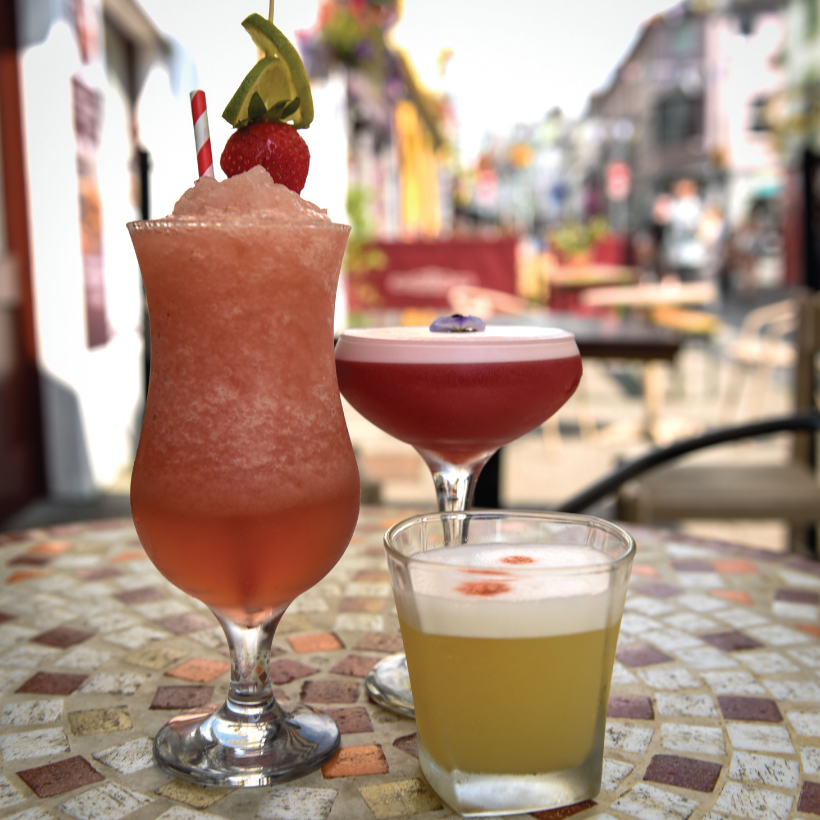 ENJOY A TIPPLE OR TWO
Gin drinkers will find solace in Tigh Nora, where there's over 200 different gins and tonics to choose from, while The Dáil Bar and the The Front Door offer a pint drinking paradise, with fabulous new outdoor dining areas to give you all the space you need for catching up with pals. For cocktails, head to 1520 , Busker Brownes, Seven Bar or, the newest kid on the block, Sliders Bar & Grill, who have tasty American-style grub and a stunning drinks menu. But if you're in The Latin Quarter you have to sample a classic pint of plain, best enjoyed in Freeney's Bar, the traditional old grocer-come-pub with a homely atmosphere.
BROWSE THROUGH SOME AGE-OLD ANTIQUES
For an antique piece you won't find anywhere else, or a vintage gem you'll cherish for years, you know where to head. Engagement rings, souvenirs and mementos galore fill every nook and cranny of the Latin Quarter's jewellers. At Cobwebs, you'll find both modern gems and stunning vintage pieces, while Claddagh and Celtic Jewellery is filled to the brim with Irish-crafted designs and a fine selection of the famous ol Claddagh ring. The Latin Quarter has such a welcoming atmosphere and these stores envelope strays and passers by right into the community, providing them with traditional pieces and Celtic symbols so that wherever their journey takes them, they'll always have a little bit of Galway history with them.

TEMPT YOUR TASTE BUDS
While the air of traditional Galway lingers throughout the streets, The Latin Quarter is a hub for international fare, providing tastes from all over the globe. From Spanish tapas in Cava Bodega and Japanese Sushi goodness in Kappa Ya to Chinese street cuisine in Xi'An Street Food and Fat Freddy's family-friendly, Italian fare, you'll be able to sample some of the best flavours from far and wide, right in the heart of the city. If you prefer to try some delicious Irish cuisine while you're right in the heart of it, the menu at The Kings Head is always seasonal, local and packed with Galway Bay seafood. For something a little bit fancy, try Martine's carefully crafted Galway dining experience or Afternoon Tea from Cupán Tae to really make yourself feel like a King or Queen. One thing's for sure, you'll need to be rolled home after a visit to Galway and The Latin Quarter.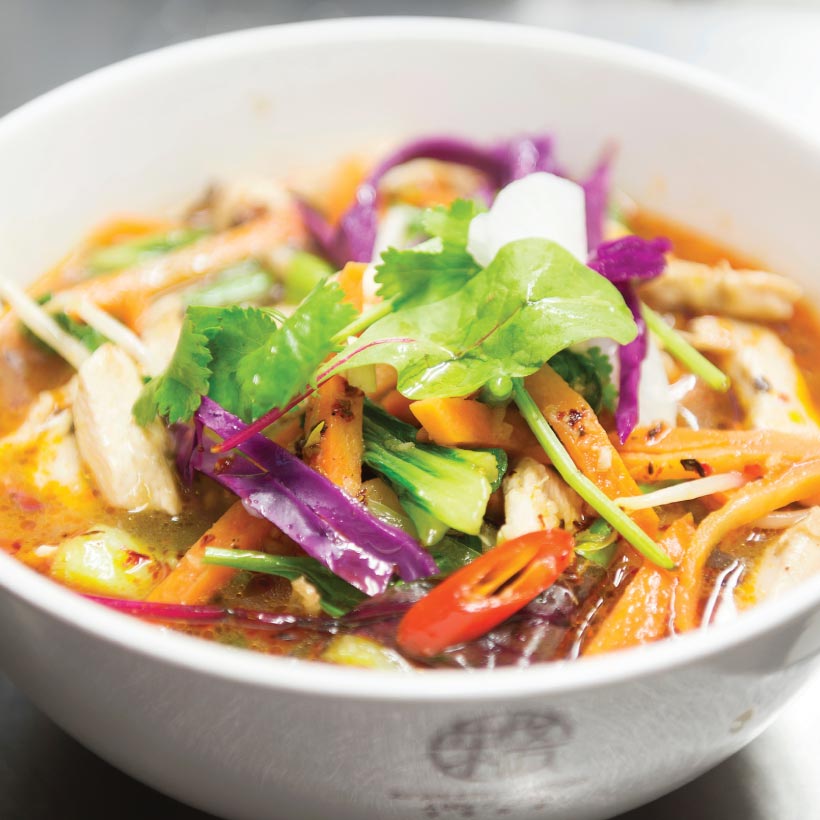 GET A GOOD NIGHT'S SLEEP
After all that eating, drinking and shopping, you'll be fit to drop. If you're travelling with a group or you're just in need of a clean and comfortable hostel for the night, Snoozles have got you covered. If you want to spend the night relaxing on the most luxurious of beds, the Residence Hotel will ensure you get a good night's rest in their well appointed rooms with Smart TVs and all you need for a relaxing evening. Romantic nights away are best spent in The House Hotel, where you'll be seduced by the flavours of the fare in The Yard restaurant for breakfast, lunch and dinner.
The Latin Quarter is constantly evolving while maintaining the essence of the area and catering to visitors old and new, whether you're an aul regular propping up the bar or you're just passing through. Keep up to date with all the exciting goings on by following them on Facebook or Instagram.
Feature photo by Emma Laffey
Published on Updated on