Co-owner of local design shop 2 Wild Geese, Maggie Murphy has become quite the well-known face on the retail scene. A Galwegian through and through, many of her Christmas memories are tied to the city and that indescribably magical merriment that seems to permeate the streets. We caught up with Maggie to journey through Christmas past, present and future right here in Galway and it was one wholesome conversation…

From the time she was just a little girl growing up in Galway to co-owning her very own store alongside Luke Anthony, Christmas has held a very special place in Maggie Murphy's heart. While picking out a new Christmas outfit in Klassy Kids and browsing through Treasure Chest's festive displays spring to mind, Maggie's standout memory from her childhood has got to be the haunting melodies of the Galway Baroques in the Augustinian.
"On Christmas morning, we would always meet my grandparents and cousins at the Augustinian. Sonny Molloy and the Galway Baroques used to sing every Sunday, but at Christmas time the music was just amazing. They used to finish with Hallelujah and all the hairs on your neck would rise. Even though I wouldn't be religious, it really felt like that was what Christmas was all about."
As the years passed, a hot port in Tig Chóilí's quickly became a Christmas Eve tradition for Maggie, but the outstanding memories from her adolescence have got to be those of her father returning home with the latest piece of technology, and early morning cocktails in granny's kitchen. "We used to visit my grandparents every Christmas morning and by about 12 o'clock there would be cocktails on the go, just between the cousins in the kitchen. We kept that tradition on for years - straight into the Christmas spirit!"
While Christmas is - for those who celebrate it - a largely universal experience, each family tends to put their own stamp on the holidays with their very own unique traditions. For Maggie, these include trees decorated exclusively with Santa Clause and a seafood spread on the night before Christmas.
"It's random, but my sister in New Zealand and my brother in America each have their normal tree, and a smaller tree with just Santies on it. Something that mum started somewhere along the way was doing seafood on Christmas Eve. We would have scallops and crab claws and prawns. It's not traditionally Christmas food, but it was something different."
No stranger to a Christmas morning Zoom call, Maggie has been spending the early hours on December 25 trying to catch the two time zones of New Zealand and American since her nieces and nephews were born. Since 2 Wild Geese first opened its doors back in 2018, Maggie has loved the chaotic Christmas rush of working in retail and with shopping local growing in importance, she's noticed some changing trends in the way people purchase.
"It's hectic, but we absolutely love it. I think that this year in particular, it just means a lot more. The fact that people are shopping local means a huge amount to us. Some people come in with their Kris Kringle list and they're not allowed to get anything that's not bought locally. Even though it's been a hard year, people are more kind, more joyful and patient. Just getting to say 'Merry Christmas' as a customer is leaving is still so lovely. I still find something so special in that."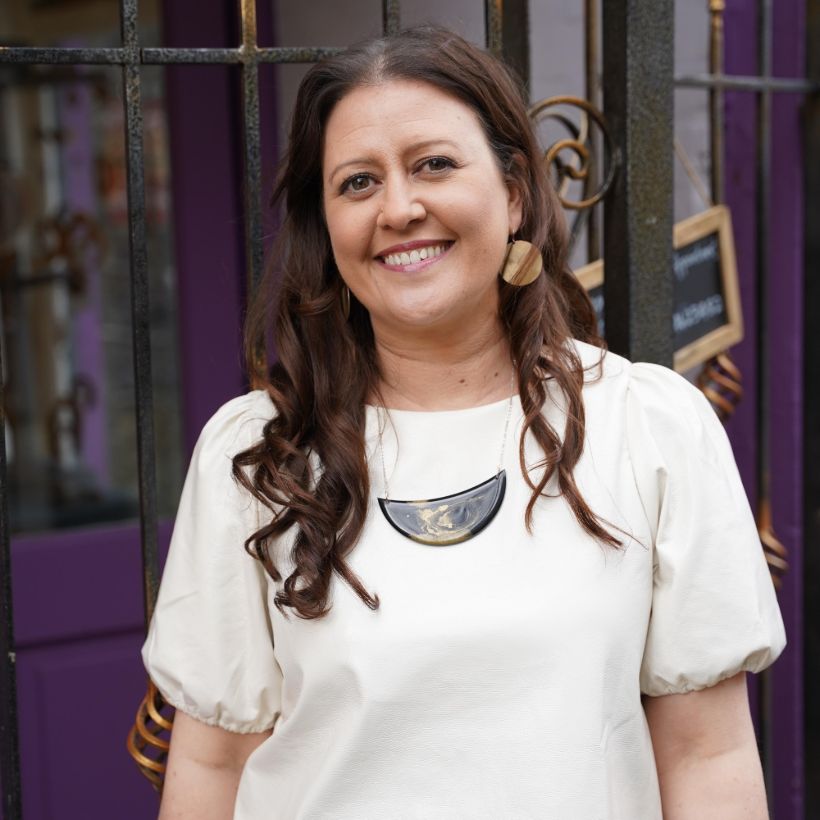 2 Wild Geese was set up in order to give local designers and craftspeople a route to market and is nothing short of a treasure trove. From the most dainty set of earrings to the most elaborate piece of art, this is the type of store where you can find something for everybody on your gift list, no matter what your budget. Regardless of the fact that she owns a gift shop, Maggie is acutely aware that the festive season is now about presents.
"It's about spending time with people and that's really come to fruition this year. People are so appreciative of being able to spend time with the people they love because it was touch and go earlier in the year. People are buying more poignant gifts - they're not just going for the most expensive, but for the items that they know will mean a lot to their person. There's definitely more sentimentality around the gifts being bought this year."
With beautiful memories from years gone by and a gratitude for the lessons learned throughout the year, Maggie is looking forward to getting back into a crowd for future Christmasses. "Being able to hug people again!" Maggie says. "The affection and tactility and bumping against people in a crowd, it feels so alien now. Getting that back and showing affection. It's about the hugs and that feeling of comfort and living without those worries."
Here's to keeping worries to a minimum in 2022!