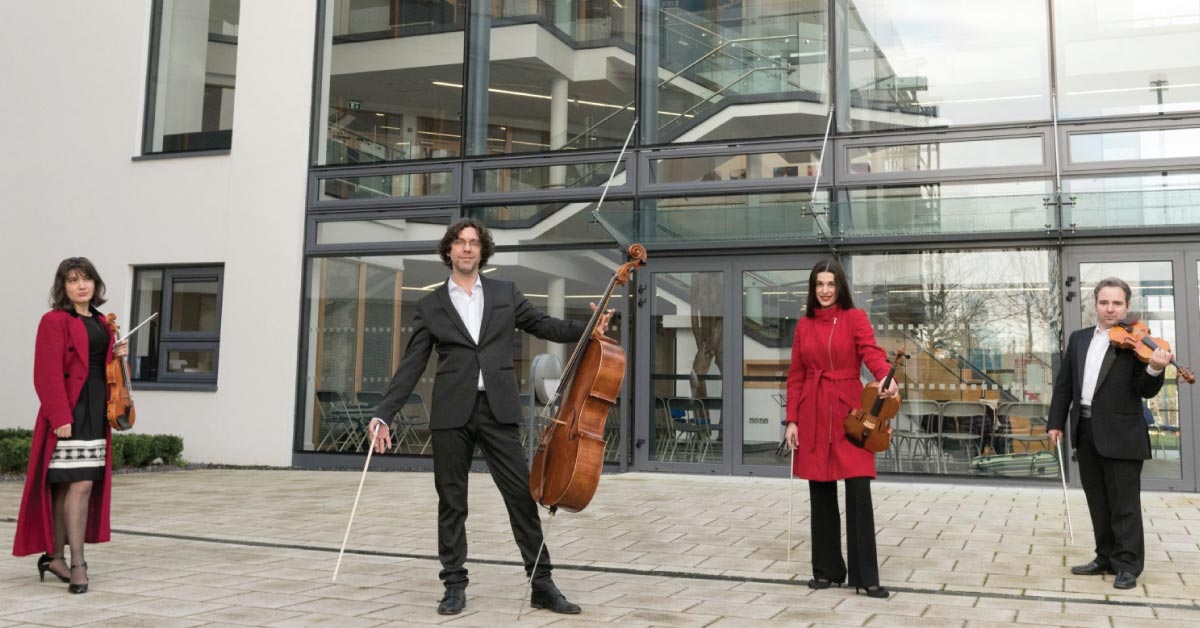 Lunchtimes with ConTempo: From Europe with Love
The Galway Music Residency's ambitious Lunchtime with ConTempo project entitled From Europe with Love continues on Tuesday 5th March at 1:10pm in St Nicholas' Collegiate Church. This three-year initiative celebrates the shared musical heritage of the European Union by exploring the string quartet repertoire from each of its 27 member countries. Speakers from the featured nations, embassies and local communities will introduce each concert providing unique personal perspectives on the music to be performed.
During this sixth edition of From Europe with Love, audiences will be taken on a trip to Slovakia where the wonderful ConTempo Quartet will perform Ján Levoslav Bella's String Quartet No. 3 in C minor. Though largely forgotten today, Bella was a well-respected composer and conductor in his day, celebrated by important musical figures such as Antonín Dvořák and Johannes Brahms. Bella was inspired by romantic music from the likes of Schumann, Wagner and Smetana, and his exposure to these composers transformed his own compositions from that of small-scale church music and folk-song arrangements to works in the spirit of the Nationalist Romantic and Neo-Romantic movements of the 19th Century. At the time of its publication, Bella's String Quartet No. 3 was championed by the famous Bohemian String Quartet who toured it throughout Europe, establishing some fame for the work and its composer up until the First World War. GMR and the ConTempo Quartet are now delighted to return Bella's String quartet no. 3 to the String Quartet repertoire as part of From Europe with Love.
The Galway Music Residency is delighted to announce that this concert, in celebration of Slovakia, will be introduced Igor Pokojný, Ambassador Extraordinary and Plenipotentiary of the Slovak Republic to Ireland. Ambassador Pokojný will give a personal reflection of this great work before ConTempo take to the stage.
Proudly supported by NUI Galway (Education Partner), the Arts Council, GMIT, and Galway City and County Councils, admission to this event is free, open to all and early arrival is recommended. From Europe with Love will take place on the first Tuesday of each month (September-June excepting January) until June 2021. For further information, visit www.thegalwaymusicresidency.ie.