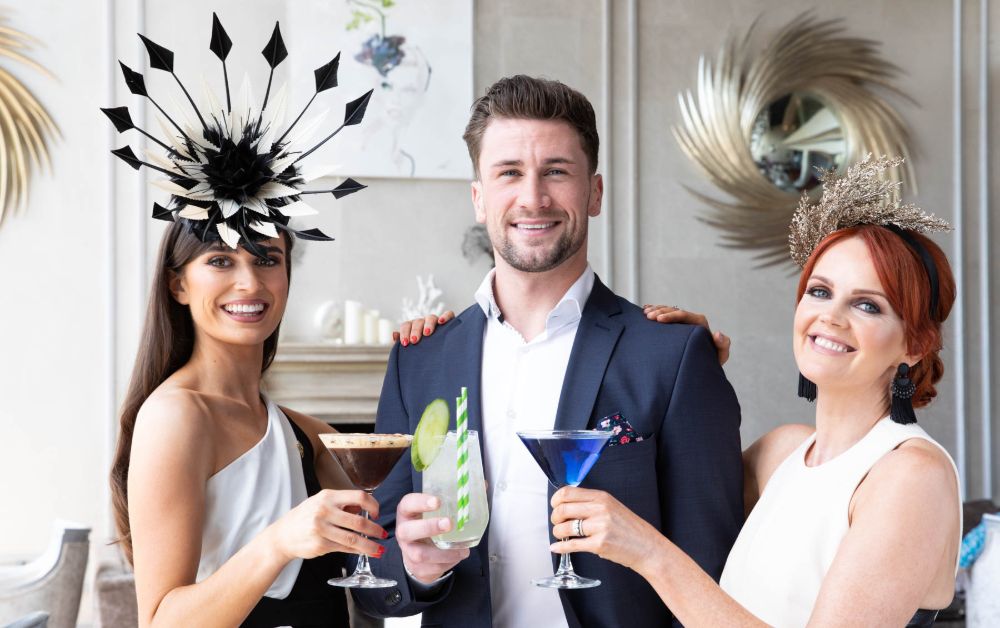 Leading Cork Ladies, Miss Ireland Aoife O'Sullivan and Milliner Elizabeth Creative Design to headline the g hotel Galway Best Hat Competition for Galway Races
Leading Cork Ladies, Miss Ireland Aoife O'Sullivan and Milliner Elizabeth Creative Design to headline the g hotel Galway Best Hat Competition for Galway Races.
The renowned 5 star g hotel and spa's best hat competition and most dapper gent sees a strong Cork connection this year for Ladies Day of the Galway Races. Cork's stunning Aoife O Sullivan and current holder of the Miss Ireland title last year won the best hat at the g hotel wearing an exclusive Elizabeth Christina Design creation by Tina Coyne.
This year, the winning duo will be central to the competition as Elizabeth Christina Design creates a bespoke hat for the 2019 winner while Aoife O'Sullivan will judge the 2019 competition in the g hotel alongside Ireland's leading Fashion Editor Bairbre Power of the Irish Independent. Together they will review what is always a glorious array of high-end fashion and stunning, bespoke millinery before crowning the Best Hat and most dapper gent. Cork Milliner and 2018 winner at the g hotel Tina Coyne of Elizabeth Creative Design has created an exclusive bespoke hat which forms the central focus of 2019 winning hat and ladies day
€5,000 prize which also includes €1,000 cash and a stay in the stunning Linda Evangelista Suite at the stylish and sophisticated 5 star g hotel.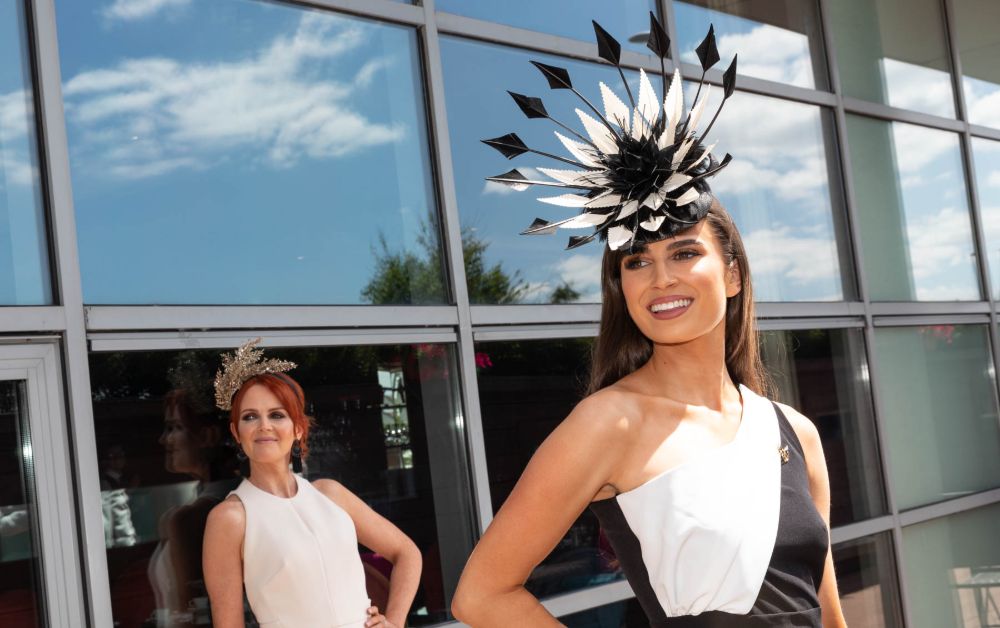 The most dapper gent will look forward to a fabulous Strellson branded suit, shirt and tie with Gordon Brothers shoes from Hanley & Co here in Galway. Both winners will receive luxury stay vouchers at the luxurious 5 star g hotel and spa. The best hat winner will also receive a €1,000 cash prize as part of the g hotel's prize fund. Milliner to the Royal Family and the stars, Phillip Treacy designed and created the stunningly sophisticated, 5 star g hotel with the vision of a world renowned Milliner. Ladies Day of Galway Races is annually the most stylish and sophisticated showcase of high end fashion and eye catching Millinery in Ireland, thus it's fitting that Ireland's growing Millinery industry, competes for the winning g hotel best hat title. Along with the lady winning the best hat after a wonderful ladies day at Ballybrit and Galway Races, the millinery designer of the winning hat now has the opportunity to create a hat for the 2020 g hotel best hat competition which is also Galway 2020 European Capital of Culture year.
Aoife O'Sullivan, last year's winner of the best hat competition is very excited to be involved in the g hotel's prestigious Best Hat and Most Dapper Gent Competition, "Last year was such a special year for me, winning the Best Hat at the g hotel and going on to win Miss Ireland, I'm so keen to be involved in the g's Ladies Day competition and celebrations this year. The g is where all best dressed ladies want to be on Ladies Day evening of the Galway Races, it's the home of fashion, style and of course Millinery", says Aoife O'Sullivan.
Designer of this year's exclusive Millinery creation for the Best Hat on Ladies Day at the g hotel, is Tina Coyne of Elizabeth Creative Designs, in Cork. Tina is no stranger to the g hotel's best hat competition having won last year and she's also well recognised at the Galway Races, featuring in the top 10 hats at Ballybrit for since 2016. I love the Galway Races and Ladies Day in Ballybrit is our Gallery, the competition and standards are very high both at the track and in the wonderful g hotel which drives creativity year on year. It's such an achievement to create this year's design following last year's win in what is most certainly home for all Milliners the Phillip Treacy designed g hotel".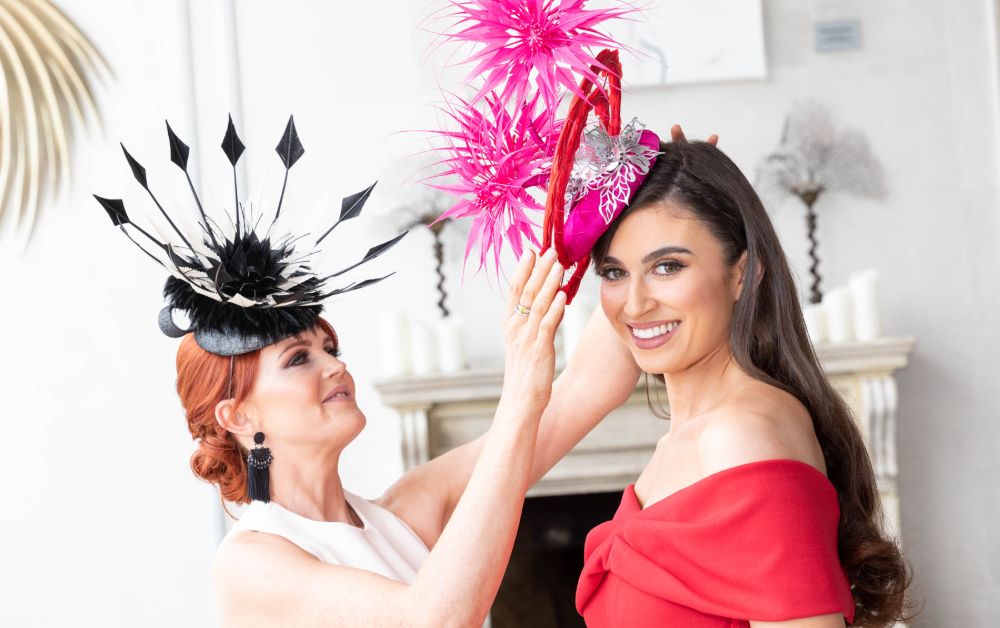 This year's bespoke creation for the winner of the best hat takes its inspiration from the g, and it's quirky individual style as well as current trends and of course keen millinery innovation which features year on year on ladies day. Ladies and Gents seeking the most coveted prizes of Best Hat and Most Dapper Gent on Ladies day can enjoy lively entertainment, excellent food menus and of course the famous g hotel Galway Race Week On Friday, the g hotel's dedicated racing lunch menu, Galway Races tickets, coach transfer to Ballybrit is available from 12.30pm and to wrap up your 2019 Galway Races on Friday evening a Jazz at the g party is being hosted with the Velvet Lounge band which is sure to climax what is always a super week of racing, friendships and all round good fun.
On Wednesday, 31 st of July, Galway Plate Day, Irish Jockeys, Davey Russell and Rachael Blackmore, one of only three female professional National Hunt Jockeys in Ireland will headline the 5star g hotel's, annual tipster lunch. Hosted by Racing Correspondent and Galway Bay FM's George Mc Donagh, the g hotel and spa's tipster lunch is certainly your Race Card for all the winners this Galway Race Week. To mark the occasion of Galway Plate Day, guests will enjoy prosecco on arrival followed by a sumptuous 2 course lunch in the award winning Restaurant GiGi's, Galway Races Tickets, and transfer to Ballybrit for €65 per person while enjoying the company of two of Ireland's finest jockeys, Davy Russell and Rachael Blackmore.
From Monday evening the g hotel will host a nightly entertainment programme featuring Catherine Gavin while Restaurant GiGi's will host a dedicated Galway Race Week menu which is perfect post Ballybritt dining. Throughout the Ground Floor Signature lounges, casual dining, lunch and Afternoon Tea will be served daily from 12noon and of course the g's fun Galway Races Cocktail menu will feature favourites including the Giddy up Cosmo (Cosmopolitan), Best Dressed Bellini and the Dirty Derby Daiquiri (Daiquiri of choice Strawberry/Banana) to mention but a few. Tattinger Champagne will feature alongside an extensive wine and drinks menu.

 

If you're celebrating Galway Race Week with family, friends, colleagues or clients, the 5 star g hotel and spa is certainly the place to be or if you simply want to savour the atmosphere without hitting the track, Andrew Drysdale and his team look forward to giving you a warm Galway Race Week welcome.

For all details or to reserve your table, call 091 865200 or email eat@theg.ie Log onto www.theghotel.ie or follow all news and updates on the social media channels Facebook, Instagram
and Twitter.