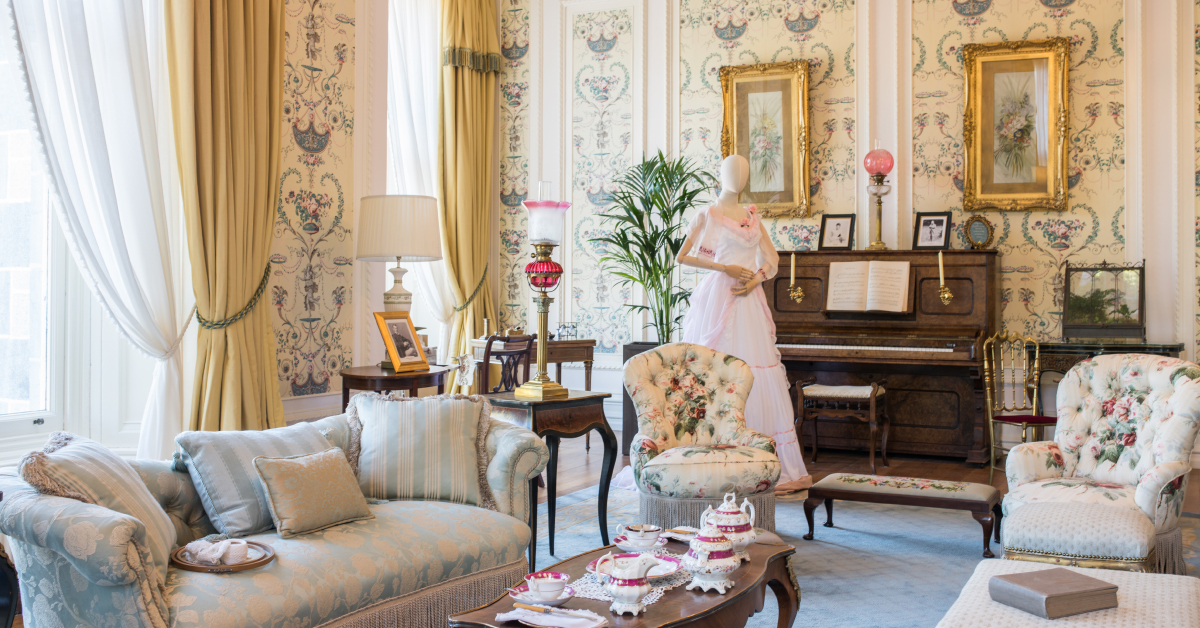 Kylemore Abbey to feature in new RTE One TV documentary
The award winning Kylemore Abbey and Victorian Walled Gardens and it's brand new exhibition suite 'From Generation to Generation – the story of Kylemore Abbey', will feature in a new RTE One TV Documentary series Great Irish Interiors, which will broadcast on primetime TV for the first time in the New Year, on January 2nd at 8.30pm.
The documentary follows the painstaking restoration of period rooms at Kylemore Abbey as part of a multi-million-euro restoration and development project designed to breathe new life into one of Ireland's best loved and most iconic buildings. Beautiful rooms first furnished in the late 1800s will sit side by side with a new €3m Digital Exhibition "From Generation to Generation – the Story of Kylemore Abbey".
Featuring Historic Interiors Consultant, Joanne Smyth and the Abbey and Gothic Church Manager at Kylemore Abbey, Eithne O Halloran who is also a past pupil of the Kylemore Abbey school, the producers follow their tireless efforts to recreate the Victorian splendour of this suite of rooms as seen in Kylemore's historical archive photographs.


The Moondance Production team follow Joanne and Eithne as they define the brief for this delicate yet large scale restoration project. The project sees Eithne and Joanne meet some of Ireland's best interior and historical experts as they seek out the perfect pieces to tell the story of Kylemore Abbey. They meet Matt McNulty and visit his warehouse which is packed from floor to ceiling with all kinds of treasures, many of which find their way into the best historical houses in the country. Eithne brings some precious pieces from Kylemore Abbey which are in need of serious repair to restoration expert Sven Habermann at Letterfrack Conservation. While Joanne consults with Interior Designer at Brian S Nolan Interiors, Samantha Dockrell, in her search for authentic wallpapers and fabrics. Attention to detail is paramount as the two ladies, source all interiors materials needed from authentic and original wallpapers and paints, to dining tables, porcelain, chandeliers and all the small items of dressing that make an historical period home so fascinating.
"Kylemore is such an iconic visitor experience", says Abbey Manager and past pupil Eithne O Halloran, "we needed to be true to Mitchel Henry's original vision and the legacy he left to Connemara and recreate each room as authentically as possible while establishing the best and most innovative ways to merge classic Victorian style with a modern digital experience to fully engage and delight our visitors into the future".
Follow Eithne and Joanne on their journey of discovery on the Great Irish Interiors documentary which is riveting as they work effortlessly while meeting extremely tight deadlines to bring the full exhibition to a conclusion within budget and on time for their looming launch date ahead of another busy summer season at Kylemore Abbey. The cameras deliver a fascinating behind the scenes look at how a major national project is brought together, detail by detail to deliver such a splendid historical experience merged with today's digital world.
Check out RTE One, Thursday 2nd January at 8.30pm for this fascinating interiors documentary.