In order to cater for their visitors as safely and enjoyably as possible, Kylemore Abbey have launched a huge outdoor programme on their stunning grounds in Connemara to supplement the already fantastic range of indoor activities. Read on to discover more...
The Kylemore Woodlands Trails and Tales are a new addition for the summer of 2021. They have opened up old paths and extended into previously unopened areas of the estate to encourage visitors to Kylemore to immerse themselves in the rich, biodiverse landscapes of Connemara. Read on to discover the schedule of guided tours and talks.
Daily History Talks on the Terrace
Times: 11am, 12pm, 3pm, and 4pm daily
Four times daily, the knowledgeable Guides offer complimentary history talks. Starting on The Abbey's terrace, the guides will take visitors through the rich history of the many generations of people who have called Kylemore Castle home. Then the guides will walk visitors to the neo-Gothic Church, passing some key heritage and nature highlights before arriving at the miniature cathedral where the visitors will learn about the tragic circumstance and love and that inspired this stunning building.
Feeding time with the Kune Kune Pigs
Times: 12pm daily
Parental supervision necessary
Gloria & Ken, Kylemore's comical Kune Kune pigs are never as happy as they are when munching on their favourite rolled barley breakfast. So come along to see these happy little pigs grazing at 12 noon every day at the pig sty, beside the Victorian Walled Garden. The friendly garden and grounds team will be on hand to answer any questions and offer insights about this interesting breed.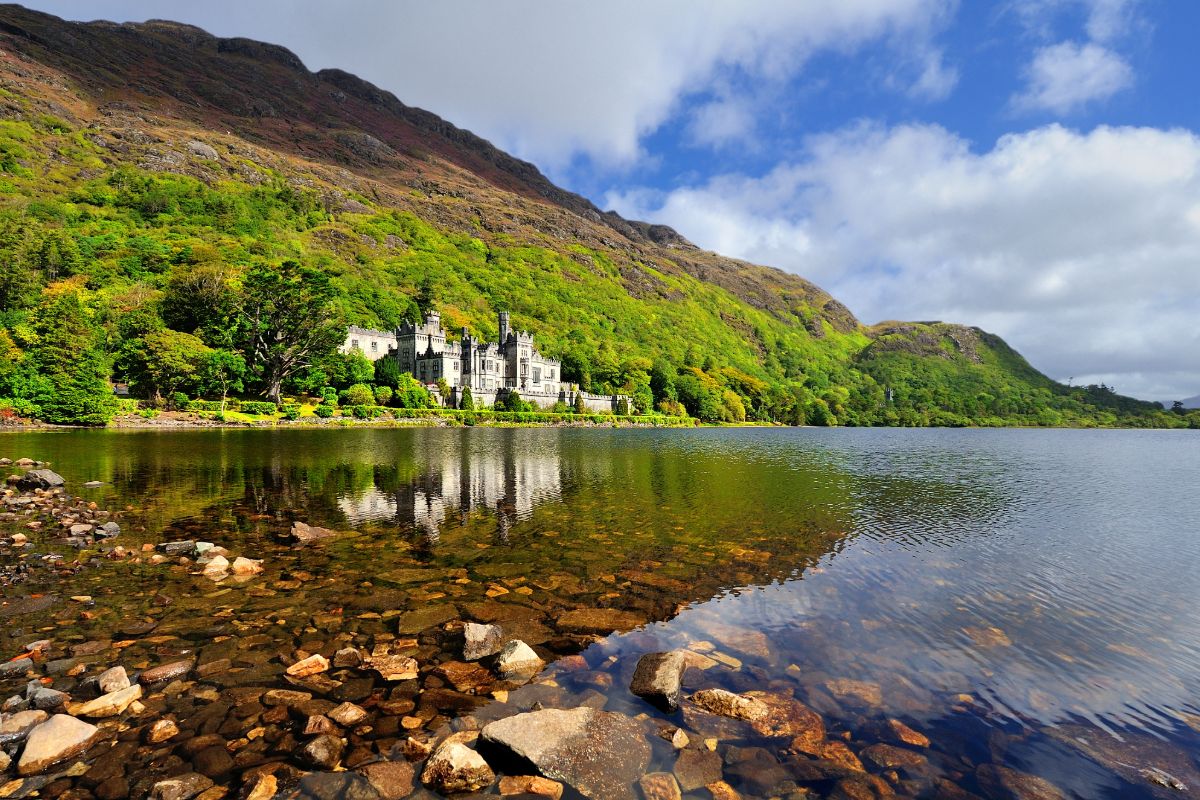 Feeding Time with the Connemara Ponies
Times: 3.30pm daily
Parental supervision necessary
At 3:30pm every day, gather at the pony paddock where you will see the beautiful herd of Connemara Ponies and their new foals getting an afternoon snack from one of the skilled pony handlers. Follow the pony trail along the paddock and learn about this beautiful native breed. Make sure to ask how one of Kylemore's ponies, Snowy, and her foal Aimhirgin are getting on in their summer home...Áras an Uactharáin!
Guided Nature Walk
Thursdays @ 2pm
Meet in front of the Tea House and join Kylemore Abbey's Woodland Specialist, Inez Streefkerk, on a guided walk to discover some of the wildlife along the Flora, Fauna and Folklore Trail. Listen carefully and enjoy Inez's insights into this unique oceanic woodlands and all of the trees, plants, and creatures that call it home.
If you prefer to get out and explore by yourself and at your own pace, there are loads of new signposted tracks and trails throughout the gorgeous 1,000 acre estate. The Sruffaunduff Waterfall, Tree Trail, Dawros River Walk and Horsechestnut Loop are all ready-and-waiting for you and are included in the price of general admission. With a variety of gravel paths, woodland trails and avenues to cater for all levels of availability, comfortable shoes and time are all you need to enjoy these spectacular trails.
Learn more about the history of this fascinating Galway landmark here and make sure to book your trip to Kylemore Abbey with Lally Tour's Full Day Tour of Connemara here.
Please note that This is Galway will make a small commission on bookings through this link which will allow us to continue bringing you all the best bits of Galway. Thank you!