Saoírse's Summer Fest has secured an impressive line-up of musical and comedy acts for the event of the year
Saoírse's Summer Fest will take place on Sunday, August 2nd, 2020 in aide of a Galway-based family and their chosen charities. This will be a virtual concert with an impressive line-up of musical and comedy acts.
Alongside Kodaline, the cream of the country's musicians will take part in a virtual concert in aid of Saoírse Ruane from Kiltullagh, Co Galway. Cliona Hagan, Mike Denver, Rory's Stories, Tadgh Fleming, Blessed, The Two Johnnies and KeyWest are some of the acts that have agreed to take part in the concert that will be broadcast across the Saoirse Summerfest social media platforms on Sunday, August 2nd.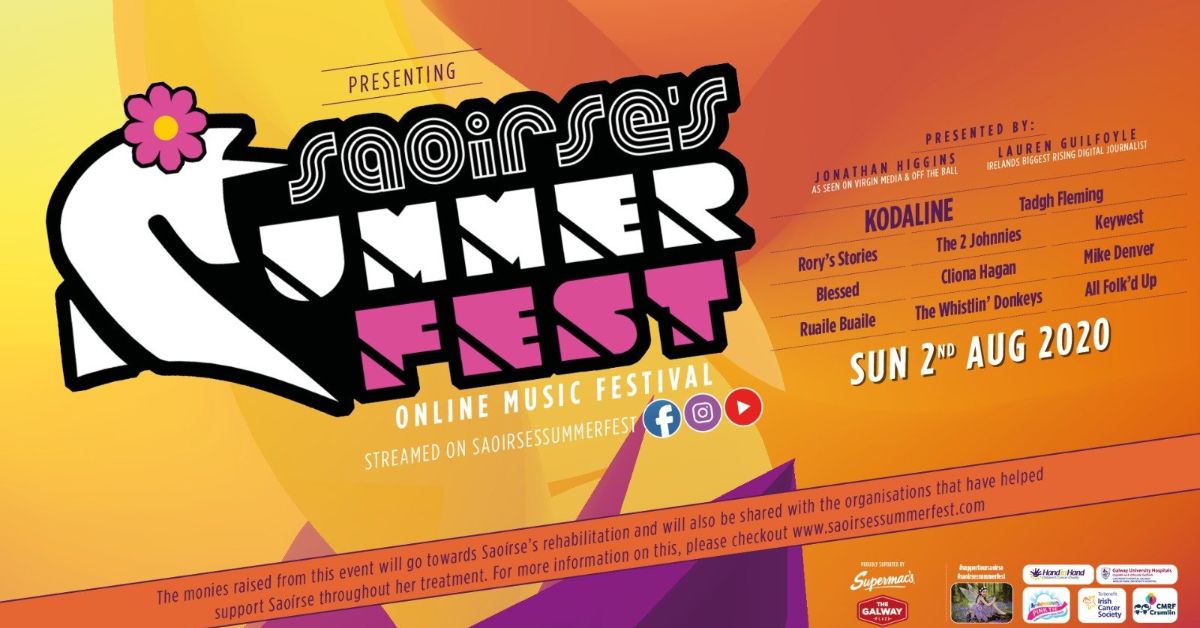 In December 2019, Saoírse (aged 7) was diagnosed with an Osteosarcoma tumour, a rare form of cancer, in in her tibia. This is a life-threatening tumour which will require Saoírse to have months of intense chemotherapy in Crumlin. Not only has Saoírse to endure this treatment but she also underwent life changing surgery in March 2020 for an amputation to her right leg. Saoírse is currently awaiting her first prosthetic and begin the next step of her journey in adapting to life with a prosthetic.
As a young growing girl, she will require ongoing prosthetics which can range in cost from €5,000 to €30,000, as well as modifications to the family home to make life easier.
The family have been raising money through GoFundMe to help ease the financial burden of Saoirse's diagnosis, and their target is almost met. Along with hopefully reaching their target through the Summer Fest, the family will be donating money raised to charities including the Galway-based Children's Cancer Charity Hand in Hand, Children's Hospital Crumlin, Aoibheann's Pink Tie, Irish Cancer Society and Galway University Hospital.
Hand in Hand is the only national organization in Ireland who provide practical and emotional support services to families like Saoirse's affected by childhood cancer. Their range of services play a vital role in helping reduce the impact that a childhood cancer diagnosis has on every effected child and his or her extended family. Hand in Hand work alongside professional services suppliers across the country to provide practical supports with childcare, domestic cleaning, household laundry, and family meals. Hand in Hand also provide emotional support services including play therapy and adult counselling.
'Like so many charities across the country, Covid 19 is having an affect on Hand in Hand's income', Paula Carroll, Chairperson of Hand in Hand explained. 'Therefore we are extraordinarily grateful that Saoirse's Summer Fest have chosen us as one of their five designated charities. They more than understand the benefits of the services we provide. Even though our fundraising income is proving rather challenging, our services are in as much demand as ever.'
The event will be streamed online at www.saoirsessummerfest.com . You can log on to the website and donate through the GoFundMe link on the site.
For all enquiries please contact: Laura Bromley at laura@handinhand.ie or call 087 329 5395