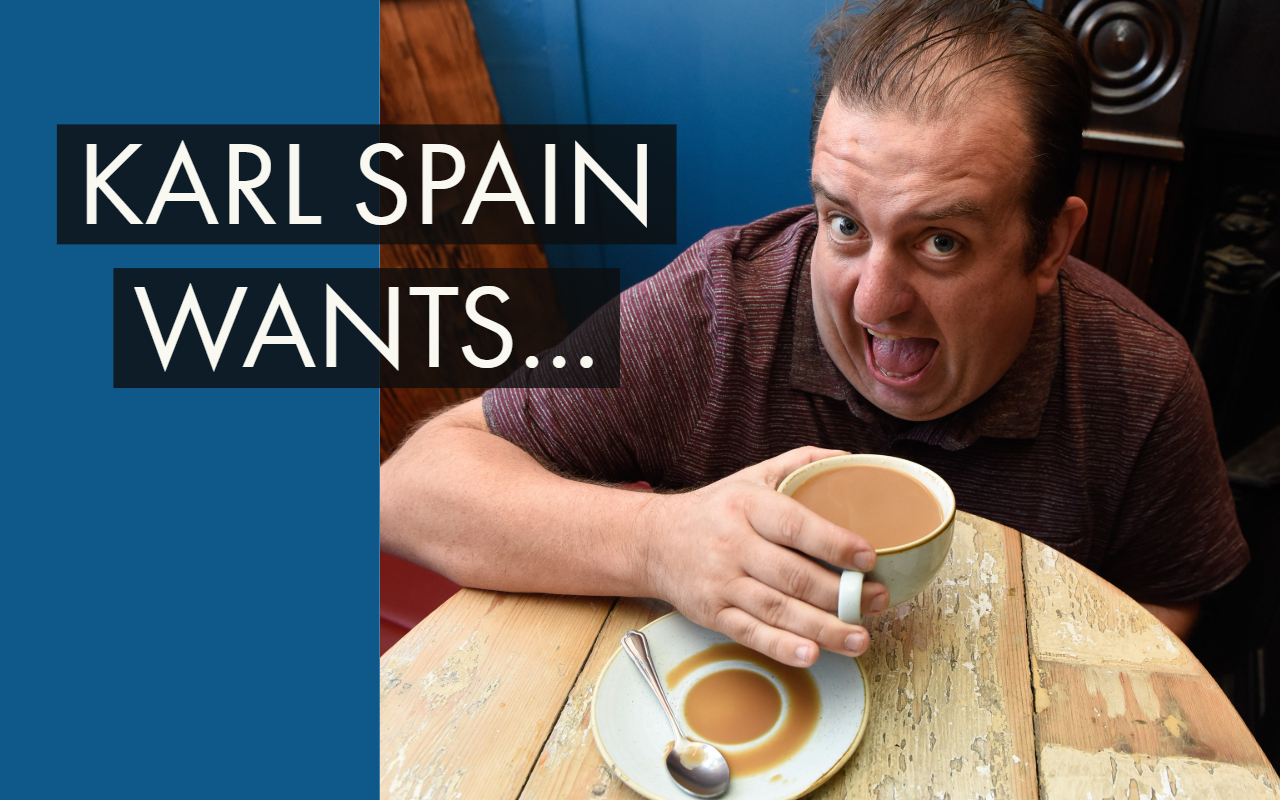 Karl Spain Wants… to see you on Tuesday
We chatted with Karl Spain about being a reality TV star, finding love, and his KARLnival in Galway on Tuesday nights.
Karl Spain is one of the best-known faces in Irish comedy, especially to come out of the West (he's a Limerick man but we'll forgive him for it). He's been on TV, he's toured with the big names, and he's so damn funny he even writes jokes for other comedians. If you're looking for him, you can find him every Tuesday night at the Róisín Dubh where he MC's his running show, 'The Comedy Karlnival', which invites upcoming comedians to the stage for a few laughs. We're not sure he hits the Silent Disco dance floor afterward, but he might.
Talk to us about speed dating.
It wasn't just speed dating but yes, I did a show (Karl Spain Wants a Woman) on dating 13 years ago. I went around the country dating women. 200 applied and 40 came through. If I could have run it for years I would have, or even like the world cup, once every 4 years.
But there was a happy ending to it?
Yes, we all went for a mass orgy!! I'm actually with the girl I met on the show. For the last 12 and a half years we've been together. It was love at second sight.
Would you like to do more reality tv?
It's funny as my show is always referred to as a reality type show, yet we more or less copied the template of 'Des Bishop's Work Experience' which was always seen as a documentary. So it's a comedian doing something that isn't comedy and I just always found that funny that his was a documentary and mine reality TV.
You wouldn't try out Love Island?
No I don't think so. I love the island feeling you get in Limerick. I'd have to not wear the fat suit on television, which I'm really comfortable in, it's part of my character and the prosthetics too and when I don't wear it it's like oh look Johnny Depp is in Ireland
Talk to us about KARLnival and the Tuesday nights in the Roisin Dubh?
Tuesdays are great fun in the Roisin. Every week there are at least 3 different acts and I'm there supposedly writing new material. I've new jokes most weeks and then it's just chatting with the audience. There's a good group of regulars which puts the pressure on me to write new stuff every week
And you actually write material for other comedians too, such as Deirdre O Kane for example. Is it a thing where you're like 'this is a good one, I'm keeping it for myself'?
Everyone thinks that, it's not like it's a hit single, like hold on a minute, that could be a number one for me. A lot of the time if I'm writing with or for someone, they go 'I'm writing this story…' and I just add to that story. A lot of the time, the bits I contribute I could never hold on to.
You've toured stadiums supporting the likes of Kevin Bridges and Ed Byrne. Is that a completely different buzz from the more intimate type of gig that you do on your Tuesdays at the Roisin?
Well it is but Tuesdays are great and we had to turn people away the last time as it was too full and the regulars couldn't even get in. But we managed to stuff them in somehow… But still within the fire regulations of course.
It's always a big change between the bigger gigs and the small. I actually worked with UEFA on the pitch during Euro 2012 with the Irish team –
– as a mascot?
No, I did that in 1980. I'd be announcing the players and I'd be like 'Robbie Keane, Glen Marty Whelan, Simon Ilovecocks' and was doing jokes like that in the stadiums in Poznan and Gdansk before the Ireland matches. Getting paid to go to the Euros is the dream, and then being able to take the piss on top of that! I had 8 Polish dancers dancing around me on the pitch. Now, four of them were male but I rarely mention that when telling the story. One of them looked more like Zlatan Ibrahimovic that Zlatan Ibrahimovic!
And yes, I've played with Kevin Bridges in front of 12,000 people in Glasgow which was incredible. But it doesn't really matter if it's a gig of 12,000 people or 12 people, as you still have to do the same thing basically; it's almost easier doing it in front of a big crowd. If you play to 12,000 people, you could leave a thousand of them disappointed and still go home thinking you were the greatest comedian in the world. You hear 11,000 people laughing, you don't hear a thousand people not laughing.
Will you be involved in this years Comedy Carnival?
Yes, the show I do on a Tuesday night is the show I do every night during the Carnival
All time favourite comics?
I guess the first that I loved would have been Billy Connolly and Bill Hicks – The Billys… But then I really like the likes of Emo Philips. I like a silly joke. Or Steve Wright.
Up and coming comedians that people might not know?
We've had some great ones on over the Tuesdays, last week was the best week that we've had. Lisa Casey closed – she won Irish Comedian of the Year last year so that hardly makes her undiscovered. She's fantastic though. But there was a guy who opened last week called Michael Rice, he's opened for us twice and I think he's got great potential. I think he's electric on stage and the best new comic I've seen in a few years
And finally… Say something funny?
Well a joke I wrote today, this is genuinely what I wrote today… 'People are always accusing me of taking a practical joke too far. And that was probably the biggest theme of my funeral.'
Tuesday Comedy KARLnival is every week at the Roisin Dubh: https://www.facebook.com/roisindubhcomedy/