The team behind Gourmet Food Parlour, presents a brand new exciting way to spread some grá to the special people in your life!
Gourmet Gifts is a new online gifting venture. Born from a year of forced improvisation and constant creative thinking, Gourmet Gifts isn't just a quick fix - it's here to stay. This new site provides a premium online gifting service, offering up luxury, artisan products, with a focus on supporting and promoting Irish businesses.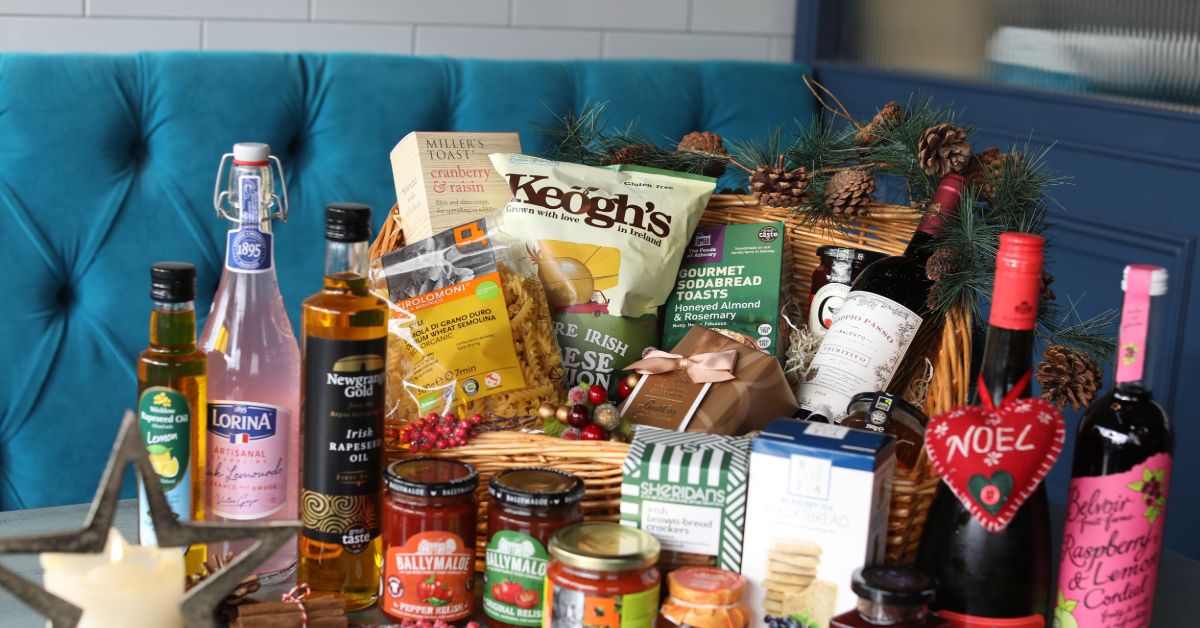 This is your chance to get your hands on a range of high-end hampers, packed full of great Irish branded products to bring your gifting that little bit closer to home. Pre-made hampers prices range from €60 - €120, custom-made hamper prices start at €50. With so many options, you're sure to find the perfect fit for that special someone this festive season and here are some of the highlights...
Bringing a real traditional Christmas feel, The Festive Hamper is made up of a delicious host of goodies including rich wines, fruity chutneys, sweet jams, prosecco, tasty chocolates, fresh shortbread, traditional Christmas Puddings, brandy butter and so much more. The latest addition to the hamper offerings, The Italiano Hamper is perfect for connoisseurs of quality Italian cuisine. Packed full of oils, creamy sauces, pasta, crispy breadsticks, wine, bubbly prosecco and lots more. Perfect for a housewarming or a deserved pampering treat, the Homeware Hamper offers up a range of artisan Irish candles, lotions, soaps and aromatic diffusers, as well as a bottle of prosecco perfect for toasting any occasion!
If you're looking for something just that little bit more specific, the Gourmet Gifts team will be happy to work with you to create a Bespoke Hamper, tailored to your exact needs. So, whether you're ordering for friends, family or a colleague/employee, you can be guaranteed that the final product is just right.

If Hampers aren't your thing, a luxury Gourmet Giftset should do the trick just nicely for those of you who enjoy the odd tipple, with prices starting from €30.
The Premium Wine Giftset is an ideal present for the wine-lover in your life. The team have put together two of their favourite bottles in a sleek boxset - Doppio Passo Primitivo, a rich, luscious red is accompanied by the crisp white Goldwater Marlborough Sauvignon Blanc to create a gift to suit any taste. You can also add a box of gorgeous Butler's Irish Chocolates to give it that final touch.
Whether your recipient has a reason to celebrate or not, they will soon with the Premium bubbly Prosecco Giftset with Irish Chocolates. Two bottles of Massotina Prosecco are complimented by a box of Butler's Irish Chocolates to create a truly indulgent gift for those you feel really deserve it. With the rise in popularity of gin in recent years, you're sure to know someone who'll be delighted with this great Premium Gin and Tonic Giftset. With a exquisite bottle of Blackwater Irish Gin, the set is made even better with 6 bottles of Fever Tree Elderflower Tonic water.
Being a sister entity to an established and well-loved restaurant & catering business, the Gourmet Gifts site will also be offering gift cards for Gourmet Food Parlour. These beautifully boxed gift cards can be used in any of their restaurants as payment for meals and drinks, redeemed online for takeaway orders and also used with the GFP Catering & Events division, giving your recipient a whole host of options in the palm of their hand.
For more information on all that Gourmet Gifts has to offer this Christmas. Please visit  www.gourmetgifts.ie
Published on Updated on