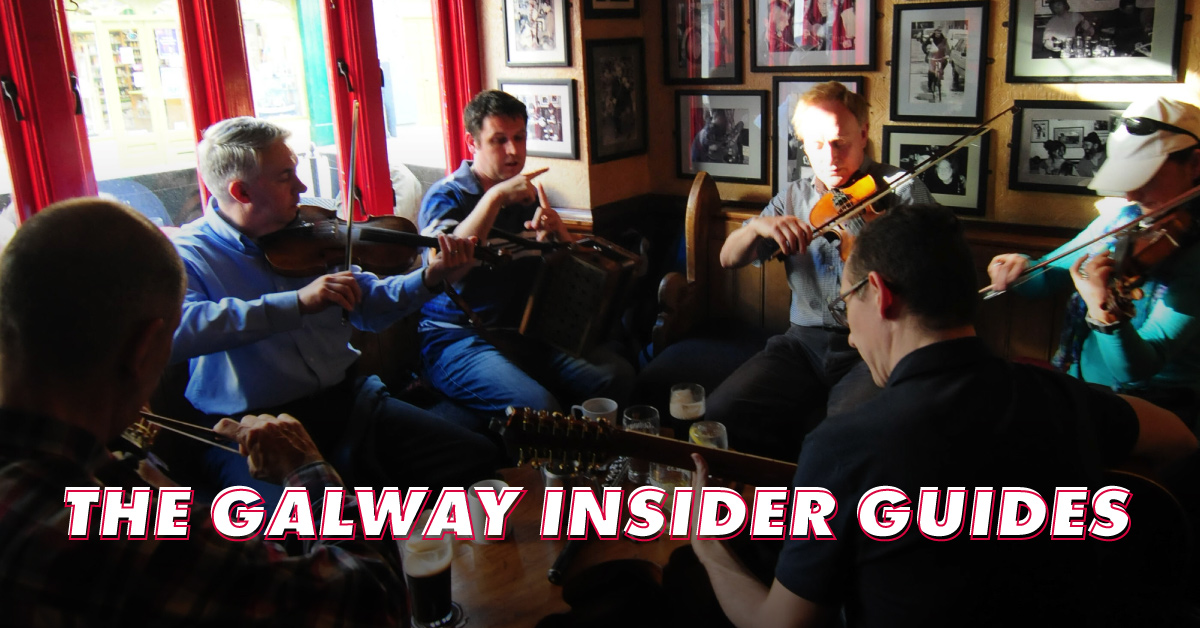 INSIDER'S GUIDE TO TRAD IN GALWAY
Galway wouldn't be Galway without its echoes of traditional Irish ceol. Take a walk down any street in the city and you'll hear a diddly-idle tune floating through the air, sprinkling a sense of calm and comfort onto your soul. A pint of plain in a cosy corner by an open fire, toe tapping away to an old Irish trad tune – it's the perfect way to spend an evening. If you're looking for some of the best spots to enjoy some ceol, here are some of our very favourites…
LOWRY'S
There's a reason Lowry's is known as the home of Irish music out in Clifden. Priding themselves on their entertainment, Lowry's provide live music seven nights a week. Winners of 'Best Traditional Bar in Ireland' at the National Hospitality Awards, the pub is frequented by tourists and regulars alike, looking for their trad music fix. There's always a warm, familiar atmosphere and some tasty whiskey to boot so it's fair to say they tick all the boxes.
Market St, Clifden, Galway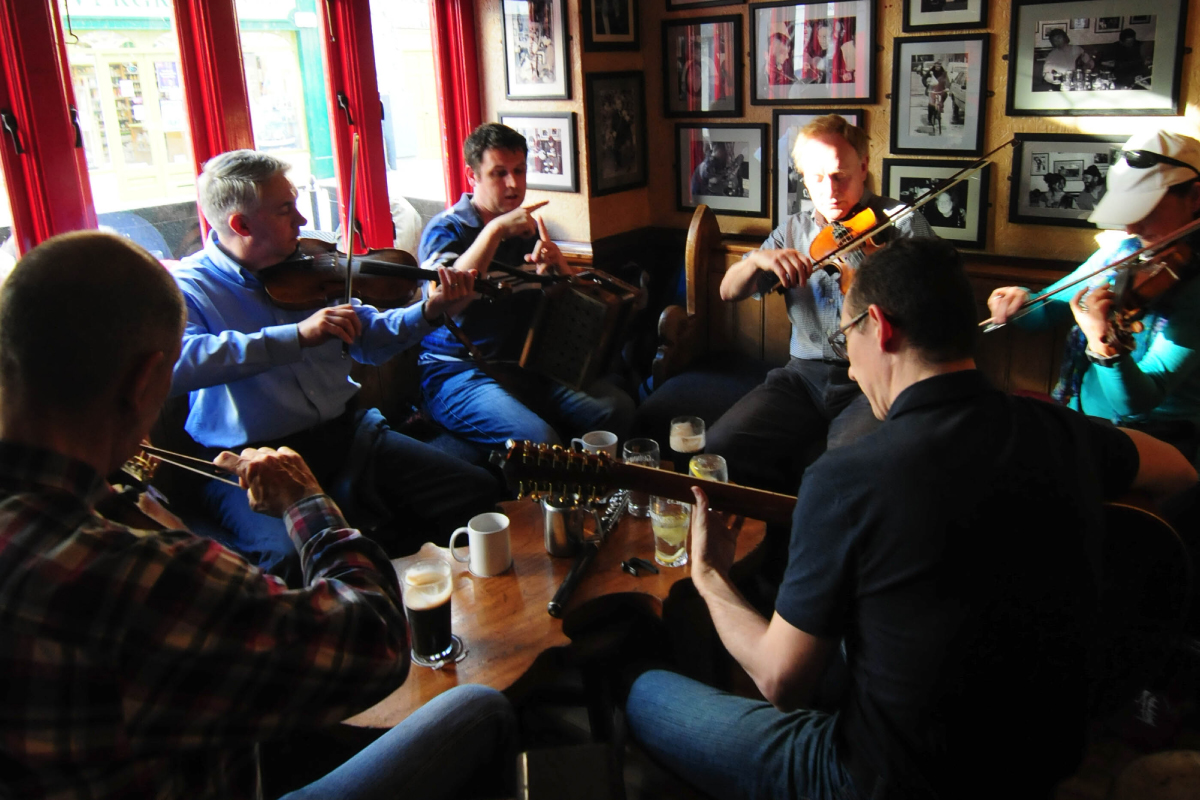 TIG CHÓILÍ
Right in the heart of the Latin Quarter, Tig Choili boasts some of the finest traditional music Galway's got to offer. With 14 music sessions every week all year round, it's fair to say you'll get a jig and a reel whenever you decide to drop in. Filled with snugs and stools aplenty, the hours seem to melt away once you step through the doors and order the first round.
Mainguard Street, Galway
THE KING'S HEAD
A hearty feast, a mouth-watering cocktail and a feed of pints awaits inside the King's Head. Another spot you're sure to catch a tune any night of the week, the pub's bandstand has been home to some of the best local and international trad music names. Since 1989, the Grealish family have held entertainment as the cornerstone of their business, an element that is evident as soon as get through the door.
15 High Street, The Latin Quarter, Galway
TIGH NEACHTAINS
This well-known corner of Galway is a point where students, locals and tourists come together in perfect harmony. Tigh Neachtains has been graced by the melodic sounds of some of the top names in Irish music, from Sharon Shannon to Brendan O'Regan and have even released their very own collaborative album. As advocates for the arts and music, the pub love nothing more than giving some love to our abundance of home grown talent.
17 Cross Street, The Latin Quarter, Galway
THE CRANE BAR
The Crane and a trad sesh really just go hand in hand. With two floors of bars and music to choose from, this pub unites generations through its exciting gigs and sessions. The upstairs portion of the pub is well-known as 'The Listeners Club', where some of the best known names in the game have performed.
2 Sea Road, Westend, Galway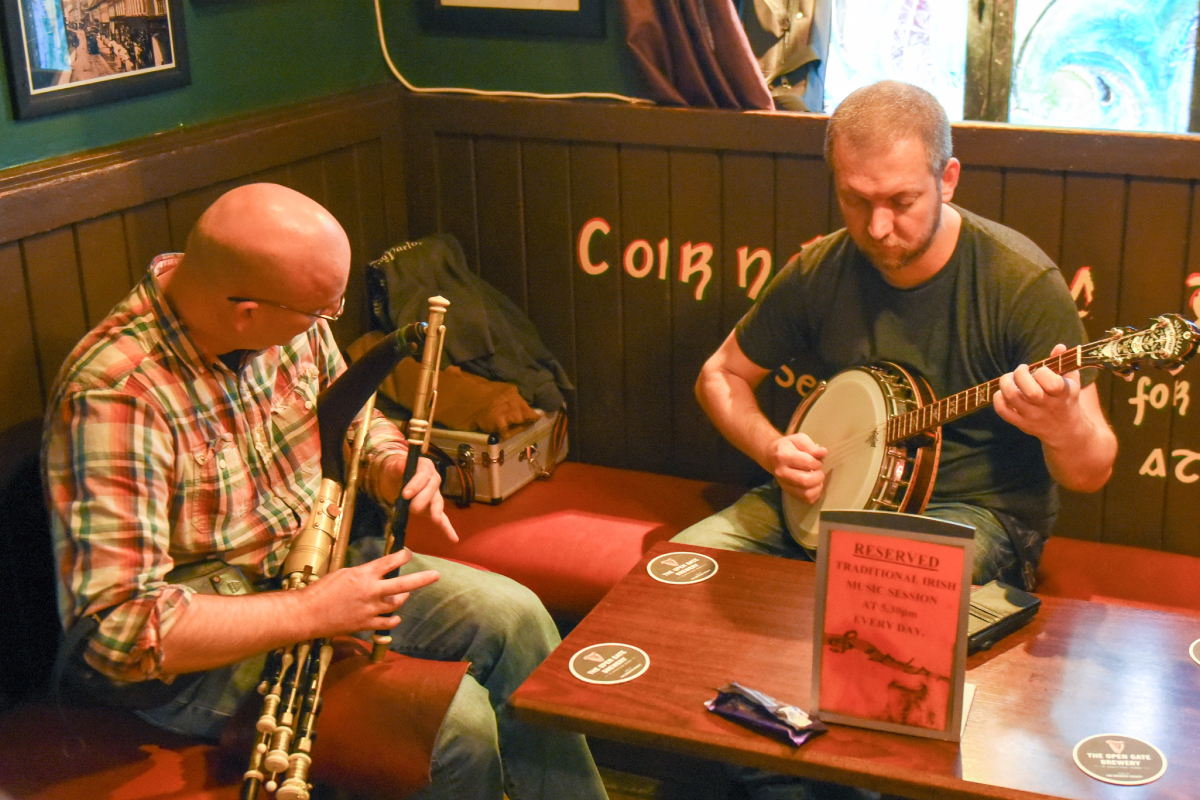 TAAFFES BAR
If you want to get a real sense of what an authentic Irish pub is, just spend an hour in Taaffes Bar. GAA, ceol and Guinness, it's an intimate and cosy spot that welcomes locals and visitors through their doors for great live music sessions. Take a pew beside one of their many regulars and embrace the rhythm of a traditional Irish boozer.
19 Shop St, Galway
Every night of the week, Monroe's Tavern will welcome you in and make you one of their own. Traditional music sessions, performances from some of the best cover bands in the country and gigs from some unreal international artists, Monroe's is fast becoming one of the premier live music venues in the city. It helps that the staff are always sound, the atmosphere is always exciting and the pints are always cold – ideal.
14 Dominick Street Upper, Westend, Galway
THE QUAYS
Offering up the best in live music seven nights a week, The Quay's schedule features some great trad sessions. They've got a mezzanine stages and a seriously funky dance floor (it glows for crying out loud), that make this bar the ideal destination to stop in for a pint or to kick off your night on the tiles in style.
11 Quay Street, Galway
AN PÚCÁN
Firm supporters of the arts, An Púcán give some of Galway's finest musical performers a platform to showcase their varied talents. Every day of the week, they host two live music sessions in their front stage and every Friday and Saturday there's live tunes in the back, keeping the party going with live cover bands and DJ sets into the early hours.
11 Forster Street, Galway
TAYLOR'S BAR AND BEER GARDEN
If you're wandering around Galway's Westend, you'll more than likely be lured into Taylor's Bar by the echoes of live music. DJ sets or acoustic sessions take place every night of the week and they house their fair share of traditional Irish ceol too. A whiskey is essential while you soak up the atmosphere.
7 Dominick Street Upper, Galway/h5>

JOE WATTY'S BAR
Right at the top of the village of Kilronan on the Aran Islands, you'll find live music seven days a week and up to three times a day during the summer season! One of Inis Mór's oldest and most traditional pubs, Watty's warm and mellow atmosphere will have you feeling like part of the furniture once the tunes start pumping.
Kilronan, Inis Mor, Aran Islands